Easy Salmon Fillet Recipes – Oma's gebackener Lachs Rezepte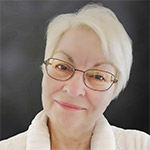 by: Gerhild Fulson  /  Cookbook Author, Blogger, German Oma!
There are many baked salmon fillet recipes, aka gebackener Lachs, and so many ways to cook salmon, but these are special. So easy and so delicious, you'll make them often.
They are absolutely wonderful dishes for company. The last recipe shows a simple way how to cook salmon fillet, either from frozen or fresh fish. 
I usually use frozen salmon fillets, letting them thaw first. However, you can bake them right from frozen, allowing extra baking time.
---
Oma says:
Salmon is such a healthy fish that it should find its way into your regular meals. It is an "oily fish" which is high in healthy omega-3 fatty acids. It is also high in protein and vitamin D.
---
There's something absolutely mouth-watering about having a German meat-and-potato dinner. Get Oma's revised collection of her favorites in German Meat Dishes.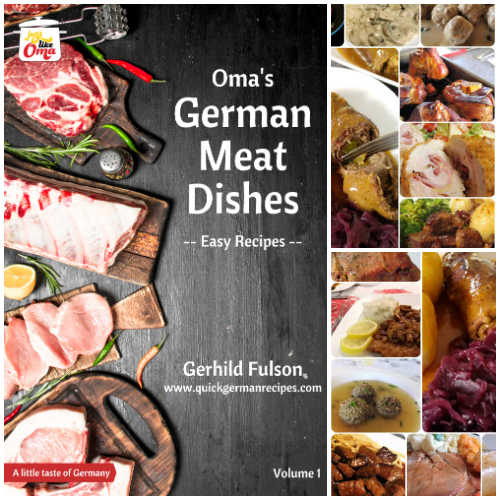 Take a peek at all Oma's eCookbooks. They make sharing your German heritage a delicious adventure!
The recipes below are not German in origin. But, they are ones hubby and I LOVE! The last one can easily pass for German, because one traditional German way of eating fish is with mustard sauce.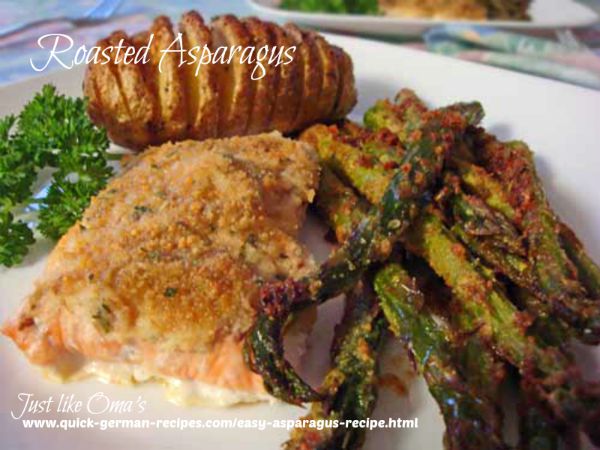 In my recipe, the mustard is brushed on the fish before baking - much easier than making a sauce!  It's the one that's pictured here, served with Hasselback potatoes and roasted asparagus. 
1. Here's the first salmon fillet recipe ...
You'll find the first of the salmon fillet recipes as a super one to make when you're expecting company.
The Salmon Casserole with Spinach shown above can be made earlier in the day and popped in the oven in time to cook for dinner. 
2. The second salmon fillet recipe is ...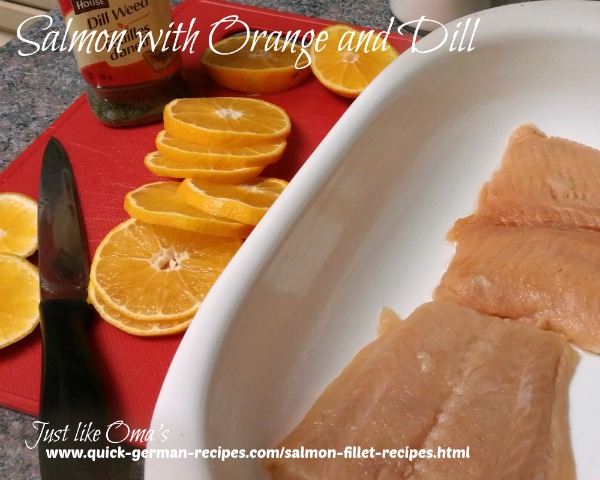 Here the Salmon Fillets are seasoned with salt and pepper. Place 2 slices of orange or, as in this photo I used mandarine slices, onto each fillet. Add a knob of butter on top. Sprinkle with dill. Bake as in the recipe below. Enjoy!
3. Oma's Easy Baked Salmon Fillets

Oma's Easy Baked Salmon Fillets

There are many baked salmon fillet recipes, aka gebackener Lachs, and so many ways to cook salmon, but this one is special. So easy and so delicious, you'll make it often.
Prep Time


10 minutes


Bake Time


20 minutes


Total Time

30 minutes

Servings:

Makes 4 servings
Ingredients:
4 salmon fillets, 4 ounces each
2 - 3 tablespoons mustard (I prefer using Dijon mustard!)
¼ cup breadcrumbs 
¼ cup olive oil
salt, freshly ground pepper
Instructions:
Preheat oven to 400°F.
Lightly grease baking pan. 
Place salmon in baking pan with skin side down.
Brush mustard on salmon, season with salt and pepper.
Mix breadcrumbs and olive oil in a small bowl. Gently spread mixture on top of each fillet.
Bake, uncovered, until fish flakes easily, about 15 to 20 minutes.
Notes/Hints:

Line baking pan with foil and grease foil. This makes clean-up a breeze.
Add 1 teaspoon of Parmesan cheese to bread crumbs.
Use Italian-style seasoned bread crumbs.
Use melted butter instead of olive oil.
Use either fresh or frozen fillets. When using frozen (no need to thaw), just add a few extra minutes to the baking time.
*  *  *  *  *

Unless otherwise noted recipe, images and content © Just like Oma | www.quick-german-recipes.com

---
Leave a comment about this recipe or ask a question?

Pop right over to my private Facebook group, the Kaffeeklatschers. You'll find thousands of German foodies, all eager to help and to talk about all things German, especially these yummy foods. 
Meet with us around Oma's table, pull up a chair, grab a coffee and a piece of Apfelstrudel, and enjoy the visit.

This easy German Apple Strudel recipe is one of those German desserts that brings the traditional strudel taste to your table without all the work. Wunderbar!!

Make the perfect German Spaetzle with Oma's easy recipe! This traditional German egg noodle pairs perfectly with caramelized onions for a delicious meal.

Choose from Oma's cookbooks that are immediately downloadable & start cooking easy classic German foods tonight. Or get her newest paperback cookbook. LECKER!
*  *  *  *  *
PIN to SAVE this recipe to your Pinterest board!
And let's be friends on Pinterest!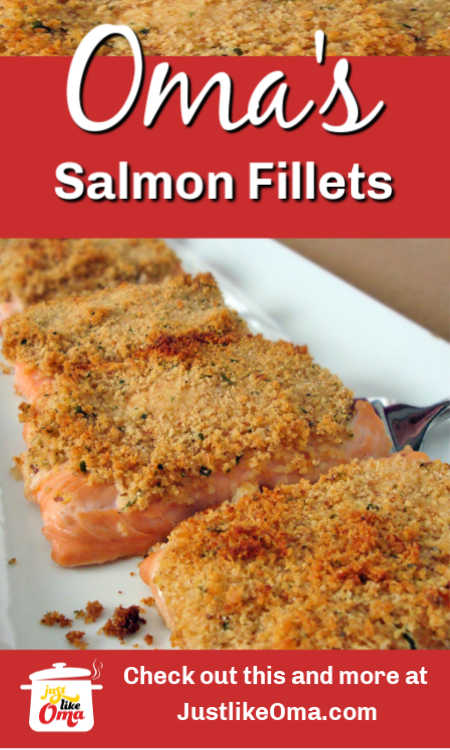 ---
Salmon Fillet Recipes made Just like Oma


By
Oma Gerhild Fulson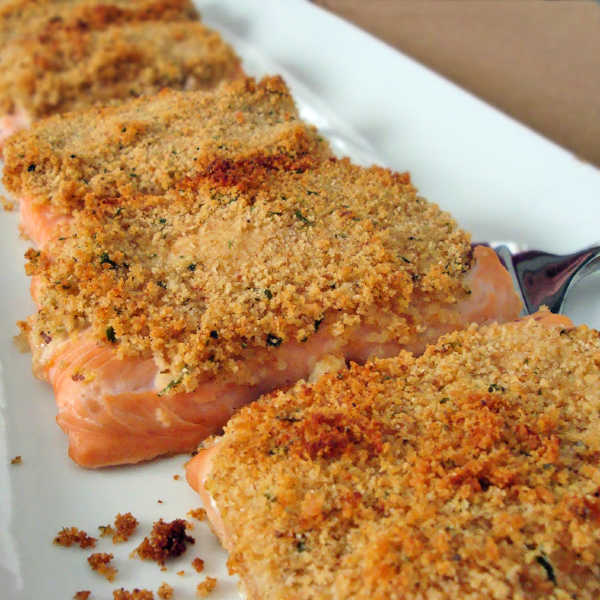 There are many salmon fillet recipes, but this one, the baked Salmon Dijon, is special. So easy and so delicious, you'll make it often. An absolutely wonderful dish for company.

Ingredients:
salmon fillets,
mustard,
breadcrumbs,
olive oil,
seasonings,
For the full recipe, scroll up ...
Words to the Wise
"Don't envy sinners, but always continue to fear the Lord. You will be rewarded for this; your hope will not be disappointed."
Proverbs 23:17-18 (NLT)