Easy Fish Recipes – Oma's Einfache Fischrezepte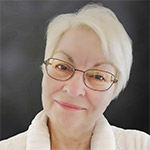 by: Gerhild Fulson  /  Cookbook Author, Blogger, German Oma!
When easy fish recipes, aka Fisch, are on your mind, try these German traditional ones. 
Even though Germany has a limited shore-line, there are abundant lakes, rivers, and ponds that supply a vast variety of fish.
Especially in northern Germany, fish is often on the menu, a German food that many enjoy.
In a real hurry? The herring salad above is for you. The kids just love the sweet and creamy taste. Not only that, but it's easy and quick to make.
Some other choices are oven-baked, fried, breaded, and grilled fish, as given below.

---
Which fish to choose ...
Cod is a good all-purpose fish as well as one of the least expensive. Haddock, though slightly milder in flavor than cod, can be a little more expensive. Sole is a very delicately flavored fish.

Salmon, rich in healthy fats, is usually steamed, baked, or broiled. Here is another one of my favourites. It's an oven baked salmon fillet that's covered with dijon mustard and breadcrumbs. Olive oil (or melted butter) is sprinkled on top. Into the oven. Dinner's ready in about 15 minutes. Delicious!
Trout is also a great treat!
Smoked fish is widely available, such as smoked herring, smoked salmon, and of course, smoked eel! These especially are German treats!
There's something absolutely mouth-watering about having a German meat-and-potato dinner. Get Oma's revised collection of her favorites in German Meat Dishes.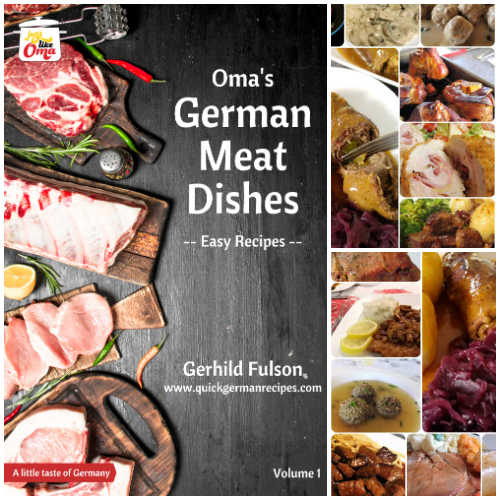 Take a peek at all Oma's eCookbooks. They make sharing your German heritage a delicious adventure!
Krabben?
Another treat? "Krabben"! When I was first introduced to these in Husum in northern Germany, I thought they were maggots. That's exactly what they looked like to me. Much to the delight of my German friends, they tease me about it every time we go there.

I really wish someone would have told me that "Krabben" were little shrimp! I would have loved to have tried them right there, the first time because I really DO love shrimp. Instead, I wondered how anyone could eat such disgusting-looking bugs. LOL … A Krabben Brötchen would be lovely right now!
Oma says:
Each of these fish recipes are delicious, as well as quickly prepared.
Even if you don't know how to cook fish, you'll find the instructions easy, even for a beginning cook.
Quick and healthy, what more could you want?
Fish is rich in protein and is an excellent source of minerals. It is usually quite lean and requires a short cooking period.
In most recipes, the different varieties of fish can be used interchangeably.

Try these easy fish recipes:
Leave a comment about this recipe or ask a question?

Pop right over to my private Facebook group, the Kaffeeklatschers. You'll find thousands of German foodies, all eager to help and to talk about all things German, especially these yummy foods. 
Meet with us around Oma's table, pull up a chair, grab a coffee and a piece of Apfelstrudel, and enjoy the visit.

This easy German Apple Strudel recipe is one of those German desserts that brings the traditional strudel taste to your table without all the work. Wunderbar!!

Make the perfect German Spaetzle with Oma's easy recipe! This traditional German egg noodle pairs perfectly with caramelized onions for a delicious meal.

Choose from Oma's cookbooks that are immediately downloadable & start cooking easy classic German foods tonight. Or get her newest paperback cookbook. LECKER!
*  *  *  *  *
PIN this ...
Make every day a THANKFUL day!
"And this same God who takes care of me will supply all your needs from His glorious riches, which have been given to us in Christ Jesus."
Philippians 4:19