Oma's Poached Trout Recipe

➤ by Gerhild Fulson
This easy poached trout recipe, a traditional meal in the Black Forest area, is called Forelle Blau. Usually rainbow trout is used for this dish with the fish ending up looking blue, hence the term "Blau" (meaning blue!) 
Rainbow trout have been farmed in Germany since the end of the 19th century. It is one of the main freshwater fish farmed, surpassed only by the carp.
Usually sold when they are about half a pound, these make delicious one serving portions. Normally one allows anywhere from 4 ounces to 7 ounces of fish per person.
For the recipe below, use one fresh, cleaned trout per person.
"Forelle Blau" is translated as Blue Trout and gets its name from the characteristic blue skin that's developed during the cooking period. 

Ready to make this trout dish?
Is the recipe below locked? Here's why. Unlock to see ALL the exclusive recipes on this site. Click here for help.
➤ As an Amazon Associate, I earn from qualifying purchases.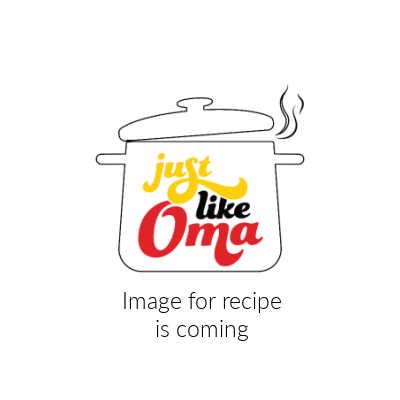 Oma's Poached Trout Recipe: Forelle Blau

This easy poached trout recipe, a traditional meal in the Black Forest area, is called Forelle Blau. Usually rainbow trout is used for this dish with the fish ending up looking blue, hence the term "Blau" (meaning blue!) 

Prep Time


10 minutes


Cook Time


25 minutes


Total Time

35 minutes

Servings:

Makes 4 servings
Ingredients:
2 cups white wine
½ cup wine vinegar
8 cups water
2 carrots
2 stalks celery
1 leek
1 bunch parsley
1 onion
1 bay leaf
1 clove
½ teaspoon peppercorns
salt
4 trout
Instructions:
In a large pot, bring to boil all the ingredients except the trout.
Simmer for 10 minutes.
Attach kitchen twine to lower jaw of fish and its tail. Pull to curve fish and tie twine ends together.
Put trout in a large pan and pour strained boiling wine/vinegar over trout. This turns the skin of the trout the characteristic blue.
Cover and simmer over low heat for 15 minutes until cooked.
Remove trout from pan, remove twine, and serve.
*  *  *  *  *

Unless otherwise noted recipe, images and content © Just like Oma | www.quick-german-recipes.com

Need that "all's good with the world" feeling? Comfort food will do that. Get your copy of Oma's German favorites in her Comfort Foods e-Cookbook.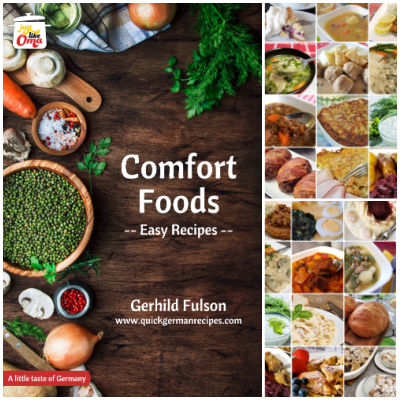 Take a peek at all Oma's eCookbooks. They make sharing your German heritage a delicious adventure!
Leave a comment about this recipe or ask a question?

Pop right over to my private Facebook group, the Kaffeeklatschers. You'll find thousands of German foodies, all eager to help and to talk about all things German, especially these yummy foods. 
Meet with us around Oma's table, pull up a chair, grab a coffee and a piece of Apfelstrudel, and enjoy the visit.

Make this easy German Mulled Wine recipe to enjoy as a traditional German Christmas drink. It'll make you think you're back in Germany at the wonderful Christmas markets.

Wurstsalat ... a traditional meat salad from southern Germany. In the north, it's Fleischsalat. Both are wonderfully different and utterly delicious! Perfect party pairing.
*  *  *  *  *
Words to the Wise
"Rumors are dainty morsels that sink deep into one's heart."
Proverbs 26:22 (NLT)