Mutti's Herring Salad Recipe ❤️

➤ by Oma Gerhild Fulson
FTC Disclosure: Making a purchase via a link on the page? I may earn a small commission on the transaction - at no added cost to you. Thanks!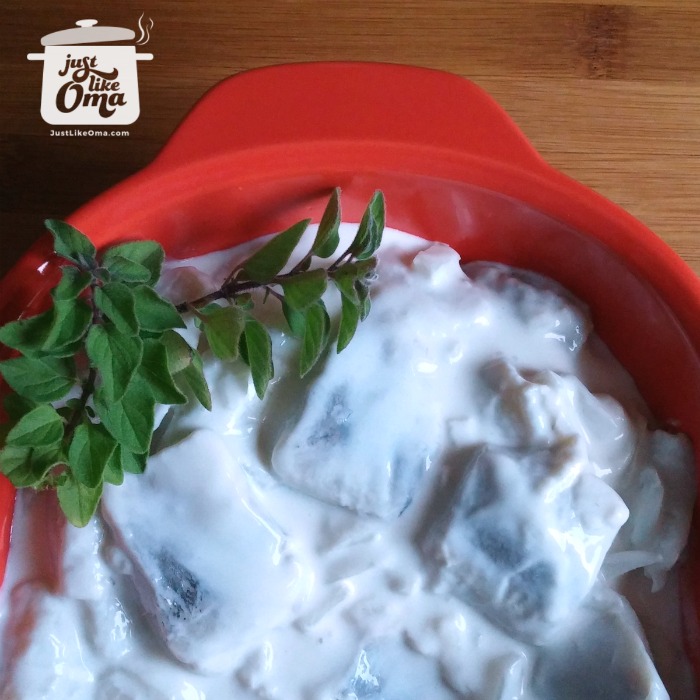 My Mutti's Herring Salad is such an easy dish to make for a perfect quick supper. Our kids LOVE this! Really. It's creamy and sweet and sour!   Wunderbar. Aka, Heringsalat, it's such a traditional German food that's so easy and fast to make. For our family, all that's needed are some boiled potatoes and dinner or lunch is ready. Yes, that quick!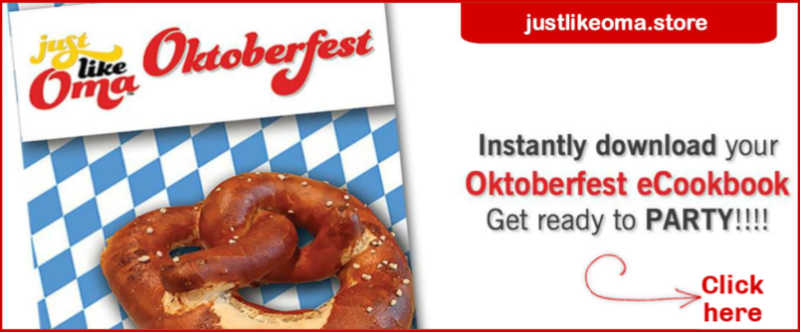 This also makes a great German appetizer. Serve it with crackers or crusty bread. 


---
Rollmops (soused herring) are pickled herring fillets rolled around an onion or gherkin and a specialty of Berlin
Bismarckhering which are marinated in vinegar, oil, onions, mustard seed and bay leaves 
Matjeshering are pickled in a salt brine letting the enzymes ferment the fish
Matjesbrötchen are German bread rolls filled with pickled herring and sliced raw onions

Brathering are first floured and fried in butter before being marinaded in vinegar, onions, mustard seed, bay leaves and spices.
Pickled herring is a great source of vitamin D, vitamin B12, and selenium 
Oma's Tips
Use pickled herring that you get in jars. Drain well, keeping the onions with the herring.
Mix with the sour cream, add pickles if you wish, and that's it.
Remember to always keep a jar of pickled herring in the fridge for those really busy days when you need a quick dinner idea or as part of your quick and easy appetizer recipes. 
Fast, easy, delicious, and very traditional, why not try it for supper tonight!
Leftover Herring Salad?
Just mix the leftover salad, some leftover cooked potatoes, and some sliced or cubed pickled beets ...
and ...
you have Herring and Potato Salad.  A pretty pink-colored salad that was my Mutti's favorite salad to make for buffets.  For the actual recipe, check it out here.
Quick Dinner Idea ...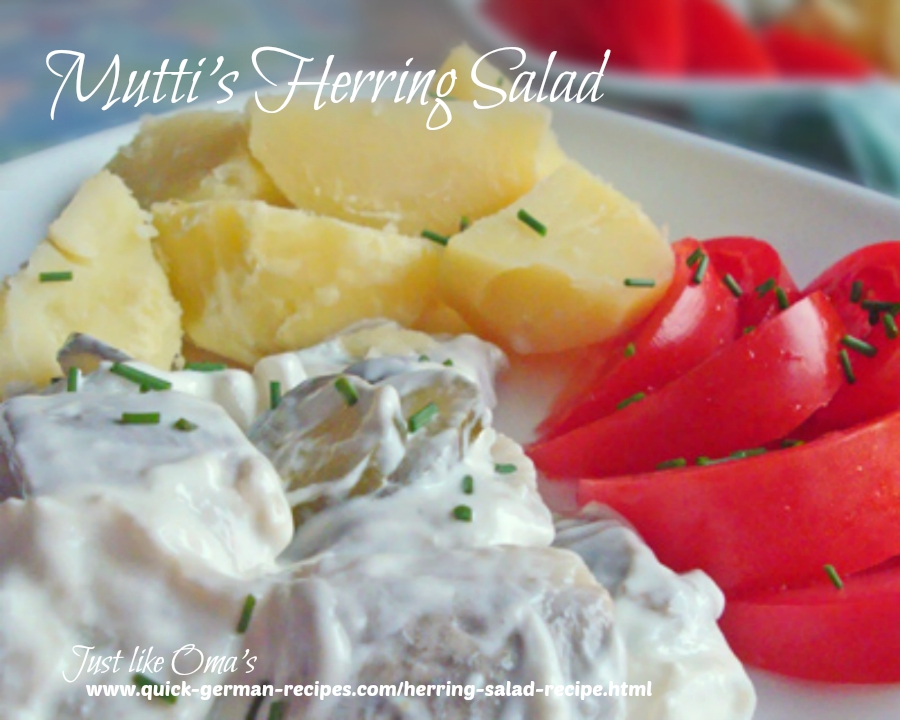 Here, I've served the salad with boiled potatoes and tomatoes. Sprinkle some chives over the top. Super quick. Super delicious!.

Here, I'm serving this as an appetizer. I didn't add too much cream, just enough to smooth out the flavor. Parsley sprinkled over the top and ready to serve.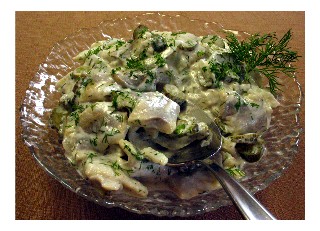 Ready to make a Herring Salad dinner?
Especially useful after a day at work and shopping and in need of something delicious and quick. First, put the potatoes on to boil.
Even faster, though, I'd do them in the microwave. Using new potatoes was best. While they were cooking, start the herring salad. Finished!
A super supper ready in almost no time at all. 
OK, here's how to make the salad ...
---
Mutti's Herring Salad Recipe ❤️
Ingredients:
1 jar (about 500 ml) herring, drained (see hints below)

½ cup sour cream

3 - 4 dill pickles, sliced (optional)

fresh dill (optional)
Instructions:
Herring should be in bite-sized pieces.

Stir in the sour cream. Add more if needed.

Add the dill pickle slices and stir.

Serve immediately or refrigerate until needed.

Serves 2 - 3.

Hints
Add some sliced pickled beets for color

I usually use "Herring Fillets in Wine Marinade"

Use low fat sour cream or plain yogurt
Sprinkle with fresh dill

Leave a comment about this recipe or ask a question?
Pop right over to my private Facebook group, the Kaffeeklatschers. You'll find thousands of German foodies, all eager to help and to talk about all things German, especially these yummy foods. 
I pop in all the time as well, to chat and to answer questions. 
Meet with us around Oma's table, pull up a chair, grab a coffee and a piece of Apfelstrudel, and enjoy the visit.
*  *  *  *  *
Want nutritional information for a recipe?
Copy and paste the ingredient list and the number of servings into Calorie Count. 
It will give you an approximate calculation.

Need help doing conversions
between cups and grams or any such thing?
Use this site to give you all the different conversions for the different types of ingredients. 
---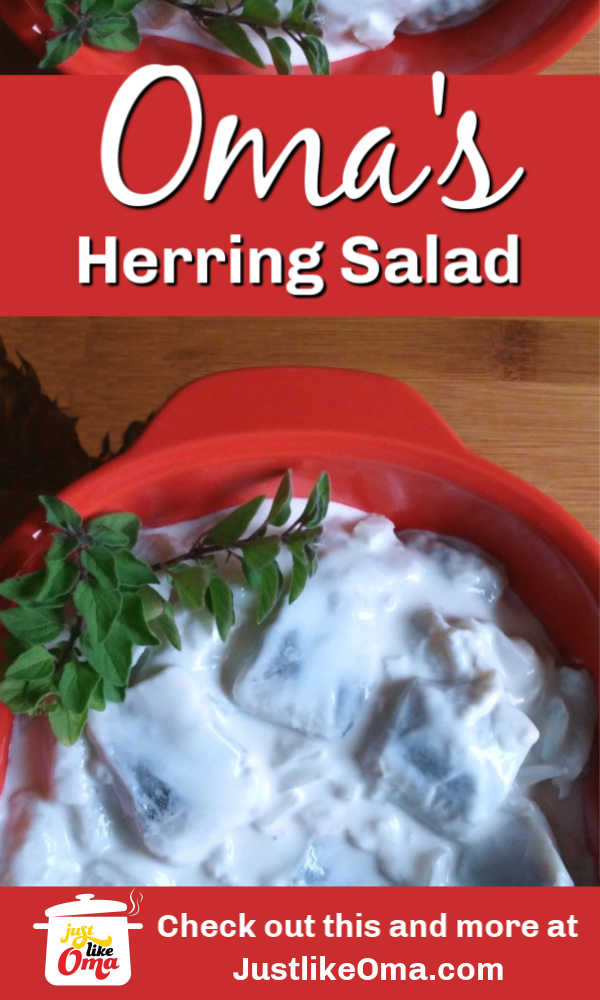 ---
Schwenkbraten recipe that has been a delish hit an alle familien & freunde... Total Approx. Time: Prep: 15 min. + Marinating 8 hrs min. + Grill: 15 min.

My Oma made this cake every Christmas. She iced it with a white frosting that ran down the sides. She decorated it with little silver balls (candy). It
---
Words to the Wise
"From a wise mind comes wise speech; the words of the wise are persuasive."
Proverbs 16:23 (NLT)
---
❤️ Mutti's Herring Salad with Cream made Just like Oma


By
Oma Gerhild Fulson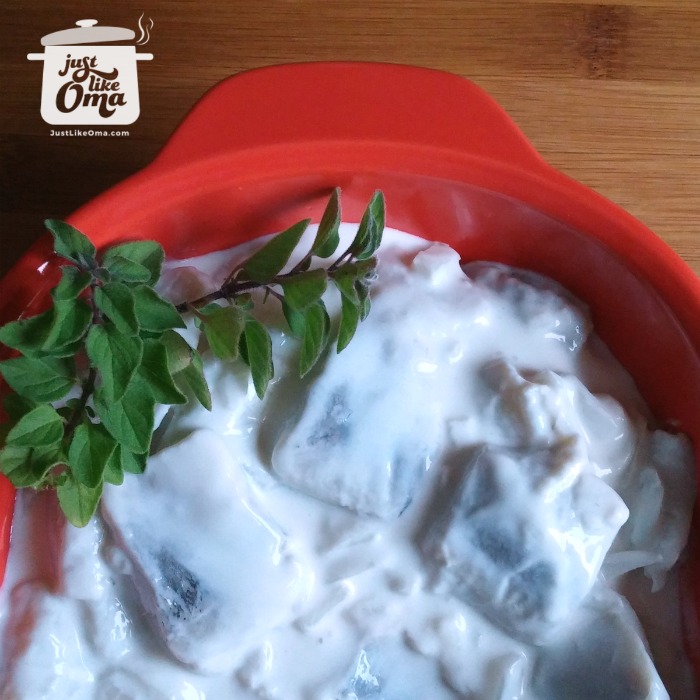 My Mutti's Herring Salad is such an easy dish to make for a perfect quick supper. Our kids LOVE this! Really. It's creamy and sweet and sour! Wunderbar.

Ingredients:
herring,
pickles,
sour cream,
fresh dill,
For the full recipe, scroll up ...