Oma's Best Clam Chowder Recipe❤️

➤ by Oma Gerhild Fulson
FTC Disclosure: Making a purchase via a link on the page? I may earn a small commission on the transaction - at no added cost to you. Thanks!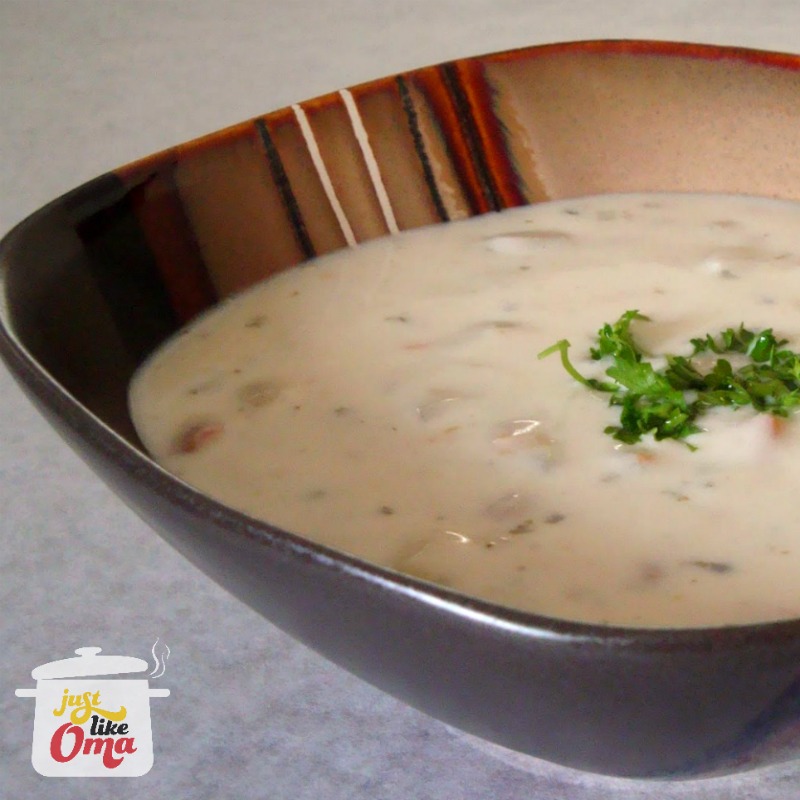 Yum
What's the best clam chowder recipe? 
THIS ONE! From all the recipes using clams, this one is so easy to make. If you're looking for a seafood soup recipe that you can alter depending on what seafood you have, add this soup to your repertoire. Want it lower in calories? Use milk instead of cream and use low-fat sour cream instead of regular sour cream. 
Yes, although "Clam Chowder" is known as a famous American dish, in Germany it's called "Muschelsuppe" and is very popular as well.

There is no one original American recipe ... neither is there one original German recipe. Check out the note at the end to find out how to make this more German! I'll give you a hint ... it's not more cream ...
Give this easy recipe a try. I think you'll also call it the BEST clam chowder recipe you've had! Really! Wunderbar!
Oma's Best Clam Chowder Recipe❤️
Ingredients:
2 cans shucked or minced clams (5 oz or 6½ oz cans)
2 Tbsp olive oil or butter
1 cup chopped onions
1 garlic clove, minced
2½ cups chicken broth
1½ cups cubed potatoes
1 carrot, chopped
½ cup chopped celery
½ lb haddock or cod fillets
¾ tsp dried basil
1 tsp Worcestershire sauce
½ tsp salt
½ tsp pepper
½ cup whipping cream
¾ cup sour cream
parsley for garnish
Instructions:
Drain clams, reserving juice.
In a large saucepan, heat olive oil. Add onions and garlic. Sauté until onions are translucent, about 5 minutes.
Add the clam juice and chicken broth to the onions. Stir. Add potatoes, carrots, and celery. Stir and bring to boil. Cover and simmer for about 15 minutes or until the potatoes are tender.
Cut fish fillets into bite-sized chunks. Add to soup along with the clams, basil, Worcestershire sauce, salt, and pepper. Simmer gently for about 5 minutes or until fish is cooked.
Lower heat and slowly stir in whipping cream and sour cream, being careful that soup does not come to a boil. Season with extra salt and pepper if needed.
Serve, garnished with chopped parsley.
Makes 6 servings

---
Like the soup above? You'll love looking at and making more of Oma's soups. All so quick and easy!
What makes these soups so wunderbar? They bring back such wonderful memories of my Mutti's kitchen. So, of course, I had to write my own soup e-cookbook to share with my grandchildren. I know you'll LOVE it, too! There are 84 full-color pages filled with step-by-step instructions and hints. Take a quick peek ...
Sharing these soup recipes from my Mutti and Oma to my own young grandchildren ... that's such a delicious way to pass on our German heritage :)
A bit of this and a bit of that ...
Add 1 cup of sliced mushrooms to the onions.
For some extras spiciness, add 3 - 4 drops of hot pepper sauce.
Replace ½ cup of chicken broth with dry white wine.
Dice 5 slices of bacon and fry them until crispy. Remove with a slotted spoon and drain on paper toweling. Add to soup at the end. If you wish, you could fry the onions in the bacon fat. Extra yumminess!
If you're learning how to make chowder and want extra YUMMINESS? Add the GERMAN touch!
Dice 5 slices of bacon and fry them until crispy. Remove with a slotted spoon and drain on paper toweling. Add to soup at the end. If you wish, you could fry the onions in the bacon fat. Extra yumminess!
Oh, so creamy and so delicious! Even my hubby, a non-seafood lover, loved this!
Some International Soup Recipes
*  *  *  *  *
Thinking of starting your own Handmade Business?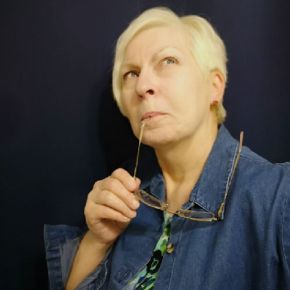 This Oma KNOWS you CAN do it.
How do I know?
Well, if I can do it, anyone can.
I've even figured out how I can help you.
I've teamed up with my own business coach, Renae Christine (yes, do google her!), to bring you this free masterclass. After you watch it, ask me any questions and I'll gladly answer them.
Don't hesitate. I'm not sure how long Renae will keep this free masterclass available.
PS:  Yes, Renae really is as amazing as all the reviews say.
PPS: Yes, the course is for handmade items, but I've used it successfully for my cookbooks. I know others are using her methods for services, direct sales ,and even a local ice cream bar & grill that's constantly selling out. You've nothing to lose by taking a look.
*  *  *  *  *
Oma's Cookbooks (downloadable & print)
*  *  *  *  *
Want nutritional information for a recipe?
Copy and paste the ingredient list and the number of servings into Calorie Count. 
It will give you an approximate calculation.

Need help doing conversions
between cups and grams or any such thing?
Use this site to give you all the different conversions for the different types of ingredients. 
---
PIN this ...

---
Words to the Wise
"The fruit of the righteous is a tree of life; and he that wins souls is wise."
Proverbs 11:30 (NLT)