Authentic German Red Cabbage Recipe
Authentic German Red Cabbage Recipe with Apples – Oma's Rotkohl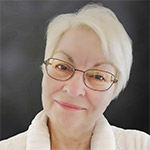 by: Gerhild Fulson  /  Cookbook Author, Blogger, German Oma!
As an Amazon Associate, I earn from qualifying purchases.
There's nothing quite like delicious German red cabbage, aka Rotkohl, Blaukohl, or Blaukraut. It is the perfect side dish to just about any German meal.
This traditional German red cabbage recipe calls for apples, which gives it that wonderful sweet-and-sour flavor.

This dish will also add such a vibrant pop of color to your meal! Even people who say they aren't a big cabbage fan find it's almost like eating candy! They take second helpings, it's so good.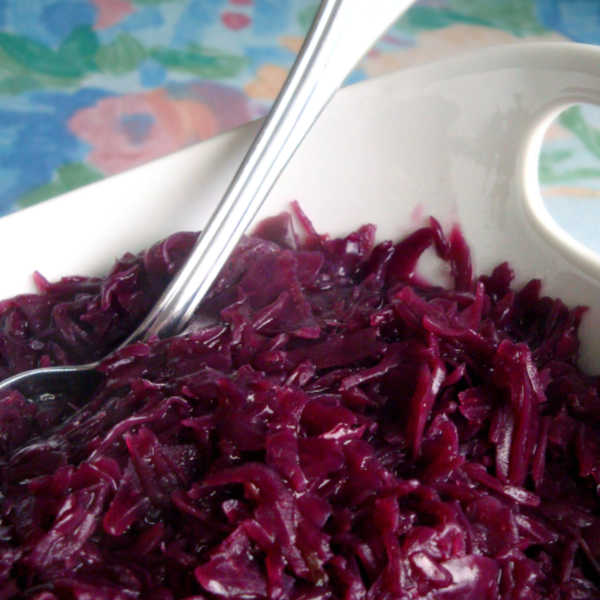 Plus, this recipe for red cabbage is an easy side dish to make and tastes even better the next day, so it's a good idea to make it ahead of time if you can.
Red cabbage recipes are really a staple in German cuisine.

What is German red cabbage?

This traditional German side dish is shredded red cabbage (also known as purple cabbage) that is braised. That is to say, just like braised meats, the raw cabbage is lightly browned in a little fat, then liquid is added as the cabbage continues to cook until tender.
In Germany, this traditional recipe is known by different names, depending on the region. In Northern Germany, where I'm from, red cabbage is called Rotkohl. In Central and Western Germany it is called Rotkraut. And in Southern Germany it is called Blaukohl or Blaukraut, which translate to blue cabbage.

The difference between Rotkohl and Blaukohl lies in the method of preparation. One uses apples and vinegar to turn the purple cabbage red and the other uses baking soda and juniper berries which turns the cabbage blue.

Sweet and sour red cabbage is the usual way I love to make this side dish. In fact, it's the only way that I recall my Mutti ever serving red cabbage. It's German food at its best! :)
However, there are other ways that some Germans make this. Some will insist on cooking the cabbage until it turns to total mush. Others, like to keep a bit of a bite and will not cook it as long.
Some will insist that juniper berries, bay leaves, whole cloves, cinnamon, and/or apple juice need to be added. 
My suggestion? First, try it the way I've posted it below (which in my humble opinion is the best red cabbage recipe!) and then go ahead and experiment with the various other ingredients to find the right recipe that suits you best. 
---
IMPORTANT
You'll need a nice big knife to cut through the cabbage, as well as some disposable gloves.
Why the gloves?
If you don't use gloves, your hands will be stained a lovely pink and purple color from cutting the red cabbage! A stain that is hard to remove.
Lemon juice will help to remove it. Oh, and do wear an apron. 
---

This is a really easy recipe to make vegan. In fact, it's my favorite one to use when I'm serving it to a mixed gathering, with vegans and non-vegans. Both really enjoy this.
To make it a vegan recipe for red cabbage:
Make sure you use oil instead of the butter or lard
Yep, it's that easy to convert. If you have vegan butter, you can use that, but it's not necessary.
---
Lydia Remembers...
I have so many wunderbar memories in the kitchen with my Oma, and have had MANY of her most popular and traditional recipes, like this red cabbage.
This recipe for red cabbage has become one of my very, very favorites. Every family get-together we have where there is red cabbage sitting on the table, I can about imagine the priceless look on my face. Of course, I'll have more than a couple servings of it. How can I resist Oma's famous cabbage!
I tend to cheat a little bit and buy the red cabbage in a jar, instead of making it totally from scratch like Oma does for the family. Though sometimes, I know Oma likes to keep it simple and use the jarred red cabbage one, too!

When I make red cabbage, I love to serve it alongside Oma's recipe for slow cooker roast beef (tastes like rouladen), and gravy made from the meat juice. 
When Oma makes her red cabbage from scratch...I'm telling you, it is SO lecker! Especially with the apple chunks in it. That really is the cherry on-top of the finished product.
Learn a little bit about me, Lydia, and my kitchen adventures with Oma!
---
Need that "all's good with the world" feeling? Comfort food will do that. Get your copy of Oma's German favorites in her Comfort Foods e-Cookbook.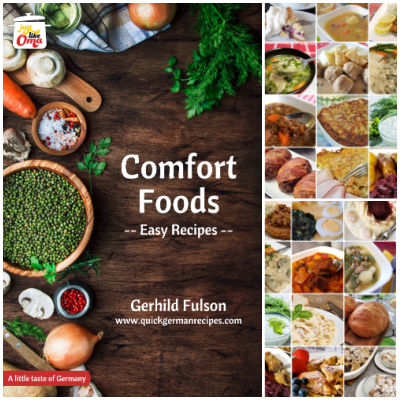 Take a peek at all Oma's eCookbooks. They make sharing your German heritage a delicious adventure!
Oma says,
Our kids repeatedly ask for this. Because this is such a family favorite, I always make a big batch of this Rotkohl recipe by getting the largest red cabbage I can find.
Also, you can use any kind of apple for this recipe.
From sweet apples, like a Fuji, to sweet and tart apples, like a Honey Crisp, to just plain tart apples like a green apple (aka Granny Smith); whatever you happen to have in your crisper will work.
What to serve with sweet and sour German red cabbage

Authentic German red cabbage goes particularly well with hearty meats such as:
German red cabbage is also one of the TOP 10 traditional side dishes to serve with rouladen!
If you'd like to check out more popular German side dishes, click here for a list of the top 24 best German side dishes.
Ready to make this recipe for red cabbage?

Is the recipe below locked? Here's why. 
As an Amazon Associate, I earn from qualifying purchases.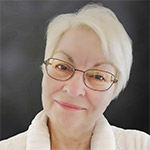 For more German-inspired items that make life easier and yummier, especially in the kitchen and for entertaining, follow my Amazon Storefront.
➙ For groceries,
Try Amazon Fresh
.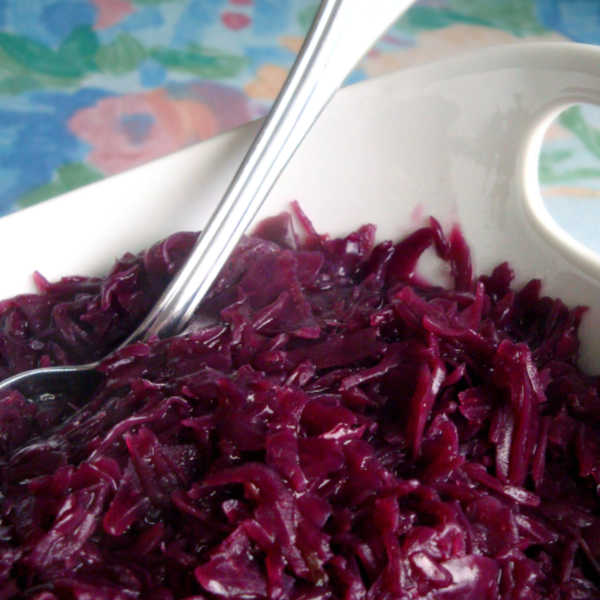 Authentic German Red Cabbage Recipe with Apples – Oma's Rotkohl

There's nothing quite like this delicious recipe for red cabbage. German red cabbage is the perfect side dish to just about any German meal. The apples in this recipe give it that wonderful sweet-and-sour flavor.
Prep Time


10 minutes


Cook Time


60 minutes


Total Time

70 minutes

Servings:

Makes 6 - 8 servings
Ingredients:
1 medium head red cabbage, shredded
2 - 3 tablespoons bacon fat, butter, or olive oil
1 large onion, diced
3 apples, peeled and cored, shredded or diced
½ cup red wine (optional)
3 tablespoons apple cider vinegar
1 teaspoon salt
2 teaspoons white or brown sugar
½ teaspoon ground nutmeg
¼ teaspoon ground cloves
¼ teaspoon freshly ground black pepper
2 tablespoons lemon juice
2 tablespoons corn starch
Instructions:
In a large pot or large dutch oven, heat bacon fat over medium heat and lightly sauté the onion.
Add shredded cabbage and apples. Continue to sauté for several minutes.
Add 1 cup water, red wine (if using), cider vinegar, sugar, salt, nutmeg, cloves, and pepper. Stir.
Bring to a simmer and cover. Simmer for about 30 to 60 minutes or until the cabbage is tender, adding more water if needed.
Add lemon juice. Taste and season with more salt, cloves, pepper, sugar, and vinegar as needed.
Mix about 2 tablespoons cornstarch with cold water and slowly stir in just enough to thicken red cabbage liquid.
Notes/Hints:

For an extra quick red cabbage recipe, use canned or jarred red cabbage. Add shredded or grated apples. Simmer until apples are cooked, about 10 minutes. Season and thicken with corn starch as above.
Want another version for red cabbage without the apples? Then check out my other German Red Cabbage recipe. There are easy instructions there how to cook cabbage as well as prepare it.
The traditional recipe for red cabbage calls for cooking the cabbage until it's almost mush. If you prefer, you can slice the cabbage instead of shredding and cook it only about ½ hour instead if you prefer a more textured cabbage dish. Delicious as well.
Feel free to experiment with a different mix of spices and herbs (as mentioned above), as well as other vinegars, such as: white vinegar, balsamic vinegar, and white or red wine vinegar.
Leftovers taste even better the next day. Leftover red cabbage will last a few days in an airtight container in your fridge. Extras also freeze well.
*  *  *  *  *

Unless otherwise noted recipe, images and content © Just like Oma | www.quick-german-recipes.com

04.27.2022 revision update
Leave a comment about this recipe or ask a question?

Pop right over to my private Facebook group, the Kaffeeklatschers. You'll find thousands of German foodies, all eager to help and to talk about all things German, especially these yummy foods. 
Meet with us around Oma's table, pull up a chair, grab a coffee and a piece of Apfelstrudel, and enjoy the visit.

This easy German Apple Strudel recipe is one of those German desserts that brings the traditional strudel taste to your table without all the work. Wunderbar!!

Make the perfect German Spaetzle with Oma's easy recipe! This traditional German egg noodle pairs perfectly with caramelized onions for a delicious meal.

Choose from Oma's cookbooks that are immediately downloadable & start cooking easy classic German foods tonight. Or get her newest paperback cookbook. LECKER!
*  *  *  *  *
PIN to SAVE this recipe to your Pinterest board!
And let's be friends on Pinterest!
Words for the Wise
"The mouths of fools are their ruin; they trap themselves with their lips."
Proverbs 18:7 (NLT)
---