Oma's Traditional Roast Duck Recipe ❤️

➤ by Oma Gerhild Fulson
FTC Disclosure: As an Amazon Associate, I earn from qualifying purchases.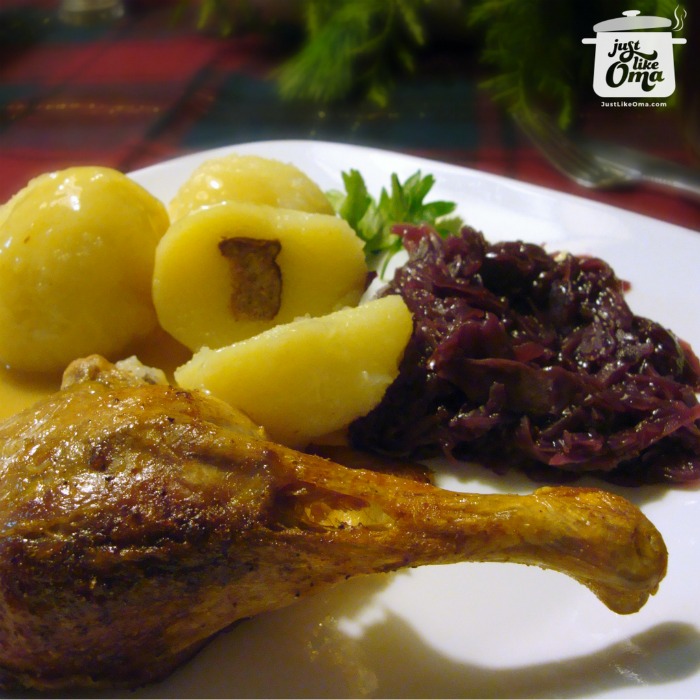 This German roast duck recipe is so easy to make for your traditional holiday dinner. With very little work, it goes into the oven and you have time to make all the trimmings. For me, that's potato dumplings (with roasted bread crouton inside) and red cabbage.
You'll find that the following method of how to cook duck is very tasty and very easy. Perfectly delicious intimate dinner for two!

I really don't remember Mutti cooking duck that often. Perhaps, because most ducks will only serve about 4 and our family had 5 very hungry people. That would make an expensive meal. 
However, it's perfect for an intimate dinner for two. Or, if you wanted to keep up with German Christmas traditions, you could make several. Traditional for Christmas, but perfect for Easter as well.
Oma says,
I naturally served this with potato dumplings and red cabbage. For gravy, I used some chicken gravy that I had on hand. 
If you wish, you can make a gravy with the pan juices that are left in the pan. Remove the fat first, though.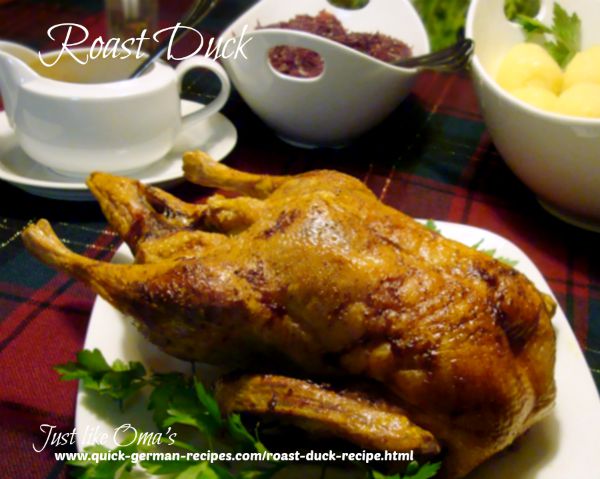 I was surprised how easy it was to make duck this way. I know I've seen it done various ways to remove some of the fat by poking the skin with a fork either before or during the roasting time.
However, cooking it in the method below, the duck was very moist and not fatty at all. There was a fair amount of fat in the roasting dish which I saved for other uses.
The only thing that is really needful is knowing that a duck doesn't usually have too much meat. The duck (4 lb) shown above served 3 of us with some leftovers. 
Oma's Traditional Roast Duck Recipe ❤️

Ingredients:
1 duck (about 4 lb)
1 apple, quartered
2 stalks celery, coarsely chopped
1 onion, quartered
salt and pepper or seasoning salt
Instructions:
Preheat oven to 325° F.
Rinse duck under running water. Remove any innards. Pat dry with paper toweling.
Season duck, inside and out with salt and pepper or seasoning salt.
Stuff apple, celery, and onion into duck's cavity. Either sew shut with kitchen twine or use skewers to close cavity. 
Place duck into shallow roasting pan.
Roast in preheated oven for 2½ to 3 hours or until internal temp reaches 180°F and leg joint moves freely. About ½ hour before it is finished, baste with pan juices.
Remove from oven. Tent with foil and let sit about 10 minutes before serving.
Cut duck into 4 pieces and serve.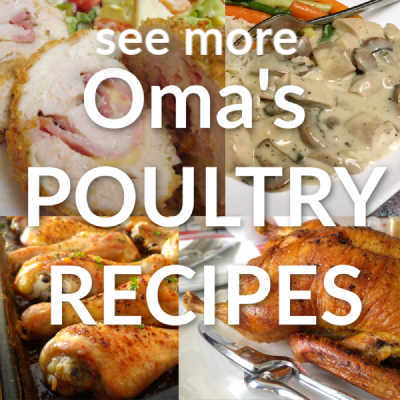 Leave a comment about this recipe or ask a question?
Pop right over to my private Facebook group, the Kaffeeklatschers. You'll find thousands of German foodies, all eager to help and to talk about all things German, especially these yummy foods. 
I pop in all the time as well, to chat and to answer questions. 
Meet with us around Oma's table, pull up a chair, grab a coffee and a piece of Apfelstrudel, and enjoy the visit.
*  *  *  *  *
Want nutritional information for a recipe?
Copy and paste the ingredient list and the number of servings into Calorie Count. 
It will give you an approximate calculation.

Need help doing conversions
between cups and grams or any such thing?
Use this site to give you all the different conversions for the different types of ingredients. 
---
PIN this ...
---
I'm American but lived several years in Germany. I love the German Christmas traditions! For instance celebrating a 1st and 2nd Christmas day and celebrating

These German Christmas Traditions have been around for generations. Some ornamental, some musical and some just simply YUMMY!
---
WORDS TO THE WISE
"If you reject discipline, you only harm yourself; but if you listen to correction, you grow in understanding."
Proverbs 15:32 (NLT)