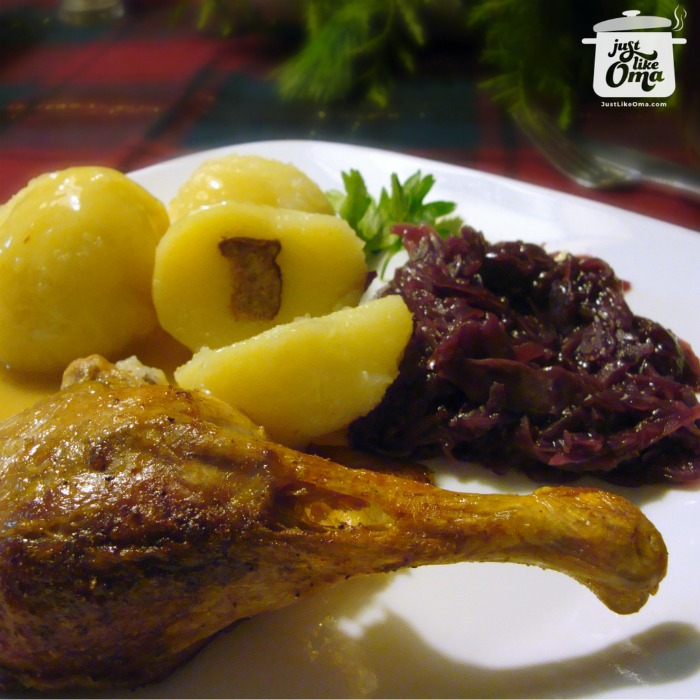 Traditional Roast Duck Recipe – Oma's traditionelle gebratene Ente

This German roast duck recipe, aka Entenbraten,  is so easy to make for your traditional holiday dinner. With very little work, it goes into the oven and you have time to make all the trimmings. For me, that's potato dumplings (with roasted bread crouton inside) and red cabbage.
Prep Time


30 minutes


Roast Time


2.5 hours

Total Time

3 hours

Servings:

Makes 3 - 4 servings
Ingredients:
1 duck (about 4 pounds)
1 large apple, quartered
2 stalks celery, coarsely chopped
4 large carrots, cut into chunks
2 medium onions, quartered
salt and pepper or seasoning salt
1 tablespoon cornstarch
Instructions:
Preheat oven to 325°F.
Rinse duck under running water. Remove any innards. Pat dry with paper toweling.
Season duck, inside and out with salt and pepper or seasoning salt.
Stuff apple into duck's cavity. Either sew shut with kitchen twine or use skewers to close cavity. 
Place duck with the breast side down into shallow roasting pan. Scatter the celery, carrots, and onions around the duck. Add about 1 inch of water.
Roast in preheated oven for 1 hours. Turn duck over so the breast side is up and continue roasting for 1½ to 2 hours or until internal temp reaches 180°F and leg joint moves freely. About ½ hour before it is finished, baste with pan juices.
If you want the skin crispier, increase the oven to 400°F, put the duck onto a new roasting pan and roast it for another 10 minutes or so.
Remove from oven. Tent loosely with foil and let sit about 10 minutes before serving.
To make the gravy, strain the pan juices into a bowl. Skim the fat off with a spoon (keep the fat for other purposes such as frying potatoes!) and return some the pan juices to the roasting pan and scrape up the browned bits at the bottom with a spatula. Pour all the pan juices into a saucepan, heat to a simmer. Make a cornstarch slurry by mixing a tablespoon of cornstarch with a bit of cold water. Stir in just enough into the simmering pan juices to thicken. Season with salt and pepper. 
Cut duck into 4 pieces and serve with the gravy.
*  *  *  *  *

Unless otherwise noted recipe, images and content © Just like Oma | www.quick-german-recipes.com

11.06.2021 revision update