German Chicken Fricassee Recipe ❤️
➤ by Oma Gerhild Fulson
FTC Disclosure: Making a purchase via a link on the page? I may earn a small commission on the transaction - at no added cost to you. Thanks!
Yum
Make this chicken fricassee recipe, aka Hühnerfrikassee, and you'll think you're back in Oma's kitchen. German comfort food. Originally just a 'leftover' meal, now it graces the best restaurant menus.  
Leftover veggies and whatever's in the fridge would normally find their way into the fricassee. What follows first is my quick recipe and then there's the traditional German way, which can take hours to cook the chicken for the meat and the broth. Both are delicious and it really depends how much time you have. 
I've added a super SUPER QUICK version in the hints below, as well! Perhaps you'll pick up a cooked chicken at the deli in order just to make this. Don't forget to use the carcass to make chicken soup later :)


---
Originally thought to stem from France, fricassee is described as being "halfway between a sauté and a stew" by Julia Childs
 In a traditional French (and American) fricassee, the cut-up meat is first sautéed (but not browned) and then liquid is added and it is simmered to finish cooking
The traditional German way of making chicken fricassee is to cook the bird in water with added veggies to create wonderfully flavored meat and delicious broth
Traditional for the German one is to add white asparagus tips 
1. Oma's German Chicken Fricassee Recipe❤️
Ingredients:
8 oz fresh mushrooms, sliced
1½ lb chicken skinless and boneless thighs, cubed
3 Tbsp butter
1 Tbsp olive oil
4 Tbsp flour
2 cups chicken broth, hot 
1 cup frozen peas (optional)
½ cup cream (whipping or 10%)
salt, pepper
fresh parsley to garnish
Instructions:
In a large saucepan add 1 Tbsp butter and oil. Add mushrooms and sauté for several minutes until lightly browned. Remove mushrooms and set aside. 
Add remaining butter and lightly cook chicken without browning it. Sprinkle with flour and stir to mix. Add hot broth and continue stirring, bringing to a boil. Return mushrooms to saucepan and stir. Cover,  reducing heat to a simmer and cook for about 15 - 20 minutes. If the sauce gets too thick, add a bit extra water.
Add peas (if using) and simmer for 2 - 3 minutes. Add cream. Season. Sprinkle with parsley to garnish.
Makes 4 servings.
Hints:
Add 

1 tsp capers to the finished sauce
Add frozen asparagus about 10 minutes before sauce is finished
Season with 1 Tbsp lemon juice
Use paprika and/or nutmeg to season
SUPER QUICK FRICASSEE: use leftover cooked chicken and follow the above recipe, only the cooking time is reduced to about 5 minutes for the chicken to heat through and the flour to cook. 
2. Mutti's Traditional German Chicken Fricasse ❤️
If you'd like to make this totally from scratch, just the way your Mutti (and my Mutti) did, you'll need to plan for several hours cooking time.
Ingredients:
1 leek 
1 - 2 carrots
2 celery stalks
1 onion
2 Tbsp butter
2 - 3 lb whole chicken or chicken pieces
a few black peppercorns
salt, bay leaf
Instructions:
Dice the vegetables.
Melt the butter in a large pot and add the diced vegetables. Cook until softened and lightly browned. Add about 2 cup water and stir up any browned bits. 
Add chicken to the pot and add about another 2 cups water, or until the chicken is covered. Add the peppercorns and about 1 tsp salt.
Bring to boil, cover and simmer for about 1½ - 2 hours or until the chicken is tender.
Remove chicken from the broth and let cool. Remove meat and use about 1 lb for the fricassee above. Strain the broth and use 2 cups for the above recipe. Refrigerate remaining meat and broth for other uses. 

---
Oma says, 
I remember my Mutti serving this over a bed of rice and her creamed peas and carrots on the side. Pure comfort food!
In the photo above, I've made the chicken fricassee with just mushrooms. Hubby and I LOVE freshly ground black pepper, but if you don't want the 'dark specks', then add white pepper.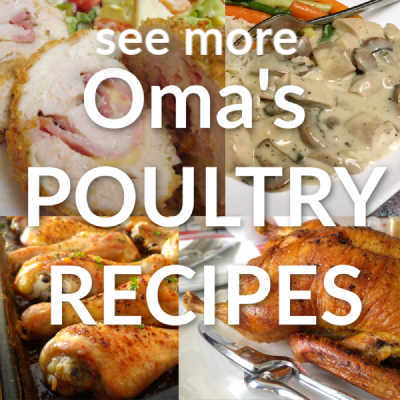 *  *  *  *  *
Thinking of starting your own Handmade Business?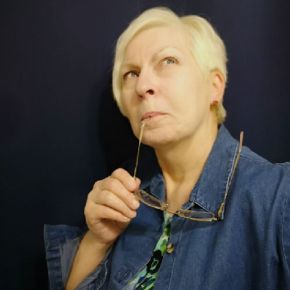 This Oma KNOWS you CAN do it.
How do I know?
Well, if I can do it, anyone can.
I've even figured out how I can help you.
I've teamed up with my own business coach, Renae Christine (yes, do google her!), to bring you this free masterclass. After you watch it, ask me any questions and I'll gladly answer them.
Don't hesitate. I'm not sure how long Renae will keep this free masterclass available.
PS:  Yes, Renae really is as amazing as all the reviews say.
PPS: Yes, the course is for handmade items, but I've used it successfully for my cookbooks. I know others are using her methods for services, direct sales, and even a local ice cream bar & grill that's constantly selling out. You've nothing to lose by taking a look ... and a whole bunch to gain.
*  *  *  *  *
Oma's Cookbooks (downloadable & print)
*  *  *  *  *
Want nutritional information for a recipe?
Copy and paste the ingredient list and the number of servings into Calorie Count. 
It will give you an approximate calculation.

Need help doing conversions
between cups and grams or any such thing?
Use this site to give you all the different conversions for the different types of ingredients. 
---
PIN this ...
---
Words to the Wise
"A hot-tempered person starts fights; a cool-tempered person stops them."
Proverbs 15:18 (NLT)
---
German Chicken Fricassee Recipe


By
Oma Gerhild Fulson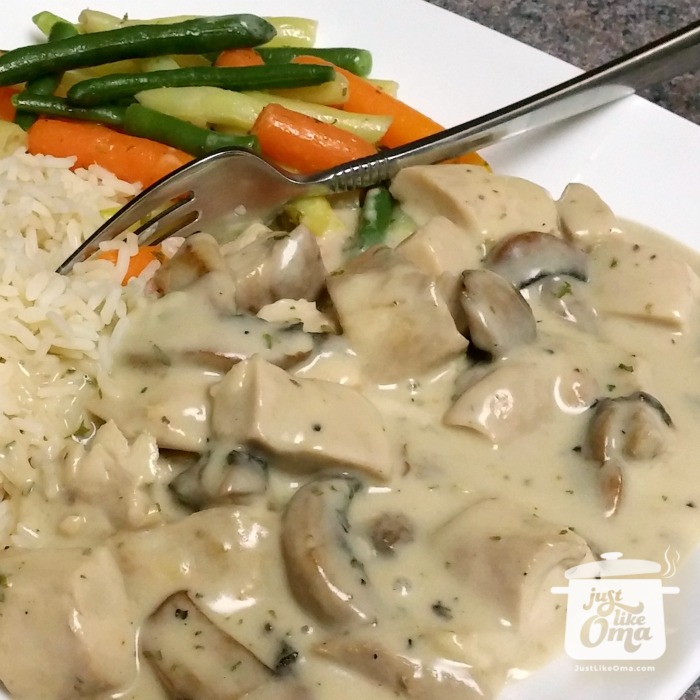 Make this chicken fricassee recipe and you'll think you're back in Oma's kitchen. German comfort food. Originally just a 'leftover' meal, now it graces the best restaurant menus.


Prep Time: 10 minutes

Cook time: 30 minutes

Yield:
4 servings

Ingredients:
1 1/2 lb chicken,
8 oz mushrooms,
3 Tbsp butter,
4 Tbsp flour
1/2 cup cream
1 cup peas
For the full recipe, scroll up ...