How to Boil Rice ~ Oma's easy way!

➤ by Gerhild Fulson
"How to boil rice?" "How to have it nice and fluffy - not sticky?" "How to cook rice easily?" Even, "How to steam rice?"
Ever had these questions? Well, here's your answer!
If you're planning a traditional German meal, or perhaps a Chinese meal without the take-out, try this hint for making perfect rice, aka Reis, EVERY TIME!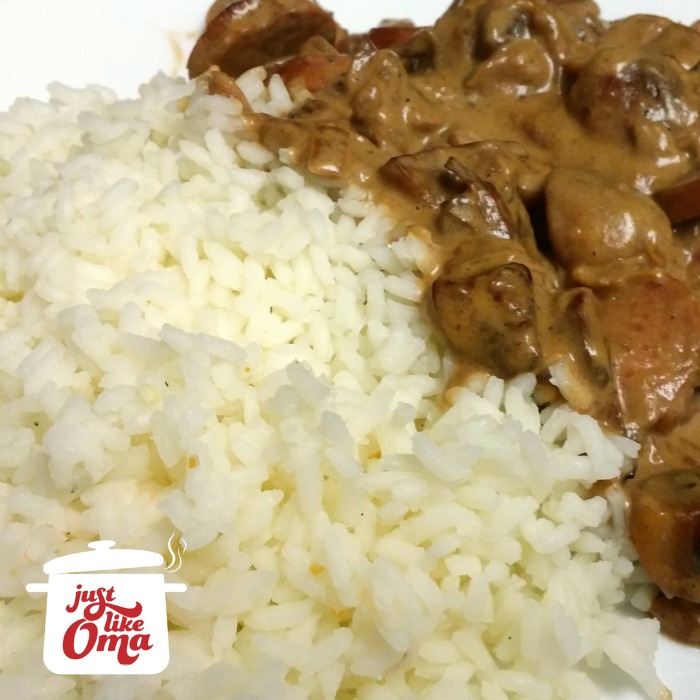 The trickiest part in making rice traditional way was the timing to get it just right. However, this method is so fool-proof, combining boiling and steaming.
It's the way I've made it for decades. Check below for an even easier way that I use now!)

The boiling gets the rice cooking quickly. The steaming finishes it off.
You will need a medium to large pot and a large sieve that fits it, so that the sieve spans the top of the pot and the bottom of the sieve sits at least 2 inches from the bottom of the pot.
Need a Mushroom Gravy?
Want to make this absolutely wunderbar mushroom gravy to go along with the rice? Check it out here! Use the recipe near the bottom of that page ... the one with the onions as well.
This is the Galloping Gourmet Rice
Many years ago, as a young wife, I was watching the Galloping Gourmet on TV. The boil/steam method is what he was showing AND it's been the only way I've made my rice since then.
That's over 40 years ago! When something is this easy and good, why change it!
Need that "all's good with the world" feeling? Comfort food will do that. Get your copy of Oma's German favorites in her Comfort Foods e-Cookbook.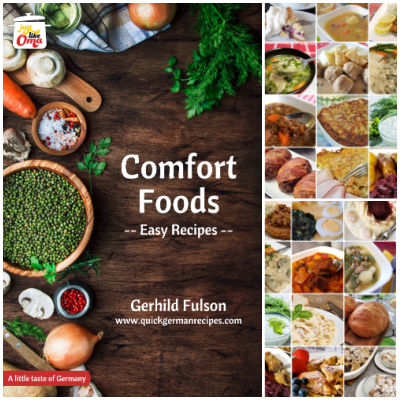 Take a peek at all Oma's eCookbooks. They make sharing your German heritage a delicious adventure!
Want an even EASIER Rice Method?
Yes, there really is an even easier, and dare I say it, better way to make rice. Take a look at these wonderfully cook grains ...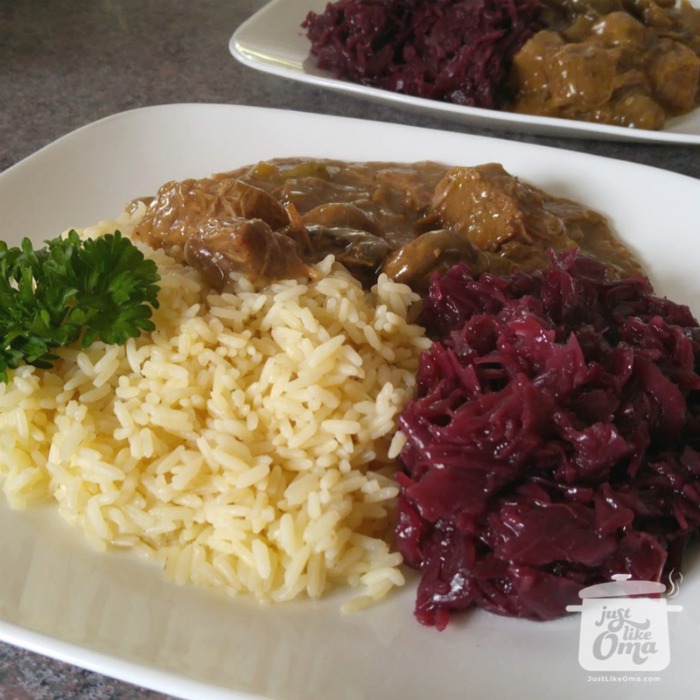 Doesn't it look absolutely PERFECT? That's what hubby says as well. Want to know how to make it like this? Click right here!!!!
Are you still wanting to make it with the boiling and steaming method? Then here you go ...
---
Oma says,
For quantities, 1 cup of raw long-grained rice equals about 3 cups cooked. I usually cook up about 1 to 1½ cups rice and have leftovers for the next day.
For long-grained brown rice, the method is the same, but the times are doubled.

If the rice is done and you are not ready to serve it, keep it over steam until you are. Steaming is also a great way to reheat leftovers.
Ready to boil some rice?
Is the recipe below locked? Here's why. Unlock to see ALL the exclusive recipes on this site. Click here for help.
➤ As an Amazon Associate, I earn from qualifying purchases.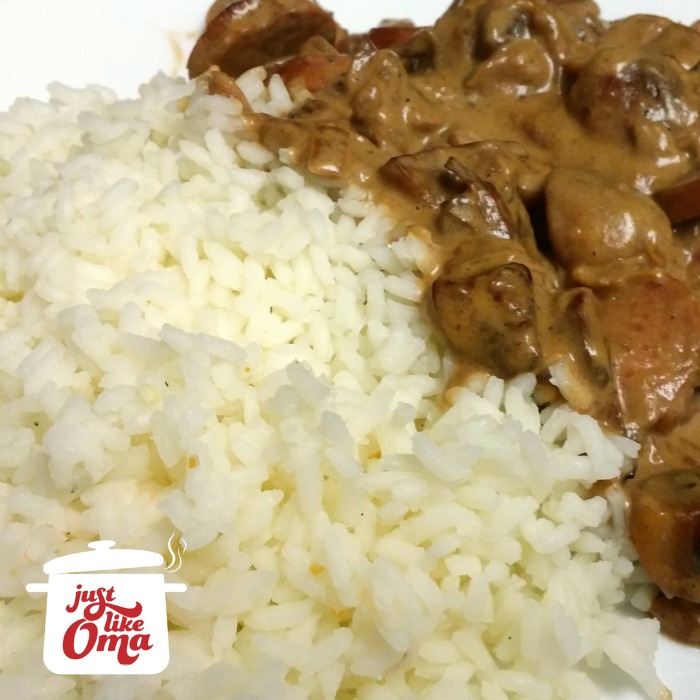 How to Boil Rice, Oma's Easy Way

The trickiest part in making rice, aka Reis, traditional way was the timing to get it just right. However, this method is so fool-proof, combining boiling and steaming.
It's the way I've made it for decades. 
Prep Time


10 minutes


Cook Time


20 minutes


Total Time

30 minutes

Servings:

Makes 3 - 4 servings
Ingredients:
1 cup long-grain rice 
about ¾ teaspoon salt
Instructions:
In a medium pot, put about 2 to 3 inches of water. Add salt. Bring to rolling boil. 
Add rice. Boil, uncovered, stirring occasionally for 10 minutes. (Boil brown rice for 20 minutes)
Drain rice into sieve. Put about 1 inch of hot water into pot. Place sieve (with rice) on pot.
Bring water to boil. Place lid on top of sieve, reduce heat, and steam rice for 10 minutes. Make sure water does not boil away - add more if needed. (Steam brown rice for 20 minutes.)
Serve or keep hot over steam.
*  *  *  *  *

Unless otherwise noted recipe, images and content © Just like Oma | www.quick-german-recipes.com

Leave a comment about this recipe or ask a question?

Pop right over to my private Facebook group, the Kaffeeklatschers. You'll find thousands of German foodies, all eager to help and to talk about all things German, especially these yummy foods. 
Meet with us around Oma's table, pull up a chair, grab a coffee and a piece of Apfelstrudel, and enjoy the visit.

Discover the history behind the German Apple Pancake recipe, aka Apfelpfannkuchen. Quick, very easy, and wunderbar! Get Oma's delicious recipe here.

I loved to wander thru Trier in the winter evenings when all was quiet. Usually, on Friday nights around Christmas, there would be a small band playing
*  *  *  *  *
PIN to SAVE this recipe to your Pinterest board!
And let's be friends on Pinterest!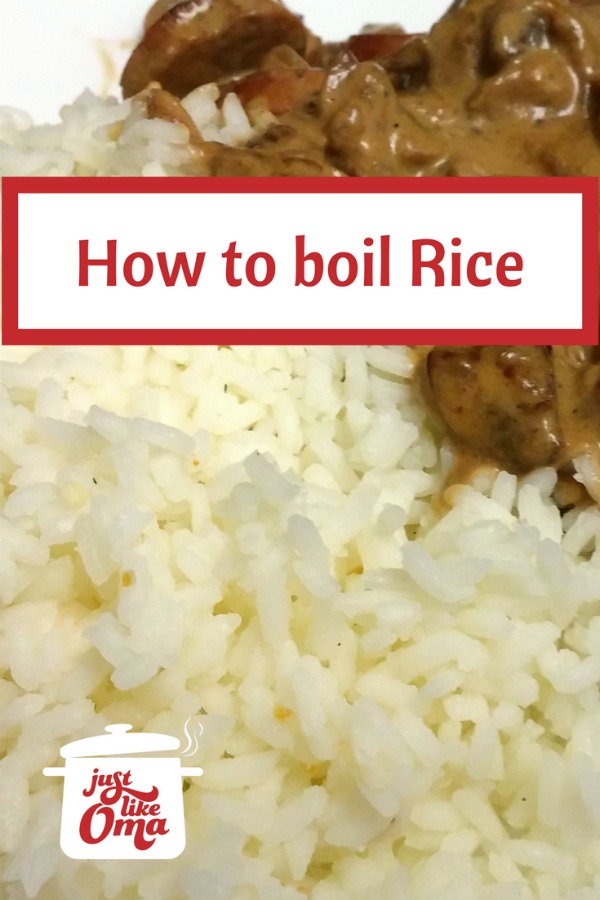 ---
How to Boil Rice Just like Oma


By
Oma Gerhild Fulson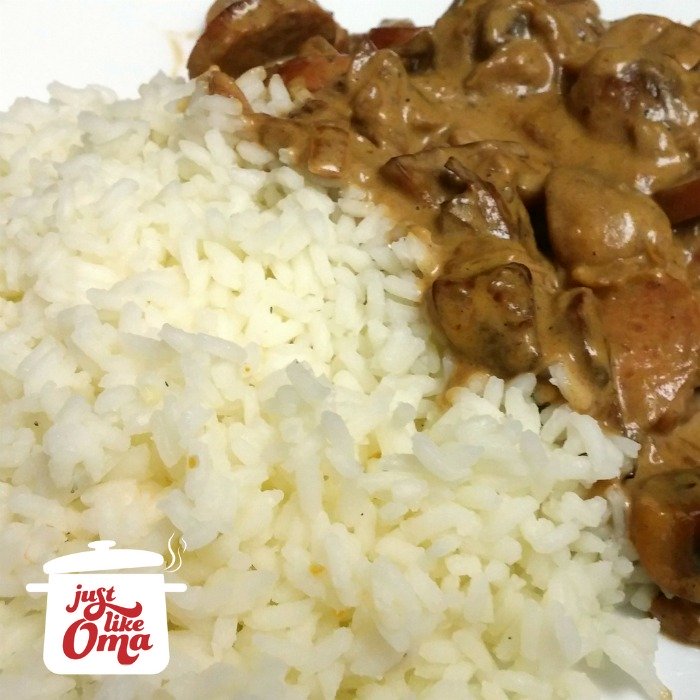 How to boil rice can be tricky. Here's a fool-proof way to get perfect rice, every time! It works for regular white long-grained rice as well as brown.

Ingredients:
rice,
salt,
For the full recipe, scroll up ...
Words to the Wise
"A stone is heavy and sand is weighty, but the resentment caused by a fool is even heavier."
Proverbs 27:3 (NLT)