Oma's German Noodle Nests
➤ by Gerhild Fulson
Need an unusaul pasta casserole recipes, aka Nudelkasserole? Here's an adaptation of one I found when I was in Germany several years ago, Nudelnester, translated as Noodle Nests! It came from one of the many German cooking magazines that have so many wonderful recipes.
This one is a variation of a spaghetti casserole recipe.
Pasta is Italian and noodles are German AND Southern Germany loves its noodles. Enjoy this cultural mix because these "noodle nests" don't use German noodles, but rather spaghetti. It makes one wonder why it's called noodles, but that's the way it's known.
It's a fun casserole to make for company. Make it ahead and then just pop it in the oven to bake.

I've made this using either whole wheat or multigrain spaghetti - not only delicious, but healthier as well! 
Want vegetarian? Then omit the sausage.

Ready to make this pasta casserole?
Oma's German Noodle Nests

Here's an unusual pasta casserole recipe, aka Nudelkasserole. It's my adaptation of one I found when I was in Germany several years ago, Nudelnester, aka Noodle Nests! The original came from one of the many German cooking magazines that have so many wonderful recipes.
Prep Time


30 minutes


Cook/Bake Time


50 minutes


Total Time

80 minutes

Servings:

Makes 6 servings
Ingredients:
12 ounces spaghetti
5 tablespoons olive oil
24-ounce can pasta sauce
1 pound fresh mushrooms
2 - 3 smoked sausage (precooked), cubed
1 garlic clove
3 green onions, chopped
salt, pepper
4 ounces mozzarella, cubed
Instructions:
Preheat oven to 400°F.
Cook spaghetti according to package instructions, till "al dente".
Drain spaghetti, rinse with cold water. Return to pot and mix in 3 tablespoons olive oil.
Quarter mushrooms. In frying pan, put remaining olive oil. Heat. Add mushrooms, stirring until browned. Add sausage,
Using a garlic press (or chopping finely), add garlic to mushrooms. Continue to brown for a few minutes. Remove from heat.
Add green onions and season with salt and pepper.
Put ⅓ of pasta sauce in bottom of casserole dish.
Form "noodle nests" by dividing spaghetti into 6 portions. Place one portion on a saucer and from into a nest by twirling it around the fork with a depression in the center. Slide it into the casserole dish. Repeat with remaining spaghetti.
Distribute the mushroom mixture in the center of the nests.
Pour the rest of the pasta sauce around the nests.
Sprinkle cubed mozzarella over top.
Bake, uncovered, until bubbly - about 25 - 30 minutes.
*  *  *  *  *

Unless otherwise noted recipe, images and content © Just like Oma | www.quick-german-recipes.com

Need that "all's good with the world" feeling? Comfort food will do that. Get your copy of Oma's German favorites in her Comfort Foods e-Cookbook.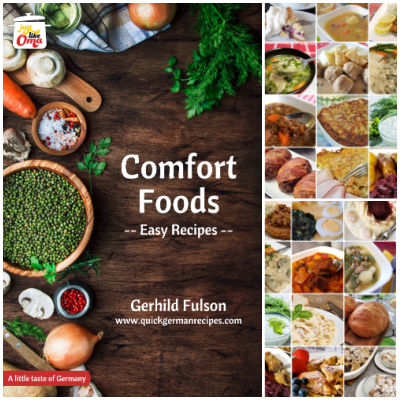 Take a peek at all Oma's eCookbooks. They make sharing your German heritage a delicious adventure!
Leave a comment about this recipe or ask a question?

Pop right over to my private Facebook group, the Kaffeeklatschers. You'll find thousands of German foodies, all eager to help and to talk about all things German, especially these yummy foods. 
Meet with us around Oma's table, pull up a chair, grab a coffee and a piece of Apfelstrudel, and enjoy the visit.

Learn how to make German Roasted Pork Hocks (Pork Knuckles) anytime you want something traditionally German and wonderfully delicious! A hearty Oktoberfest meal for any time of the year!

This confetti salad is a great variation of German potato salad that makes a complete lunch dish. This colorful salad is such a wunderbar statement dish that will amaze everybody..with it's taste too!

What is Grow.me and why should you join it? There are several real reasons for using Grow with benefits for you, the reader. And yes, benefits for me too :)
*  *  *  *  *
Words to the Wise
"The wise are mightier than the strong, and those with knowledge grow stronger and stronger."
Proverbs 24:5 (NLT)