Oma's One Skillet German Rice Dinner

➤ by Oma Gerhild Fulson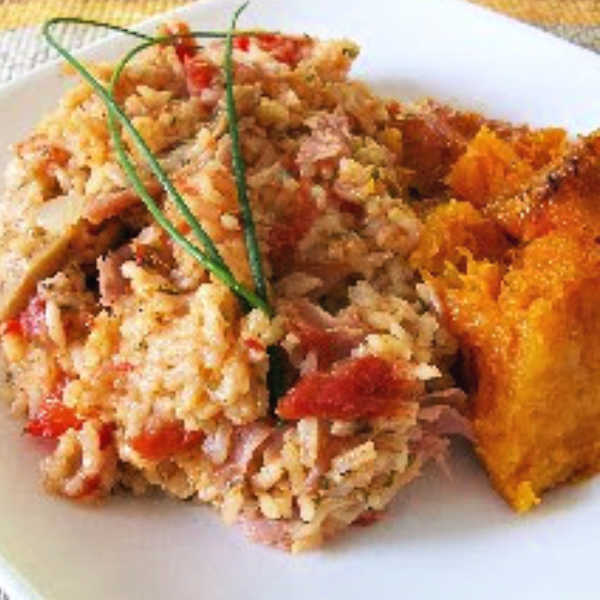 This German rice dish, aka Reistopf, is so quick and easy to make.  It is similar to a recipe for risotto - but you use regular long grain white rice and add meat as well. 
In the photo above, I've added diced red pepper along with the canned tomatoes and mushrooms. Not necessary, but nice. Try adding some green and/or yellow peppers as well.
You can serve the rice with any vegetable - the dinner above is served with squash - just cook some frozen veggies if you're in a hurry. Of course, this is just as delicious made without the meat and used as a side dish to a meat main dish.

If you end up with leftover rice, put it in a casserole dish, add a can of condensed mushroom soup, and about ½ can of milk. Add some vegetables if you have any. Stir. Sprinkle cheese on top. Cover and refrigerate.
Tomorrow, looking for some quick recipes for supper? Just take from fridge, bake it uncovered at 350°F for about ½ hour or until hot. Another easy fast dinner recipe and different than today's.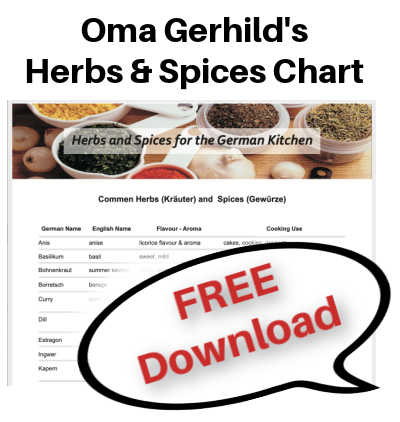 ---
Ready to make some German rice dinner?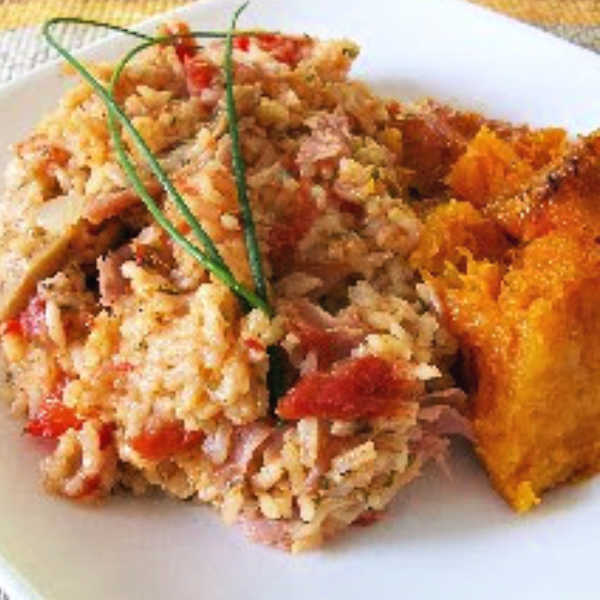 Oma's One Skillet German Rice Dinner

This German rice dish, aka Reistopf, is so quick and easy to make.  It is similar to a risotto - but you use regular long grain white rice and add meat as well. 
You can add diced red or green pepper if you wish. Here's I've served it with butternut squash, a family favorite.
Prep Time


10 minutes


Cook Time


30 minutes


Total Time

40 minutes

Servings:

Makes 6 servings
Ingredients:
3 tbsp oil or butter
1 onion, chopped 
2 cups white long grain rice
28 oz can tomatoes, diced or sliced 
10 oz can mushrooms, sliced 
2 cups leftover ham or other cooked meat, in chunks
3 cups water
1 tbsp Vegeta powder (or about 1 tsp seasoning salt)
parsley, salt, pepper
Instructions:
In a large saucepan, heat oil/butter. Soften and slightly brown onion. Add rice. Stir and brown slightly over high heat.
Add canned tomatoes (with liquid), canned mushrooms (with liquid), meat, and about 2 cups water. Add Vegeta powder. Stir. Cover and bring to simmer.
Simmer on medium-low heat, covered, stirring occasionally and adding extra water as necessary. Cook until rice is tender, about 20 minutes. 
Season with parsley and extra salt and pepper as needed.
Notes/Hints:

Use salt and pepper if you do not have Vegeta.
Add other canned vegetables if desired; omit mushrooms if desired.
If you have any leftover gravy, add it. 
If you want to serve this as a side dish to meat, omit the meat in the rice.
Serve this with butternut squash, as I have in the photo above.
*  *  *  *  *

Unless otherwise noted recipe, images and content © Just like Oma | www.quick-german-recipes.com

Need that "all's good with the world" feeling? Comfort food will do that. Get your copy of Oma's German favorites in her Comfort Foods e-Cookbook.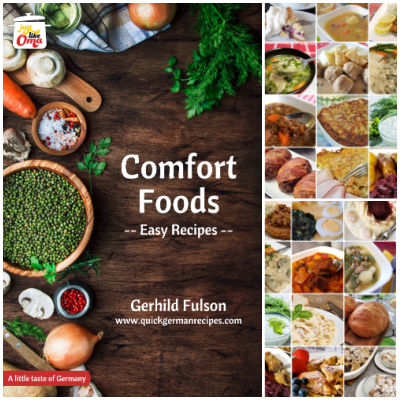 Take a peek at all Oma's eCookbooks. They make sharing your German heritage a delicious adventure!
Leave a comment about this recipe or ask a question?

Pop right over to my private Facebook group, the Kaffeeklatschers. You'll find thousands of German foodies, all eager to help and to talk about all things German, especially these yummy foods. 
Meet with us around Oma's table, pull up a chair, grab a coffee and a piece of Apfelstrudel, and enjoy the visit.

Oma's Cream Roll recipe, Biskuitrolle, is the German version of a Swiss roll or jelly roll. Filled with whipped cream and studded with berries, this is an easy-to-make treat anytime of the year.

Make this pan roasted carrot recipe when you're wanting quick and easy carrots just like this German Oma makes them. Similar to oven roasted, just quicker. YUM!

Cooking green beans, German-style, makes a wonderful side dish for almost any meal. Cooking the grüne Bohnen till just tender with a creamy white sauce is so traditional and so lecker!
*  *  *  *  *
PIN this ...
---
One Pan German Rice Dinner made Just like Oma


By
Oma Gerhild Fulson
This German rice recipe is so simple and economical. It's easy to alter according to your tastes. It's also easy to extend it with a few extra cans of vegetables and feed a crowd.

Ingredients:
onion,
oil,
rice,
canned tomatoes,
mushrooms,
ham,
seasoning,
For the full recipe, scroll up ...
Words to the Wise
My child, eat honey, for it is good, and the honeycomb is sweet to your soul. If you find it, you will have a bright future, and your hopes will not be cut short."
Proverbs 24:13-14 (NLT)