Easy Baked Spaghetti Recipe
Oma's Easy Baked Spaghetti Recipe

➤ by Oma Gerhild Fulson
This easy Baked Spaghetti recipe, aka Überbackene Spaghetti, is one of those quick pasta casserole recipes that's great when you're looking for easy dinner ideas.
Quick German Recipe? Of course it is.
Well, tweaked anyways. Instead of the usual Mozzarella, use a nice German Emmentaler cheese.
It's super if you have left-over spaghetti (or perhaps you made extra the day before just to have it ready.) If you only have one color of peppers, use them. However, using three different colors of peppers makes this such a delicious looking dish.
If you wanted to turn this into a complete supper, add some leftover cooked meat, such as beef, chicken, or turkey. Even smoked sausages cut into pieces would be a treat.

Need that "all's good with the world" feeling? Comfort food will do that. Get your copy of Oma's German favorites in her Comfort Foods e-Cookbook.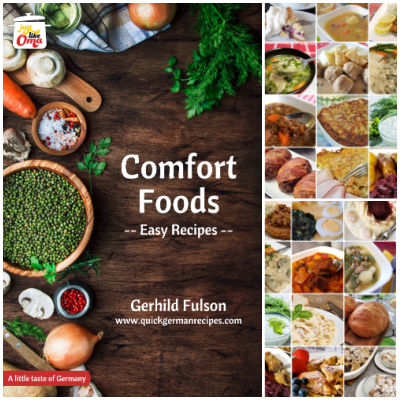 Take a peek at all Oma's eCookbooks. They make sharing your German heritage a delicious adventure!
If you have some leftover spaghetti to use, you'll need a about 6 - 7 cups of it for this recipe. No leftover spaghetti? Use any other kind of pasta as well. Actually, if you're cooking this from scratch, any other kind of pasta would work really good as well.
If you're not a fan of the 'long' strands of spaghetti, you can always break it into smaller pieces before you cook it. However, if you've got kids, they really love slurping those long pastas!
How to serve this dish? Well, it tastes absolutely fabulous all by itself, but I usually serve it with some tomato sauce and any leftover meat. No leftover meat? Hubby loves it when I put a can of corned beef in the sauce. I try keep the meat in slices and stir carefully so as not to break it up too much.
Whenever Mutti served up spaghetti in any form, I always thought we were eating Italian-style. I really was shocked when I travelled to southern Germany many, many years later, and found out that pasta and noodles are very common there. 
---
Ready to bake some Spaghetti?
Oma's Easy Baked Spaghetti Recipe

This easy baked spaghetti recipe, aka Überbackene Spaghetti, is one of those quick pasta casseroles that's great when you're looking for easy dinner ideas.
Instead of the usual Mozzarella, use a nice German Emmental cheese.

Prep Time


10 minutes


Cook Time


25 minutes


Total Time

35 minutes

Servings:

Makes 4 - 6 servings
Ingredients:
10 oz spaghetti
3 bell peppers (use 3 colours if possible)
2 tbsp olive oil
1 garlic clove, crushed
salt, pepper to taste
8 oz Emmentaler or Gouda, sliced
1 tbsp fresh thyme
Instructions:
Cook spaghetti according to package instructions. Drain.
Preheat oven to 425°F.
Dice peppers and sauté in olive oil for 5 minutes.
Add garlic to peppers. Add spaghetti. Season with salt and pepper.
Pour spaghetti mixture into greased 10"x15" casserole dish. Cover with cheese slices and sprinkle with thyme.
Bake 8 - 10 minutes or until cheese melts. Serve.
*  *  *  *  *

Unless otherwise noted recipe, images and content © Just like Oma | www.quick-german-recipes.com

Leave a comment about this recipe or ask a question?

Pop right over to my private Facebook group, the Kaffeeklatschers. You'll find thousands of German foodies, all eager to help and to talk about all things German, especially these yummy foods. 
Meet with us around Oma's table, pull up a chair, grab a coffee and a piece of Apfelstrudel, and enjoy the visit.

Oma's Cream Roll recipe, Biskuitrolle, is the German version of a Swiss roll or jelly roll. Filled with whipped cream and studded with berries, this is an easy-to-make treat anytime of the year.

Make this pan roasted carrot recipe when you're wanting quick and easy carrots just like this German Oma makes them. Similar to oven roasted, just quicker. YUM!

Cooking green beans, German-style, makes a wonderful side dish for almost any meal. Cooking the grüne Bohnen till just tender with a creamy white sauce is so traditional and so lecker!
*  *  *  *  *
PIN this ...
---
Easy Baked Spaghetti Recipe made Just like Oma
By
Oma Gerhild Fulson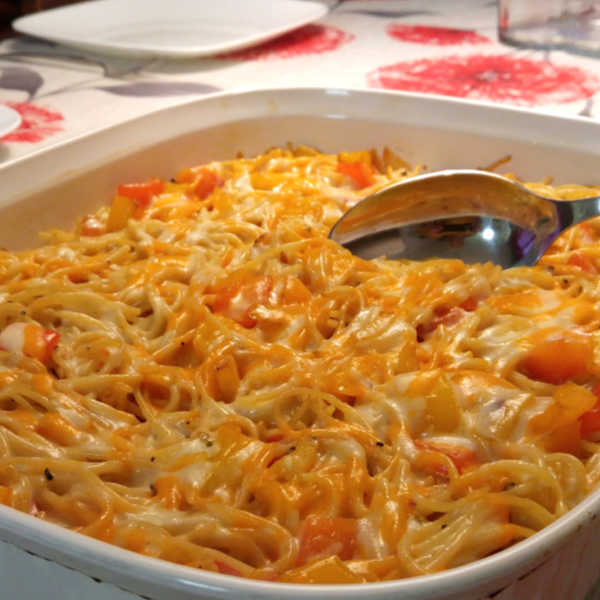 This easy Baked Spaghetti recipe is one of the quick easy pasta recipes that's an easy dinner idea to make.
Ingredients:
spaghetti,
olive oil,
garlic,
bell peppers,
spices,
cheese,
For the full recipe, scroll up ...
Words to the Wise
"A person without self- control is like a city with broken- down walls."
Proverbs 25:28 (NLT)