Gouda Macaroni and Cheese
Homemade Three Cheese Macaroni and Cheese Recipe
➤ by Lydia Fulson
As an Amazon Associate, I earn from qualifying purchases.
This Gouda macaroni and cheese is made with THREE yummy meltable cheeses. You'll love how simple and creamy this recipe is.
Now, I know this isn't very German to be here. BUT, mac and cheese has been known worldwide as one of the most comforting and heartwarming dishes out there. I for one, love a good homemade mac and cheese recipe. 

My homemade version is made with one of my all-time favorite cheese, creamy Gouda! I also included old sharp white cheddar, and Camembert. However, you really can add whatever you want!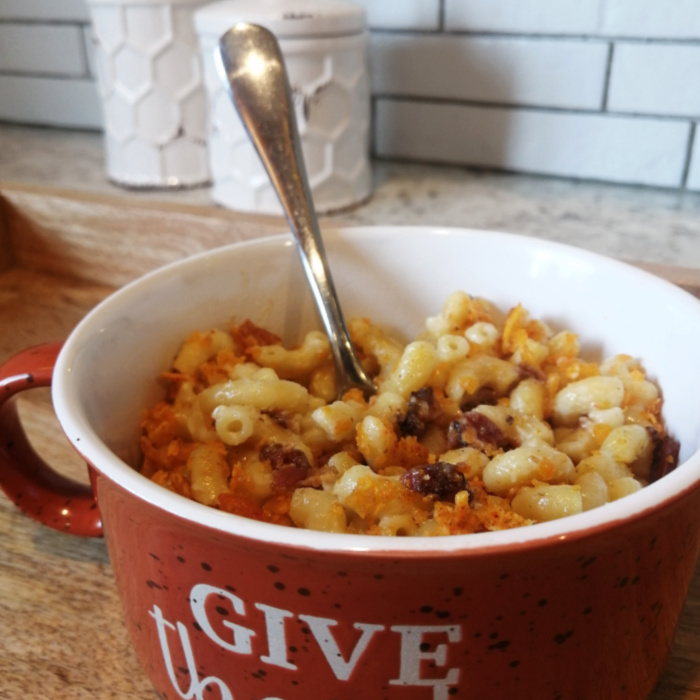 Doesn't that look lecker! A creamy mix of bacon and irresistible cheesy flavors.
Perhaps you can't quite tell what's in there from the picture, but there is BACON. One of my most loved meats. I love bacon with my potatoes, in soups, on sandwiches and of course, in my mac and cheese.
I'd say for this being only the second time I've ever made homemade macaroni and cheese totally from scratch, it turned out super yummy. Everyone went for seconds, which is always a good sign!
It may not be German, but doesn't this remind you of something that totally is?
The Ultimate German Mac and Cheese
For Oma, mac and cheese is reminiscent of cheese spaetzle. The true German version of mac and cheese! If you like macaroni and cheese, you're bound to love authentic spaetzle. 
Essentially, they are incredibly similar. Noodles and cheese! Spaetzle is a type of egg noodle, that turns out so light and fluffy. Layered with cheese and caramelized onions, and the result is irresistible German mac and cheese. The way the cheese melts over top the noodles makes for such a delectable treat, and much like my Gouda mac and cheese recipe, you'll be reaching for seconds. Now, this is comfort food.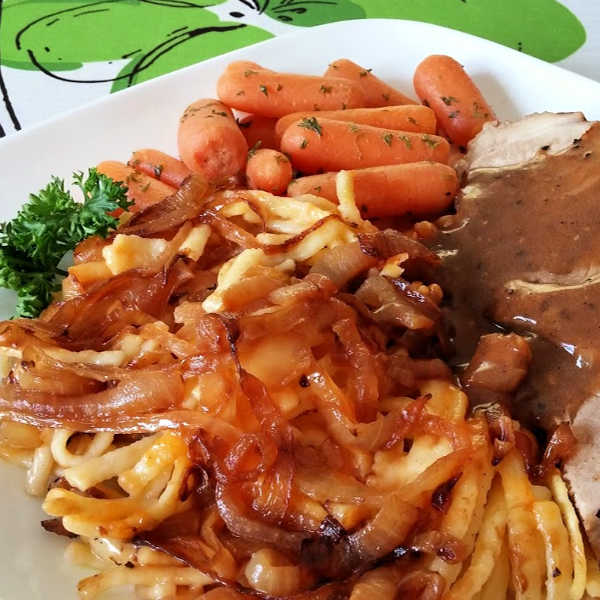 The German version of mac and cheese
Both the cheesy spaetzle and the macaroni and cheese are great for main dishes, but can also make the perfect side dish too.
Need that "all's good with the world" feeling? Comfort food will do that. Get your copy of Oma's German favorites in her Comfort Foods e-Cookbook.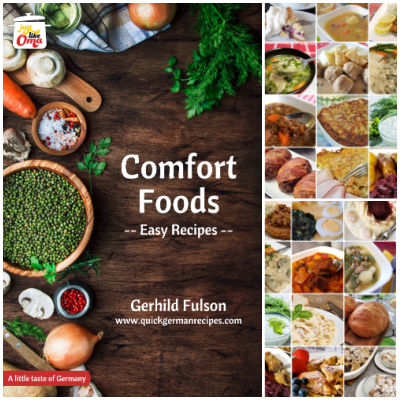 Take a peek at all Oma's eCookbooks. They make sharing your German heritage a delicious adventure!
What Are The Best Cheeses To Use?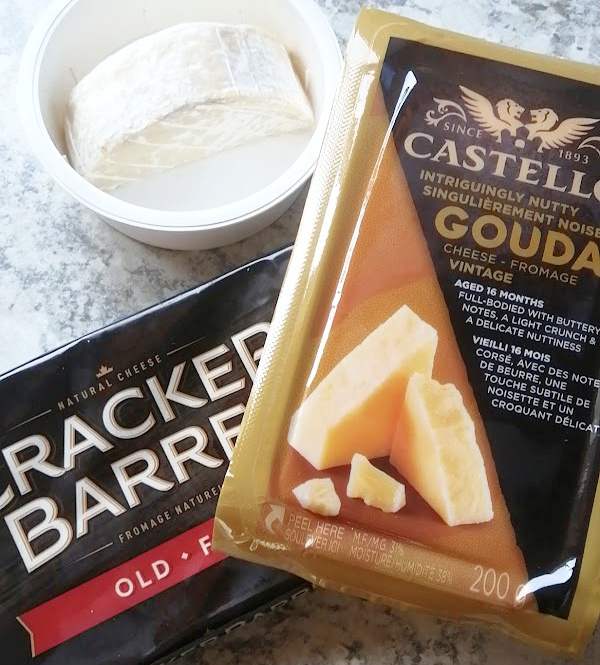 Choosing cheeses is more important than you may think!
Now, when it comes to picking the best cheese for mac and cheese, there are actually a few factors to keep in mind. Not all cheeses will melt properly, or to the right consistency for your sauce. They may also simply not compliment each other.
Whether your mac becomes saucy, creamy, stringy, etc, all depends on the cheese you decide to use. So, there are indeed some things to consider as you're browsing the aisles for the best popular cheeses to choose.
So, I'm here to help you out and give some good combination ideas!
American Cheese: A strange term, but a crucial one. The American category is the one you want to aim for with most mac and cheese recipes. They consist of cheeses that are on the softer side and have some type of processing to them. Processed cheese creates a smooth, cheesy sauce. They are made specifically to be great melters! So ... think cheeses like:
Colby Jack 
Brie
Gouda
Smoked Gouda Cheese
Parmesan
White Cheddar
For an ooey gooey mac and cheese, here are the best options:
Monterey Jack
Cheddar Cheese
Sharp Cheddar
Parmesan
Cream Cheese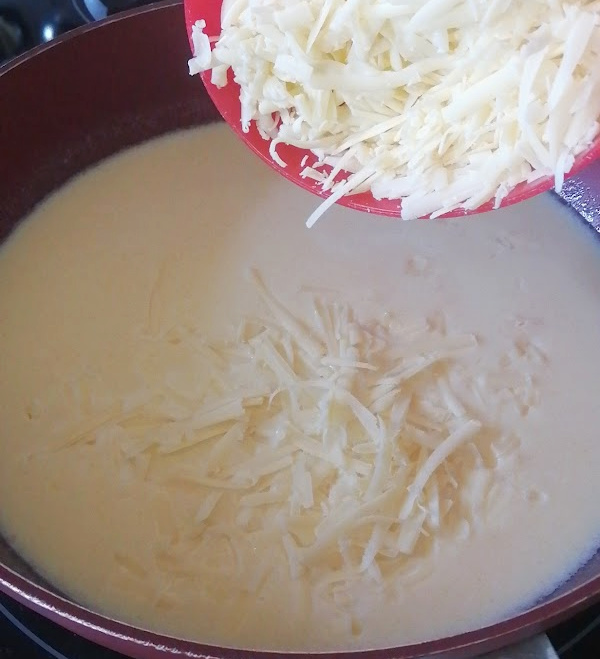 TIme to melt in the delicious mix of scrumptious white cheeses. Some of my very favorites!
If you see any combinations you enjoy, give them a try. It will be worth it! They are all great options.

As mentioned above, I used Gouda, old white cheddar, and Camembert cheese for my recipe. The Gouda and Camembert were by Castello brand cheeses, which is one of my go-to brands when getting 'fancy cheese'. I call them fancy because to me, growing up, I only ever had cheese that wasn't just plain cheddar at Oma's. This was always a treat to me! I especially loved ingredient shopping with Oma for cheese because I always got to sample it at the deli. ;)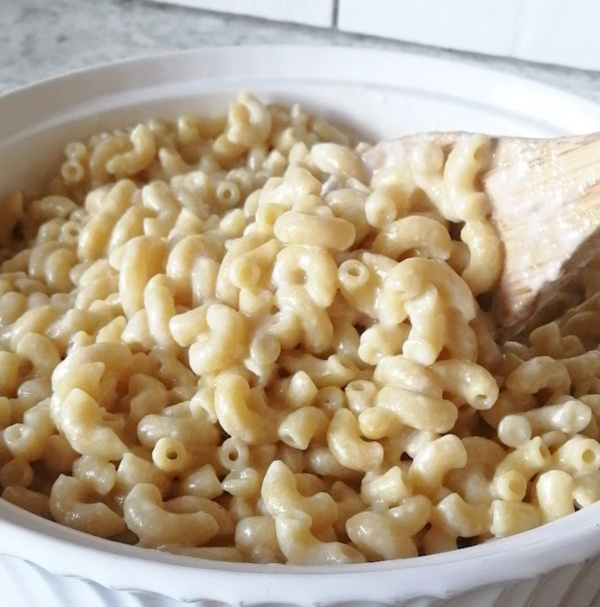 Creamy to perfection!
The combination I used made the perfect creamy cheese sauce. It wasn't overly rich or overpowering, so you could still enjoy the flavors of the Doritos and bacon. Of course, it made a white sauce. Which I almost prefer in mac and cheese. 
What's That??
Wondering what that orange crumby looking stuff is in the main picture sitting on top the mac and cheese? Well, believe it or not, my favorite topping is crushed Doritos chips! Sprinkle on some black pepper to add an extra kick to nicely compliment the spice of the Doritos.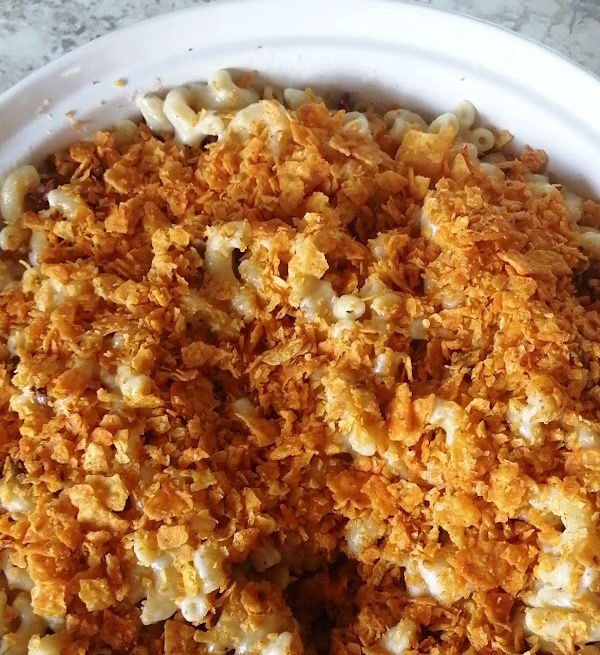 Yummy golden goodness! Nope, you're not seeing things, those are Doritos!
We quite often have Doritos in the house to snack on, and often don't have breadcrumbs. It may be strange, but it is such a great alternative to using breadcrumbs. 

I learned this trick in school during my foods class, and I'll never go back! The Doritos turn into a lovely soft texture that adds additional cheesy flavors and spice. There are a lot of different things that can be used as toppings, but this is by far my favorite mac and cheese topping.
Alright, now that we've gone through some important tips, cheesy tricks, and wunderbar combinations, are you ...
Ready To Make This Mac and Cheese?
Is the recipe below locked? Here's why. 
As an Amazon Associate, I earn from qualifying purchases.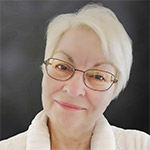 For more German-inspired items that make life easier and yummier, especially in the kitchen and for entertaining, follow my Amazon Storefront.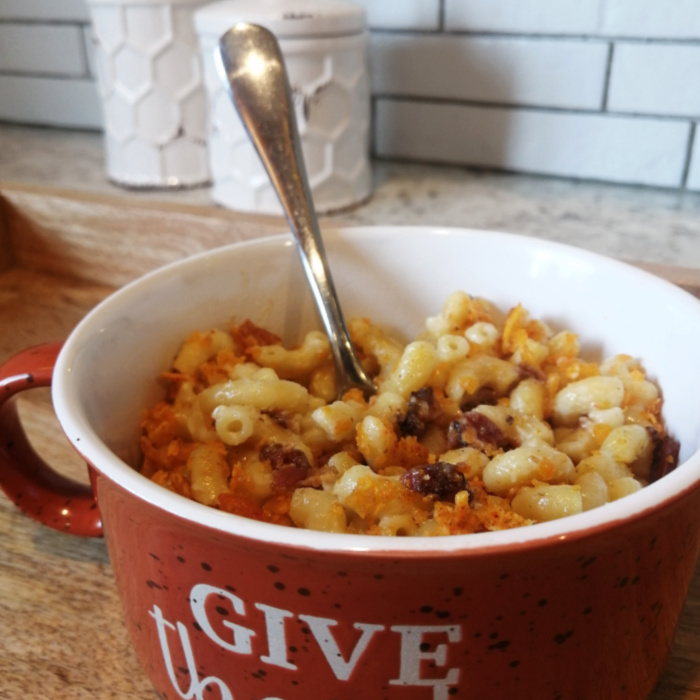 Homemade Three Cheese Macaroni and Cheese Recipe
My homemade Gouda mac and cheese is made with one of my all-time favorite cheeses, Gouda! I also included old sharp white cheddar, and Camembert. But you really can add whatever you want!
Prep Time


15 minutes


Cook Time


 30 minutes


Total Time

45 minutes

Servings:

Makes 10 servings
Ingredients:
1 900g package of elbow macaroni pasta
1 teaspoon salt
2 1/2 cups milk
1/4 cup unsalted butter
3 tablespoons all-purpose flour
1/2 cup grated Gouda cheese
1/2 cup grated old white cheddar (sharp, or not)
1/4 cup grated Camembert cheese
1/2 cup cooked bacon bits
1 cup Doritos chips
2 teaspoons paprika
Instructions:
Preheat oven to 350F. Then start by cooking elbow macaroni pasta by package directions in a large pot of salted water. 
Drain pasta and set aside in 13x9 casserole dish.
In a large saucepan, melt butter over medium-low heat. Slowly add in flour while whisking. Pour in milk, whisking until the sauce is a smooth mixture.
Bring to medium heat, and with a wooden spoon, gradually stir in cheeses until melted.
Pour evenly over the cooked macaroni noodles and stir to coat all pasta evenly.
Sprinkle bacon bits over top and stir to incorporate throughout.
Crush 1 cup Doritos in a Ziploc baggy. These will resemble bread crumbs, but with a cheesy kick.
Sprinkle Doritos breadcrumbs over the whole top of the pasta to create a top crust. Sprinkle top with paprika.
Bake for 30 minutes, and enjoy!
Notes/Hints:

I used cooked store bought bacon bits. If you prefer them fresh, simply fry bacon and cut into small bite-sized pieces, throw them in, and voilà!
Using elbow macaroni is of course traditional, but I too love good spiral pasta. Use whatever kind you'd like! The taste will still be remarkable.
I used a 10-inch casserole dish and a smaller casserole dish as well because of how much mac and cheese the package made. I needed two dishes! It makes for a big batch. That just means it lasted us all week! Yum. However, I do suggest a 13x9 dish, or bigger if possible. 
Fry Dorito crumbs in butter before sprinkling over the pasta to add a nice crunch to your topping.
*  *  *  *  *

Unless otherwise noted recipe, images and content © Just like Oma | www.quick-german-recipes.com

Leave a comment about this recipe or ask a question?

Pop right over to my private Facebook group, the Kaffeeklatschers. You'll find thousands of German foodies, all eager to help and to talk about all things German, especially these yummy foods. 
Meet with us around Oma's table, pull up a chair, grab a coffee and a piece of Apfelstrudel, and enjoy the visit.

Make these Fächerkartoffeln aka Hasselback Potatoes with either regular or sweet potatoes. Make them extra crispy with cheese and breadcrumbs and you have a treat that's amazing!

Discover Oma's secret recipe for making crispy-skinned Bavarian Schweinshaxe (roasted pork knuckles). Authentic taste of Germany's traditional dish. Perfectly wunderbar.

German potato dumplings, aka Kartoffelklöße and Kartoffelknödel, invoke great memories of my Mutti's Sunday dinners. Using cooked potatoes, she created these scrumptious traditional dumplings!
*  *  *  *  *
PIN to SAVE this recipe to your Pinterest board!
And let's be friends on Pinterest!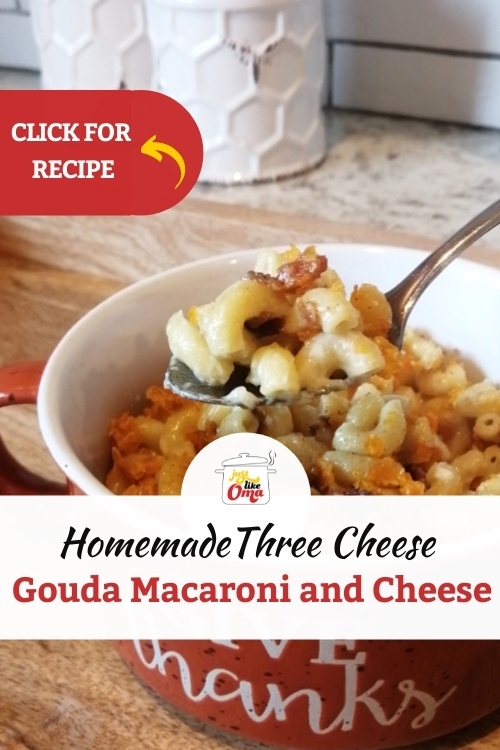 Words to the Wise
"The Spirit of God has made me; the breath of the Almighty gives me life.."
Job 33:4 (NLT)