How to make Noodles: Schupfnudeln ❤️

➤ by Oma Gerhild Fulson
FTC Disclosure: Making a purchase via a link on the page? I may earn a small commission on the transaction - at no added cost to you. Thanks!
Want to know how to make noodles? Here's an easy way to make Schupfnudeln - a traditional German side dish. Popular in the Baden-Württemberg area, but also found throughout Germany, these potato noodles are recognizable with their unusual shape.  
Because they almost look like little fingers they are also known as "Fingernudeln" or "finger noodles". Especially if you are looking for kid friendly dinner recipes, these fun-shaped noodles are also a great way to use up leftover potatoes.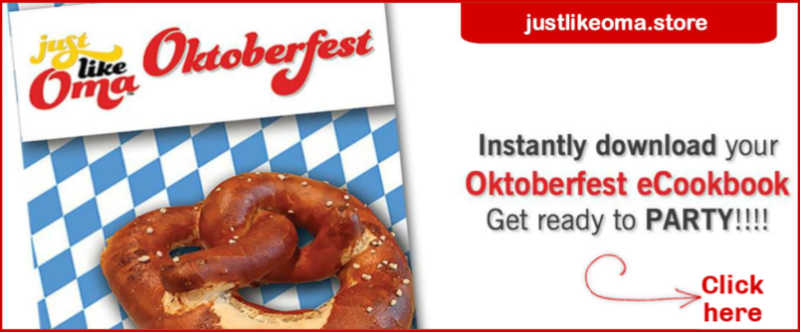 The best kind of potatoes for this are starchy ones, such as russets. If your potatoes aren't starchy enough, you may need to add a bit extra flour to get the right consistency. Potato flours works for this as well.
I never realized as I was growing up that noodles were among the traditional German foods. I used to think I was eating "Italian" when Mutti made what I now know as German noodles!
How to make Noodles: Schupfnudeln ❤️
Ingredients:
1 lb potatoes, peeled and cubed 
2 egg yolks
4 tbsp flour
2 tbsp cornstarch
salt, pepper, nutmeg
2 tbsp butter
Instructions:
Cook potatoes until tender in boiling water (about 10 minutes).
Drain potatoes and let steam escape to dry the potatoes (put pot of potatoes back on burner briefly to evaporate moisture)
Mash the potatoes or put through a ricer and add egg yolks, flour, and cornstarch. Season with salt, pepper, and freshly ground nutmeg.
Mix well, adding a bit more flour if necessary to make a dough that isn't sticky.
Using floured hands, form dough into log shape. Cut log into about 20 pieces and form each into a "finger-shape" by rolling between your hands. If the dough is too sticky, add a bit of flour. Each noodle should be thicker in the middle and narrower and pointed at the ends.
Place noodles into a pot of gently boiling water (add about 2 tsp of salt to water) and simmer until they float, about 5 minutes. Remove noodles and drain them.
Over medium heat, melt butter in a saucepan. Add boiled noodles and sauté until golden brown.
Serves 2 - 4 (depending if side dish or main dish)

Leave a comment about this recipe or ask a question?
Pop right over to my private Facebook group, the Kaffeeklatschers. You'll find thousands of German foodies, all eager to help and to talk about all things German, especially these yummy foods. 
I pop in all the time as well, to chat and to answer questions. 
Meet with us around Oma's table, pull up a chair, grab a coffee and a piece of Apfelstrudel, and enjoy the visit.
*  *  *  *  *
Want nutritional information for a recipe?
Copy and paste the ingredient list and the number of servings into Calorie Count. 
It will give you an approximate calculation.

Need help doing conversions
between cups and grams or any such thing?
Use this site to give you all the different conversions for the different types of ingredients. 
---
PIN das ... for quick access when looking for a kid friendly recipe that everyone will love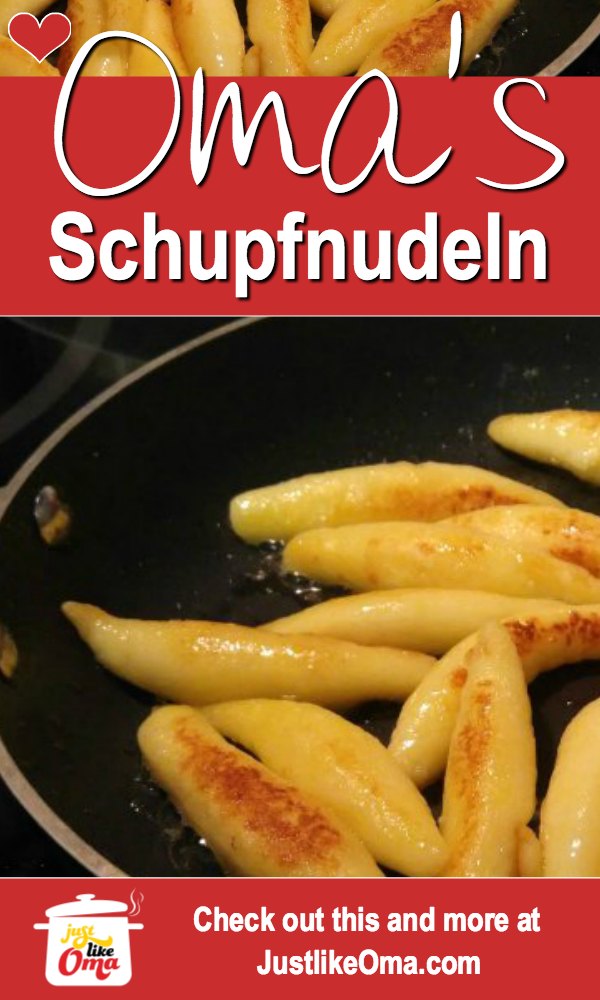 ---
Schwenkbraten recipe that has been a delish hit an alle familien & freunde... Total Approx. Time: Prep: 15 min. + Marinating 8 hrs min. + Grill: 15 min.

My Oma made this cake every Christmas. She iced it with a white frosting that ran down the sides. She decorated it with little silver balls (candy). It
---
Words to the Wise
"Get all the advice and instruction you can, so you will be wise the rest of your life."
Proverbs 19:20 (NLT)
---
❤️ Schupfnudeln: How to Make Noodles Just like Oma


By
Oma Gerhild Fulson
Want to know how to make noodles? Here's an easy way to make Schupfnudeln - a traditional German treat.

Ingredients:
potatoes,
flour,
egg yolks,
butter,
For the full recipe, scroll up ...