Oma's German Cheese Spätzle - Käsespätzle (German Mac and Cheese!) 
➤ by Gerhild Fulson
Cheese Spaetzle ~ Käsespätzle ~ is a traditional German way of serving homemade German egg noodles. Layered with Emmentaler cheese, topped with caramelized onions, and baked in the oven, this is so delicious as a main dish served with a beautiful green salad.
You could say it's the German version of Mac and Cheese, only better! Really. It is a true comfort food to enjoy anytime!
It's also a perfect side dish that fits to almost anything! Here, I served it with a pork roast and gravy and roasted baby carrots. So good!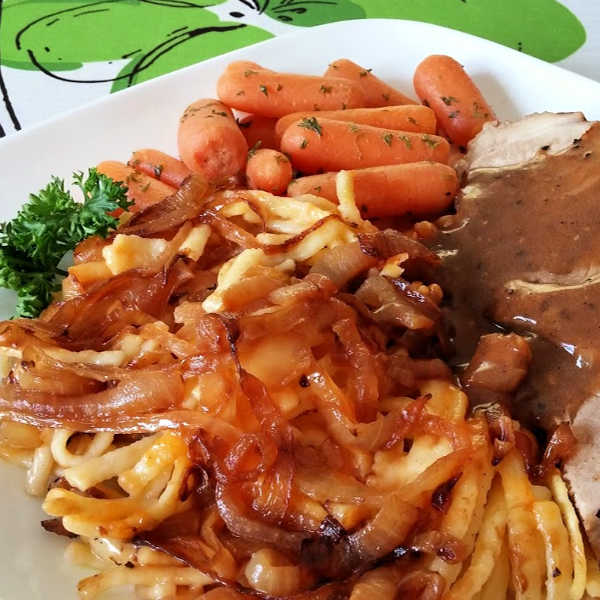 Whether you use homemade Spätzle just like Oma, or use store-bought Spätzle noodles to really make it a quick German recipe, the end result is a delicious dinner that everyone will love.

The origin of the word Spätzle comes from Swabian meaning little sparrows
These noodles are traditional in Germany, especially in Baden-Württemberg, and in other European countries such as Austria, Switzerland, and Hungary
This type of soft egg noodle is also called Nokedli in Hungary.
When the noodles are button-shaped, they are called by their Swiss name, Knöpfle, which means small buttons
Traditionally, thin strips of dough were scraped off a wooden cutting board into boiling salted water
Today, there are many devices that can be used ranging from an actual Spätzle maker to regular kitchen equipment such as a colander with large holes, potato ricer, food mill, or cheese grater
Try this easy Käsespätzle recipe and delight your family with this very traditional German mac and cheese casserole dish.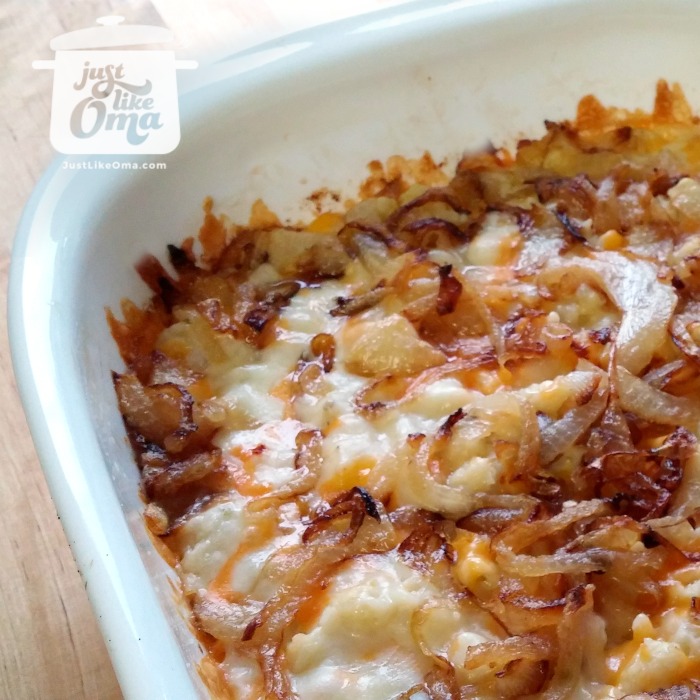 Not Italian ... it's German!
I used to think that whenever Mutti made a noodle dish that we were eating Italian-style.
It was only when I started this website and started researching German recipes and origins that I realized that noodles are VERY German.

This is especially true of Southern Germany. Because my Mutti and Papa came from the Berlin area, this was not part of our culture.

Here, the cheesy Spaetzle are covered with a scattering of caramelized onions and served with a ground beef sauce.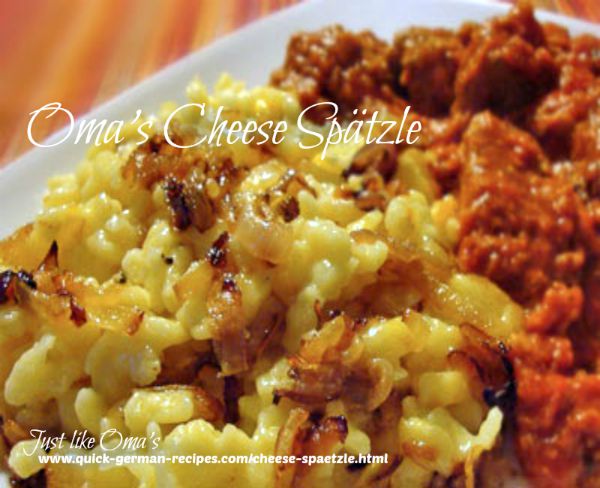 When it's time for dinner, get traditional with Oma's favorite combinations. Get her collection in Oma's German Dinners, which include salads, soups, entrees, and desserts!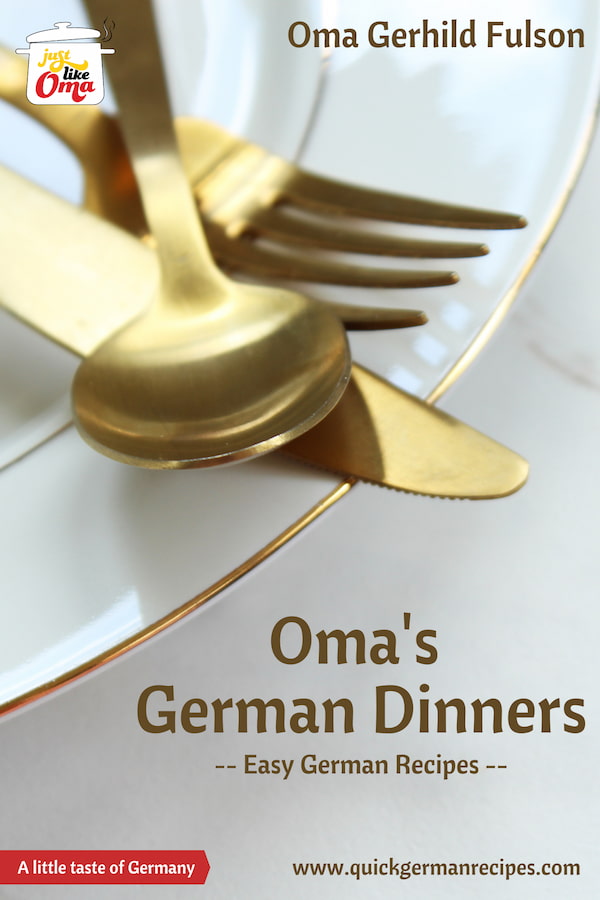 Take a peek at all Oma's eCookbooks. They make sharing your German heritage a delicious adventure!

Here, I made the Spätzle dough thicker than normal, resulting in a different look (aka Knöpfle in Switzerland). Delicious when turned into a cheese Spaetzle casserole.
---
Lydia Remembers...
I have so many wunderbar memories in the kitchen with my Oma, and have had MANY of her most popular and traditional recipes, like this cheese Spätzle!
This recipe has impeccable flavor and given how much I love cheese, that just makes it even better! 

I've made spätzle with Oma a couple of times and I remember how tough it was the first time making it. Let's just say I had never seen a Spätzle press before, and I definitely underestimated the muscle it takes to push the dough through the tiny holes, especially since my dough was a bit too thick. It was tricky at first but after making it again and again, I became a pro! Especially with Oma by my side giving me little hints along the way.

I'm not always one to enjoy sliced onions in my dishes, at least not when it's super overpowering. But once you taste Oma's caramelized onions mixed in with that stretchy melted cheesy goodness...YUM. Even the non-onion eaters will make an exception for this one!
Kaese Spaetzle really is just a fancy German Mac and Cheese that is so comforting and even more delicious, that can be made so easy! You know it's got to be great if I say it's better than Mac & Cheese... did I mention how much I LOVE cheese!? 
Learn a little bit about me, Lydia, and my kitchen adventures with Oma!
---
Look at this deliciousness that Hilde Lumm, one of our German Foodie Fans, made. WUNDERBAR!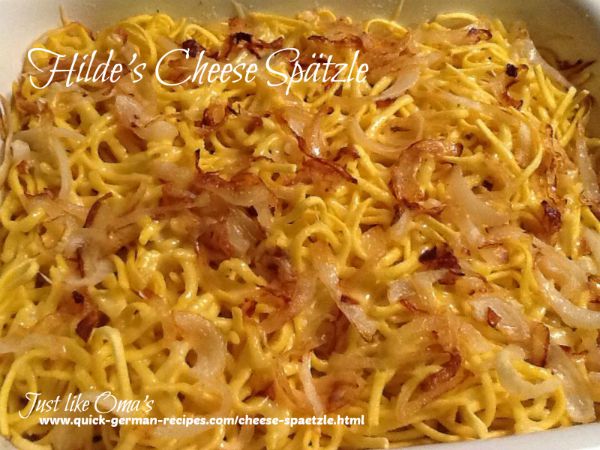 Spätzle can have all sorts of random shapes and sizes. That's because there are so many different ways of making them, resulting in noodles that are either long and skinny, or short and fat.
The end result, though, are German noodles that are so delicious!
---
Oma Says:
Covering the top of the Cheese Spaetzle with caramelized onions is the icing on the cake. Not what I would have considered myself, but seeing that is how they serve it in Germany, I had to give it a try.
Oh, my. Delicious.
A meat sauce on the side, if you really think you need a side. Perhaps a green salad as well. Nothing else needed.
---
How to make Homemade Spaetzle

You can certainly use Spaetzle from the grocery store to make this Kaesespaetzle recipe, but making your own Spätzle from scratch is quite easy, especially once you get the hang of it.
Start by mixing some all-purpose flour and salt together in a large bowl. Add a couple eggs and mix well. Then gradually add just enough water to make a smooth, light, and firm pasta dough.

Then, push the dough through a Spaetzle maker directly into a large pot of salted boiling water. They are done cooking once the Spätzle rise to the surface of the water. Remove them with a slotted spoon to a colander to drain excess water. That's it!

You can now proceed and make this delicious cheese recipe right away, or you can store your fresh Spätzle in an airtight container in the fridge for 2 or 3 days, or even freeze it, and make this Kaesespaetzle recipe at a later date.
To thaw, place frozen Spaetzle in hot water. Drain and proceed with recipe.
Check out Oma's homemade German Spaetzle recipe for more detailed instructions and other tips and tricks on how to make you own noodles.
Ready to make Oma's Cheese Spaetzle?

Is the recipe below locked? Here's why. Unlock to see ALL the exclusive recipes on this site. Click here for help.
➤ As an Amazon Associate, I earn from qualifying purchases.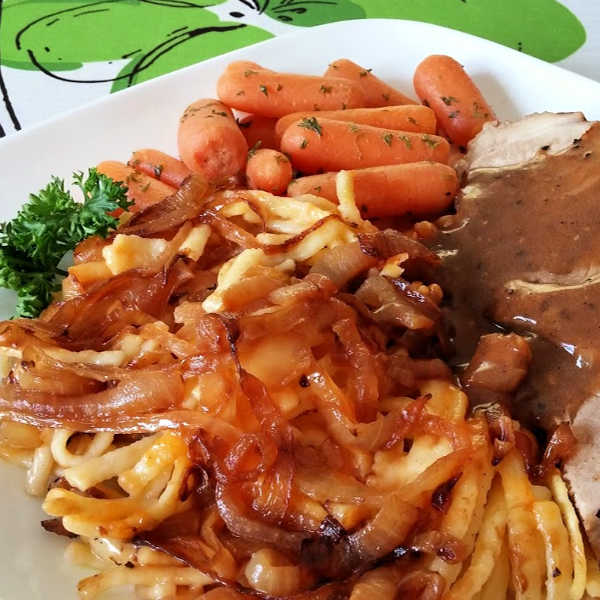 Oma's Kaesespaetzle Recipe

Käsespätzle (Cheese Spätzle) is Germany's version of mac and cheese. Layered with Emmental cheese, topped with caramelized onions, and baked in the oven, this is so delicious as a main dish served with a beautiful green salad.
Prep Time


10 minutes


Cook Time


40 minutes


Total Time

50 minutes

Servings:

Makes 4 - 6 servings
Ingredients:
3 - 4 cups cooked Spätzle (12 ounces dry Spätzle)
2 - 3 cups shredded Emmental cheese
2 tablespoons butter (or olive oil)
2 onions, sliced
salt and black pepper
Instructions:
Preheat oven to 325°F.
Heat the 2 tablespoons of butter (or oil) in a large skillet over medium heat.
Add onion slices to the melted butter and sauté until tender and lightly browned, about 5 to 10 minutes.
Butter a baking dish. Begin by layering with ½ of the cooked Spätzle, season with salt and pepper, and sprinkle with ½ of the cheese. Repeat, ending with a layer of cheese.
Top with the fried onions.
Bake, uncovered, about 20 to 30 minutes, or until bubbly and golden brown on top.
Notes/Hints:

Try this with Jarlsberg cheese or Swiss cheese or a combination of the two.
Either use purchased noodles for this or make your own Spätzle from scratch ... so easy to do! 
*  *  *  *  *

Unless otherwise noted recipe, images and content © Just like Oma | www.quick-german-recipes.com

01.17.2022 revision update
Leave a comment about this recipe or ask a question?

Pop right over to my private Facebook group, the Kaffeeklatschers. You'll find thousands of German foodies, all eager to help and to talk about all things German, especially these yummy foods. 
Meet with us around Oma's table, pull up a chair, grab a coffee and a piece of Apfelstrudel, and enjoy the visit.

Make this easy German Mulled Wine recipe to enjoy as a traditional German Christmas drink. It'll make you think you're back in Germany at the wonderful Christmas markets.

Wurstsalat ... a traditional meat salad from southern Germany. In the north, it's Fleischsalat. Both are wonderfully different and utterly delicious! Perfect party pairing.
*  *  *  *  *
PIN to SAVE this recipe to your Pinterest board!
---
Oma's German Cheese Spätzle - Käsespätzle
By
Oma Gerhild Fulson
Cheese Spätzle is a traditional German noodle dish. A sort of Germanized version of 'Mac & Cheese', only better!
Ingredients:
cheese,
cooked spätzle,
butter,
onion,
seasonings,
For the full recipe, scroll up ...
Make every day a TRANSFORMING day!
"And the Lord -- who is the Spirit -- makes us more and more like Him as we are changed into His glorious image."
2 Corinthians 3:18 (NLT)