Oma's Cheese Spätzle Recipe ❤️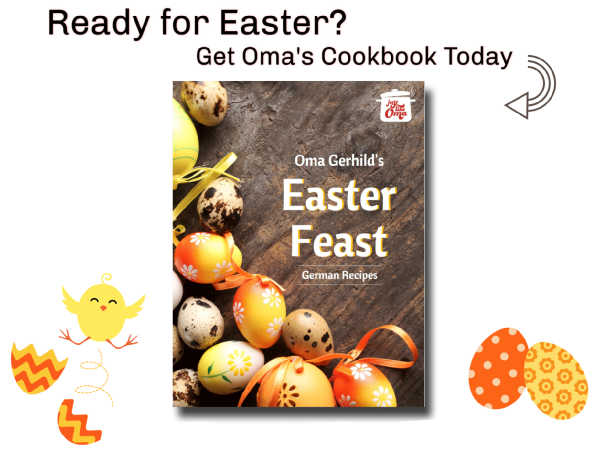 ➤ by Oma Gerhild Fulson
FTC Disclosure: Making a purchase via a link on the page? I may earn a small commission on the transaction - at no added cost to you. Thanks!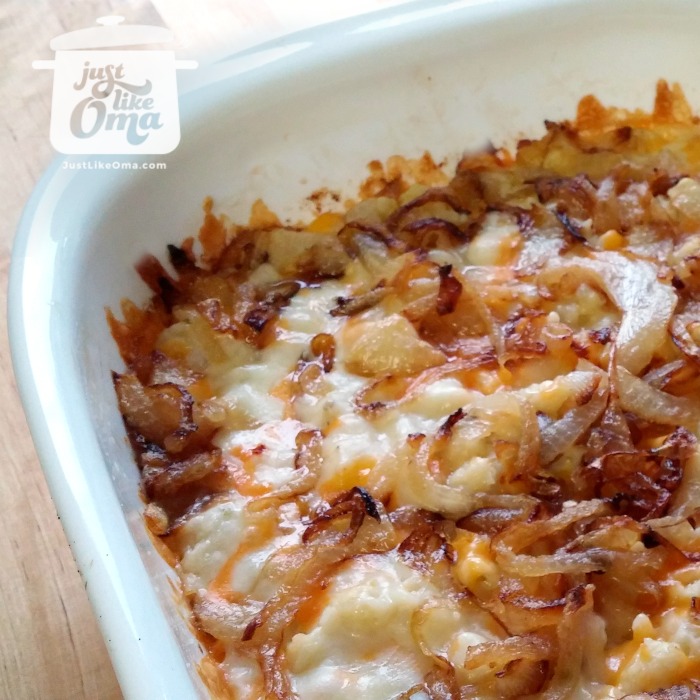 Cheese Spätzle covered with Caramelized Onions make a wonderful meal, all by itself or served as a side that fits to almost anything!
Yum
Cheese Spätzle is a traditional German way of serving this favorite German noodle. Using either the homemade recipe or store-bought noodles, the resulting dinner is delicious. Follow my recipe below to serve them in a delicious cheese spätzle casserole. It's German "Mac & Cheese" only better! Really. 
It really is a quick German recipe when you use packaged noodles, or you can start from scratch, making them, just like Oma! 
Yes, I love my Spätzle lid with the scraper to make these noodles.

You can either book a trip to Germany to buy yours, or else, just order online. Quite a bit cheaper! LOL 

Enjoy! So easy to make these and they taste so much better than the packaged kind.
Click on the image to take a peek ... and see if it's something you need / want as well :)
Oma's Cheese Spätzle ❤️
Ingredients:
3 - 4 cups cooked Spätzle (12 oz. dry Spätzle)
2 - 3 cups shredded Emmentaler cheese
2 Tbsp butter (or olive oil)
2 small onions (sliced)
salt and pepper
Instructions:

Preheat oven to 325° F.
Heat butter (or oil) in skillet and sauté onions until tender and lightly browned, about 5 - 10 minutes.
Butter casserole dish. Begin by layering with ½ of the Spätzle, season with salt and pepper, sprinkle with ½ of the cheese. Repeat, ending with the cheese.
Top with the sautéed onions.
Bake, uncovered, about 20 - 30 minutes, or until bubbly and slightly browned on top.
makes 4 - 6 servings.
Hints:
Try this with Cheddar or Jarlsberg cheeses or a combination of the two.


---
The origin of the word Spätzle comes from Swabian meaning 'little sparrows'
These noodles are traditional in  Germany, especially in Baden-Württemberg and in Austria, Switzerland, and Hungary
When the noodles are button-shaped, they are called by their Swiss name, Knöpfle, which means "small buttons" 
Traditionally, thin strips of dough were scraped off a wooden chopping board into boiling salted water

Today, there are many devices that can be used ranging from types of colanders, ricers , food mills, or graters
Check out Oma's homemade German Spätzle recipe if you want to learn her way of how to make noodles. Try the easy recipe and delight your family with this is a very traditional German noodle dish.

Perhaps you found a package of dried noodles and are wondering what to do with them? You can just cook them and serve them with caramelized onions on top. Delicious. Or, turn them into this cheesy casserole and have your family wanting seconds.

Here, I made the Spätzle dough thicker than normal, resulting in a different 'look' aka Knöpfle (in Switzerland). Delicious when turned into a Cheesy Spätzle Casserole!
Not Italian ... It's German!
I used to think that whenever Mutti made a noodle dish that we were eating "Italian-style". It was only when I started this website and started searching German recipes and origins, that I realized that noodles are VERY German.
This is especially true of southern Germany. Because my Mutti and Papa came from the Berlin area, this was not part of our culture.
Check out Hilde Lumm, one of our German Foodie Fans, and what she made:

Covering the top of the Cheese Spätzle with caramelized onions is the icing on the cake. Not what I would have considered myself, but seeing that is how they serve it in Germany, I had to give it a try.
Oh, my. Delicious.
A meat sauce on the side. Perhaps a green salad as well. Nothing else needed.
More Noodle Recipes ...
*  *  *  *  *
Thinking of starting your own Handmade Business?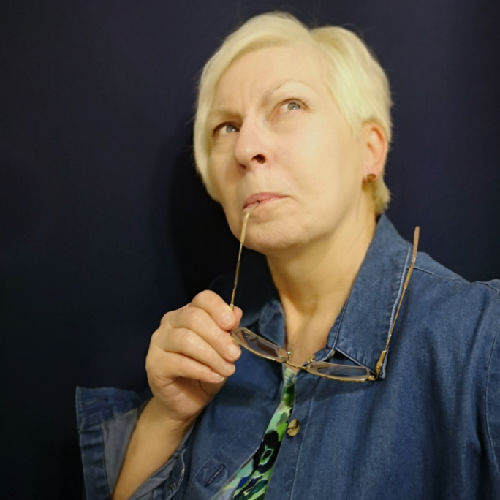 This Oma KNOWS you CAN do it.
How do I know?
Well, if I can do it, anyone can.
I've even figured out how I can help you.
I've teamed up with my own business coach, Renae Christine (yes, do google her!), to bring you this free masterclass. After you watch it, ask me any questions and I'll gladly answer them.
Don't hesitate. I'm not sure how long Renae will keep this free masterclass available.
PS:  Yes, Renae really is as amazing as all the reviews say.
PPS: Yes, the course is for handmade items, but I've used it successfully for my cookbooks. I know others are using her methods for services, direct sales ,and even a local ice cream bar & grill that's constantly selling out. You've nothing to lose by taking a look.
*  *  *  *  *
Oma's Cookbooks (downloadable & print)
*  *  *  *  *
Want nutritional information for a recipe?
Copy and paste the ingredient list and the number of servings into Calorie Count. 
It will give you an approximate calculation.

Need help doing conversions
between cups and grams or any such thing?
Use this site to give you all the different conversions for the different types of ingredients. 
---
PIN this ... so you can quickly pull up Oma's Cheese Spätzle recipe while getting out your Emmentaler cheese and other ingredients 
---
Make every day a TRANSFORMING day!
"And the Lord -- who is the Spirit -- makes us more and more like Him as we are changed into His glorious image."
2 Corinthians 3:18 (NLT)

---
Oma's German Cheese Spätzle made Just like Oma


By
Oma Gerhild Fulson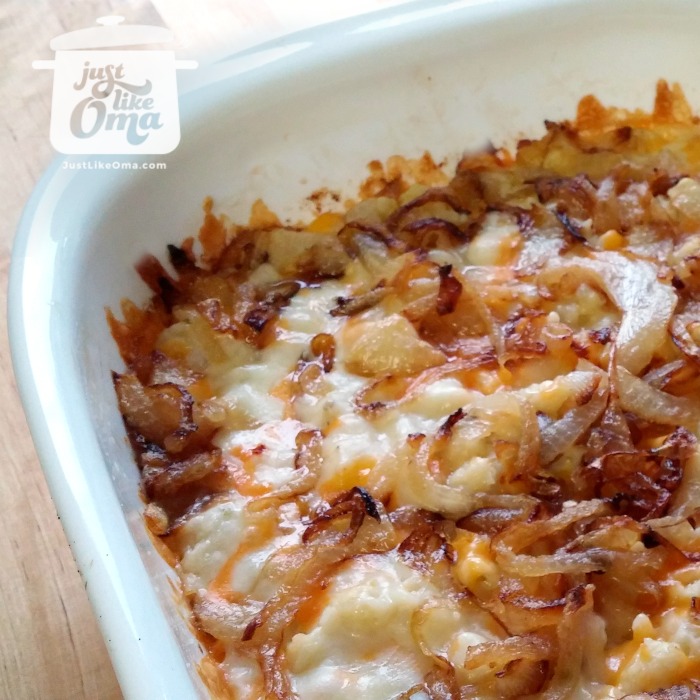 Cheese Spätzle is a traditional German noodle dish. A sort of Germanized version of 'Mac & Cheese', only better!

Ingredients:
cheese,
spätzle,
butter,
onion,
For the full recipe, scroll up ...