Oma's Oven Cooked Pork Roast ❤️

➤ by Oma Gerhild Fulson
FTC Disclosure: As an Amazon Associate I earn from qualifying purchases.
This oven cooked pork roast, aka Schweinebraten, is so-o-o delicious. A staple in traditional German cooking! Meat dishes are very important in German cuisine and roast pork recipes are among the favorites. This pork roast is first browned on the stove and then oven roasted. Yes, it's a bit more work doing it this way, but the results are well worth it. Wunderbar!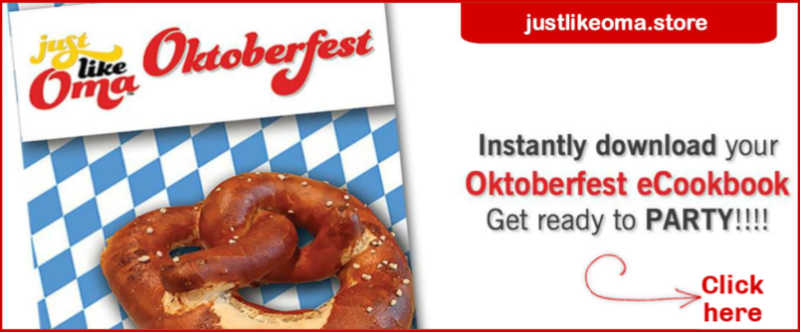 Pork roast cooking times need to be followed carefully. Ideally, use a meat thermometer to make sure your final temperature is 170°F. And there you have it, perfect oven cooked pork roast!

Pork Cooking Temps and Times
Preheat oven to 350°F. and roast for 35 minutes per pound plus an additional 35 minutes. Doesn't get much easier than that!

"The other white meat" ...
Pork used to be considered as an unhealthy meat. However, with modern farming methods, pork is now quite lean. In fact, it is often called the "other white meat" and is considered a good alternative to red meat.
As much as possible, trim the fat off the pork, either before cooking, or at least after, and this becomes a wonderful lean meat to enjoy.
Oma says,
You can omit the browning step, but if you want exceptional flavor -- do it!

Oma's Oven Cooked Pork Roast ❤️

Ingredients:
2 lb pork loin roast
salt, pepper, paprika
1 onion, coarsely diced
¼ lb bacon, diced, or oil to brown meat
½ cup meat broth
2 tbsp cornstarch
Instructions:
Preheat oven to 350°F.
Sprinkle meat with salt, pepper, and paprika
Meanwhile, if using bacon, fry until fat is released. If using oil, add just enough to cover bottom of fry pan. Add roast and brown on all sides. (Add more oil if needed.) Add onion to brown slightly.
Put roast into roasting pan. Add onion, bacon, and meat broth. Roast, uncovered, until meat thermometer reads 165°F. Remove from oven. Cover and let rest for about 10 minutes. (Will continue to cook to 170°F as it is cooling.)
To make gravy, mix cornstarch with a bit of cold water. Pour liquid from roasting pan through sieve into frying pan and bring to simmer. Slowly add just enough cornstarch mixture to thicken. Season with salt and pepper.
Serves 4 - 6. Delicious served with Red Cabbage and mashed potatoes.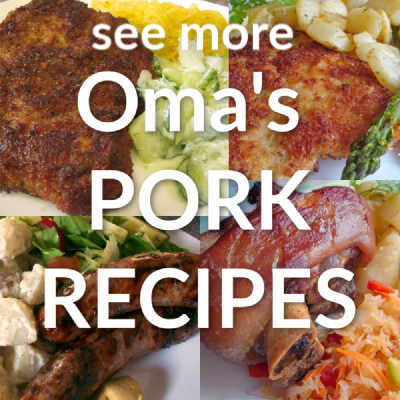 Leave a comment about this recipe or ask a question?
Pop right over to my private Facebook group, the Kaffeeklatschers. You'll find thousands of German foodies, all eager to help and to talk about all things German, especially these yummy foods. 
I pop in all the time as well, to chat and to answer questions. 
Meet with us around Oma's table, pull up a chair, grab a coffee and a piece of Apfelstrudel, and enjoy the visit.
*  *  *  *  *
Want nutritional information for a recipe?
Copy and paste the ingredient list and the number of servings into Calorie Count. 
It will give you an approximate calculation.

Need help doing conversions
between cups and grams or any such thing?
Use this site to give you all the different conversions for the different types of ingredients. 
---
---
Schwenkbraten recipe that has been a delish hit an alle familien & freunde... Total Approx. Time: Prep: 15 min. + Marinating 8 hrs min. + Grill: 15 min.

My Oma made this cake every Christmas. She iced it with a white frosting that ran down the sides. She decorated it with little silver balls (candy). It
---
Words to the Wise
"People who accept discipline are on the pathway to life, but those who ignore correction will go astray."
Proverbs 10:17 (NLT)