German Breaded Pork Chops Recipe – Oma's Schweinekotelett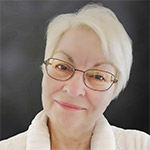 by: Gerhild Fulson  /  Cookbook Author, Blogger, German Oma!

This post may contain affiliate links, which means I'll receive a commission if you purchase through my links, at no extra cost to you. Please read full disclosure for more information.
This pan-fried breaded pork chops recipe, aka Schweinekotelett, is among the tastiest and quickest dinner meal ideas you can have.
Made with a small handful of ingredients, this is a simple pork chop recipe that always turns out amazingly delicious! Crispy on the outside and tender, juicy meat on the inside. Yum!
Served with mashed potatoes and red cabbage, this is the perfect comfort food combo we Germans love so much!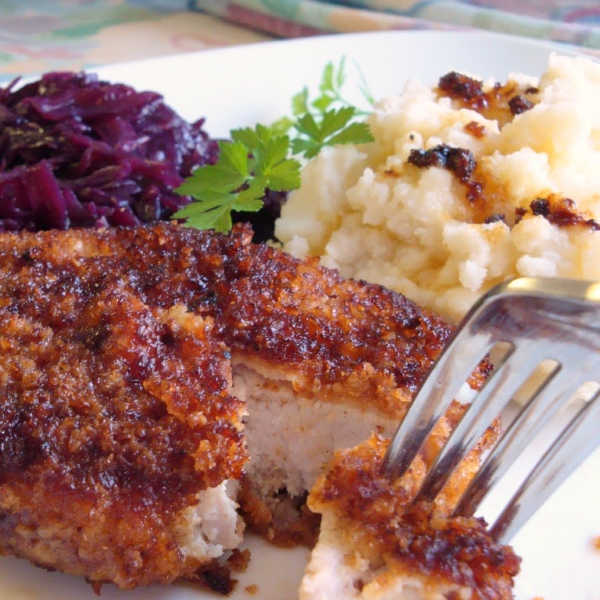 I will often make one or two extras of these tender pork chops, because they taste SO good cold and sliced in a sandwich for lunch the next day. Wunderbar!
Pork Schnitzel versus Pork Chops
The most common pork dish in Germany is the Schnitzel, which is really just a thin cut of boneless pork loin chops that has been gently pounded thin with a meat tenderizer, then breaded, and fried.
These breaded chops are very similar to Pork Schnitzel, except that they are a thick cut of pork tenderloin, and are often served as an alternative since pork chops are much more economical than Schnitzel.
And unless you can find Schnitzel ready to go at your local butcher or grocery store, this breaded pork chops recipe is a lot less work.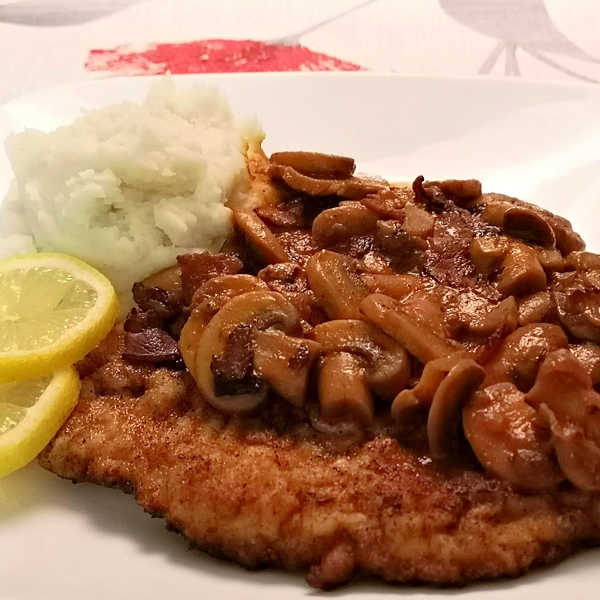 Breaded Schnitzel are just thin breaded pork chops and here served with a Jägersosse.
Also, Schnitzel are quite large and difficult to cook many at once. Using thicker cut pork chops means I can put more of them in the pan. Which means I can get these juicy chops to the dinner table in a lot less time!
I love using thick pork chops; they always turn out so juicy and delectable!
So if you're short on time or need a more budget-friendly option, then this just might be the best pork chops recipe for you.
There's something absolutely mouth-watering about having a German meat-and-potato dinner. Get Oma's revised collection of her favorites in German Meat Dishes.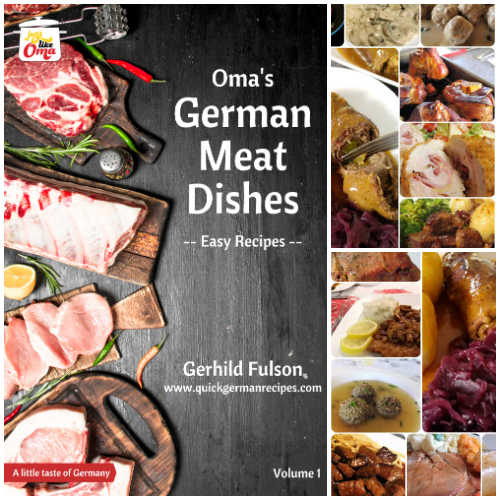 Take a peek at all Oma's eCookbooks. They make sharing your German heritage a delicious adventure!
How to make this breaded pork chops recipe

In one of two separate shallow bowls, make an egg wash by mixing together one large egg with one tablespoon water. In the other bowl, combine 1½ cups plain bread crumbs with ¾ teaspoon seasoning salt.
Take four 1-inch thick bone-in or boneless pork chops and trim them of fat. If you choose bone-in chops, you may need to cook them a little longer.
You can also use thicker or thinner chops, according to your taste or what you can find at the store, and adjust the cooking time accordingly.
Heat oil, enough to cover the bottom of a large skillet, over high heat.
Coat chops with bread crumbs, then dip them in the beaten egg mixture, then coat them again with more bread crumbs.
Carefully place chops in the skillet and cook, turning them over when nicely browned on one side. Then cover the skillet and lower heat to continue browning and cooking the pork chops until they're done. One-inch chops will take about 20 minutes to cook.
To make sure they are fully cooked, use a meat thermometer to make sure they have an internal temperature of at least 145 degrees F.
Oma Says:
This easy dinner recipe is so great because there are so many little variations that you can make to suit your mood or whatever you happen to have on hand.

Just adding some fresh herbs and/or some of your favorite spices to the breadcrumbs can make a dramatic change. You can even add some Parmesan Cheese to give your chops extra flavor.
Not only does breading them add great flavor, it's an ideal way to get crispy pork chops AND juicy pork chops all in one.
These chops can also be baked instead of pan fried. See the NOTES/HINTS section in the recipe card below.
I love this easy recipe so much that when I don't know what to make, this is the one I often fall back on.
What to serve with breaded pork chops

As mentioned above, these are delicious served with mashed potatoes and red cabbage. They are also fantastic served with the following:
More delicious German pork chop recipes

Ready to make this delicious recipe?

Is the recipe below locked? Here's why.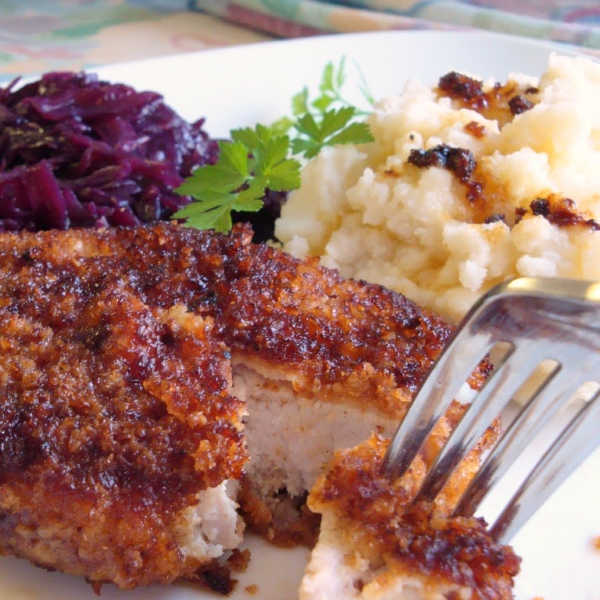 German Breaded Pork Chops Recipe – Oma's Schweinekotelett

This breaded pork chops recipe, aka Schweinekotelett, is among the tastiest and quickest dinner meal ideas you can have. This great recipe is simply delicious, and one that always turns out crispy on the outside and tender juicy on the inside! Yum!!
Prep Time


10 minutes


Cook Time


25 minutes


Total Time

35 minutes

Servings:

Makes 4 servings
Ingredients:
4 pork chops, trimmed of fat, with or without bone, 1-inch thick
1 large egg
1½ cups breadcrumbs
¾ teaspoon seasoning salt (see hints below)
olive oil and/or butter for frying
Instructions:
Combine egg and 1 tablespoon water in a shallow bowl.
Mix bread crumbs and seasoning salt in another shallow bowl.
If the pork chops have fat along the edge, remove the excess. Then cut into any remaining fat (slash from the other edge of the chop through the fat) to prevent the meat from curling when cooking.
Heat about 2 tablespoons olive oil or butter in a large flat-bottomed frying pan (enough just to cover the bottom) over high heat.
Take first pork chop and coat with breadcrumb mixture, then dip in the egg mixture, then re-coat with more breadcrumbs. Carefully place chop into frying pan so that it doesn't splatter. Repeat with remaining chops. Add extra butter or oil if needed.
Turn chops when nicely browned on one side. 
Cover frying pan and lower heat to gently continue browning and cooking the chops until done. Turn once or twice during cooking. One-inch thick chops will take about 20 minutes.
Transfer fried pork chops to a plate lined with a paper towel before serving.

Notes/Hints:

I usually use an oil/butter mixture. Pure butter tastes great, but adding the olive oil makes it a bit healthier. If you prefer, just use oil. If you are using pure butter, be careful that the chops don't burn.
The seasoning salt I like is a no-name brand. Use any that you like, or just use salt, fresh ground black pepper, and perhaps some garlic powder to season.
Add Parmesan cheese and Italian seasoning to some Italian bread crumbs or any other herbs of your choice to vary the recipe.
To bake pork chops instead, preheat oven to 375 degrees F and cover a baking sheet with parchment paper. Place breaded chops on baking sheet. You can drizzle a little olive oil if you like. Bake in hot oven for about 20 minutes. Let rest for 5 minutes before serving.
To make sure they are fully cooked, use a meat thermometer to make sure they have an internal temperature of at least 145 degrees F.
Store any leftovers in an airtight container in the fridge for up to 4 to 5 days.
*  *  *  *  *

Unless otherwise noted recipe, images and content © Just like Oma | www.quick-german-recipes.com

09.17.2022 revision update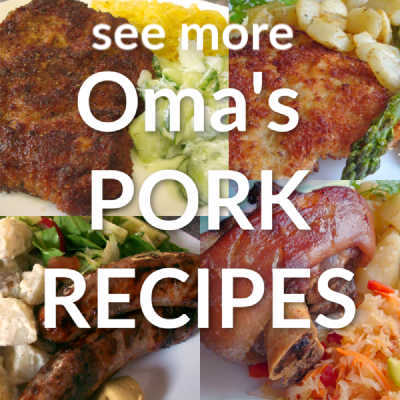 Leave a comment about this recipe or ask a question?

Pop right over to my private Facebook group, the Kaffeeklatschers. You'll find thousands of German foodies, all eager to help and to talk about all things German, especially these yummy foods. 
Meet with us around Oma's table, pull up a chair, grab a coffee and a piece of Apfelstrudel, and enjoy the visit.

Cooking just like Oma, making those German meals, is actually quite easy. Let me, Oma Gerhild, help you with my step-by-step methods to re-create those yummy meals you remember from your Oma.

If you're looking for tasty, traditional, and easy German cake recipes (in English) to try, then you've come to the right place! Check out these lecker treats!

Discover the ultimate German schnitzel recipe with Oma's quick and easy method - perfect for any occasion! Taste the authentic flavors of Germany today.
*  *  *  *  *
PIN to SAVE this recipe to your Pinterest board!
And let's be friends on Pinterest!
---
Breaded Pork Chop Recipes made Just like Oma
By
Oma Gerhild Fulson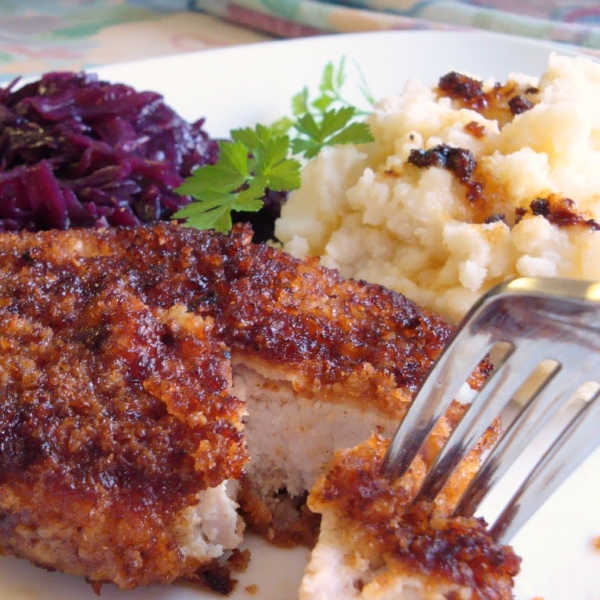 Breaded pork chops are among the tastiest and quickest meals you can make. My favorite is a simple one, one that always turns out juicy and delicious! Perfect for tonight!
Ingredients:
pork chops,
breadcrumbs,
egg,
seasoning salt,
oil/butter,
For the full recipe, scroll up ...
Words to the Wise
"Good people leave an inheritance to their grandchildren, but the sinner's wealth passes to the godly."
Proverbs 13:22 (NLT)