Oma's Breaded Pork Chops❤️
➤ by Oma Gerhild Fulson
FTC Disclosure: As an Amazon Associate, I earn from qualifying purchases.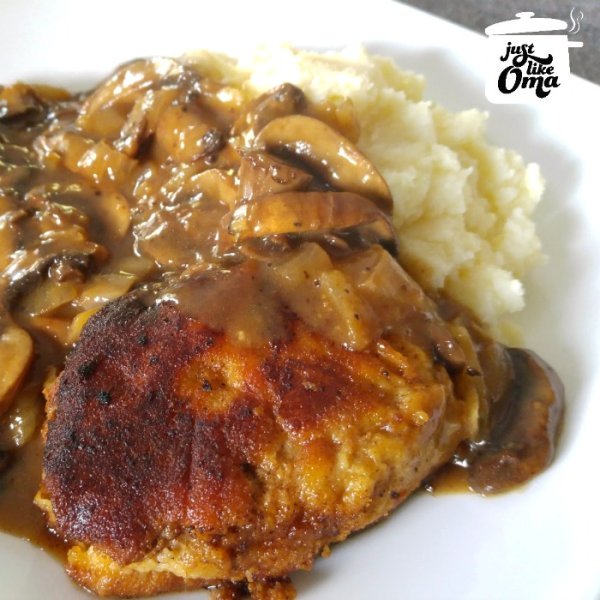 Breaded pork chops, mashed potatoes and a marvellous mushroom sauce (think Jägersosse!) ... recipe link below.
This breaded pork chops recipe, aka Schweinekotelett,  is among the tastiest and quickest dinner meal ideas you can have. This is a simple one, one that always turns out juicy and delicious! Once you learn the basics of how to cook pork chops, there are so many little variations that you can make. Just adding extra herbs and spices can make a dramatic change.
I'll often make an extra chop or two. They taste so great cold and sliced in a sandwich for lunch the next day. Wunderbar!

Pork Schnitzel versus Pork Chops
Pork schnitzel recipes are similar to breaded pork chops, because schnitzel are just thin chops. In fact, as you look at the schnitzel recipe, you'll realize just how similar this is to these breaded pork chops.
The main difference is the thickness. I love using a really thick chop ... cooking a bit longer ... and it's really juicy and delectable!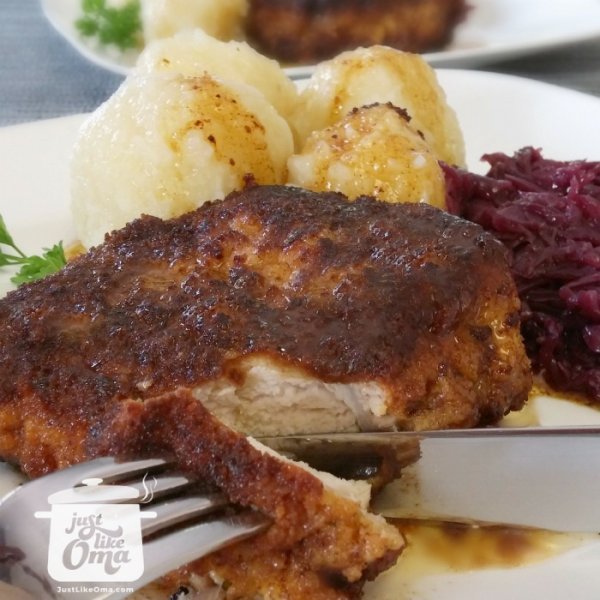 The only problem with making schnitzel is that they are quite large and it is difficult to cook many at once. How to cook pork chops enough for our family of five? I used the above recipe ... and, I had a nice big frying pan!
Using thicker chops means I can put more of them in the pan. Served with boiled potatoes and red cabbage  as above, was (and still is) one of my German meat recipes I served often. 
OR, serve them with a marvellous mushroom sauce ... get the recipe here.
Breaded Pork Chop Recipes
There really are many ways to make pork chops. Breading them is an ideal way to get them to stay juicy and bring interesting flavours into them.
The recipe, below, really is my fall-back recipe. When I don't know what to make, I make them this way :)
Oma's Breaded Pork Chops❤️
Ingredients:
4 pork chops, trimmed of fat, with or without bone

1½ cups bread crumbs

1 egg

¾ tsp Seasoning Salt, see hints below

olive oil and butter for frying
Instructions:
Mix egg and 1 tbsp water in a flat soup bowl.

Mix bread crumbs and Seasoning Salt in another flat soup bowl.

If the pork chops have fat along the edge, remove the excess. Then cut into any remaining fat (slash from the other edge of the chop through the fat) to prevent the meat from curling when cooking.
Heat on high about 2 tbsp olive oil (or butter) in a large flat-bottomed frying pan, enough just to cover the bottom. 
Take first pork chop and coat with bread crumbs, then dip in egg mixture, then re-coat with more bread crumbs. Carefully place into frying pan so that it doesn't splatter. Repeat with remaining chops. Add extra butter or oil if needed.

Turn chops when nicely browned on one side. 

Cover frying pan and lower heat to gently continue browning and cooking the chops until done. Turn once or twice during cooking. One-inch thick chops will take about 20 minutes. 

Hints
I usually use an oil/butter mixture. Pure butter tastes great, but adding the olive oil makes it a bit healthier. If you prefer, just use oil. If you are using pure butter, be careful that the chops don't burn.

The Seasoning Salt I like is a "no-name" brand. Use any that you like, or just use salt and pepper to season.

Add Parmesan cheese to bread crumbs or other herbs of your choice to vary recipe.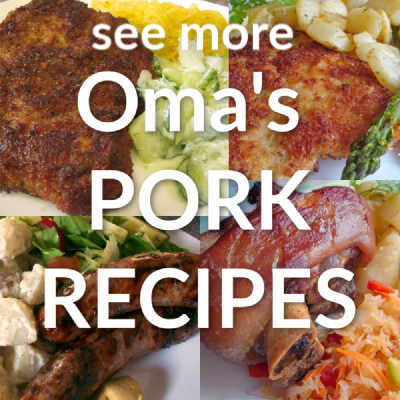 Leave a comment about this recipe or ask a question?
Pop right over to my private Facebook group, the Kaffeeklatschers. You'll find thousands of German foodies, all eager to help and to talk about all things German, especially these yummy foods. 
I pop in all the time as well, to chat and to answer questions. 
Meet with us around Oma's table, pull up a chair, grab a coffee and a piece of Apfelstrudel, and enjoy the visit.
*  *  *  *  *
Want nutritional information for a recipe?
Copy and paste the ingredient list and the number of servings into Calorie Count. 
It will give you an approximate calculation.

Need help doing conversions
between cups and grams or any such thing?
Use this site to give you all the different conversions for the different types of ingredients. 
---
PIN this ... for easy access to recipe when searching for a quick and tasty meal idea 

---
Jagerschnitzel: Rich creamy bacon & mushroom gravy over crispy breaded pork schnitzel (cutlets). HEAVENLY! A traditional German meal that's PERFECT anytime.

My Bienenstich recipe is a quick version of the traditional "German Bee Sting Cake". Sweet, chewy, nutty top with a creamy filling. Yummy!
---
Words to the Wise
"Good people leave an inheritance to their grandchildren, but the sinner's wealth passes to the godly."
Proverbs 13:22 (NLT)
---
❤️ Breaded Pork Chop Recipes made Just like Oma


By
Oma Gerhild Fulson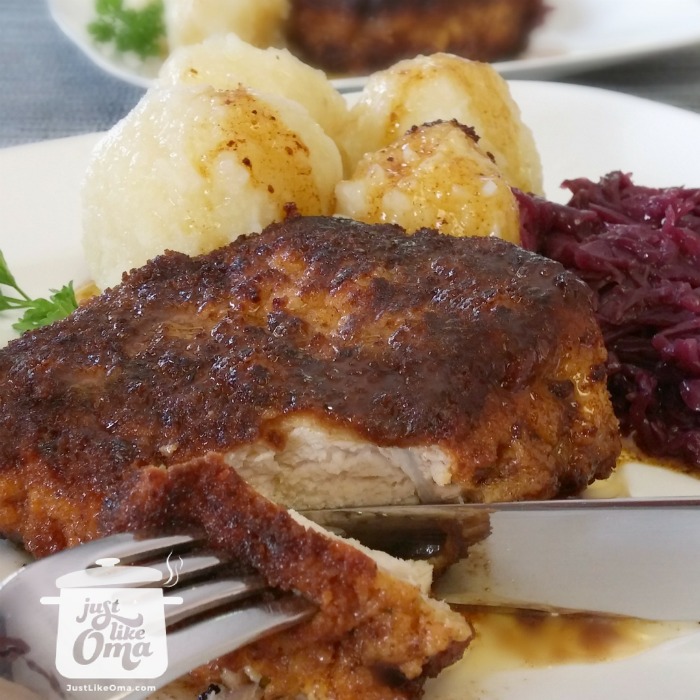 Breaded pork chops are among the tastiest and quickest meals you can make. My favorite is a simple one, one that always turns out juicy and delicious! Perfect for tonight!

Ingredients:
pork chops,
bread crumbs,
eggs,
For the full recipe, scroll up ...