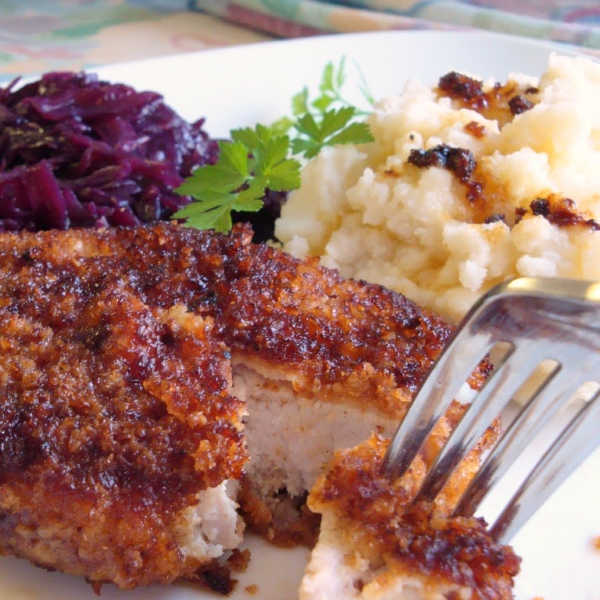 Oma's Breaded Pork Chops Recipe

This breaded pork chops recipe, aka Schweinekotelett, is among the tastiest and quickest dinner meal ideas you can have. This great recipe is simply delicious, and one that always turns out crispy on the outside and tender juicy on the inside! Yum!!
Prep Time


10 minutes


Cook Time


25 minutes


Total Time

35 minutes

Servings:

Makes 4 servings
Ingredients:
4 pork chops, trimmed of fat, with or without bone, 1-inch thick
1 large egg
1½ cups breadcrumbs
¾ teaspoon seasoning salt (see hints below)
olive oil and/or butter for frying
Instructions:
Combine egg and 1 tablespoon water in a shallow bowl.
Mix bread crumbs and seasoning salt in another shallow bowl.
If the pork chops have fat along the edge, remove the excess. Then cut into any remaining fat (slash from the other edge of the chop through the fat) to prevent the meat from curling when cooking.
Heat about 2 tablespoons olive oil or butter in a large flat-bottomed frying pan (enough just to cover the bottom) over high heat.
Take first pork chop and coat with breadcrumb mixture, then dip in the egg mixture, then re-coat with more breadcrumbs. Carefully place chop into frying pan so that it doesn't splatter. Repeat with remaining chops. Add extra butter or oil if needed.
Turn chops when nicely browned on one side. 
Cover frying pan and lower heat to gently continue browning and cooking the chops until done. Turn once or twice during cooking. One-inch thick chops will take about 20 minutes.
Transfer fried pork chops to a plate lined with a paper towel before serving.

Notes/Hints:

I usually use an oil/butter mixture. Pure butter tastes great, but adding the olive oil makes it a bit healthier. If you prefer, just use oil. If you are using pure butter, be careful that the chops don't burn.
The seasoning salt I like is a no-name brand. Use any that you like, or just use salt, fresh ground black pepper, and perhaps some garlic powder to season.
Add Parmesan cheese and Italian seasoning to some Italian bread crumbs or any other herbs of your choice to vary the recipe.
To bake pork chops instead, preheat oven to 375 degrees F and cover a baking sheet with parchment paper. Place breaded chops on baking sheet. You can drizzle a little olive oil if you like. Bake in hot oven for about 20 minutes. Let rest for 5 minutes before serving.
To make sure they are fully cooked, use a meat thermometer to make sure they have an internal temperature of at least 145 degrees F.
Store any leftovers in an airtight container in the fridge for up to 4 to 5 days.
*  *  *  *  *

Unless otherwise noted recipe, images and content © Just like Oma | www.quick-german-recipes.com

09.17.2022 revision update