Oma's Recipe for Sauerkraut ❤️
➤ by Oma Gerhild Fulson
FTC Disclosure: Making a purchase via a link on the page? I may earn a small commission on the transaction - at no added cost to you. Thanks!
This easy recipe for sauerkraut is a staple in our German menu. I
t's delicious with almost anything. Yes, sauerkraut goes with pork, beef, sausage, noodles, potatoes, dumplings, etc., etc. It goes into casseroles, into soups, on sausages, etc., etc.
If you're vegan, you'll enjoy this as a wunderbar side dish to almost anything. And you know sauerkraut is so healthy! One of my favorites, it's similar to a Bavarian sauerkraut with its final seasoning having sugar added.
One thing for sure is that the final dish can't be a soggy, soupy mess!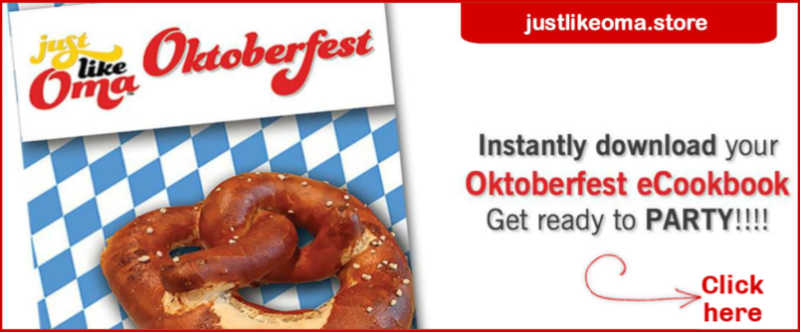 I'm also posting a second recipe for this. One for "Weinkraut" sent in by Ashe Ganse, from Northern Michigan.

Ashe says, "This is basically just sauerkraut that is baked with wine and apples. My Oma, Mariane Hoeksema, always used to make it for me and my sisters when we were younger. We were always asking for "weinkraut" because that's what she called it (but I'm not sure if that's what it's really called)."
---
Oma's Tips for Cooking Sauerkraut
It should be cooked to a "dry, but juicy stage" with the kraut itself being moist with no soupy sauce around it.
In order to get it like this, the well-drained sauerkraut is sautéed first in hot fat.
A little water or broth is then added and it is then cooked very slowly, adding extra liquid only if needed.
If you wish, you can dice some bacon (unless vegan) and brown it first. The longer it's browned, the better.Then add the onion and well drained sauerkraut and continue with the recipe. Delicious!!!!
The difference between Bavarian Sauerkraut and a regular German Sauerkraut is that the Bavarian one is milder and sweeter. As well, it is usually flavored with caraway seeds.
Make this a Vegan recipe for Sauerkraut ...

Just use oil instead of butter or bacon drippings when you make this recipe. It won't quite have the same intensity of flavor, but if you brown the sauerkraut as much as possible, you'll still have great taste.

---
---
1.  Oma's Recipe for Sauerkraut
Ingredients:
28-oz can or jar sauerkraut
1 onion, chopped
1 - 2 tbsp oil, butter, or bacon drippings

⅔ cup liquid (broth, white wine, apple juice, or water)
salt, pepper, sugar
1 - 2 tbsp cornstarch
3 juniper berries or 1 tsp. caraway seeds (optional)
1 apple, peeled and diced (optional)
Instructions:
Drain sauerkraut in colander, pressing out as much liquid as possible.
Heat oil in frying pan.
Add onion and sauté slowly until golden.
Add sauerkraut and continue browning. Add more oil if necessary.
Add apple, juniper berries and caraway seeds, if using.
Add liquid and bring to simmer.
Cover and cook at least 15 minutes and up to 1 hour. Stir occasionally, adding more liquid if necessary.
Mix cornstarch in a little cold water and slowly add just enough to sauerkraut to thicken sauce.
Season with salt, pepper, and sugar.
2.  Ashe's Weinkraut
Ingredients:
1 qt sauerkraut 
¼ cup sliced onions 
2 tbsp butter (or bacon drippings )
1½ cup white wine (or your favorite)
½ cup beef stock (or bouillon)
1 tsp brown sugar 
1 tsp celery seeds
2 or 3 medium-size apples (whatever kind you'd like)
Instructions:
Drain kraut slightly. 
Cook onion in butter or drippings until transparent. 
Add sauerkraut and stir; cook slowly. 
Wash, peel, and core apples; dice fruit and add to sauerkraut. 
Add wine and enough stock or bouillon to cover. Cook slowly, uncovered, for 30 minutes.
Add sugar and celery seeds; cover and finish cooking in moderate 325°F oven 30 minutes longer. 

Leave a comment about this recipe or ask a question?
Pop right over to my private Facebook group, the Kaffeeklatschers. You'll find thousands of German foodies, all eager to help and to talk about all things German, especially these yummy foods. 
I pop in all the time as well, to chat and to answer questions. 
Meet with us around Oma's table, pull up a chair, grab a coffee and a piece of Apfelstrudel, and enjoy the visit.
*  *  *  *  *
Thinking of starting your own Handmade Business?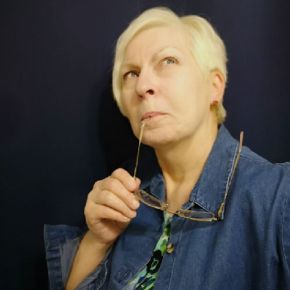 This Oma KNOWS you CAN do it.
How do I know?
Well, if I can do it, anyone can.
I've even figured out how I can help you.
I've teamed up with my own business coach, Renae Christine (yes, do google her!), to bring you this free workshop. After you watch it, ask me any questions and I'll gladly answer them.
Don't hesitate. I'm not sure how long Renae will keep this free workshop available.
PS:  Yes, Renae really is as amazing as all the reviews say.
PPS: Yes, the course is for handmade items, but I've used it successfully for my cookbooks. I know others are using her methods for services, direct sales, and even a local ice cream bar & grill that's constantly selling out. You've nothing to lose by taking a look ... and a whole bunch to gain.
*  *  *  *  *
Want nutritional information for a recipe?
Copy and paste the ingredient list and the number of servings into Calorie Count. 
It will give you an approximate calculation.

Need help doing conversions
between cups and grams or any such thing?
Use this site to give you all the different conversions for the different types of ingredients. 
---
PIN this to easily pull up Oma's sauerkraut recipe while getting your colander and ingredients prepared... 
---
These German cookie recipes in English are quick and simple recipes to delight your family and friends.

My homemade chicken rice soup recipe is one you're sure to make often. Why? 'Cause it's so easy and so good. Make a huge batch that'll feed a crowd. Or, just so you can enjoy leftovers.
---
Words to the Wise
"The plans of the godly are just; the advice of the wicked is treacherous."
Proverbs 12:5 (NLT)
---
Oma's Recipe for Sauerkraut made Just like Oma


By
Oma Gerhild Fulson
This easy recipe for sauerkraut is a staple in our German menu. Delicious with almost anything! This sauerkraut recipe can also be made VEGAN!

Ingredients:
juniper berries,
sauerkraut,
apples,
cornstarch,
For the full recipe, scroll up ...