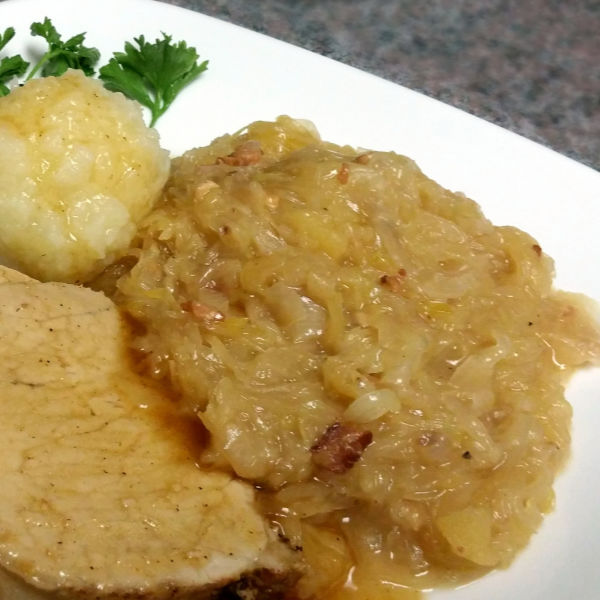 Oma's Recipe for Sauerkraut
This easy recipe for sauerkraut is a staple in our German menu. It's delicious with almost anything. Yes, sauerkraut goes with pork, beef, sausage, noodles, potatoes, dumplings, etc., etc. It goes into casseroles, into soups, on sausages, etc., etc.
And you know sauerkraut is so healthy! If you end up with leftovers, turn them into a sauerkraut casserole. 
Prep Time


10 minutes


Cook Time


20 minutes


Total Time

30 minutes

Servings:

Makes 4 servings
Ingredients:
28-ounce jar sauerkraut
1 onion, chopped
1 - 2 tablespoons oil (if vegan), butter, or bacon drippings
⅔ cup liquid (broth, white wine, apple juice, or water)
salt, pepper
1 - 2 tablespoons cornstarch
3 juniper berries or 1 teaspoon caraway seeds (optional)
1 apple, peeled and diced (optional)
Instructions:
Drain sauerkraut in colander, pressing out as much liquid as possible.
Heat oil in frying pan.
Add onion and sauté slowly until golden.
Add sauerkraut and continue browning. Add more oil if necessary.
Add apple, juniper berries and caraway seeds, if using.
Add liquid and bring to simmer.
Cover and cook at least 15 minutes and up to 1 hour. Stir occasionally, adding more liquid if necessary.
Mix cornstarch in a little cold water and slowly add just enough to sauerkraut to thicken sauce.
Season with salt and pepper.
Notes & Hints:

If you wish, you can dice some bacon (unless vegan) and brown it first. The longer it's browned, the better. Then add the onion and well drained sauerkraut and continue with the recipe.
Preferable is to use fresh sauerkraut, although jarred or canned will work.
The difference between Bavarian sauerkraut and a regular German sauerkraut recipe is that the Bavarian one is milder and sweeter. So, add a bit of sugar (even brown sugar) if you're going Bavarian! As well, it is usually flavored with caraway seeds.
Leftover sauerkraut makes a fabulous casserole.
Add a bay leaf or two bay leaves if you're adventuresome.
This is a wonderful comfort food served with pork chops or even on top of hot dogs!
Learn how to make your own sauerkraut from scratch for this recipe and others, such as sauerkraut soup.
*  *  *  *  *

Unless otherwise noted recipe, images and content © Just like Oma | www.quick-german-recipes.com

05.11.2022 revision update