Oma's Sauerkraut Soup Recipe ❤️

➤ by Oma Gerhild Fulson
FTC Disclosure: Making a purchase via a link on the page? I may earn a small commission on the transaction - at no added cost to you. Thanks!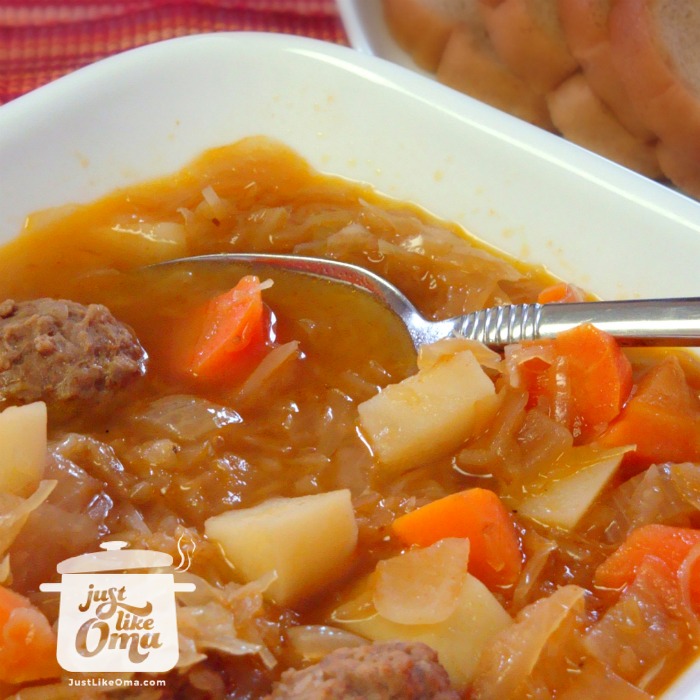 This Sauerkraut Soup recipe, aka Sauerkrautsuppe, is a favorite. It's one of the easy Eintopf (one-pot) meals that Germany is so famous for. Everything's cooked in one pot - easy clean-up! You can alter the amounts of the veggies or meat according to your tastes. Soup is simply a mix of what you like.

Measurements can be approximate (within reason!). It can be a bit of this and a bit of that. So, make this Sauerkraut Soup your own favorite!

What makes these soups so wunderbar? They bring back such wonderful memories of my Mutti's kitchen. So, of course, I had to write my own soup e-cookbook to share with my grandchildren. I know you'll LOVE it, too!
There are 84 full-color pages filled with step-by-step instructions and hints. Take a quick peek ...
Sharing these soup recipes from my Mutti and Oma to my own young grandchildren ... that's such a delicious way to pass on our German heritage :)
When making the Sauerkraut Soup, make it just like Oma would ...

The quantities of veggies can easily be changed. Really doesn't need to be measured. Just be sure that the broth covers everything.
Use beef bouillon cubes and water to make beef broth if desired. 
Oma says,
Since I just love quick soup recipes, and quick is what this website is all about, this soup really fits well when you use purchased frozen meatballs
If you have time, you can always make meat balls from scratch. 
Sauerkraut Soup?
I love sauerkraut. I just never had it in a soup when I was growing up. Sauerkraut was something that was served as a side dish.
When I was asked a while ago for a recipe for sauerkraut soup, I thought it a bit strange. That is, until I did some research and looked through lots of German cookbooks. I found a great assortment of easy soup recipes and even a sauerkraut casserole.
I did some experimenting and this soup is the result. It always gets rave reviews when I serve it.  To round out the meal, I serve a salad such as this lettuce salad with sour cream salad dressing and some fresh buns, or homemade artisan bread.
Oma's Sauerkraut Soup Recipe ❤️
Ingredients:
Either make your own meatballs:
1 lb lean ground beef
1 egg
salt, pepper
OR use frozen:
1 lb bag frozen meatballs (no need to thaw)
Soup:
1 lb potatoes, peeled
2 - 3 carrots, peeled
2 small onions, diced
3 tbsp oil
2 tbsp sugar
28 oz can sauerkraut, drained
1 tbsp paprika
4 cups beef broth (or bouillon)
Instructions:
If you are making your own meatballs, mix together ground beef and egg. Season with salt and pepper. Form into 1-inch meatballs.
Dice potatoes and carrots into 1-inch pieces.
Sauté onions in oil until translucent and add sugar and continue sautéing until golden brown.
Add drained sauerkraut. Continue sautéing for a few minutes. Add paprika.
Add beef broth, meatballs, carrots and potatoes. Bring to boil. Simmer, covered, for about 15 - 30 minutes.
Season with salt and pepper if needed.
Serves 4.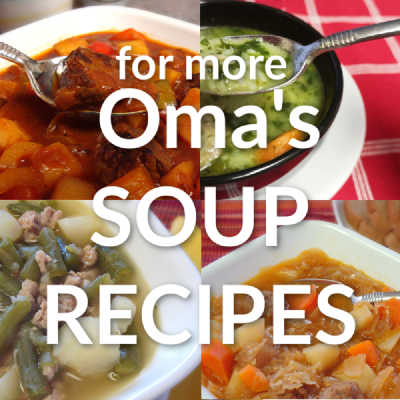 Leave a comment about this recipe or ask a question?
Pop right over to my private Facebook group, the Kaffeeklatschers. You'll find thousands of German foodies, all eager to help and to talk about all things German, especially these yummy foods. 
I pop in all the time as well, to chat and to answer questions. 
Meet with us around Oma's table, pull up a chair, grab a coffee and a piece of Apfelstrudel, and enjoy the visit.
*  *  *  *  *
Thinking of starting your own Handmade Business?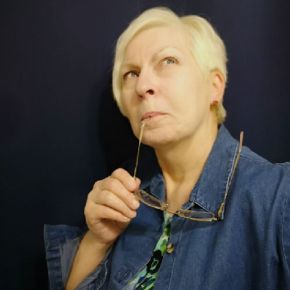 This Oma KNOWS you CAN do it.
How do I know?
Well, if I can do it, anyone can.
I've even figured out how I can help you.
I've teamed up with my own business coach, Renae Christine (yes, do google her!), to bring you this free masterclass. After you watch it, ask me any questions and I'll gladly answer them.
Don't hesitate. I'm not sure how long Renae will keep this free masterclass available.
PS:  Yes, Renae really is as amazing as all the reviews say.
PPS: Yes, the course is for handmade items, but I've used it successfully for my cookbooks. I know others are using her methods for services, direct sales, and even a local ice cream bar & grill that's constantly selling out. You've nothing to lose by taking a look ... and a whole bunch to gain.
*  *  *  *  *
Oma's Cookbooks (downloadable & print)
*  *  *  *  *
Want nutritional information for a recipe?
Copy and paste the ingredient list and the number of servings into Calorie Count. 
It will give you an approximate calculation.

Need help doing conversions
between cups and grams or any such thing?
Use this site to give you all the different conversions for the different types of ingredients. 
---
PIN this... so you can quickly pull up Oma's sauerkraut soup recipe while getting out your lean ground beef and preparing your sauerkraut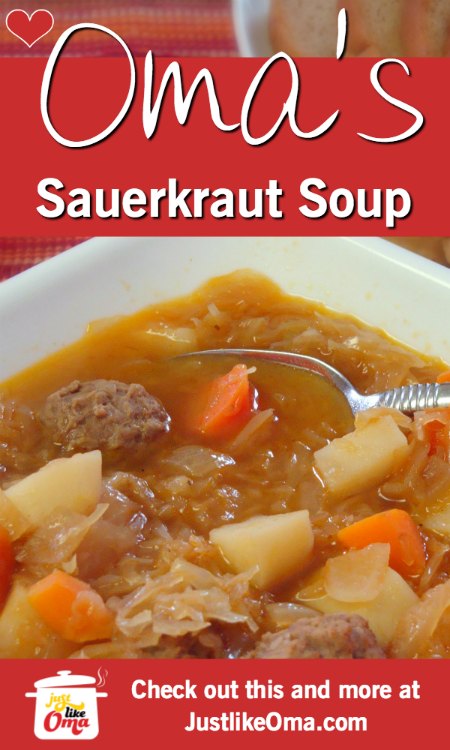 ---
Try this slow cooker roast beef and you'll be amazed at how much this tastes like rouladen WITHOUT the work.

Learn how to cook pork hocks, anytime you want something traditionally German and wonderfully delicious! A hearty meal for any time of the year!
---
Words to the Wise
"Upright citizens are good for a city and make it prosper, but the talk of the wicked tears it apart."
Proverbs 11:11 (NLT)
---
❤️ Sauerkraut Soup Recipe made Just like Oma


By
Oma Gerhild Fulson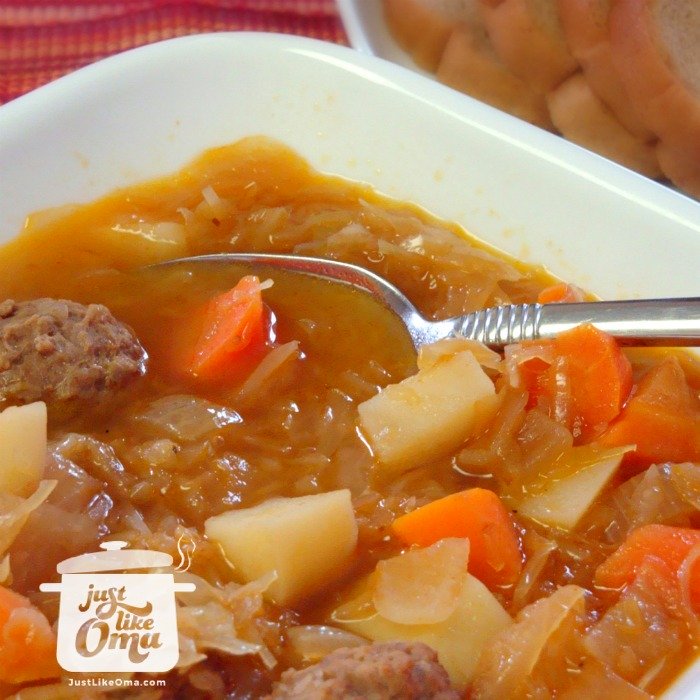 This Sauerkraut Soup recipe is a favorite. It really is the quintessential German soup! What a fabulous intro to your Oktoberfest meal!

Ingredients:
beef broth,
onions,
potatoes,
sauerkraut,
For the full recipe, scroll up ...