Oma's Sauerkraut Soup Recipe

➤ by Gerhild Fulson
Cold days are upon us once again, which means it's soup season. I just love this time of year because there's nothing like a warm bowl of soup on a cold winter day, and this Sauerkraut Soup recipe, aka Sauerkrautsuppe, fits the bill perfectly.
It's an easy Eintopf (one-pot meal) that Germany is so famous for. Everything's cooked in one pot, which makes for easy clean-up. Gotta love that!
This delicious soup, made with simple ingredients, is one of many popular soups in Germany.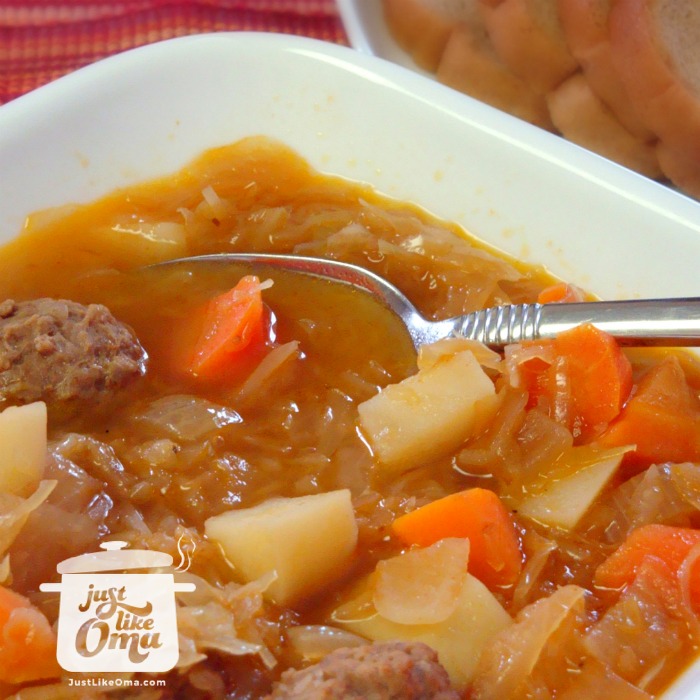 It's so easy to make and you can alter the amounts of the veggies or meat according to your tastes. Soup is simply a mix of what you like.
Measurements can be approximate (within reason!). It can be a bit of this and a bit of that. So, make this Sauerkraut Soup your own favorite!
When making the Sauerkraut Soup, make it just like Oma would ...

The quantities of veggies can easily be changed. Really doesn't need to be measured. Just be sure that the broth covers everything.
Dissolve 2 - 4 beef bouillon cubes, depending on the brand, in 4 cups water to make beef broth, if desired. 
Oma says:
Since I just love quick soup recipes, and quick recipes are what this website is all about, this German Sauerkraut Soup really fits well when you use purchased frozen meatballs.
If you have time, you can always make meat balls from scratch.

Grab your copy of Oma's favorite soups collection in Quick Fix German Soups e-Cookbook. You'll LOVE it!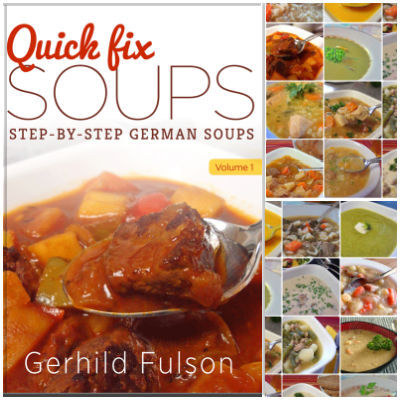 Take a peek at all Oma's eCookbooks. They make sharing your German heritage a delicious adventure!
Sauerkraut Soup?
I love sauerkraut. I just never had it in a soup when I was growing up. Sauerkraut was something that was served as a side dish.
When I was asked a while ago for an easy sauerkraut soup recipe, I thought it a bit strange. That is, until I did some research and looked through lots of German cookbooks. I found a great assortment of easy soup recipes and even a sauerkraut casserole.

I did some experimenting and this healthy soup is the result. It always gets rave reviews when I serve it. To round out the meal, this soup tastes amazing served with a salad such as this lettuce salad with sour cream salad dressing and some fresh buns, or fresh crusty bread like my homemade artisan bread.
How to make Sauerkraut Soup

Start by making your meatballs (unless using frozen) by mixing 1 pound lean ground beef with one egg and some salt and pepper, to taste. Form into 1-inch balls and set aside.
In a large soup pot, sauté 2 small diced onions (or 1 large onion) in a little oil until translucent. Sprinkle with some sugar and continue cooking until golden brown.

Add sauerkraut and continue sautéing for a few more minutes. Add paprika.

Add 4 cups broth along with the meatballs and diced potatoes and carrots. Bring to a boil, then simmer for 15 to 30 minutes.
Season soup with 1 tsp salt and 1/4 tsp pepper, or to taste.
Serve in individual bowls with a dollop of crème fraîche or sour cream, along with a fresh salad and some crusty bread for a deliciously wholesome meal.
Want more German recipes with sauerkraut?

Sauerkraut is one of the best-known national dishes in Germany. The word sauerkraut, by the way, translates as sour cabbage. It is raw cabbage that has been fermented. It has a long shelf life and a distinctive sour flavor. The longer the fermentation process, the better it tastes, in my humble opinion.
It can easily be found at any grocery store or, better yet, you can make your very own homemade sauerkraut. It's so very easy to make and tastes so much better than store-bought sauerkraut.

Sauerkraut is one of many delicious foods that Germany is known for. Is it any wonder there are so many delicious recipes with sauerkraut? If you need more sauerkraut in your life, check out the following recipes:
Ready for Oma's Sauerkraut Soup?

Is the recipe below locked? Here's why. Unlock to see ALL the exclusive recipes on this site. Click here for help.
➤ As an Amazon Associate, I earn from qualifying purchases.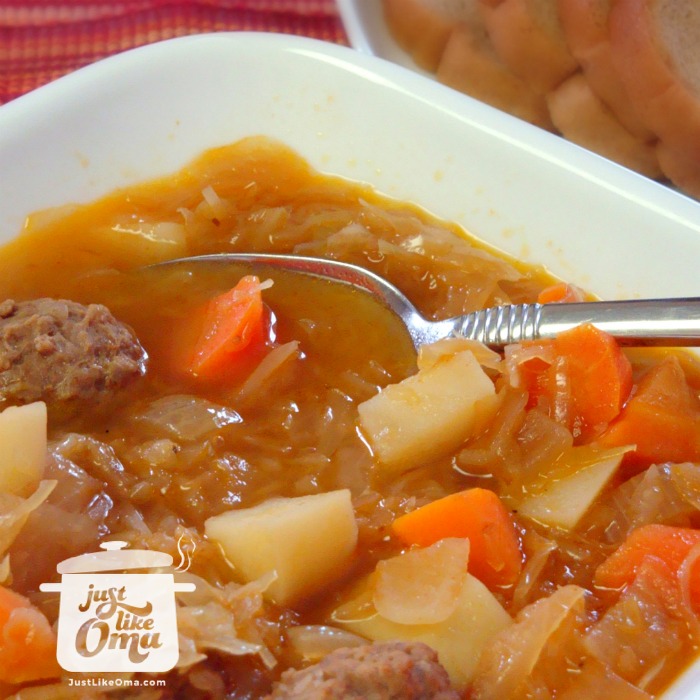 Oma's Sauerkraut Soup Recipe

This Sauerkraut Soup recipe, aka Sauerkrautsuppe, is a favorite. It's one of the easy Eintopf (one-pot) meals that Germany is so famous for. Everything's cooked in one pot - easy clean-up! You can alter the amounts of the veggies or meat according to your tastes.
Prep Time


15 minutes


Cook Time


30 minutes


Total Time

45 minutes

Servings:

Makes 4 servings
INGREDIENTS:
Either make your own meatballs:
1 pound lean ground beef
1 large egg
salt, pepper
OR use frozen:
1 pound bag frozen meatballs (no need to thaw)
Soup:
1 pound potatoes, peeled
2 - 3 medium carrots, peeled
2 small onions, diced
3 tablespoons olive oil
2 tablespoons sugar
28-ounce can or jar sauerkraut, drained (see note)
1 tablespoon paprika
4 cups beef broth (or bouillon)
1 tsp salt, or to taste
1/4 tsp pepper, or to taste
INSTRUCTIONS:
If you are making your own meatballs, mix together ground beef and egg. Season with salt and pepper. Form into 1-inch meatballs.
Dice potatoes and carrots into small pieces, about 1-inch in size.
In a large pot or dutch oven, sauté onions in oil over medium heat until translucent. Add sugar and continue sautéing until golden brown.
Add drained sauerkraut. Continue sautéing for a few minutes. Add paprika.
Add beef broth, meatballs, carrots, and potatoes. Bring to a boil. Lower heat to a gentle simmer and cook, covered, for about 15 to 30 minutes.
Season soup with salt and pepper, if desired.
Serve in individual bowls with a dollop of crème fraîche or sour cream, along with a fresh salad and crusty bread for an easy meal.
NOTES/HINTS
Use about 3 - 4 cups sauerkraut if using homemade. Since it is raw, it will reduce in volume as it's cooking.
Store leftovers in an airtight container. This yummy soup tastes even better the next day.
Optional additional seasonings: Add caraway seeds with the paprika and/or a bay leaf along with the beef broth and other veggies. Or use any of your favorite fresh herbs.
Consider adding minced garlic cloves and/or diced celery for added nutrition.
Try adding a little bit of tomato paste for added depth of flavor.
Make a vegetarian version by omitting the meatballs (or use plant-based meatballs or white beans) and substitute vegetable stock for the beef broth.
Make it a Sauerkraut and Sausage Soup by replacing the meatballs with your favorite German sausage.
*  *  *  *  *

Unless otherwise noted recipe, images and content © Just like Oma | www.quick-german-recipes.com

12.14.2021 revision update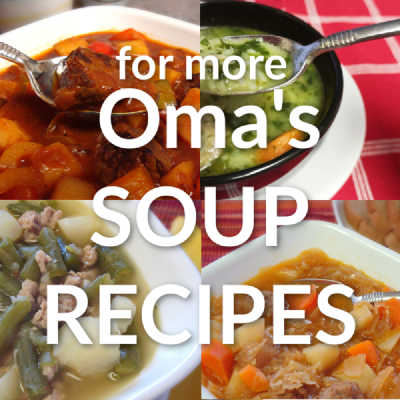 Leave a comment about this recipe or ask a question?

Pop right over to my private Facebook group, the Kaffeeklatschers. You'll find thousands of German foodies, all eager to help and to talk about all things German, especially these yummy foods. 
Meet with us around Oma's table, pull up a chair, grab a coffee and a piece of Apfelstrudel, and enjoy the visit.

Make this easy German Mulled Wine recipe to enjoy as a traditional German Christmas drink. It'll make you think you're back in Germany at the wonderful Christmas markets.

Wurstsalat ... a traditional meat salad from southern Germany. In the north, it's Fleischsalat. Both are wonderfully different and utterly delicious! Perfect party pairing.
*  *  *  *  *
PIN to SAVE this recipe to your Pinterest board!
And let's be friends on Pinterest!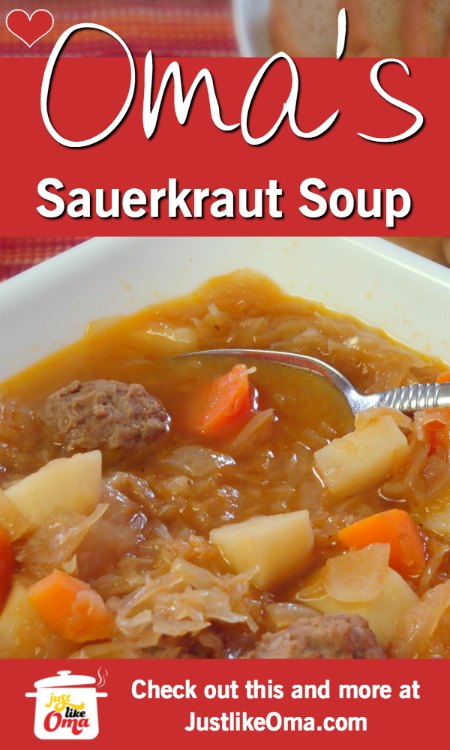 ---
Sauerkraut Soup Recipe made Just like Oma


By
Oma Gerhild Fulson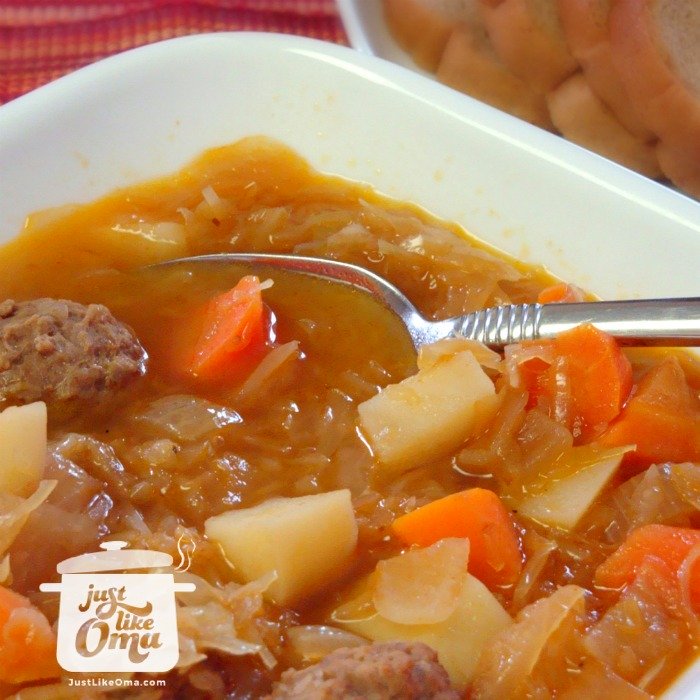 This Sauerkraut Soup recipe is a favorite. It really is the quintessential German soup! What a fabulous intro to your Oktoberfest meal!

Ingredients:
ground beef,
egg,
seasonings,
potatoes,
carrots,
onions,
oil,
sugar,
sauerkraut,
beef broth,
For the full recipe, scroll up ...
Words to the Wise
"Upright citizens are good for a city and make it prosper, but the talk of the wicked tears it apart."
Proverbs 11:11 (NLT)