German Sauerkraut ❤️
➤ by Oma Gerhild Fulson
FTC Disclosure: Making a purchase via a link on the page? I may earn a small commission on the transaction - at no added cost to you. Thanks!
Looking for this yummy side dish? Check it out here.
Are you wanting to make German sauerkraut as a side for your traditional German meal?That most yummy of all sides?  You'll need to pop over to this page for my simple recipe.
Wanting Oma's German Sauerkraut Casserole? It's below.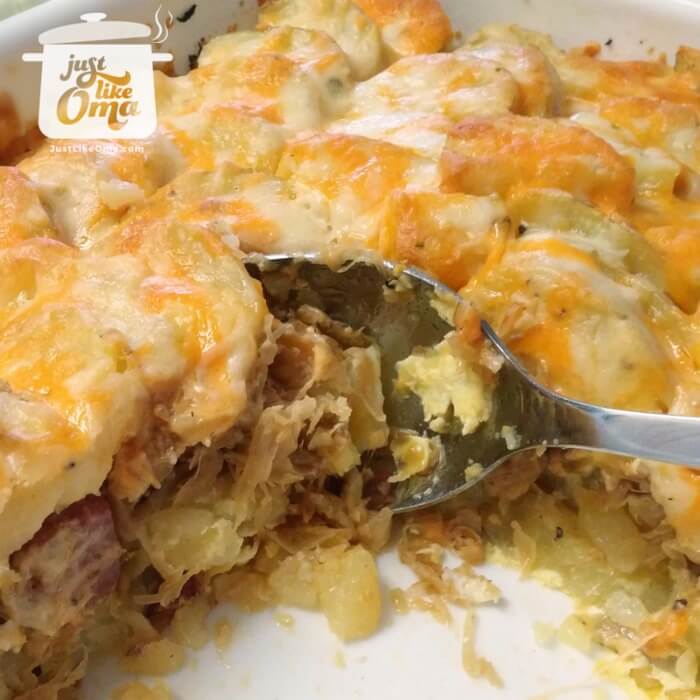 Here's a German sauerkraut casserole that uses up some leftovers and makes them into a marvelous dinner that's quick and easy.
If you've got some leftover ham and potatoes, just add a few extra items, put it in the oven, and turn up the polka music.
Dinner's almost ready!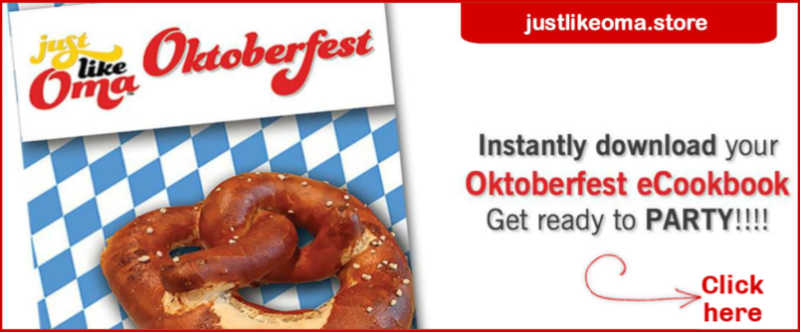 Recipes using leftovers can be boring, but turning those leftovers into something totally different is fantastic.
Here you take that ham and potatoes and add sauerkraut and cheese to make a casserole that will make you want to have leftovers!
In fact, you'll PLAN on making extras so that you end up with leftovers for this.
Don't have any leftover potatoes? Check Oma's Tip below.

---
Sauerkraut recipes are great to have in your recipe file. Often, in Germany, sauerkraut is flavoured with juniper berries and served along side of pork, smoked sausages, or kasseler.
That's why using ham in this dish is so great.
However, if you have any other type of smoked meat left over, use that instead.
For the cheese, I use whatever I happen to have in the fridge. Use that which melts nicely. If you enjoy it as an eating cheese, it will be fabulous in here as well. :)
Sauerkraut info:
There are many health benefits associated with eating this fermented cabbage, sauerkraut. It is high in vitamins C, B, and K, low in calories, and high in calcium, magnesium, and fiber.
It's even healthier eaten raw. Try it in a salad!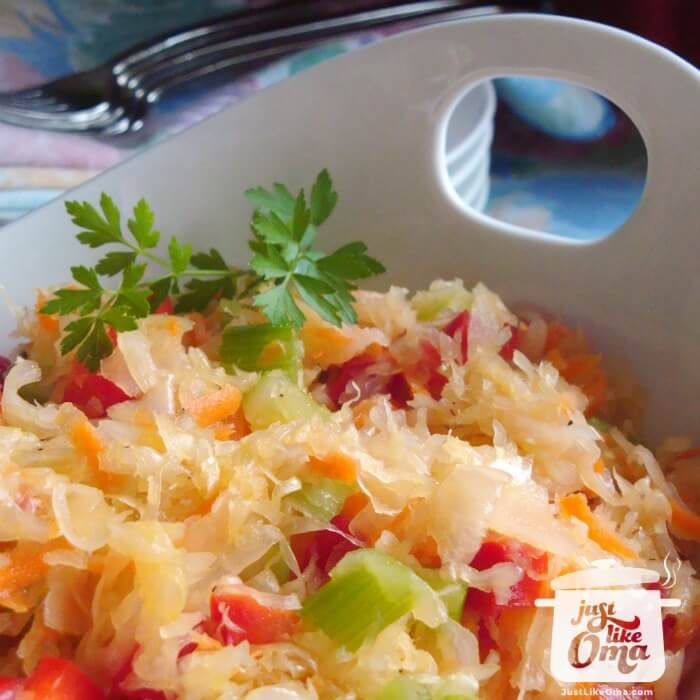 If you can find sauerkraut that is unpasteurized and uncooked, it will contain live lactobacilli and is rich in enzymes. You may need to go to a health food store to find it, but it's fantastic in this salad.

Ready to make this Sauerkraut Casserole? But, you don't have any leftover potatoes. What to do?
Oma's Tip :

Don't have any leftover potatoes? 
Peel (if necessary) and thickly slice raw potatoes, cover with water and bring to boil. Simmer until tender which will take about 10 minutes.
During that time you can be frying up the ham and onion.
Oma's German Sauerkraut Casserole ❤️
Ingredients:
2 cups cubed cooked ham
1 medium onion, chopped
3 tbsp butter or oil
1 tsp paprika
2 lb potatoes, cooked and sliced
28-oz can drained sauerkraut
salt and pepper
2 eggs
4 Tbsp milk
approx. 2 cups grated cheese (any kind, such as cheddar, Emmental, Swiss, etc.)
Instructions:

Preheat the oven to 350° F. 
Fry ham and onion in butter/oil until onion is translucent. Add sauerkraut and paprika and mix well. 
Arrange half of the potatoes on the bottom of a greased 9 x 13 inch casserole dish. Season with salt and pepper on top of potatoes.
Spread the ham/sauerkraut mixture on top. Cover with the remaining potatoes. Season with salt and pepper on top of potatoes.
Beat eggs and milk. Pour over potatoes. Sprinkle with grated cheese.
Bake for about 25 - 30 minutes or until cheese is bubbly.
Serves 4 - 6.

Leave a comment about this recipe or ask a question?
Pop right over to my private Facebook group, the Kaffeeklatschers. You'll find thousands of German foodies, all eager to help and to talk about all things German, especially these yummy foods. 
I pop in all the time as well, to chat and to answer questions. 
Meet with us around Oma's table, pull up a chair, grab a coffee and a piece of Apfelstrudel, and enjoy the visit.
*  *  *  *  *
Want nutritional information for a recipe?
Copy and paste the ingredient list and the number of servings into Calorie Count. 
It will give you an approximate calculation.

Need help doing conversions
between cups and grams or any such thing?
Use this site to give you all the different conversions for the different types of ingredients. 
---
Pin the following post so you can quickly find the Sauerkraut Casserole recipe when you're pulling out your casserole dish because you've got leftovers to use ...
---
Schwenkbraten recipe that has been a delish hit an alle familien & freunde... Total Approx. Time: Prep: 15 min. + Marinating 8 hrs min. + Grill: 15 min.

My Oma made this cake every Christmas. She iced it with a white frosting that ran down the sides. She decorated it with little silver balls (candy). It
---
Words to the Wise
"Choose a good reputation over great riches; being held in high esteem is better than silver and gold."
Proverbs 22:1 (NLT)
---
German Sauerkraut Casserole made Just like Oma


By
Oma Gerhild Fulson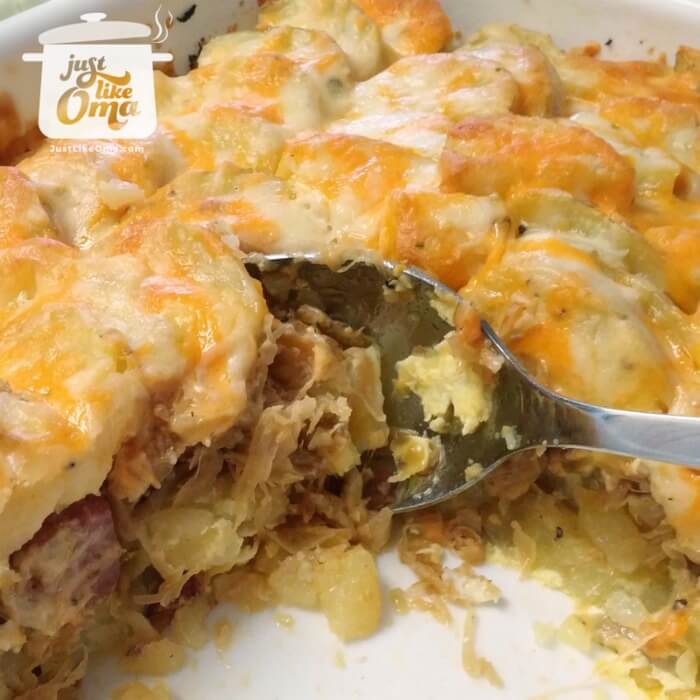 Here's a German sauerkraut casserole that uses up leftovers and turns them into a marvellous dinner that's quick and easy! A great dish to serve company!

Ingredients:
ham,
sauerkraut,
potatoes,
onion,
For the full recipe, scroll up ...