Oma's German Sauerkraut Casserole

➤ by Oma Gerhild Fulson
Here's a German sauerkraut casserole that uses up some leftovers and makes them into a marvelous dinner that's quick and easy. And what's most important, it's not just a boring leftover dinner.
If you have some leftover ham and potatoes, just add some sauerkraut and cheese along with some staple items already in the cupboard, put it in the oven and turn up the polka music. 

Dinner's almost ready! German food at its best!
For the full list of ingredients & detailed instructions, see the recipe card at the end of this post. But before you scroll, there's important & interesting stuff to know right below.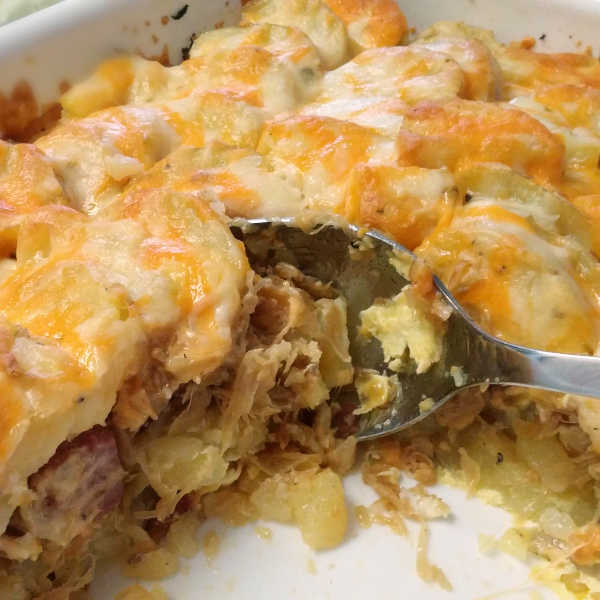 Recipes using leftovers can be boring, but turning those leftovers into something totally different is fantastic.
In fact, you'll PLAN on making extras so that you end up with leftovers just so you can make this.

Don't have any leftover potatoes? Check Oma Says below.

Sauerkraut recipes are great to have in your recipe file. Often, in Germany, sauerkraut is flavored with juniper berries and served alongside of pork, smoked sausages, or kasseler.
That's why using ham in this dish is so great. However, if you have any other type of smoked meat left over, use that instead.
For the cheese, I use whatever I happen to have in the fridge. Use one that which melts nicely. If you enjoy it as an eating cheese, it will be fabulous in here as well. :)
Celebrate Oktoberfest right at home with these German recipes found right here in Oma's Oktoberfest e-Cookbook.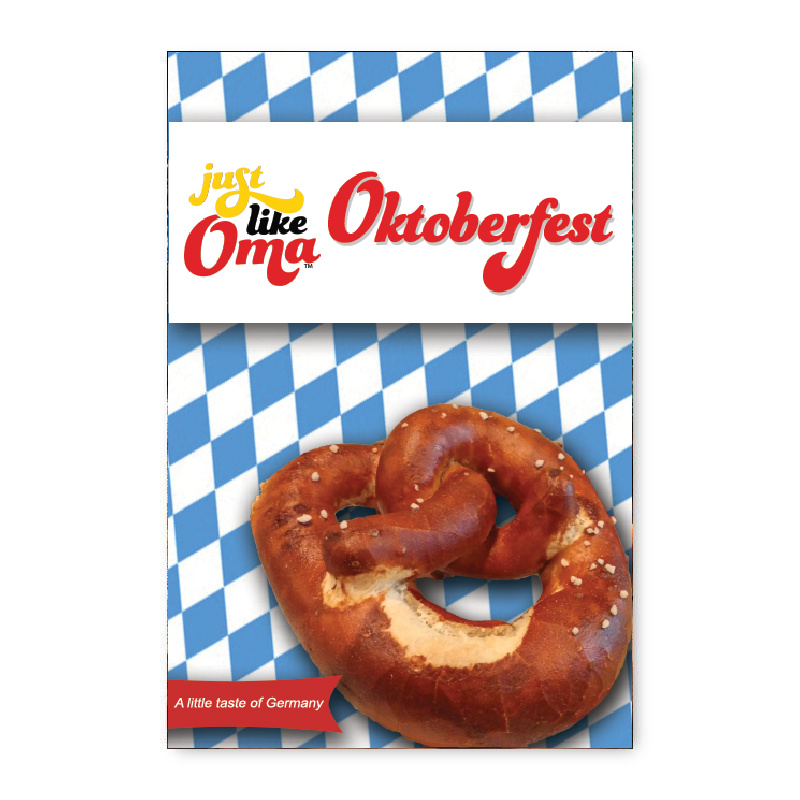 Take a peek at all Oma's eCookbooks. They make sharing your German heritage a delicious adventure!
A Little Cabbage History in Germany
Everyone knows we Germans LOVE sauerkraut! Not just because of its health benefits and versatility, but it is always such a treat...even if we have it all the time!
Do you know about the New Year's Eve sauerkraut tradition? Now, there are some strange and peculiar traditions out there, but this one tradition is known for being the most popular one on New Years' Eve night, just before the clock strikes twelve.

A big bowl of fermented sauerkraut is shared among loved ones, and once midnight hits, everyone takes and enjoys their own bowl of it as a way of symbolizing good fortune and abundance in the year ahead. Some believe that the number of shreds consumed will be the same amount of positive things that are to happen in the new year. 
Why is this you ask? Well, it is supposedly because of the harvesting times for the cabbages in Germany. Once the cabbages are good and ready, they go through the process of being made into our beloved sauerkraut, though this takes a few weeks time. By the time the first batch of sauerkraut is ready for eating, it is near December 31st, New Year's Day! The first batch is always the "luckiest", and will bring good fortune. 
Though some families just enjoy the sauerkraut on special days like this simply for a yummy treat! It is a very popular dish to serve during Christmas time as well, seeing as it holds so much history and tradition, it has become a staple to serve in homes all across not only Germany but lots of other places in Europe too!
Many celebrate the start to a new year with a hug, a kiss, a glass of wine, party hats, and lots of cheering, maybe by shouting "Woohoo!" out the window... but Germans? We celebrate with sauerkraut! Yum! ;)
Is Sauerkraut healthy?

There are many health benefits associated with eating this fermented cabbage, sauerkraut. It is high in vitamins C, B, and K, low in calories, and high in calcium, magnesium, and fiber.
It's even healthier eaten raw. Try it in a salad!
If you can find sauerkraut that is unpasteurized and uncooked, it will contain live lactobacilli and is rich in enzymes. You may need to go to a health food store to find it, but it's fantastic in this sauerkraut salad shown below.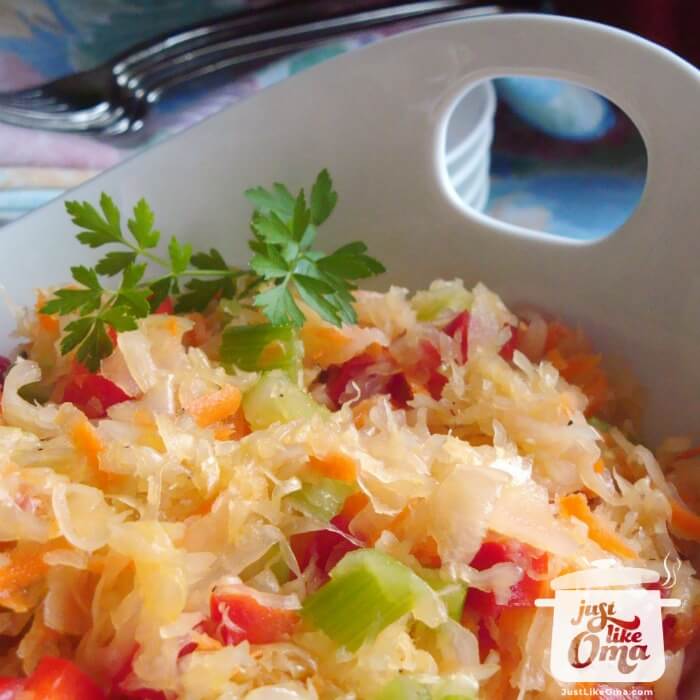 Then, of course, there's just plain sauerkraut as a side dish that's so popular with many meals in Germany. Just plain doesn't mean boring either. 
Take a look at how this Oma makes her sauerkraut so that everyone always wants seconds!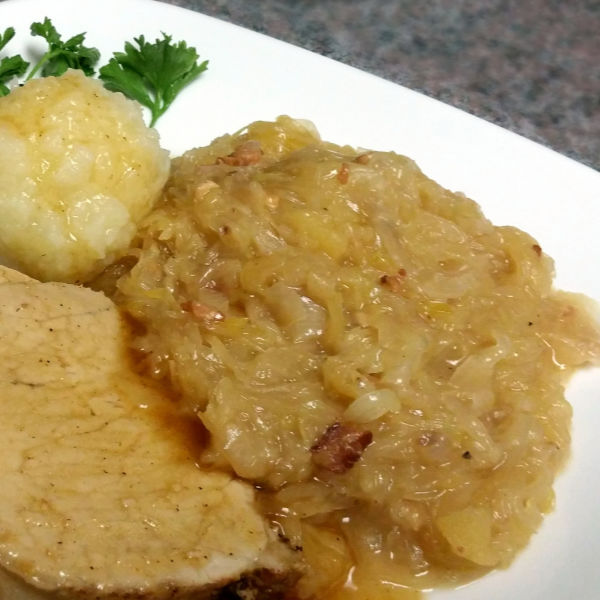 ---
Ready to make this Sauerkraut Casserole? But, you don't have any leftover potatoes. What to do?
Oma Says:

Don't have any leftover potatoes? 
Peel (if necessary) and thickly slice raw potatoes, cover with water and bring to boil. Simmer until tender which will take about 10 minutes.
During that time you can be frying up the ham and onion.
---
Ready to make this sauerkraut casserole?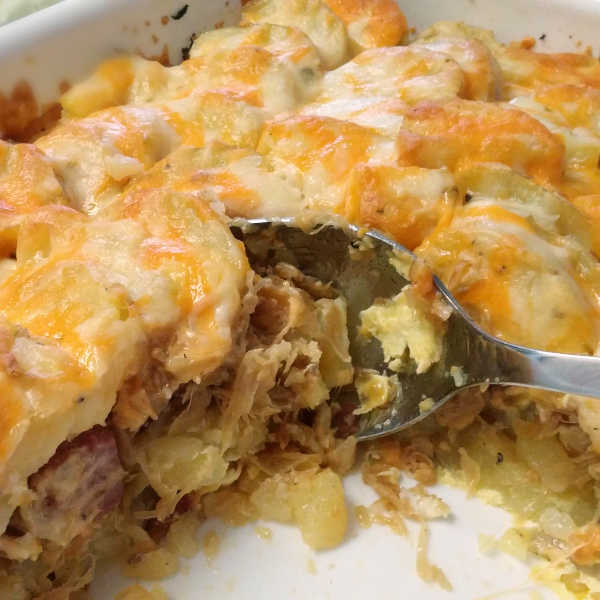 Oma's German Sauerkraut Casserole
Here's a German sauerkraut casserole that uses up some leftover sauerkraut, ham and potatoes and makes them into a marvelous dinner that's quick and easy.  Add a few extra items, put it in the oven, and turn up the polka music.
Dinner's almost ready!
Prep Time


10 minutes


Cook Time


35 minutes


Total Time

45 minutes

Servings:

Makes 4 - 6 servings
Ingredients:
2 cups cubed cooked ham
1 medium onion, chopped
3 tablespoons butter or oil
1 teaspoon paprika
2 pounds potatoes, cooked and sliced
28-ounce can drained sauerkraut
salt and pepper
2 large eggs
4 tablespoons milk
approx. 2 cups grated cheese

Instructions:
Preheat the oven to 350°F. 
Fry ham and onion in butter/oil until onion is translucent. Add sauerkraut and paprika and mix well. 
Arrange half of the potatoes on the bottom of a greased 9x13-inch casserole dish. Season with salt and pepper on top of potatoes.
Spread the ham/sauerkraut mixture on top. Cover with the remaining potatoes. Season with salt and pepper on top of potatoes.
Beat eggs and milk. Pour over potatoes. Sprinkle with grated cheese.
Bake for about 25 to 30 minutes or until cheese is bubbly.
Notes/Hints:

*  *  *  *  *

Unless otherwise noted recipe, images and content © Just like Oma | www.quick-german-recipes.com

Leave a comment about this recipe or ask a question?

Pop right over to my private Facebook group, the Kaffeeklatschers. You'll find thousands of German foodies, all eager to help and to talk about all things German, especially these yummy foods. 
Meet with us around Oma's table, pull up a chair, grab a coffee and a piece of Apfelstrudel, and enjoy the visit.

Make this slow cooker roast beef and be amazed how much this tastes like rouladen WITHOUT the work. Same wonderful gravy, tender meat, and perfect for family and guests.

This German streusel fruit tart, Obstkuchen mit Streusel, uses either fresh or canned fruit, such as apricots, peaches, cherries. A delicious treat, just like Oma bakes.

German sauerkraut salad is so easy, delicious, and goes with almost anything. It's super healthy when made with your homemade sauerkraut that's so easy to make, as well.
*  *  *  *  *
PIN to SAVE this recipe to your Pinterest board!
And let's be friends on Pinterest!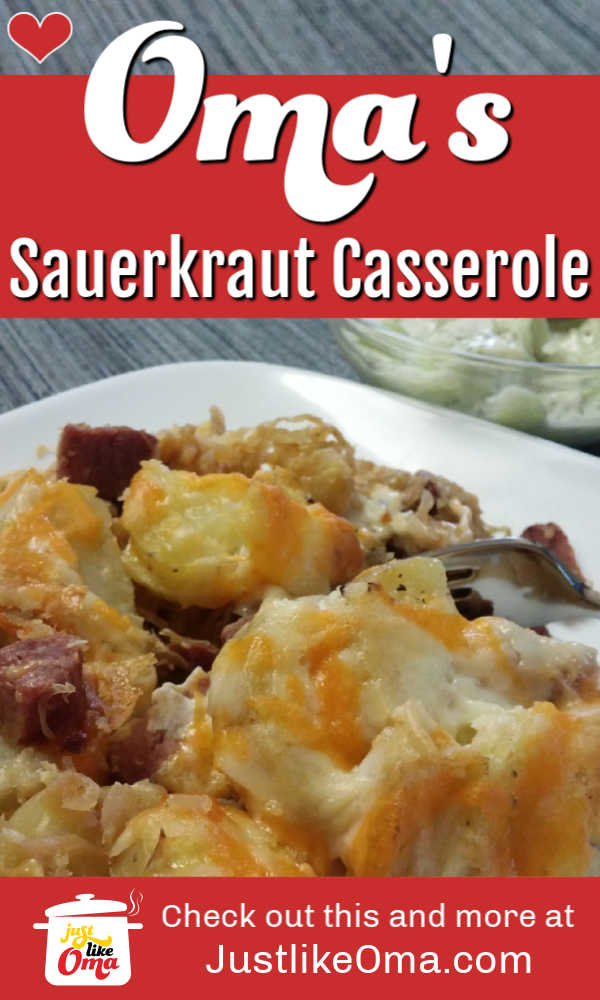 ---
German Sauerkraut Casserole made Just like Oma
By
Oma Gerhild Fulson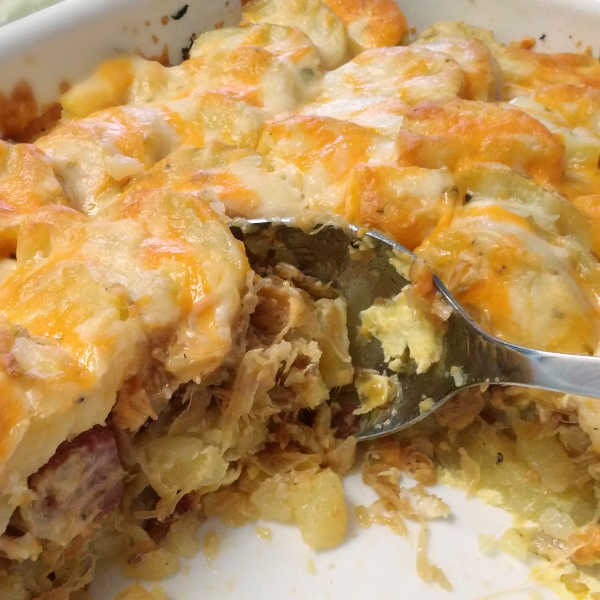 Here's a German sauerkraut casserole that uses up leftovers and turns them into a marvellous dinner that's quick and easy! A great dish to serve company!
Ingredients:
ham,
onion,
butter/oil,
seasonings,
potatoes,
sauerkraut,
eggs,
milk,
grated cheese,
For the full recipe, scroll up ...
Words to the Wise
"Choose a good reputation over great riches; being held in high esteem is better than silver and gold."
Proverbs 22:1 (NLT)