Oma's Pork Hocks and Sauerkraut ❤️

➤ by Oma Gerhild Fulson
FTC Disclosure: Making a purchase via a link on the page? I may earn a small commission on the transaction - at no added cost to you. Thanks!
Pork hocks and sauerkraut, aka Schweinshaxe or Eisbein und Sauerkraut, was a favorite of my Opa. It's a really old traditional German meal. It's also one of the Oktoberfest recipes that are used to accompany the traditional foods that celebrate this festival.
German pork hocks are usually cooked from raw rather than smoked. Although I admit, if I can find smoked pork hocks, I'll buy them. They're just like ham and are great in a potato or pea soup.

Fresh pork hocks are another matter. They may be difficult to find in many grocery stores and you may need to go to a deli or a butcher.

Oma's Pork Hocks and Sauerkraut ❤️

Ingredients:
4 meaty pork hocks

2 large onions, quartered

2 bay leaves

12 peppercorns, slightly crushed

1½ tbsp sugar

28 oz can sauerkraut, drained
1 tsp caraway seeds
Instructions:
Add pork hocks, onion, bay leaf, peppercorns and sugar to a large pot. 

Cover with hot water and bring to simmer.
Cover and simmer for about 2 hours. 

Drain off most of the cooking liquid. Add sauerkraut and caraway seeds.
Simmer for another half hour.
Serves 4

---
Additional Tips for Cooking Pork Hocks
When you look at the hocks, you may see nothing but fat and bones. So, look for meaty ones and you'll be surprised by the delicious taste.

When serving, you can cut away the fat. Traditionally, this was eaten, just dunked in mustard!
I used to wonder how healthy this could be? Yet my Opa ate lots of "fatty" meats and little vegetables. He lived to his late 80's. Me, however, I cut away most of the fat!
The long slow cooking makes the hocks tender, yet retaining their juiciness.
If you prefer the hocks to have a crispy crust as in this photo, then follow the recipe for Schweinshaxe.
This one is started on the stove and finished in the oven.
A bit more work, but worth it.
In comparison, the recipe above is an easy and quick one to prepare, yet it does take some time to cook. Serve this with boiled potatoes for a traditional German meal.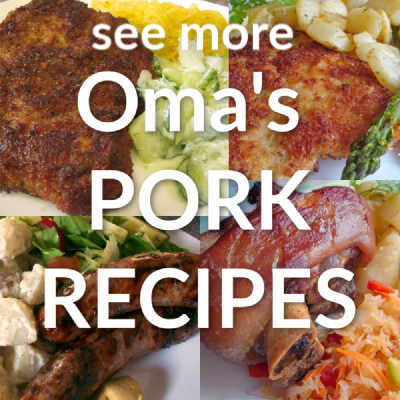 Want to leave a comment about this recipe or ask a question?
Pop right over to my private Facebook group, the Kaffeeklatschers. You'll find thousands of German foodies, all eager to help and to talk about all things German, especially these yummy foods. 
I pop in all the time as well, to chat and to answer questions. 
Meet with us around Oma's table, pull up a chair, grab a coffee and a piece of Apfelstrudel, and enjoy the visit.
*  *  *  *  *
Thinking of starting your own Handmade Business?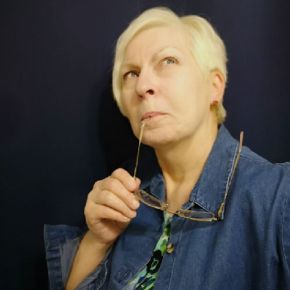 This Oma KNOWS you CAN do it.
How do I know?
Well, if I can do it, anyone can.
I've even figured out how I can help you.
I've teamed up with my own business coach, Renae Christine (yes, do google her!), to bring you this free masterclass. After you watch it, ask me any questions and I'll gladly answer them.
Don't hesitate. I'm not sure how long Renae will keep this free masterclass available.
PS:  Yes, Renae really is as amazing as all the reviews say.
PPS: Yes, the course is for handmade items, but I've used it successfully for my cookbooks. I know others are using her methods for services, direct sales, and even a local ice cream bar & grill that's constantly selling out. You've nothing to lose by taking a look ... and a whole bunch to gain.
*  *  *  *  *
Oma's Cookbooks (downloadable & print)
*  *  *  *  *
Want nutritional information for a recipe?
Copy and paste the ingredient list and the number of servings into Calorie Count. 
It will give you an approximate calculation.

Need help doing conversions
between cups and grams or any such thing?
Use this site to give you all the different conversions for the different types of ingredients. 
---
---
Oma's German schnitzel recipe (Jäger-Schnitzel) is great if you need something delicious that's quick to make as well. So traditionally German and so WUNDERBAR!

Learn how to cook pork hocks, anytime you want something traditionally German and wonderfully delicious! A hearty meal for any time of the year!
---
Make every day a CHEERFUL day!
"A cheerful heart is good medicine, but a broken spirit saps a person's strength."  
Proverbs 17:22 (NLT)