Oma's Smoked Pork Chops Recipe ~ Kasseler
➤ by Gerhild Fulson
This smoked pork chops recipe is one of those traditional German food recipes that is so easy and quick to make. 
The only difficulty you may have is finding the meat. Most delis will have this - called "Kasseler" (or "Kassler") - it's a type of salt-cured and slightly smoked pork loin chops. Can't find that? Check below for alternatives.
For the full list of ingredients & detailed instructions, see the recipe card at the end of this post. But before you scroll, there's important & interesting stuff to know right below.
Together with making the potato salad and broccoli, the quick German meal below was ready in under 30 minutes. A very traditional German Kasseler dinner!
Can't find Kasseler?
Then a thick piece of boneless cooked ham would work, although not quite the same flavor. You may want to try different brands to find one that tastes "just right".
A similar flavor can be had by using a thick piece of Canadian pea-meal bacon. Again, these are just substitutes for the real thing.
Dinner Tips ...
It doesn't get much easier than the recipe below! Just long enough in the pan to get it a bit browned and hot.
Below, it is shown served with some quick and easy potato salad and some steamed broccoli. The chops are done within 5 to 10 minutes, so together with making the potato salad and broccoli, this dinner was ready in under 30 minutes, starting from scratch.
All the meat needs is a quick fry to heat and brown. Often it's served with sauerkraut and mashed potatoes for a really traditional German meal. Finish off the meal in real German style by serving fruit over ice cream ("Heiss und Eis") or a pudding.
Choose your own favorite side dishes from the many German food recipes posted under or Vegetable Recipes -- great accompaniments to these smoked pork chops.
Health benefits of Pork
It is important to include meats into your diet as your source of protein. Why is it so good for your body? Protein is responsible for fuelling the energy to your body to keep you from feeling weak and tired. It also assists in carrying oxygen through your blood. 
With a lack of protein, your body can show significant changes in energy levels. You can lose muscle mass and slow your metabolism, which can cause fatigue, anemia, low blood pressure, and other health concerns. Protein is a key ingredient to keeping your body healthy and strong!
Pork is also an excellent source of vitamins B12 and B6, which are crucial vitamins that your body needs. These vitamins are good for brain function, proper blood cell formation, and more. But wait, there's more!
Did you know that pork is a Wunderbar source of iron too? Irons' job is to transport oxygen throughout your body, from your lungs to your bloodstream. It plays a big role in your body's overall function.
Pork is strongly suggested to those who struggle with low blood pressure, anemia, and low iron, seeing as it is SO beneficial. That's just one more reason to make this delicious recipe!
There's something absolutely mouth-watering about having a German meat-and-potato dinner. Get Oma's revised collection of her favorites in German Meat Dishes.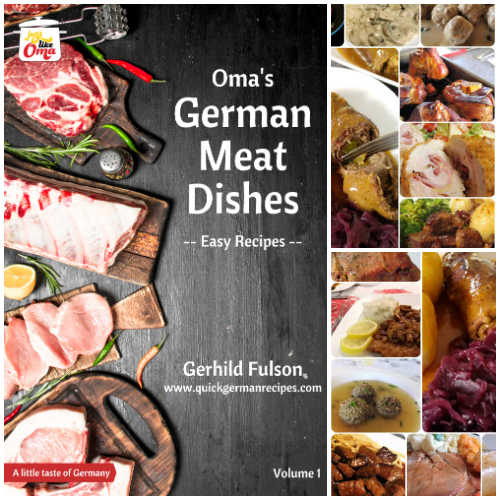 Take a peek at all Oma's eCookbooks. They make sharing your German heritage a delicious adventure!
Oma says:
Where the original name "Kasseler" comes from is unknown. It is assumed that it did NOT come from the town of Kassel in Germany. 
It's a salted and slightly smoked cut of pork, usually loin or neck. Often there's a bone, but this can be removed if desired before cooking.
Lydia Remembers ...
I have so many wunderbar memories in the kitchen with my Oma and have had MANY of her most popular and traditional recipes, like these smoked pork chops! 
My first time having these pork chops was after spending the day at Oma's, working together on some new pages for you to enjoy! We decided on a traditional German dish for dinner, and off we went to the kitchen! 
Observing Oma's techniques in the kitchen is something I have loved doing ever since I was little, and she still amazes me to this day. This pork chops meal was no exception. The immaculate flavors melt in your mouth. 
I LOVE when my pork has lots of juiciness, flavor, and spices on top to add a nice crispy crust, and this pork had just that. I ate a huge piece and still wanted more ... it was that good! 
We enjoyed some creamy brussels sprouts with our pork chops, and the two just go together so well. These pork chops sure are memorable, and I find myself craving them often!
Learn a little bit about me, Lydia, and my kitchen adventures with Oma!
Ready to make these smoked pork chops?
Oma's Smoked Pork Chops Recipe ~ Kasseler
This smoked pork chops recipe is one of those traditional German food recipes that is so easy and quick to make. The only difficulty you may have is finding the meat.
Most delis will have this - called Kasseler - it's a type of smoked pork loin chops. Can't find that? Check the hints for alternatives.
Prep Time


1 minute


Cook Time


5 minutes


Total Time

6 minutes

Servings:

Makes 4 servings
Ingredients:
4 smoked pork chops (Kasseler)
oil and/or butter to fry
Instructions:
Heat oil and/or butter, about 2 tablespoons in a fry pan.
Over medium heat, lightly brown Kasseler chops on both sides.
Serve and enjoy. Great with German mustard, potatoes, and vegetables.
Notes/Hints:

*  *  *  *  *

Unless otherwise noted recipe, images and content © Just like Oma | www.quick-german-recipes.com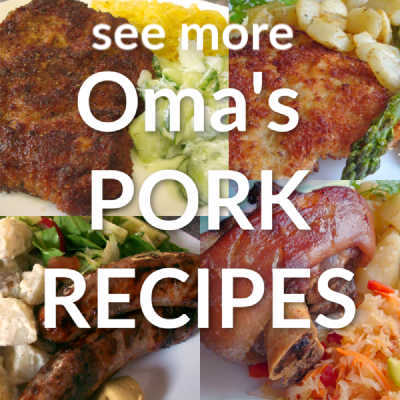 Leave a comment about this recipe or ask a question?

Pop right over to my private Facebook group, the Kaffeeklatschers. You'll find thousands of German foodies, all eager to help and to talk about all things German, especially these yummy foods. 
Meet with us around Oma's table, pull up a chair, grab a coffee and a piece of Apfelstrudel, and enjoy the visit.

Oma's German schnitzel recipe (Schweineschnitzel) is great if you need something delicious that's quick to make as well. So traditionally German and so WUNDERBAR!

Need ideas for what to serve with burgers? Everyone loves a lecker hamburger done on the summer BBQ. But what to serve alongside? Check out these great options!

Oma's baked pork chops with sauerkraut is an easy German dinner that's quick to make. Adding both browned onion rings and apples are scrumptious additions to this traditional meal.
*  *  *  *  *
PIN to SAVE this recipe to your Pinterest board!
And let's be friends on Pinterest!
---
---
Oma's Smoked Pork Chops Recipe ~ Kasseler
By
Oma Gerhild Fulson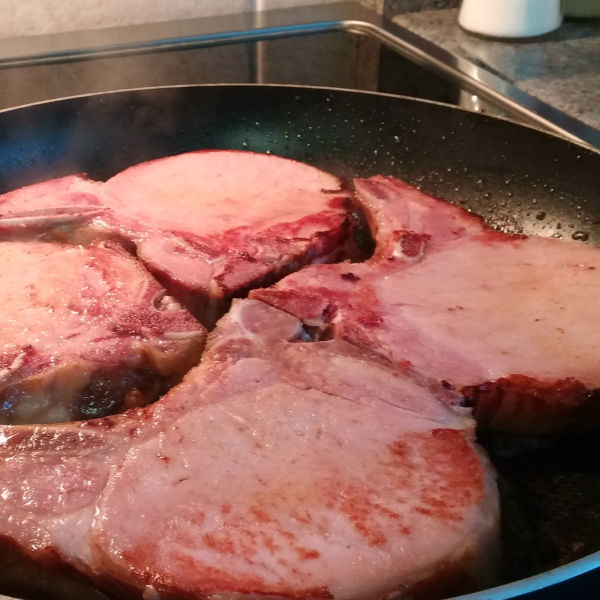 Smoked pork chops, Kasseler are one of those traditional German recipes that's so easy & quick to make. Delicious with a quick potato salad or sauerkraut on the side.
Ingredients:
smoked pork chops,
oil,
For the full recipe, scroll up ...
Words to the Wise
"Your kindness will reward you, but your cruelty will destroy you."
Proverbs 11:17 (NLT)