Oma's Frozen Fruit Dessert ~ Heiss und Eis
➤ by Oma Gerhild Fulson
This frozen fruit dessert, aka Heiss und Eis, is such an easy and quick treat to make. It's a favorite among the easy, quick dessert recipes. If you have frozen fruit and ice cream in the freezer, you can make this treat in a matter of minutes. 
Traditionally, Heiss und Eis is made with red fruits such as strawberries, raspberries, blackberries, cherries, individually or in combination.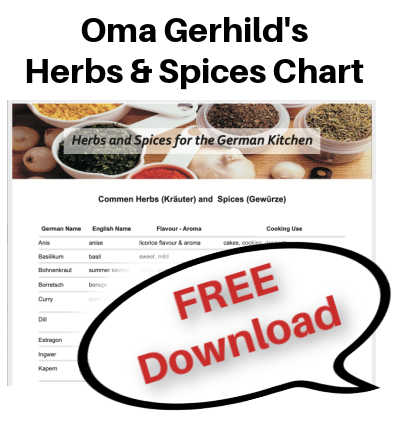 More Hints for this Dessert ...
Quantities for this fruit dessert do not have to be exact. Adjust as you wish. That's what makes this one of those easy dessert ideas that doesn't really need a cookbook. Scoop ice cream into serving dishes. Pour hot fruit sauce over top. Enjoy!
Personally, a really good quality vanilla ice cream is best. To me, that's actually quite something, because I really don't like vanilla ice cream. Give me a chocolate ice cream any day. But for this "frozen fruit" dessert, vanilla's best.
However, when using strawberries, nothing beats chocolate ice cream! I'm sure you'll come up with your own favorite combinations as well.
Grab your copy of Oma's favorites in her Special Occasion German Cakes & Tortes e-Cookbook.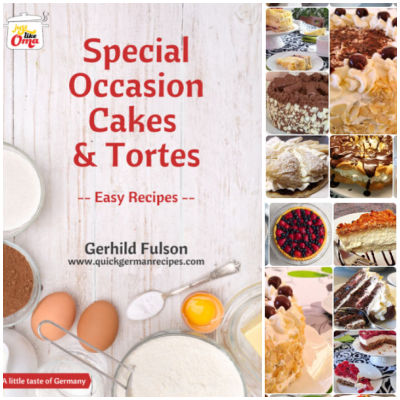 Take a peek at all Oma's eCookbooks. They make sharing your German heritage a delicious adventure!
---
Oma says:
Heiss und Eis (pronounced 'hice and ice'), meaning Hot and Ice, is the actual German name for this treat.

I never knew its name as I was growing up.
For us it was just "ice cream and fruit sauce." Usually, the sauce is served hot over the ice cream. However, if you wish, you can let the sauce cool.
---
Ready for some Eis und Heiss?
Oma's Frozen Fruit Dessert: Eis und Heiss

This frozen fruit dessert, aka Heiss und Eis, is such an easy and quick treat to make. It's a favorite among the easy, quick dessert recipes. If you have frozen fruit and ice cream in the freezer, you can make this treat in a matter of minutes. 

Prep Time


10 minutes


Cook Time


20 minutes


Total Time

30 minutes

Servings:

Makes 4 servings
Ingredients:
2 cups frozen fruit
2 cups juice, see hints below
1 tbsp cornstarch
Ice cream - flavor of your choice - enough for 4 servings
Instructions:
Put frozen fruit into saucepan. Cover with juice. 
Bring to simmer. Simmer until fruit is thawed and hot. Occasionally stir gently. 
Mix cornstarch with a little water. Slowly stir just enough into simmering fruit until it is the proper consistency - like a sauce.
Add a little lemon juice and/or sugar if needed.
Serve hot over ice cream.
Notes/Hints:

In the picture above, instead of a totally frozen fruit dessert, I used a 28 oz can of sliced peaches with its juice, ⅓ can frozen peach concentrate (to increase peach flavor), 1 cup frozen raspberries and 1 tbsp lime juice. Delicious and pretty. 
A strong flavored juice is preferable. Choose one that will complement the fruit. If the resulting sauce needs a bit more flavor, add some lemon juice and sweeten with sugar.
The leftovers, served the next day, were totally red. The peaches had taken on the red color. So, for color contrast, make just before serving. The leftovers, heated in the microwave, tasted just as good, though.
*  *  *  *  *

Unless otherwise noted recipe, images and content © Just like Oma | www.quick-german-recipes.com

Want Nutritional Information?

Copy and paste the above ingredient list and the number of servings into Calorie Count for an approximate calculation.
Need Help Doing Conversions?

Make it easier to convert between cups and grams, etc. Use this site to give you all the different conversions for the different types of ingredients. 
---
Leave a comment about this recipe or ask a question?
Pop right over to my private Facebook group, the Kaffeeklatschers. You'll find thousands of German foodies, all eager to help and to talk about all things German, especially these yummy foods. 
I pop in all the time as well, to chat and to answer questions. 
Meet with us around Oma's table, pull up a chair, grab a coffee and a piece of Apfelstrudel, and enjoy the visit.
Make this chicken fricassee recipe and you'll think you're back in Oma's kitchen. German comfort food. Originally just a 'leftover' meal, now it graces the best restaurant menus.

Oma's TOP 10 German foods that will have you thinking you're back in your Omas kitchen in Germany. Cooking and baking together, but best of all, making memories!

This German apple cake always looks amazing and tastes scrumptious! So quick and easy to make, it's just like Oma's versunkener Apfelkuchen served fresh from the oven.
*  *  *  *  *
PIN this ...
---
Frozen Fruit Dessert (Heiss und Eis) Just like Oma
By
Oma Gerhild Fulson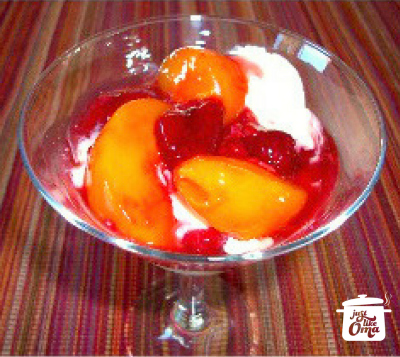 This frozen fruit dessert (Heiss und Eis) is a favorite among my quick, easy dessert recipes. It uses frozen fruit made into a hot sauce that's poured over ice cream. Yummy!
Ingredients:
frozen fruit,
ice cream,
juice,
cornstarch,
For the full recipe, scroll up ...
Words to the Wise
"Enthusiasm without knowledge is no good; haste makes mistakes."
Proverbs 19:1 (NLT)