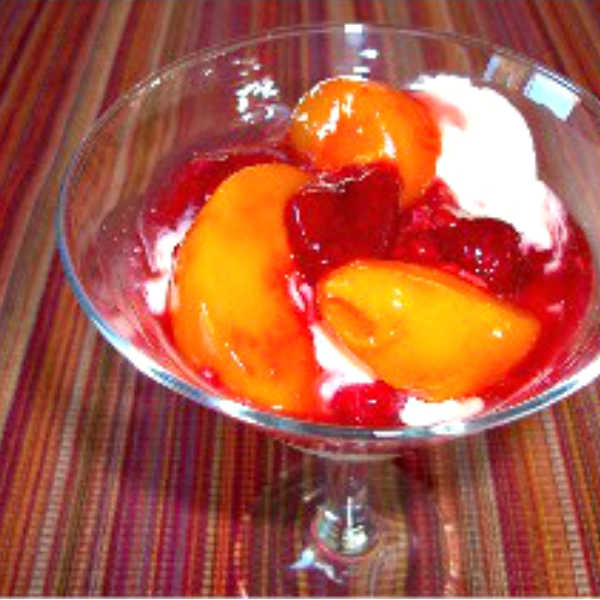 German Frozen Fruit Dessert – Oma's Heiss und Eis

This frozen fruit dessert, aka Heiss und Eis, is such an easy and quick treat to make. It's a favorite among the easy, quick dessert recipes. If you have frozen fruit and ice cream in the freezer, you can make this treat in a matter of minutes. 

Prep Time


10 minutes


Cook Time


20 minutes


Total Time

30 minutes

Servings:

Makes 4 servings
Ingredients:
2 cups frozen fruit
2 cups juice, see hints below
1 tablespoon cornstarch
Ice cream - flavor of your choice - enough for 4 servings
Instructions:
Put frozen fruit into saucepan. Cover with juice. 
Bring to simmer. Simmer until fruit is thawed and hot. Occasionally stir gently. 
Mix cornstarch with a little water. Slowly stir just enough into simmering fruit until it is the proper consistency - like a sauce.
Add a little lemon juice and/or sugar if needed.
Serve hot over ice cream.
Notes/Hints:

In the picture above, instead of a totally frozen fruit dessert, I used a 28 ounce can of sliced peaches with its juice, ⅓ can frozen peach concentrate (to increase peach flavor), 1 cup frozen raspberries and 1 tablespoon lime juice. Delicious and pretty. 
A strong flavored juice is preferable. Choose one that will complement the fruit. If the resulting sauce needs a bit more flavor, add some lemon juice and sweeten with sugar.
The leftovers, served the next day, were totally red. The peaches had taken on the red color. So, for color contrast, make just before serving. The leftovers, heated in the microwave, tasted just as good, though.
*  *  *  *  *

Unless otherwise noted recipe, images and content © Just like Oma | www.quick-german-recipes.com