Jelly Donut Recipe:

Berliner Pfannkuchen or Krapfen 

❤️

➤ by Oma Gerhild Fulson

FTC Disclosure: Making a purchase via a link on the page? I may earn a small commission on the transaction - at no added cost to you. Thanks!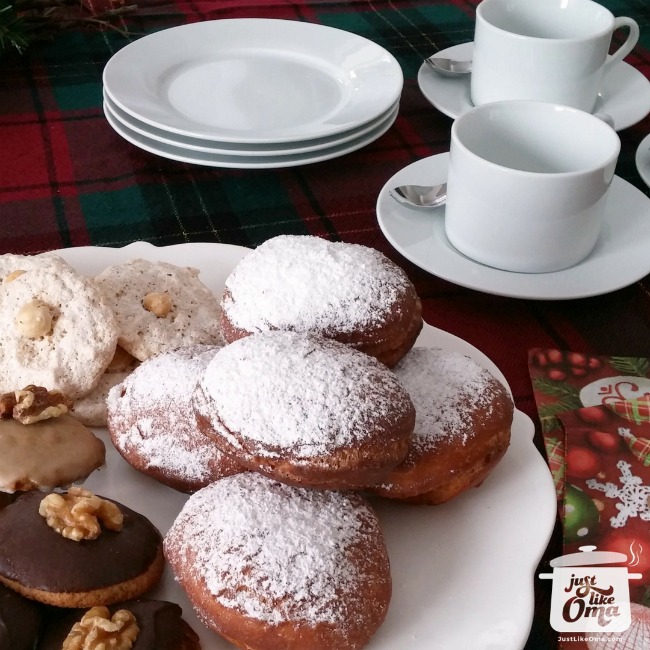 Yum
Here's my German jelly donut recipe* to make Berliner Pfannkuchen ~ that traditional treat for New Year's and throughout the year! This one's a rather easy version to make, especially if you have a deep fryer, although just having a deep pot and thermometer will work well. 

---

---
These jelly doughnuts go by various names throughout Germany.

In Berlin, Saxony, Saxony-Anhalt, and Brandenburg, they are just called

Pfannkuchen

, which translates as pancakes. (Pancakes in these areas are called

Eierkuchen

, literally egg cakes.)

In northern and western Germany, they are called

Berliner Ballen

or just

Berliner

.

In southern and western Germany, including Bavaria, these are called

Krapfen

,

Fastnachtskrapfen

or

Faschingskrapfen

.

In Hesse, they are Kräppel or Kreppel. 
In Palatinate, they are Kreppel or Fastnachtsküchelchen
---
Plan to make these the same day you want to eat them. They taste best fresh, actually still warm. Wunderbar!

Jelly Donut Recipe: Berliner Pfannkuchen or Krapfen ❤️
Ingredients:
Doughnuts:
3 cups all-purpose flour
1 package or 2 tsp active dry yeast
⅓ cup granulated sugar

1 Tbsp vanilla sugar
pinch salt
3 Tbsp rum or milk
1 Tbsp lemon zest
4 egg yolks
6 Tbsp butter, melted and cooled
1 cup milk, lukewarm
about 1 cup jam or marmalade
oil for frying
Topping:
Instructions:

Mix flour and yeast in a large mixing bowl (of stand mixer, if using).
Add sugars, salt, rum, lemon zest, egg yolks, and melted butter. Slowly start mixing into the flour (use dough hook) and gradually add milk. Continue to mix (knead if by hand) until the dough is soft and elastic. I use the dough hook at a medium speed for about 5 minutes. 
Cover and let rise until doubled in size (about 1 hour).
Deflate by punching the dough. Roll out to ¼" thickness. Using a floured circular cutter or glass (about 3" diameter), cut out 28 circles. Put a bit of jam or marmalade into the center of half the circles.
Brush the edges of the circles with water and place a plain donut over the jam ones. Press the edges together to seal well. Put the donuts onto a well-floured surface and cover. Let rise until double in size, about 30 minutes.
Gently knead any remaining dough and cut out 'donut holes' (I can usually get about 12). Let rise as well.
Heat fat in fryer (or deep pot) to 350°F.
Fry donuts, a few at a time, about 2 - 3 minutes per side, until golden brown. Drain on paper toweling.
Mix the powdered sugar and vanilla sugar and, with a sieve, sprinkle over the donuts.
The donut holes will usually fry in about 1 - 2 minutes per side.
Makes about 14 Berliner Pfannkuchen and about 12 Donut Holes.

*The above recipe is an adaptation from an old Dr. Oetker cookbook, Baking is Fun, Volume 1. I also used my stand mixer with a dough hook to make light work of kneading the dough. The original recipe cooked the donuts too quickly so that they didn't cook all the way through, meaning the frying temperature needed to be lowered. 
Filled with mustard instead of jam?
A terrible German practical joke is to secretly fill some Berliner Pfannkuchen with mustard instead of jam and serve them together with regular doughnuts without telling anyone. This was shown as one of the 'Equator treats' on the popular TV show, Verrückt nach Meer, as a traditional celebration on crossing the Equator.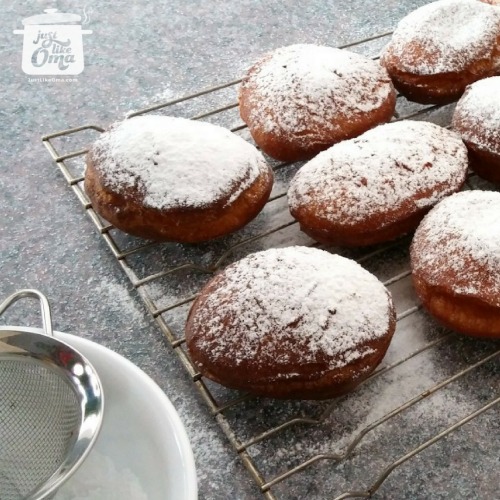 Put powdered sugar into a sieve, hold over the donuts, and tap the sieve with a spoon. The powdered sugar will fall like snow!
Some more German Dessert Ideas
Why not make a batch of each of these cookies for your holiday platter. The different textures and flavours look so pretty, especially when arranged together on a tray. They also make great 'hostess gifts.' Just be ready to pass on the recipes!
*  *  *  *  *
Want nutritional information for a recipe?
Copy and paste the ingredient list and the number of servings into Calorie Count. 
It will give you an approximate calculation.

*  *  *  *  *
Need help doing conversions between cups and grams or any such thing?
Use this site to give you all the different conversions for the different types of ingredients. 
*  *  *  *  *
---
PIN this ...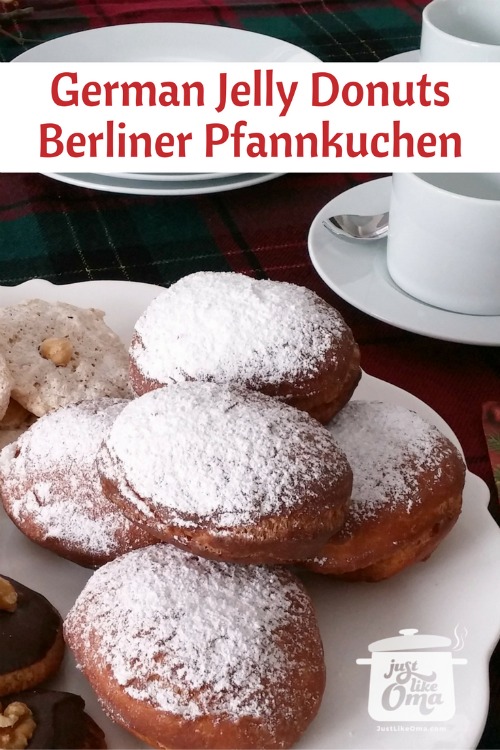 ---
Words to the Wise
"The prudent understand where they are going, but fools deceive themselves."
Proverbs 14:8 (NLT)
---
Jelly Donut ~ Berliner Pfannkuchen


By
Oma Gerhild Fulson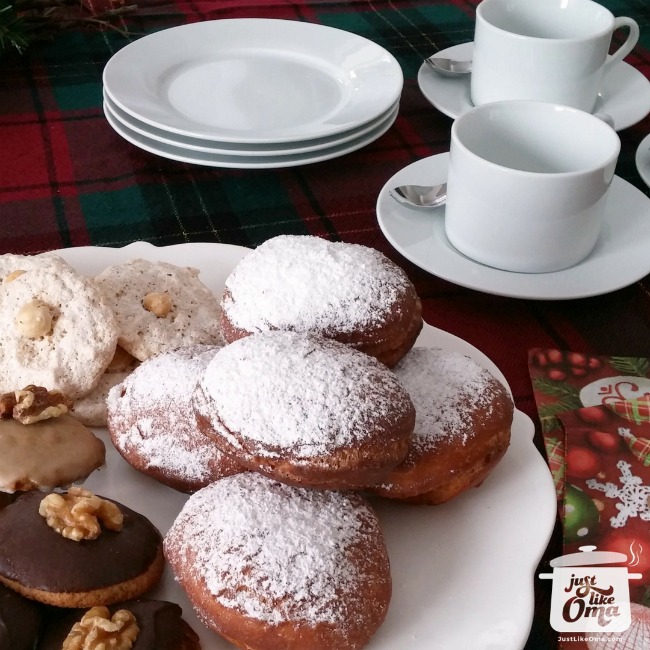 THE German jelly donut recipe you'll need if you plan to make Berliner Pfannkuchen ~ that traditional treat for New Year's and throughout the year!


Prep Time: 120 minutes (includes rising time)

Cook time: 6 minutes per batch

Yield:
14 donuts

Ingredients:
3 cups flour,
1 pkg yeast,
1/3 cup sugar,
1 cup milk,
1 cup jam,
4 egg yolks,
For the full recipe, scroll up ...