Jelly Donut Recipe:

Berliner Pfannkuchen or Krapfen 

❤️

➤ by Oma Gerhild Fulson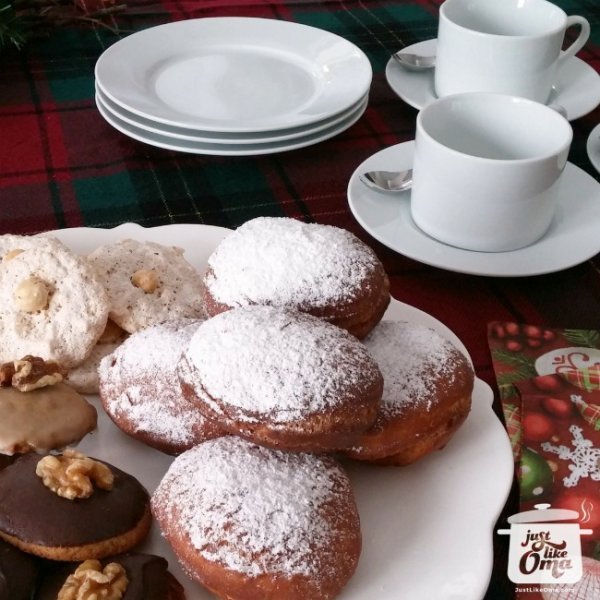 Here's my German jelly donut recipe* to make Berliner Pfannkuchen ~ that traditional treat for New Year's and throughout the year! This one's a rather easy version to make, especially if you have a deep fryer, although just having a deep pot and thermometer will work well. 

Plan to make these the same day you want to eat them. They taste best fresh, actually still warm. Wunderbar!
You'll find that the recipe I'm giving below is actually quite easy. Since I literally just put all the ingredients into my stand mixer which does the kneading for me, it's only a matter of rolling and cutting that takes time.
Using a bread machine on the dough setting to make the dough through the first rising is also an option.
What is a jelly donut called in Germany?
These jelly doughnuts go by various names throughout Germany.

In Berlin, Saxony, Saxony-Anhalt, and Brandenburg, they are just called

Pfannkuchen

, which translates as pancakes. (Pancakes in these areas are called

Eierkuchen

, literally egg cakes.)

In northern and western Germany, they are called

Berliner Ballen

or just

Berliner

.

In southern and western Germany, including Bavaria, these are called

Krapfen

,

Fastnachtskrapfen

or

Faschingskrapfen

.

In Hesse, they are Kräppel or Kreppel.

In Palatinate, they are Kreppel or Fastnachtsküchelchen
* * * * * 
*The recipe below is an adaptation from an old Dr. Oetker cookbook, Baking is Fun, Volume 1. However, this time I used my stand mixer with a dough hook to make quick work of kneading the dough.
Once this easy yeast dough is made and has had its first rise, the fun starts! Roll, cut out, fill, stack, and let rise again. Easy breezy.
Above, I've filled these with apricot jam, hubby's favorite. Actually, any jam will work great.
When it's time for Christmas, baking is at the forefront of preparations. Here's my collection of favorites in my Christmas Baking e-Cookbook written in English: 
Sharing traditional German Christmas baking, made using easily available ingredients, ... that's such a delicious way to pass on our heritage anytime of the year.
Following the original recipe cooked the donuts too quickly for me, so that they didn't cook all the way through. I lowered the temperature to allow for longer cooking.
When you make these for the first time, cook only one donut first and check that it is properly cooked. That way, you can make adjustments for the rest of the dough.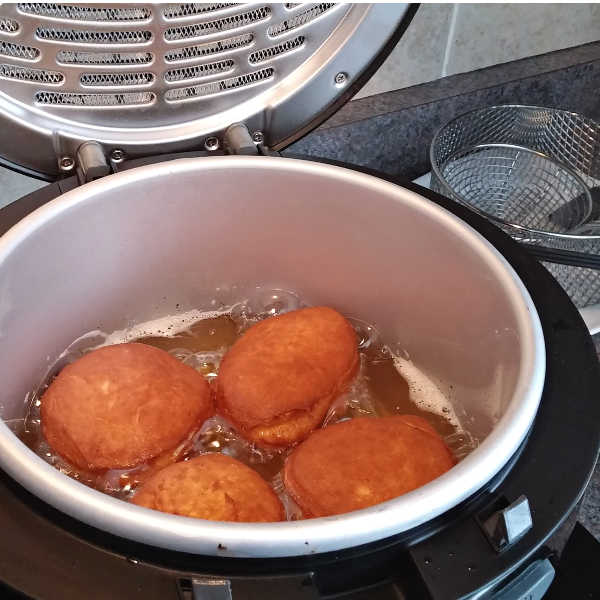 Cover the Krapfen with powdered sugar by putting the sugar into a sieve and hold over the donuts. Tap the sieve with a spoon. The powdered sugar will fall like snow!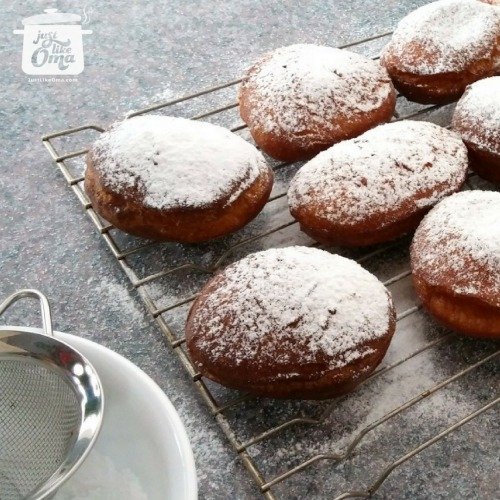 Have you ever had these filled with mustard instead of jam? LOL
A strange German practical joke is to secretly fill some Berliner Pfannkuchen with mustard instead of jam and serve them together with regular doughnuts without telling anyone.
This is usually done during the Karneval season.
This was also shown as one of the traditional 'Equator treats' on the popular TV show, Verrückt nach Meer, as the ocean cruise liner crossed the Equator. 
Ready to make these Krapfen?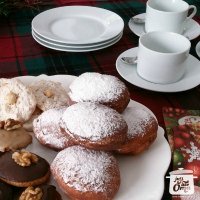 Jelly Donut Recipe: Berliner Pfannkuchen or Krapfen

Here's my German jelly donut recipe* to make Berliner Pfannkuchen ~ that traditional treat for New Year's and throughout the year! This one's a rather easy version to make, especially if you have a deep fryer, although just having a deep pot and thermometer will work well. 

Servings:

Makes about 14 Berliner Pfannkuchen and about 12 Donut Holes.
Ingredients:
Doughnuts:
3 cups all-purpose flour
1 package or 2 tsp active dry yeast
⅓ cup granulated sugar
1 tbsp vanilla sugar
pinch salt
3 tbsp rum or milk
1 tbsp lemon zest
4 egg yolks
6 tbsp butter, melted and cooled
1 cup milk, lukewarm
about 1 cup jam or marmalade
oil for frying
Topping:
½ cup powdered sugar, sifted
2 tbsp vanilla sugar
Instructions:
Mix flour and yeast in a large mixing bowl (of stand mixer, if using).
Add sugars, salt, rum, lemon zest, egg yolks, and melted butter. Slowly start mixing into the flour (use dough hook) and gradually add milk. Continue to mix (knead if by hand) until the dough is soft and elastic. I use the dough hook at a medium speed for about 5 minutes. 
Cover and let rise until doubled in size (about 1 hour).
Deflate by punching the dough. Roll out to ¼" thickness. Using a floured circular cutter or glass (about 3" diameter), cut out 28 circles. Put a bit of jam or marmalade into the center of half the circles.
Brush the edges of the circles with water and place a plain donut over the jam ones. Press the edges together to seal well. Put the donuts onto a well-floured surface and cover. Let rise until double in size, about 30 minutes.
Gently knead any remaining dough and cut out 'donut holes' (I can usually get about 12). Let rise as well.
Heat fat in fryer (or deep pot) to 350°F.
Fry donuts, a few at a time, about 2 - 3 minutes per side, until golden brown. Drain on paper toweling.
Mix the powdered sugar and vanilla sugar and, with a sieve, sprinkle over the donuts.
The donut holes will usually fry in about 1 - 2 minutes per side.
*  *  *  *  *

Unless otherwise noted recipe, images and content © Just like Oma | www.quick-german-recipes.com

Want Nutritional Information?

Copy and paste the above ingredient list and the number of servings into Calorie Count for an approximate calculation.
Need Help Doing Conversions?

Make it easier to convert between cups and grams, etc. Use this site to give you all the different conversions for the different types of ingredients. 
Leave a comment about this recipe or ask a question?
Pop right over to my private Facebook group, the Kaffeeklatschers. You'll find thousands of German foodies, all eager to help and to talk about all things German, especially these yummy foods. 
I pop in all the time as well, to chat and to answer questions. 
Meet with us around Oma's table, pull up a chair, grab a coffee and a piece of Apfelstrudel, and enjoy the visit.
I was searching for this recipe on Pinterest and found this one on YouTube as a tutorial. Am very pleased how they turned out, would have made my mother-in-law

How to make cashew cream is really quite simple. At its most basic, it is a combination of cashews, water, and salt. Cashew cream is one of the many delicious dairy-free recipes made with cashews.

What are Cashews Good For? Let me tell you! Besides adding them to all sorts of stir-fries, salads, and pasta or noodle dishes for a delicious crunch factor, you can also ...
*  *  *  *  *
PIN this ...

Words to the Wise
"The prudent understand where they are going, but fools deceive themselves."
Proverbs 14:8 (NLT)