Oma's Jelly Donut Recipe: Berliner Pfannkuchen or Krapfen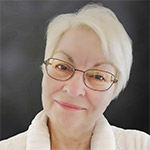 by: Gerhild Fulson  /  Cookbook Author, Blogger, German Oma!

This post may contain affiliate links, which means I'll receive a commission if you purchase through my links, at no extra cost to you. Please read full disclosure for more information.
This easy and delicious German jelly donut recipe, aka Berliner Pfannkuchen or Krapfen (among many other names!) is made with a simple yeast dough.
Filled with jam, deep-fried, and dusted with powdered sugar, these homemade doughnuts can be enjoyed all year round, but they are especially traditional served on New Year's Eve where they are eaten at midnight for a sweet start to the New Year.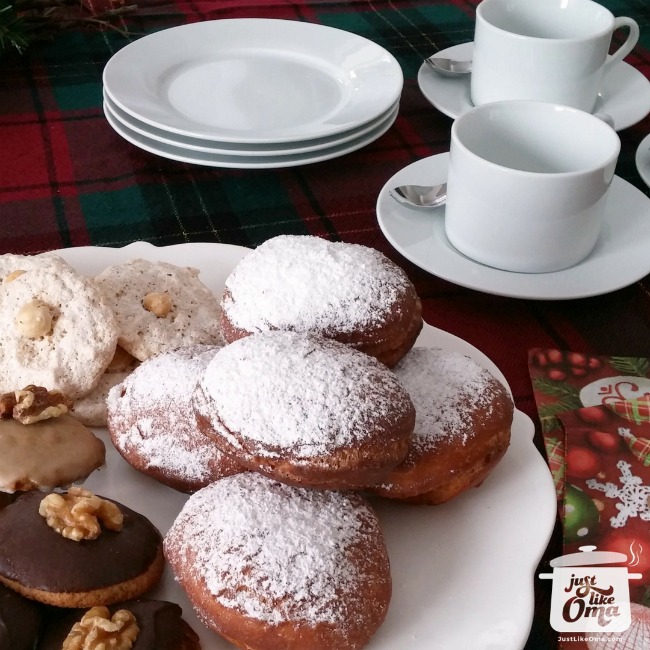 This sweet jelly-filled fluffy donut is also very popular during Germany's Karneval Season, also known as Fasching or Fastnacht.
Regardless of the time of year, plan to make these the same day you want to eat them. They taste best fresh, when they are still warm. Wunderbar!
What is a jelly donut called in Germany?

Jelly doughnuts go by various names throughout Germany:
In Berlin, Saxony, Saxony-Anhalt, and Brandenburg, they are just called Pfannkuchen, which translates as pancakes. (Pancakes in these areas are called Eierkuchen, literally egg cakes.)
In Northern and Western Germany, they are called Berliner Ballen or just Berliner.
In Southern and Central Germany, including Bavaria, these are called Krapfen, Fastnachtskrapfen or Faschingskrapfen.
In Hesse, they are Kräppel or Kreppel.
In Palatinate, they are Kreppel or Fastnachtsküchelchen.
When it's time for Christmas, baking is at the forefront of preparations. Get Oma's collection of her favorites in Christmas Baking eCookbook.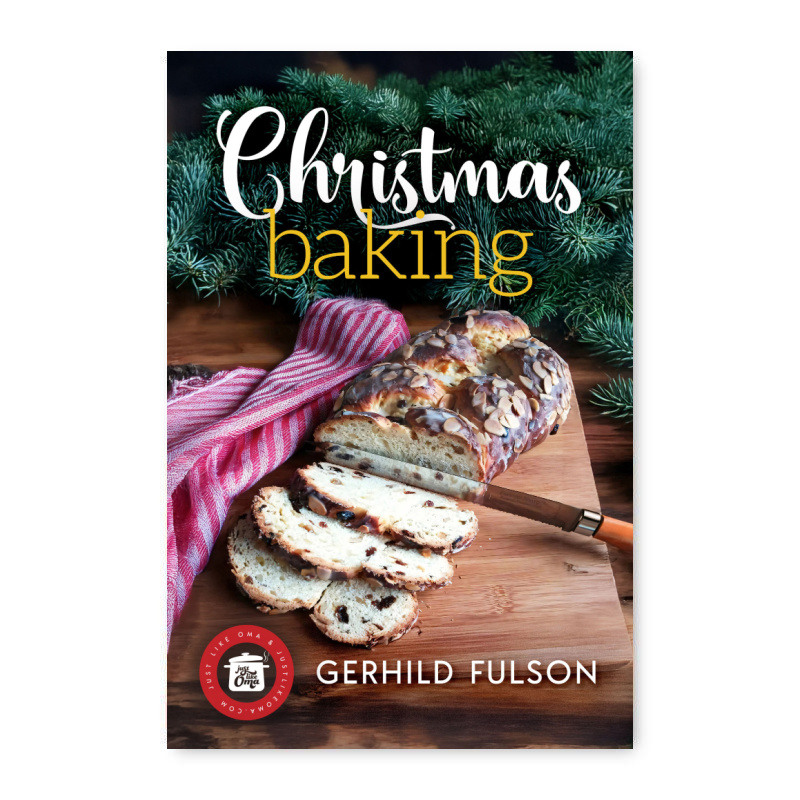 Take a peek at all Oma's eCookbooks. They make sharing your German heritage a delicious adventure!

How to make homemade jelly donuts

This recipe for homemade donuts is adapted from an old Dr. Oetker cookbook, Baking is Fun, Volume 1. It's an easy recipe to make, especially if you have a deep fryer, although just having a deep pot and deep-fry thermometer will also work well.
I use my stand mixer with a dough hook attachment to make quick work of kneading the dough. If you don't have one, use a wooden spoon to mix the dough ingredients together in a large bowl and then knead the sticky dough with your hands until the dough is smooth, soft, and elastic.

Using a bread machine on the dough setting to make the dough through the first rising is also an option.
Once the easy yeast dough is made and has had its first rise, the fun starts! Roll, cut out, fill, stack, and let rise again. Easy breezy!
Above, I've filled these with apricot jam, hubby's favorite. Whatever your favorite jelly or jam is will work great in these.
Following the original recipe cooked the donuts too quickly, so that they didn't cook all the way through. I lowered the oil temperature and fried them a little longer to ensure they were evenly cooked throughout.
When you make this jelly donut recipe for the first time, cook only one donut to start and check that it is properly cooked. That way, you can make any adjustments needed for the rest of the doughnuts.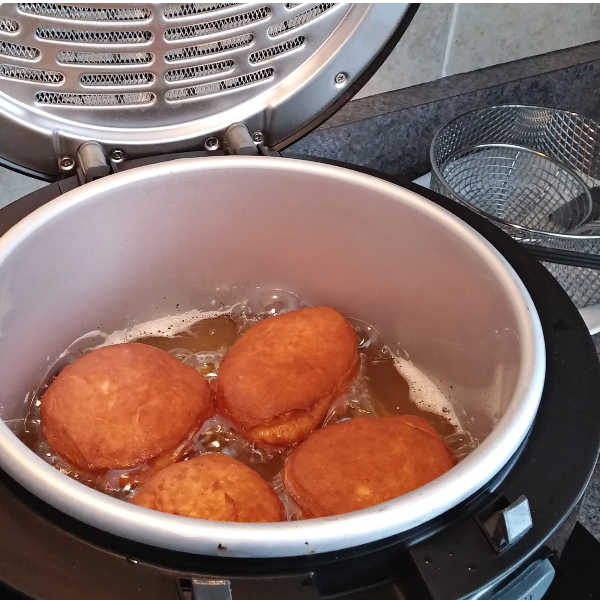 Cover the Krapfen with confectioner's sugar by putting the sugar into a sieve and hold over the donuts. Tap the sieve with a spoon. The powdered sugar will fall like snow!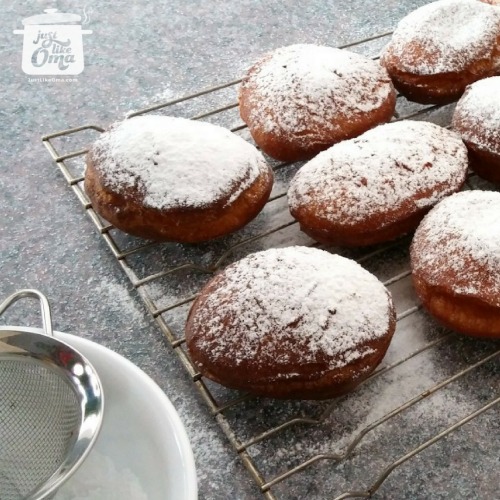 Fun Facts about Berliner Pfannkuchen

A strange German practical joke is to secretly fill one Berliner Pfannkuchen with mustard instead of jam and serve it with the regular jelly-filled doughnuts without telling anyone. This is usually done during the Karneval season.
John F. Kennedy's words "Ich bin ein Berliner" are standard German for "I am a Berliner." An urban legend has it that due to his use of the indefinite article ein, Berliner is translated as "jelly doughnut" and that the population of Berlin was amused by the supposed mistake. However, Kennedy used the indefinite article correctly to emphasize his relation to Berlin, and since the word Berliner is not used in Berlin to refer to the Berliner Pfannkuchen since they are simply called Pfannkuchen there, no Berliner would mistake Berliner for a doughnut.
These were also shown as one of the traditional 'Equator treats' on the popular German TV show, Verrückt nach Meer, as the ocean cruise liner crossed the Equator. 
Ready to make these easy and delicious Krapfen?

Is the recipe below locked? Here's why.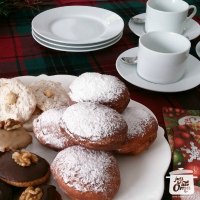 Oma's Jelly Donut Recipe: Berliner Pfannkuchen or Krapfen

This jelly donut recipe is adapted from an old Dr. Oetker cookbook, Baking is Fun, Volume 1. Also known as Berliner Pfannkuchen and Krapfen, among many other names, these soft pillowy donuts are easy and fun to make and taste absolutely delicious!
Servings:

Makes about 14 Berliner Pfannkuchen and about 12 Donut Holes.
Ingredients:
Doughnuts:
3 cups (390 grams) all-purpose flour
2 teaspoons (7 grams) instant yeast
⅓ cup (67 grams) granulated sugar
1 tablespoon (13 grams) vanilla sugar
pinch salt
3 tablespoons (45 milliliter) rum or milk
1 tbsp (6 grams) lemon zest
4 egg yolks
6 tablespoons (84 grams) butter, melted and cooled
1 cup (240 milliliter) milk, lukewarm
about 1 cup (240 milliliter) jam or marmalade
vegetable oil for frying
Topping:
½ cup (63 grams) powdered sugar, sifted
2 tablespoons (26 grams) vanilla sugar
Instructions:
Mix flour and yeast in a large mixing bowl (or the bowl of your stand mixer, if using).
Add sugars, salt, rum, lemon zest, egg yolks, and melted butter. Slowly start mixing into the flour mixture (use dough hook) and gradually add milk. Continue to mix (knead if by hand) until the dough is soft and elastic. I use the dough hook at a medium speed for about 5 minutes. 
Cover with a clean kitchen towel and let the dough rise in a warm place until doubled in size (about 1 hour).
Deflate by punching the risen dough. Roll dough out to ¼-inch thickness. Using a floured cookie cutter or glass (about 3-inch diameter), cut out 28 circles. Put a bit of jam or marmalade into the center of half the circles.
Brush the edges of the circles with water and place a plain donut over the jam ones. Press the edges together to seal well. Put the donuts onto a well-floured surface and cover. Let rise until double in size, about 30 minutes.
Gently knead any remaining scraps of dough, roll out, and cut 'donut holes' (I can usually get about 12). Let rise as well.
Heat oil in fryer (or deep pan) to 360°F to 375°F (182°C to 190°C).
Fry donuts, a few at a time, in the hot oil for about 2 to 3 minutes per side, until golden brown.
Remove the fried donuts with a slotted spoon and place them on paper towels to drain excess oil, then transfer to a wire rack to cool a bit.
Mix the powdered sugar and vanilla sugar and, with a sieve, sprinkle over the donuts.
The doughnut holes will usually fry in about 1 to 2 minutes per side.
Notes/Hints:
If you're using a deep pot or pan, be sure to use enough oil so the donuts float and don't touch the bottom of the pan.
Different filling ideas: apricot jam, raspberry jam, strawberry jam, black currant jam, cherry jam, plum jam, or peach jam.
Can also be filled with vanilla pastry cream, vanilla pudding, chocolate pudding, or chocolate hazelnut spread.
As an alternative to rolling and cutting out the dough, you can separate the dough into smaller balls of dough and fry them. Then once they're cool enough to handle, you can use a pastry bag to fill them with jam.
Store leftovers at room temperature in an airtight container.
*  *  *  *  *

Unless otherwise noted recipe, images and content © Just like Oma | www.quick-german-recipes.com

* 05.13.2022 revision update
Leave a comment about this recipe or ask a question?

Pop right over to my private Facebook group, the Kaffeeklatschers. You'll find thousands of German foodies, all eager to help and to talk about all things German, especially these yummy foods. 
Meet with us around Oma's table, pull up a chair, grab a coffee and a piece of Apfelstrudel, and enjoy the visit.

Cooking just like Oma, making those German meals, is actually quite easy. Let me, Oma Gerhild, help you with my step-by-step methods to re-create those yummy meals you remember from your Oma.

If you're looking for tasty, traditional, and easy German cake recipes (in English) to try, then you've come to the right place! Check out these lecker treats!

Discover the ultimate German schnitzel recipe with Oma's quick and easy method - perfect for any occasion! Taste the authentic flavors of Germany today.
*  *  *  *  *
PIN to SAVE this recipe to your Pinterest board!
And let's be friends on Pinterest!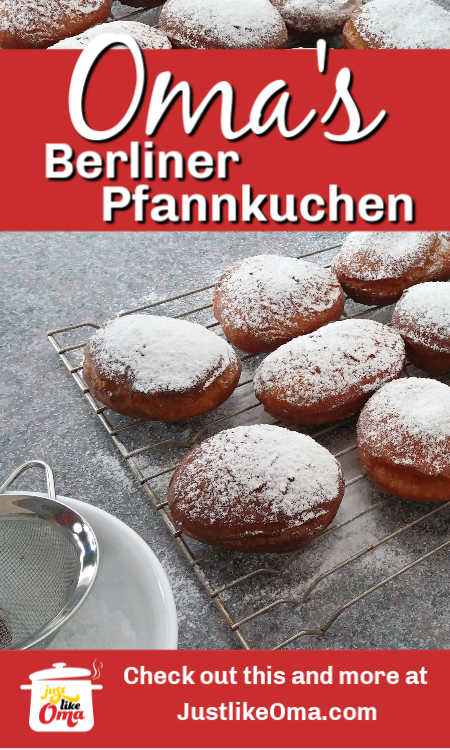 Words to the Wise
"The prudent understand where they are going, but fools deceive themselves."
Proverbs 14:8 (NLT)