Oma's Vanilla Sugar Recipe❤️

➤ by Oma Gerhild Fulson
FTC Disclosure: As an Amazon Associate I earn from qualifying purchases.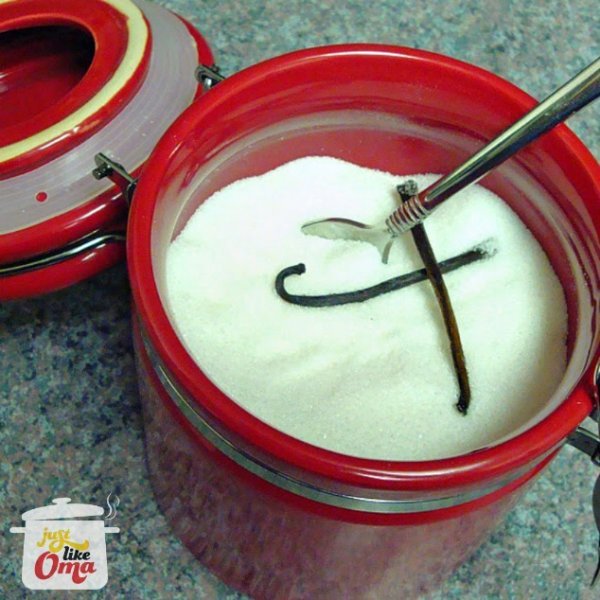 This Vanilla Sugar recipe, aka Vanillezucker, is an inexpensive way to make your own flavored sugar for use in baking. Many times in German recipes, one ingredient is added that is so easy to make yourself. That's vanilla sugar. If you live in Germany, it's easy to buy it in the grocery stores. But, if you live elsewhere in the world, what do you do? You make your own!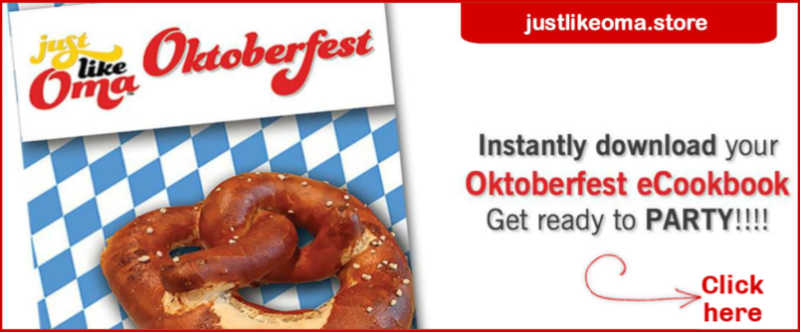 The resulting vanilla sugar, in the recipe below, is used for flavoring many German baking recipes. I make about 2 cups and refill as necessary.

Vanilla Facts:

Did you know that vanilla comes from the vanilla orchids, primarily from Mexico? It is grown in various parts of the world, including Madagascar which produces the Bourbon Vanilla (aka Madagascar Vanilla) as well as in Central America and other tropical areas.
Being a labor-intensive crop, this results in the high cost of good quality vanilla beans and essence.
Artificial vanilla flavouring comes from a substance called "lignin" which is found in wood. It is much cheaper to buy (and tastes like it as well!) because it is a byproduct of wood pulp used in making paper.
Whenever possible, when the recipe calls for vanilla extract or vanilla flavoring, use real vanilla essence. It just tastes better!
Using your homemade Vanilla Sugar

In a recipe calling for 1 package of vanilla sugar, use 2 - 3 teaspoons of your homemade vanilla sugar.
In most recipes, you can replace some of your sugar (a couple of tablespoons) with vanilla sugar and omit adding vanilla extract.
It's great sprinkled on pancakes or improving the taste of a cup of hot chocolate!
---
Oma's Vanilla Sugar Recipe❤️

Ingredients:
about 2 cups of granulated white sugar
1 vanilla bean
Instructions:
Put sugar into seal-able glass/ceramic jar.
Cut vanilla bean in half (not lengthwise or the seeds will come out)
Place bean sections in sugar.
Close jar and place in cool, dark place.
Let sit at least 2 weeks before using.
You can keep refilling the jar with sugar because the beans stay potent for quite some time.
Hints:
If you wish, you can cut the beans lengthwise ... and you'll get more aroma into the sugar. You may also get the seeds in there, but if you don't mind that, it works great.


Leave a comment about this recipe or ask a question?
Pop right over to my private Facebook group, the Kaffeeklatschers. You'll find thousands of German foodies, all eager to help and to talk about all things German, especially these yummy foods. 
I pop in all the time as well, to chat and to answer questions. 
Meet with us around Oma's table, pull up a chair, grab a coffee and a piece of Apfelstrudel, and enjoy the visit.
*  *  *  *  *
Want nutritional information for a recipe?
Copy and paste the ingredient list and the number of servings into Calorie Count. 
It will give you an approximate calculation.

Need help doing conversions
between cups and grams or any such thing?
Use this site to give you all the different conversions for the different types of ingredients. 
---
PIN this ...

---
Schwenkbraten recipe that has been a delish hit an alle familien & freunde... Total Approx. Time: Prep: 15 min. + Marinating 8 hrs min. + Grill: 15 min.

My Oma made this cake every Christmas. She iced it with a white frosting that ran down the sides. She decorated it with little silver balls (candy). It
---
Words to the Wise
"Gentle words are a tree of life; a deceitful tongue crushes the spirit."
Proverbs 15:2 (NLT)