German Gingerbread Cookies
Easy German Gingerbread Cookies – Oma's Lebkuchen Kekse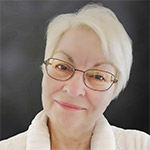 by: Gerhild Fulson  /  Cookbook Author, Blogger, German Oma!
As an Amazon Associate, I earn from qualifying purchases.
These German gingerbread cookies, or Lebkuchen, are such a traditional cookie to have for Christmas. They're so very easy to make, that there's no reason to buy them.
However, the usual ingredients for these are not readily available outside of Germany, unless, of course, you have a German deli close by. It is possible to buy Lebkuchen spice online, but my recipe below uses regularly available ingredients that are easy to buy in Canada and USA.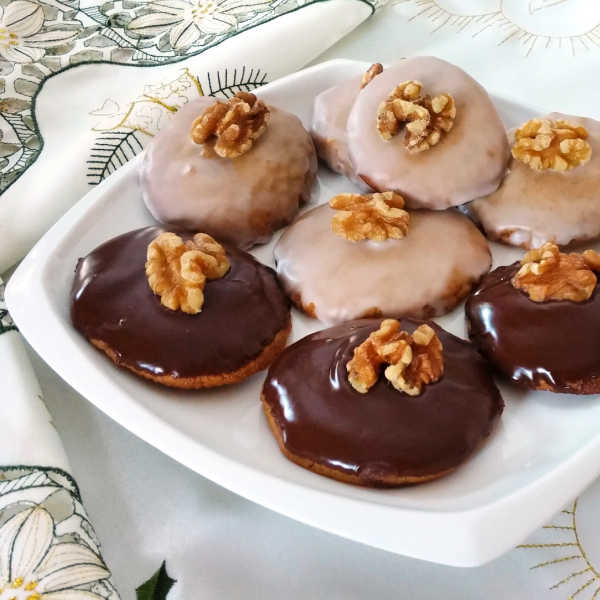 There are many varieties of Lebkuchen cookies. Traditionally, you'll find the Nuremberg Lebkuchen, the Elisenlebkuchen, the  Lebkuchenherzen, the chocolate filled ones, the ones with candied citron, the ones with nuts, and the list goes on. 
The recipe below is a basic Lebkuchen cookie. Nothing fancy. No nuts or candied fruit inside.
Just plain Lebkuchen. Delicious. Iced and topped with nuts. Wunderbar.
Quintessentially Christmas.

What are Oblaten and do I need to use them?
Traditionally, these lebkuchen cookies are baked on oblaten ... white, tasteless wafers that look communion wafers. It's actually the only way I know them because that's the way my Mutti made them. 
In fact, there are several traditional cookies that must be made on these wafers. 'Must' is traditional. However, just because some say 'must' doesn't mean it can't be done without.

You can easily get oblaten online if you wish and use them for this recipe. However, for the recipe below, I did not use them, because I wanted to see how they would turn out. Personally, I really didn't miss them :) In fact, I think I like them better this way.

A different kind of Lebkuchen
For another Lebkuchen treat, check out my Lebkuchen bars. They are so easy to make and so much fun to decorate. 
A bit of Lebkuchen History
There are many possible origins of the name of these. Leb could come from leben, meaning life. Leb could come from lieben, meaning love. Leb could come from lebbe, meaning sweet. 
Actually, all together, these make sense. A sweet ~ loving ~ life ... a cake that's perfect to celebrate Christmas!
For a bit more Lebkuchen history, check out this post.
Get ready for Christmas! Grab your copy of Oma's collection of her favorites in Christmas Cookies e-Cookbook.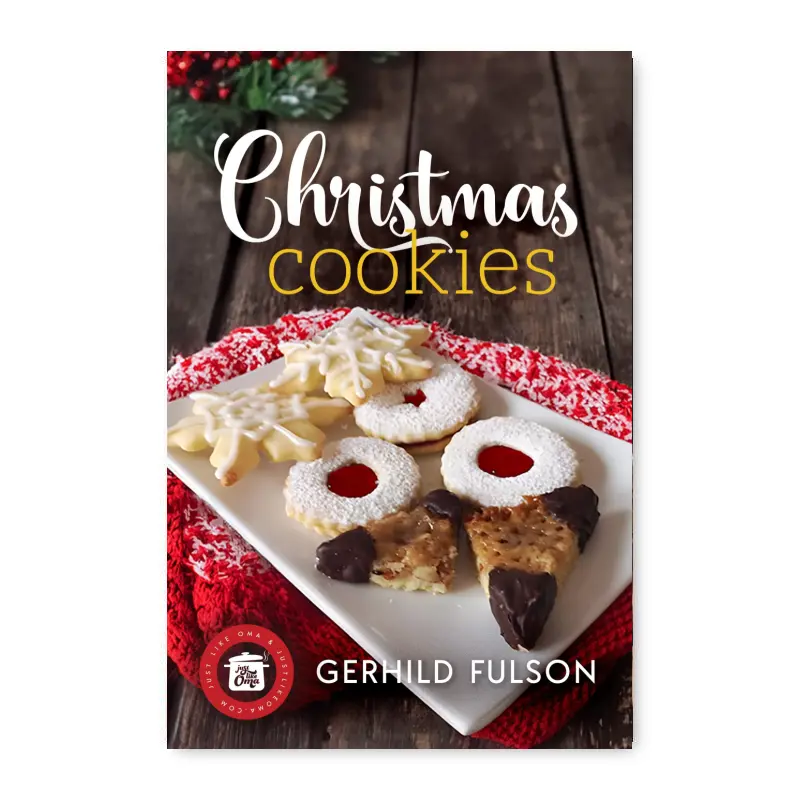 Take a peek at all Oma's eCookbooks. They make sharing your German heritage a delicious adventure!
---
How to store Lebkuchen ...
Store these Lebkuchen cookies in a sealable container, with waxed paper between the layers of the cookies. Place half an apple on a piece of waxed paper on the top of the cookies. This will keep the cookies moist and actually impart a very light fruity aroma that makes these cookies so yummy. 
As with many of the German cookies that are traditional for Christmas, these do taste better if they are allowed to 'age' ... the spices mellow and the texture is amazing. Mind you, it's difficult to wait to enjoy these!
Make sure to wait until the glaze has hardened totally before storing the cookies. Even waiting a day before putting them into the cookie tins is a good idea. 
Ready to make some Lebkuchen cookies?
Is the recipe below locked? Here's why. 
As an Amazon Associate, I earn from qualifying purchases.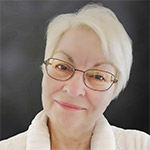 For more German-inspired items that make life easier and yummier, especially in the kitchen and for entertaining, follow my Amazon Storefront.
➙ For groceries,
Try Amazon Fresh
.
Easy German Gingerbread Cookies – Oma's Lebkuchen Kekse

These German gingerbread cookies, or Lebkuchen, are such a traditional cookie to have for Christmas. They're so very easy to make, that there's no reason to buy them.
You don't need to buy the Lebkuchen spice mix, since we'll make our own here.
Prep Time


30 minutes


Bake Time


20 minutes


Total Time

50 minutes

Servings:

Makes about 30 cookies
Ingredients:
¾ cup + 2 tablespoons (200 grams) unsalted butter
2 tablespoons (42 grams) molasses
⅓ cup (80 milliliter) light corn syrup
2¾ cup (358 grams) all-purpose flour
1⅓ cup (267 grams) packed brown sugar
½ package Lebkuchen spice or make your own by mixing ½ tablespoon cinnamon, ½ teaspoon cloves,  ⅛ teaspoon each of mace, coriander, cardamom, ginger, and nutmeg
1 teaspoon (4 grams) baking powder
¼ teaspoon (1.5 grams) salt
2 large eggs
4 ounces (114 grams) bittersweet chocolate
1 tablespoon (14 grams) coconut oil
1 cup (125 grams) powdered sugar
nuts to decorate, such as walnuts or halved almonds
Instructions:
Preheat oven to 350°F (180°C). Line two 11x17-inch cookie sheets with parchment paper and set aside.
Put butter, molasses, and corn syrup into a small pot and heat just until butter melts.
In a large bowl, mix together the flour, brown sugar, spice mix, baking powder, and salt.
Stir butter mixture into dry ingredients, mixing well.
Add eggs one at a time, stirring until well mixed.
Using a cookie scoop or a tablespoon, drop spoonfuls onto cookie sheets, leaving 2 inches between the cookies. Press lightly with your fingers to form each into a disc.
Bake 15 to 20 minutes. Remove to a wire rack and let cool.
To make the glazes, melt the chocolate and coconut oil in a small bowl (about 2 minutes in a microwave) and stir until smooth. In another bowl, mix powdered sugar with about 3 tablespoons water and stir until smooth.
Dip half the cookies into the chocolate and half into the white icing. Top with nuts to decorate.
*  *  *  *  *

Unless otherwise noted recipe, images and content © Just like Oma | www.quick-german-recipes.com

11.17.2021 revision update
Leave a comment about this recipe or ask a question?

Pop right over to my private Facebook group, the Kaffeeklatschers. You'll find thousands of German foodies, all eager to help and to talk about all things German, especially these yummy foods. 
Meet with us around Oma's table, pull up a chair, grab a coffee and a piece of Apfelstrudel, and enjoy the visit.

Choose from Oma's cookbooks that are immediately downloadable & start cooking easy classic German foods tonight. Or get her newest paperback cookbook. LECKER!

Kaiserschmarrn are among those homemade pancake recipes that will remind you of Oma's kitchen. A traditional Austrian & German light and fluffy shredded pancake.

Discover the ultimate German schnitzel recipe with Oma's quick, easy, and delicious pork version - perfect for any occasion! Taste the authentic flavors of Germany today.
*  *  *  *  *
PIN to SAVE this recipe to your Pinterest board!
And let's be friends on Pinterest!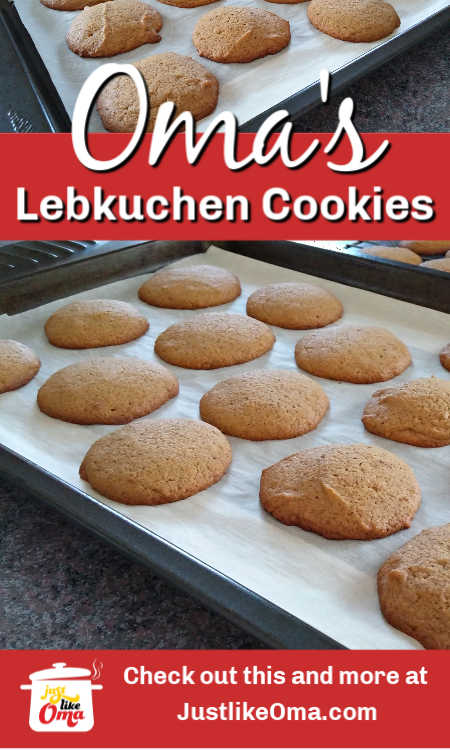 ---
Lebkuchen ~ Easy German Gingerbread Cookies made Just like Oma
By
Oma Gerhild Fulson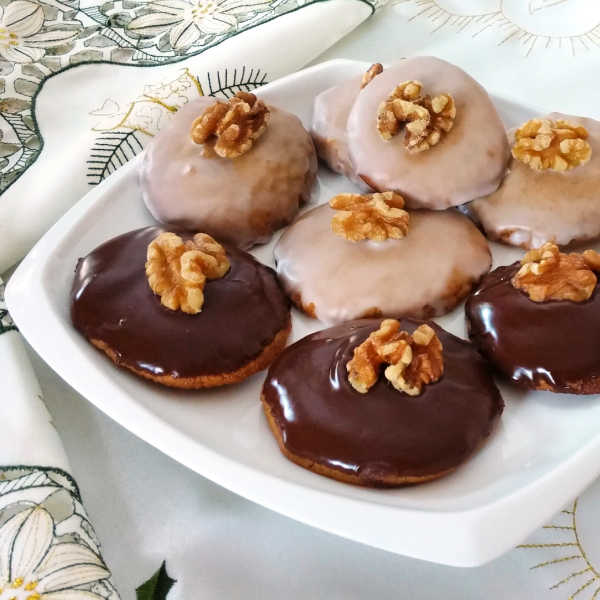 These German gingerbread cookies, or Lebkuchen, are such a traditional cookie to have for Christmas. They're very easy to make, there's no reason to buy them.
Ingredients:
molasses,
butter,
light corn syrup,
all-purpose flour,
spices,
baking powder,
eggs,
bittersweet chocolate,
coconut oil,
powdered sugar,
nuts,
For the full recipe, scroll up ...
Words to the Wise
"The prudent understand where they are going, but fools deceive themselves."
Proverbs 14:8 (NLT)