Lebkuchen ~ Easy German Gingerbread Cookies made Just like Oma❤️
➤ by Oma Gerhild Fulson
FTC Disclosure: As an Amazon Associate, I earn from qualifying purchases.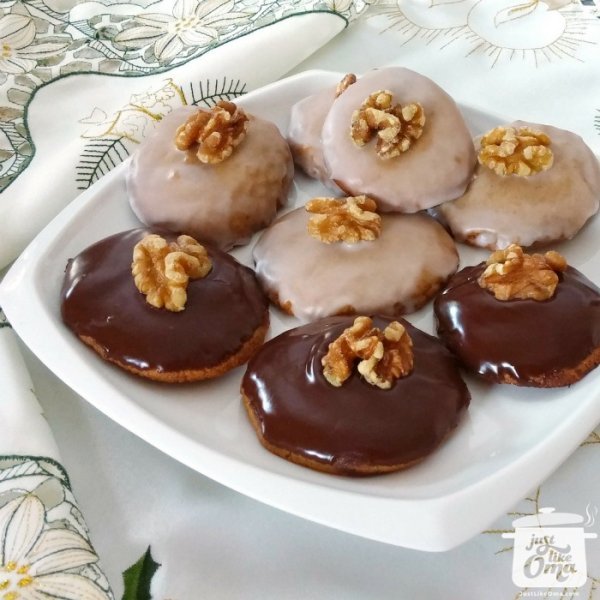 These German gingerbread cookies, or Lebkuchen, are such a traditional cookie to have for Christmas. They're so very easy to make, that there's no reason to buy them.
However, the usual ingredients for these are not readily available outside of Germany, unless, of course, you have a German deli close by. It is possible to buy Lebkuchen spice online, but my recipe below uses regularly available ingredients that are easy to buy in Canada and USA.
There are many varieties of Lebkuchen cookies. Traditionally, you'll find the Nuremberg Lebkuchen, the Elisenlebkuchen, the  Lebkuchenherzen, the chocolate filled ones, the ones with candied citron, the ones with nuts, and the list goes on. 
The recipe below is a basic Lebkuchen cookie. Nothing fancy. No nuts or candied fruit inside.
Just plain Lebkuchen. Delicious. Iced and topped with nuts. Wunderbar.
Quintessentially Christmas.

Use Oblaten?
Traditionally, these are baked on oblaten ... white, tasteless wafers that look communion wafers. It's actually the only way I know them because that's the way my Mutti made them. 
In fact, there are several traditional cookies that must be made on these wafers. 'Must' is traditional. However, just because some say 'must' doesn't mean it can't be done without.
You can easily get oblaten here if you wish and use them for this recipe. However, for the recipe below, I did not use them, because I wanted to see how they would turn out. Personally, I really didn't miss them :) In fact, I think I like them better this way.

A bit of Lebkuchen History
There are many possible origins of the name of these. Leb could come from leben, meaning life. Leb could come from lieben, meaning love. Leb could come from lebbe, meaning sweet. 
Actually, all together, these make sense. A sweet ~ loving ~ life ... a cake that's perfect to celebrate Christmas!
For a bit more Lebkuchen history, check out this post.
How to store these cookies ...
Store these Lebkuchen cookies in a sealable container, with waxed paper between the layers of the cookies. Place half an apple on a piece of waxed paper on the top of the cookies. This will keep the cookies moist and actually impart a very light fruity aroma that makes these cookies so yummy. 
As with many of the German cookies that are traditional for Christmas, these do taste better if they are allowed to 'age' ... the spices mellow and the texture is amazing. Mind you, it's difficult to wait to enjoy these!
Do make sure to wait until the glaze has hardened totally before storing the cookies. Even waiting a day before putting them into the cookie tins is a good idea. 
German Gingerbread Cookies ~ Lebkuchen ❤️
Ingredients:
1 cup minus 2 tbsp butter (7 oz)
2 tbsp molasses
⅓ cup light corn syrup
2¾ cup all-purpose flour
1⅓ cup lightly packed brown sugar
½ package Lebkuchen spice or make your own by mixing ½ tbsp cinnamon, ½ tsp cloves,  ⅛ tsp each of mace, coriander, cardamon, ginger, and nutmeg

1 tsp baking powder
pinch salt
2 eggs
4 oz bittersweet chocolate
1 tbsp coconut oil
1 cup powdered sugar
nuts to decorate (walnuts or halved almonds)
Instructions:
Preheat oven to 350° F. Prepare 2 cookie sheets by lining them with parchment paper.
Put butter, molasses, and corn syrup into a small pot and heat just until butter has melted.
Into a large bowl, mix together the flour, brown sugar, spices, baking powder, and salt. 
Stir butter mixture into dry ingredients, mixing well.
Add eggs one at a time, stirring until well mixed.
Using a tablespoon, drop spoonfuls onto cookie sheets, leaving space between the cookies since they will spread slightly. Press lightly with your fingers form each into a disc.
Bake 15 - 20 minutes. Remove to wire rack and let cool.
To make the icings, into a small bowl, melt chocolate and coconut oil (about 2 minutes in a microwave), stirring until smooth. Into another bowl, mix powdered sugar with about 3 tbsp water and stir until smooth.
Dip half the cookies into the chocolate and half into the white icing. Top with nuts to decorate.
Makes about 30 cookies.

Leave a comment about this recipe or ask a question?
Pop right over to my private Facebook group, the Kaffeeklatschers. You'll find thousands of German foodies, all eager to help and to talk about all things German, especially these yummy foods. 
I pop in all the time as well, to chat and to answer questions. 
Meet with us around Oma's table, pull up a chair, grab a coffee and a piece of Apfelstrudel, and enjoy the visit.
*  *  *  *  *
Want nutritional information for a recipe?
Copy and paste the ingredient list and the number of servings into Calorie Count. 
It will give you an approximate calculation.

Need help doing conversions
between cups and grams or any such thing?
Use this site to give you all the different conversions for the different types of ingredients. 
---
PIN these to find the German Gingerbread Cookies recipe quickly when you're ready to bake for Christmas ...
---
I'm American but lived several years in Germany. I love the German Christmas traditions! For instance celebrating a 1st and 2nd Christmas day and celebrating

These German Christmas Traditions have been around for generations. Some ornamental, some musical and some just simply YUMMY!
---
Words to the Wise
"The prudent understand where they are going, but fools deceive themselves."
Proverbs 14:8 (NLT)