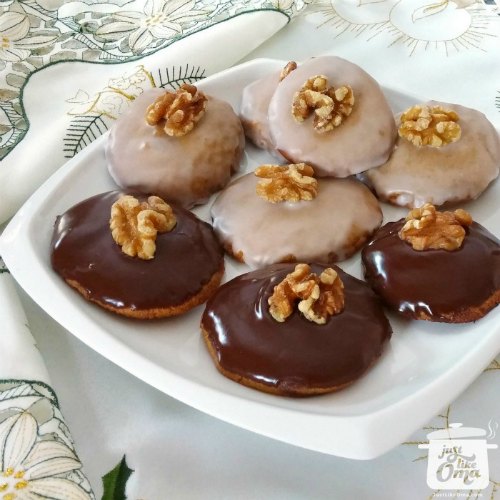 German Gingerbread Cookies ~ Lebkuchen

These German gingerbread cookies, or Lebkuchen, are such a traditional cookie to have for Christmas. They're so very easy to make, that there's no reason to buy them.
You don't need to buy the Lebkuchen spice mix, since we'll make our own here.
Prep Time


30 minutes


Bake Time


20 minutes


Total Time

50 minutes

Servings:

Makes about 30 cookies
Ingredients:
1 cup minus 2 tbsp butter (7 oz)
2 tbsp molasses
⅓ cup light corn syrup
2¾ cup all-purpose flour
1⅓ cup lightly packed brown sugar
½ package Lebkuchen spice or make your own by mixing ½ tbsp cinnamon, ½ tsp cloves,  ⅛ tsp each of mace, coriander, cardamom, ginger, and nutmeg
1 tsp baking powder
pinch salt
2 eggs
4 oz bittersweet chocolate
1 tbsp coconut oil
1 cup powdered sugar
nuts to decorate (walnuts or halved almonds)
Instructions:
Preheat oven to 350°F. Prepare 2 cookie sheets by lining them with parchment paper.
Put butter, molasses, and corn syrup into a small pot and heat just until butter has melted.
Into a large bowl, mix together the flour, brown sugar, spices, baking powder, and salt. 
Stir butter mixture into dry ingredients, mixing well.
Add eggs one at a time, stirring until well mixed.
Using a tablespoon, drop spoonfuls onto cookie sheets, leaving space between the cookies since they will spread slightly. Press lightly with your fingers form each into a disc.
Bake 15 - 20 minutes. Remove to wire rack and let cool.
To make the icings, into a small bowl, melt chocolate and coconut oil (about 2 minutes in a microwave), stirring until smooth. Into another bowl, mix powdered sugar with about 3 tbsp water and stir until smooth.
Dip half the cookies into the chocolate and half into the white icing. Top with nuts to decorate.
*  *  *  *  *

Unless otherwise noted recipe, images and content © Just like Oma | www.quick-german-recipes.com