Skor Bar Cookies – Oma's Skorschnitten (Chocolate Toffee Bark)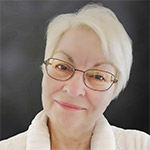 by: Gerhild Fulson  /  Cookbook Author, Blogger, German Oma!

This post may contain affiliate links, which means I'll receive a commission if you purchase through my links, at no extra cost to you. Please read full disclosure for more information.
These Skor Bar cookies ( aka Chocolate Toffee Bark) are so delicious, you'll want to make them often. German? Nope! Delicious? Yes! Quick? Yes!
That's why they find their way into my list of Easy Kids Christmas Cookies Recipes. My Skorschnitten are fun to make together with your little ones. 
While you are boiling the butter and sugar, the kids can arrange the crackers in the pan and help later with adding the chocolate chips and nuts.
If these cookies are part of your Christmas baking, they make a great addition to Lebkuchen, Pecan Bars that use a quick graham cookie base, and Almond Bars.
All these are quick recipes and great tasting. These are cookies I save just for this special time of the year. 

Leftover soda crackers? Make this ...
Using soda crackers as a base makes for easy and quick preparation. Have leftover soda crackers when you're finished with this recipe? Make a quick and easy flaky pastry dessert called Pineapple Pudding Dessert.

Do you have kids helping? Caution ...
Even though this recipe is quick and easy, it's not one for the kids to make unattended. Boiling the butter and brown sugar can be dangerous and should be done by an adult.
Why Skor?
Using semi-sweet chocolate chips and topping them with almonds makes these Skor cookies seem like traditional German baking.
Why Skor?
Well, Skor is a chocolate bar made by Hershey's (similar to the Daim bar that's sold in Germany). It has a thin layer of butter toffee that's covered in milk chocolate.

In the recipe below, the butter and brown sugar give the toffee layer that's held in place with the crackers. The chocolate chips give the chocolate layer. The nuts on top are just that special "extra".
Get ready for Christmas! Grab your copy of Oma's collection of her favorites in Christmas Cookies e-Cookbook.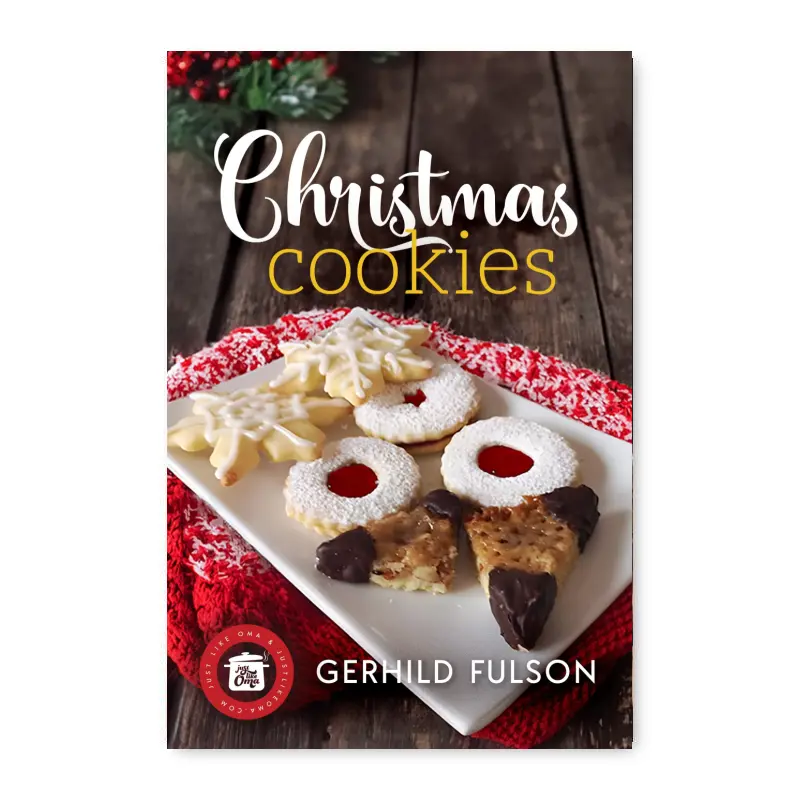 Take a peek at all Oma's eCookbooks. They make sharing your German heritage a delicious adventure!
How to make Skor Bar Cookies...

Line the cookie sheet with foil. Why? So that clean up will be easier and the cookies won't stick to the cookie sheet. Then lay out the soda crackers.
Although I've always used unsalted topped soda crackers for this, I'm thinking that using salted topped ones would actually work. After all, putting flaked salt on top of chocolate is all the rage now.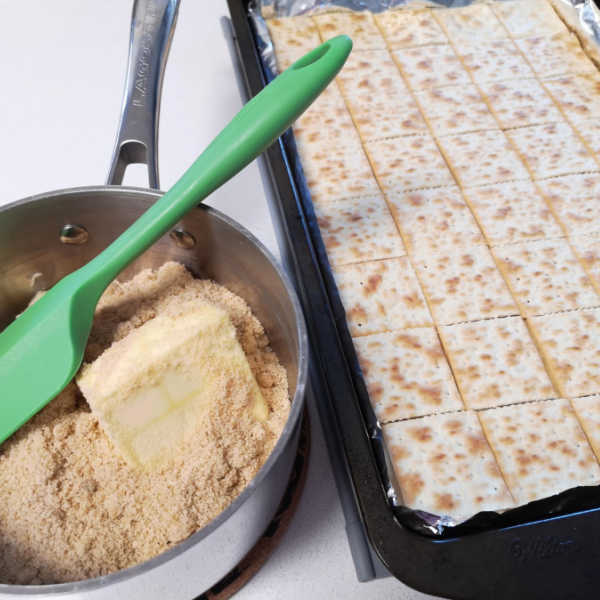 Heat up the butter and brown sugar mixture to make that toffee layer, being careful to stay with it, stirring the whole time.
Once the butter and brown sugar mixture has boiled for the minute, pour it over the crackers gently, spreading it out with a spoon or spatula.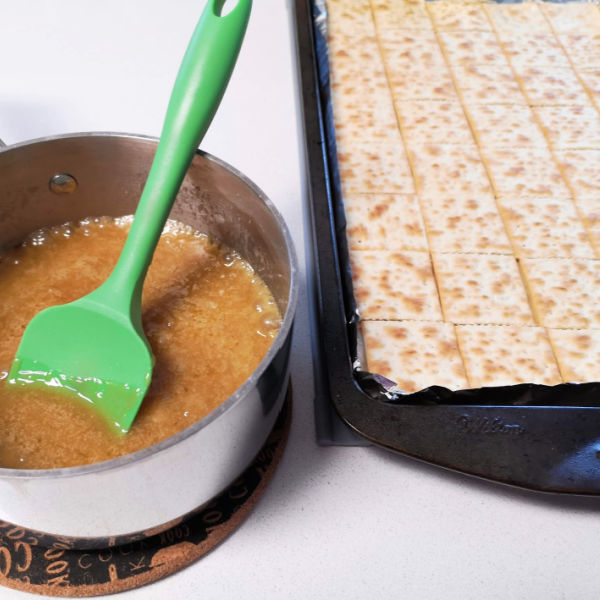 As you spread out the hot toffee mixture, be so careful not to get this onto your hands. It's HOT!!!!
This is something you do not want your little kids to do. Let them lay out the crackers ... that's fun. But this part, it's adult stuff.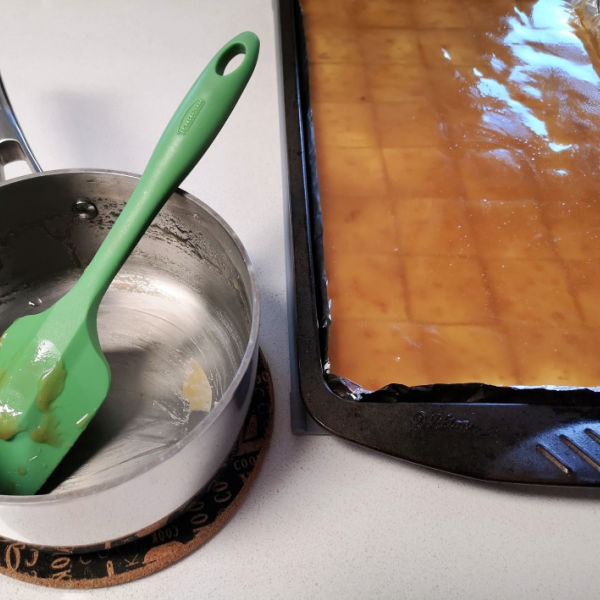 Once the butter and brown sugar mixture is spread evenly over the base of soda crackers, put it in the oven. Just 5 minutes. That's all it will take. You're looking for the sugar mixture to be bubbling on top. Take it out and handle carefully. This is HOT!!!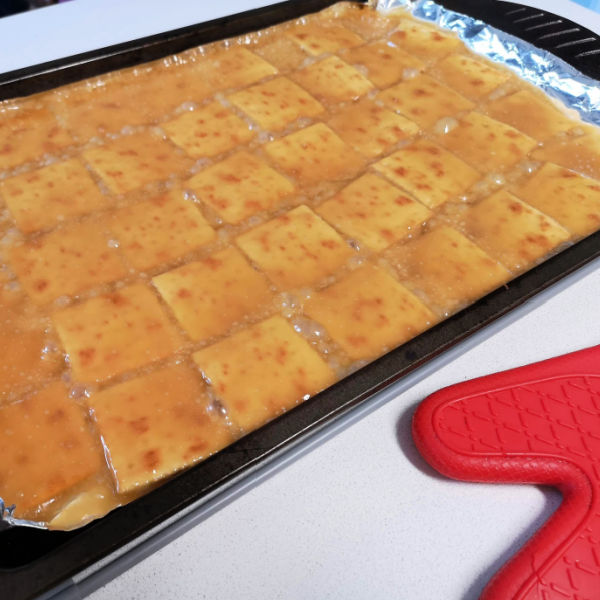 You may find that some of the crackers will have moved or even overlapped some. Don't worry. Don't bother trying to 'fix' them. That lovely liquid toffee is busy infiltrating all around those crackers.
Just go ahead and sprinkle those chocolate chips. I prefer to use semi-sweet. However, if you're a milk chocolate fan, go ahead and use those. White chocolate? Hmmm ... why not?
Hey, even a mix of white and dark would look pretty all swirled over the top! I'll need to try that too next time.

If the chocolate chips don't spread easily or don't melt completely, just put the cookie sheet back in the oven for a minute or two or three. That will melt them completely, making the spreading easier.
Even though the nuts are called optional in the recipe, why would you make them optional? Only if there were nut allergies you'd be concerned about. Otherwise, I greatly suggest sprinkling them on top.

For me, I always add sliced almonds on top. Sliced hazelnuts would be nice too.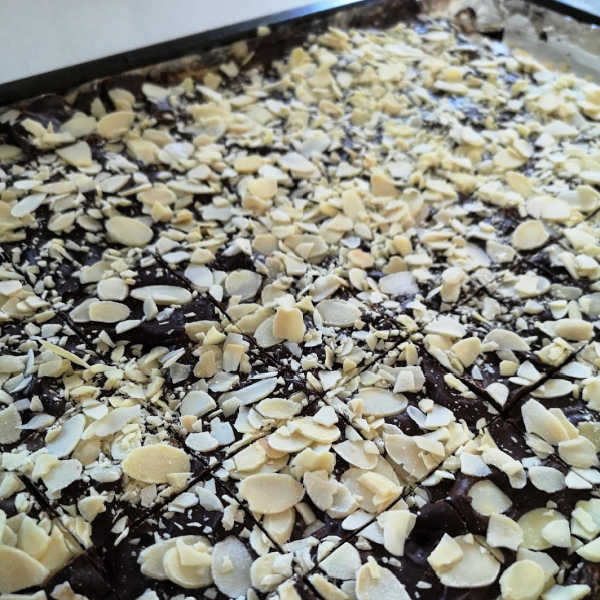 After sprinkling the nuts on top, press them into the chocolate a bit to make sure they'll stay stuck.
Cool the chocolate completely before attempting to cut or break into pieces. I must admit though, I usually cut off a small section before it's completely cooled. I need to taste-test what I just made.
That's when I end up cutting off a slightly larger piece. Just need to really make sure they are good. And oh, my. This sheetfull never lasts long.

Ready to make these skor bar cookies?
Is the recipe below locked? Here's why. 

Skor Bar Cookies – Oma's Skorschnitten (Chocolate Toffee Bark)

These Skor Bar cookies are so delicious, you'll want to make them often. German? Nope! Delicious? Yes! Quick? Yes!
These Skorschnitten are fun to make together with your little ones. And, they are a lovely addition to Lebkuchen and Vanillekipferl  for your Christmas cookie platter.

Prep Time


20 minutes


Cook/Bake Time


6 minutes


Total Time

26 minutes

Ingredients:
40 saltine or soda crackers (just over 1 sleeve)
1 cup (227 g) butter
1 cup (200 g) brown sugar, packed
3 cups (510 g) chocolate chips, semi-sweet or dark
1 - 2 cups (100 - 200 g) sliced almonds
Instructions:
Preheat oven to 350°F (180°C). Line a rimmed 11x17-inch baking sheet with foil or parchment paper and spray with baking spray.
Cover baking sheet with one layer of soda crackers.
In saucepan, melt butter and brown sugar, stirring constantly until it boils. Boil for 1 minute, continuing to stir.
Pour mixture over crackers carefully (don't burn yourself) and spread evenly.
Bake 5 minutes until sugar mixture is bubbling.
Sprinkle chocolate chips evenly over surface. Wait several minutes until chocolate softens and smooth evenly. If needed, return baking sheet to oven for a few minutes to help chocolate soften. Sprinkle with almonds.
Cool completely. Either break or cut into pieces. Store in an airtight container in the fridge for up to 2 weeks. Let them come to room temperature before eating.
Hints:
Have leftover soda crackers? Use them for this fabulous Black Forest Dessert!

As you cut or break into pieces, you may find that sometimes the "topping" separates from the "toffee" bottom. Don't worry. Both parts taste amazing.
Be careful when working with the heated sugar/butter mixture. It's HOT!!!

If you like the taste of salted caramel, then use salt-topped crackers. If not, use the unsalted ones.

*  *  *  *  *

Unless otherwise noted recipe, images and content © Just like Oma | www.quick-german-recipes.com

11.26.2021 revision update
Leave a comment about this recipe or ask a question?

Pop right over to my private Facebook group, the Kaffeeklatschers. You'll find thousands of German foodies, all eager to help and to talk about all things German, especially these yummy foods. 
Meet with us around Oma's table, pull up a chair, grab a coffee and a piece of Apfelstrudel, and enjoy the visit.

Cooking just like Oma, making those German meals, is actually quite easy. Let me, Oma Gerhild, help you with my step-by-step methods to re-create those yummy meals you remember from your Oma.

If you're looking for tasty, traditional, and easy German cake recipes (in English) to try, then you've come to the right place! Check out these lecker treats!

Discover the ultimate German schnitzel recipe with Oma's quick and easy method - perfect for any occasion! Taste the authentic flavors of Germany today.
*  *  *  *  *
PIN to SAVE this recipe to your Pinterest board!
And let's be friends on Pinterest!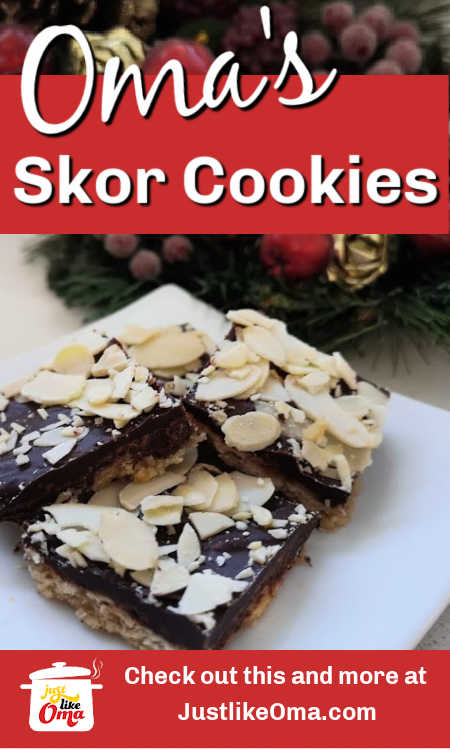 ---
Skor Bar Cookies / Oma's Chocolate Toffee Bark


By
Oma Gerhild Fulson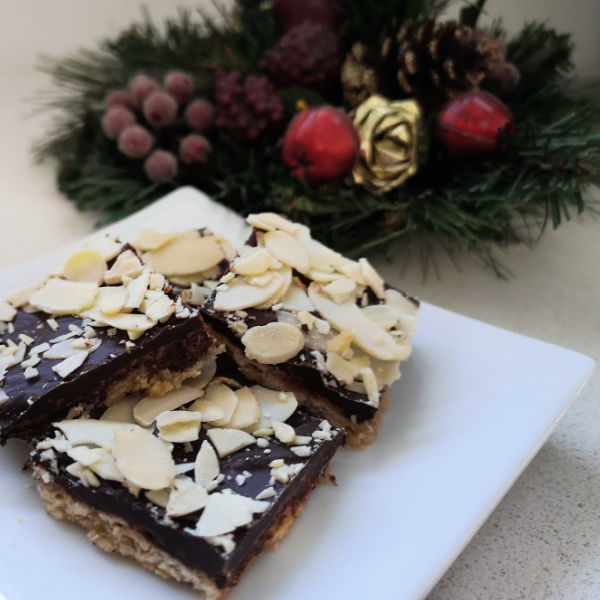 Make these Skor Bar Cookies - so easy and so delicious - you'll want to make them often. German? Nope! Delicious? Yes! Quick? Yes! Easy for kids to help with.

Ingredients:
saltine crackers,
butter,
brown sugar,
chocolate chips,
nuts,
For the full recipe, scroll up ...
Words to the Wise
"Those who listen to instruction will prosper; those who trust the Lord will be joyful."
Proverbs 16:20 (NLT)