Gerhild's Raisin Squares

➤ by Oma Gerhild Fulson
FTC Disclosure: Making a purchase via a link on the page? I may earn a small commission on the transaction - at no added cost to you. Thanks!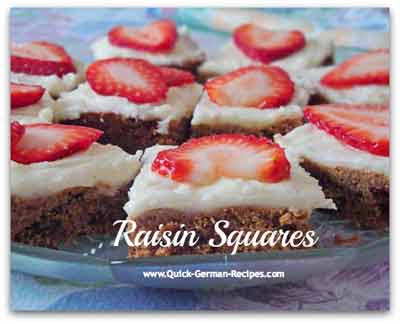 These raisin squares, similar to Hermit Squares, bring a warm, spicy fragrance to the kitchen. Because it's not a traditional German recipe, you may wonder why it is featured here. Check out Oma's Quickies to find out why. Quick and easy, this is a great bar recipe to use for Bake Sales and Potlucks. 

With its spicy aroma, these Rosinenschnitten great at Christmas as well. Covered with a lemon butter icing, I alter it using almond flavoring instead - a mock marzipan flavor - hence, a German twist. With the "German twist" that I love, and the raisins that he loves, these "Raisin Spice Bars" are a hit. 

Gerhild's Raisin Squares

Ingredients:
1 cup raisins
½ cup brown sugar
½ cup water
¼ cup butter
1 tsp cinnamon
¼ tsp ground cloves
¼ tsp allspice

½ tsp salt
½ tsp baking soda
2 tsp water
1 cup flour, all purpose
1 tsp baking powder
1½ cups powdered sugar
3 tbsp butter
1½ tbsp lemon juice or 1 tsp almond extract
Instructions:
Preheat oven to 350°F. Grease 8" x 8" pan.
Put first 8 ingredients into large pot. Bring to boil, lower heat, and simmer gently for about 3 minutes, stirring occasionally. Remove from heat.
Mix baking soda and 2 tsp of water in a small bowl. Stir into raisin mixture.
Let raisin mixture cool. I've placed the pot into cold water to speed this up.
Mix together flour and baking powder. Stir into raisin mixture. Mix well.
Spread batter in prepared pan. Bake for 25 - 30 minutes until set.
Let cool in pan on wire rack.
In mixing bowl, beat powdered sugar, butter, and lemon juice (or almond extract) until smooth, adding more juice (or water) until spreading consistency.
Spread over cooled raisin squares. Cuts into 16 squares.
Hints:
If you want thinner and more squares (as shown in the picture), then use a 9" x 9" pan. This only takes about 15 - 20 minutes to bake. Cuts into 25 squares.

---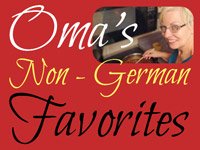 Now, personally, I'm really not a fan of raisins.
When given a choice in a recipe between adding raisins or nuts, for example, I'll always choose nuts.
However, my hubby loves raisins. One of his favorite "Canadian" recipes is raisin pie.
And, because I do love my hubby, I'll add raisins, just for him! That's why this recipe is so nice. With the "German twist" that I love, and the raisins that he loves, these "Rosinenschnitten" are a hit.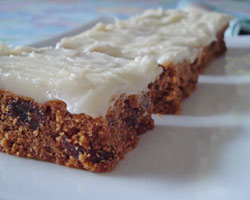 What a pretty presentation this makes. Using sliced strawberries on top of the icing, it adds color and a taste of freshness.
---
Some yummy German Desserts ...
Leave a comment about this recipe or ask a question?
Pop right over to my private Facebook group, the Kaffeeklatschers. You'll find thousands of German foodies, all eager to help and to talk about all things German, especially these yummy foods. 
I pop in all the time as well, to chat and to answer questions. 
Meet with us around Oma's table, pull up a chair, grab a coffee and a piece of Apfelstrudel, and enjoy the visit.
*  *  *  *  *
Thinking of starting your own Handmade Business?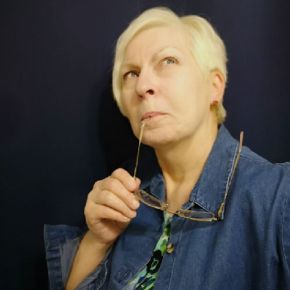 This Oma KNOWS you CAN do it.
How do I know?
Well, if I can do it, anyone can.
I've even figured out how I can help you.
I've teamed up with my own business coach, Renae Christine (yes, do google her!), to bring you this free masterclass. After you watch it, ask me any questions and I'll gladly answer them.
Don't hesitate. I'm not sure how long Renae will keep this free masterclass available.
PS:  Yes, Renae really is as amazing as all the reviews say.
PPS: Yes, the course is for handmade items, but I've used it successfully for my cookbooks. I know others are using her methods for services, direct sales, and even a local ice cream bar & grill that's constantly selling out. You've nothing to lose by taking a look ... and a whole bunch to gain.
*  *  *  *  *
Oma's Cookbooks (downloadable & print)
*  *  *  *  *
Want nutritional information for a recipe?
Copy and paste the ingredient list and the number of servings into Calorie Count. 
It will give you an approximate calculation.

Need help doing conversions
between cups and grams or any such thing?
Use this site to give you all the different conversions for the different types of ingredients. 
---
---
Try this slow cooker roast beef and you'll be amazed at how much this tastes like rouladen WITHOUT the work.

Learn how to cook pork hocks, anytime you want something traditionally German and wonderfully delicious! A hearty meal for any time of the year!
---
Words to the Wise
"If you set a trap for others, you will get caught in it yourself. If you roll a boulder down on others, it will crush you instead."
Proverbs 26:27 (NLT)