Kirschenmichel ~ Easy Bread Pudding with Cherries

➤ by Oma Gerhild Fulson
Kirschenmichel is an easy bread pudding that's very popular in southern Germany.
It's the Semmelauflauf with cherries in northern Germany that I grew up with, although Mutti usually added raisins. So good!

It's perfect choice to make when dessert is needed and there is some leftover bread or rolls that need to be used up. Add some eggs and milk ... and cherries ... and it's a perfect dessert that's special enough for company.

Pitting Cherries?
As I was doing some research on this Kirschenmichel, I came across interesting fact:  All cherries are intentionally left unpitted! Meaning, that when one ate this yummy dessert, one needed to be careful about constantly biting into pits! Ouch!
I can't imagine baking any cherry dessert or cake or pie and intentionally leaving in the pits!
Personally, I go to great lengths to make sure that ALL the pits are removed AND I also warn my guests to be careful, just in case there's a missed pit lurking in the dessert. Don't want to make the dentist rich.
Please do take the time to pit your cherries if you are using fresh ones. When I use jarred or canned cherries, I will gently pinch each cherry to make sure it has no pit. I'll find a pit occasionally, which makes me continue to do this.
Need that "all's good with the world" feeling? Comfort food will do that. Get your copy of Oma's German favorites in her Comfort Foods e-Cookbook.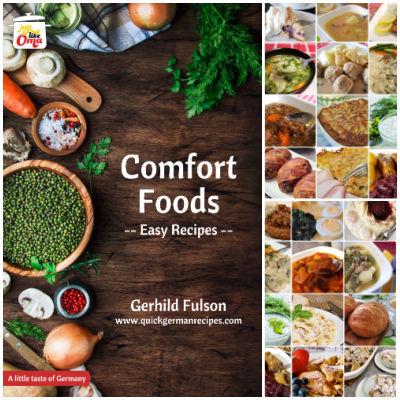 Take a peek at all Oma's eCookbooks. They make sharing your German heritage a delicious adventure!
Kirschenmichel? Kirschenplotzer? Ofenschlupfer? Semmelauflauf?
These are all various forms of German bread puddings. The first two are with cherries, the third with apples, and the last with just bread (although my Mutti would put raisins in hers)
Kirschenmichel translates into "cherry Michael"
Kirschenplotzer translates into "fallen cherries"
Ofenschlupfer translates into "slide into the oven"
Semmelauflauf translates into "bread roll casserole"
All of the above taste best when served warm ... fresh from the oven. Serve with some vanilla sauce, whipped cream or ice cream. Comfort food. Wunderbar!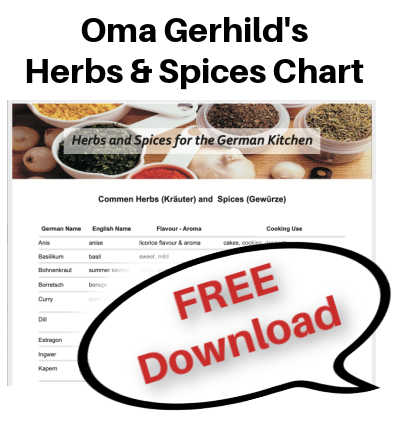 Ready to make this German bread pudding?
Kirschenmichel ~ Easy Bread Pudding with Cherries

Kirschenmichel is an easy bread pudding that's very popular in southern Germany.
It's a Semmelauflauf with cherries in northern Germany that I grew up with, although Mutti usually added raisins. So good!

Prep Time


20 minutes


Bake Time


40 minutes


Total Time

60 minutes

Servings:

Makes 4 - 6 servings
Ingredients:
4 stale rolls or 6 slices stale bread
1 cup warm milk
3 eggs, separated
4 tbsp granulated sugar
2 tsp cinnamon (optional)
28 oz jar cherries (sour cherries, preferred), drained 
pinch salt
2 tbsp butter
1 - 2 tbsp powdered sugar
Instructions:
Preheat oven to 400°F. Grease a casserole dish (about 9" x 12") with butter.
Slice or cube rolls (bread). Put into bowl and pour milk over. Stir gently and let sit about 10 minutes.
In a large bowl, mix together the egg yolks, granulated sugar, and cinnamon (if using). Gently stir in milk-soaked buns (bread) and well drained cherries. 
In a separate bowl, whip egg whites and salt until stiff.
Gently fold egg whites into bread mixture.
Pour into greased casserole dish and smooth top. Dot with butter.
Bake about 40 minutes, until top is nicely browned.
Let cool.
Just before serving, put powdered sugar into a sieve, and holding it over the bread pudding, tap sieve to dust the sugar over the top.
Notes/Hints:

The best bread to use is an artisan type, French, or Italian loaf. Don't use a regular sliced sandwich bread. It will just go mushy.
Make sure the cherries have the pits removed. If you wish, you can use fresh cherries ... a real treat.
Adding some cherry brandy, Kirschwasser, makes this a yummy adult treat.
*  *  *  *  *

Unless otherwise noted recipe, images and content © Just like Oma | www.quick-german-recipes.com

Want Nutritional Information?

Copy and paste the above ingredient list and the number of servings into Calorie Count for an approximate calculation.
Need Help Doing Conversions?

Make it easier to convert between cups and grams, etc. Use this site to give you all the different conversions for the different types of ingredients. 
Leave a comment about this recipe or ask a question?
Pop right over to my private Facebook group, the Kaffeeklatschers. You'll find thousands of German foodies, all eager to help and to talk about all things German, especially these yummy foods. 
I pop in all the time as well, to chat and to answer questions. 
Meet with us around Oma's table, pull up a chair, grab a coffee and a piece of Apfelstrudel, and enjoy the visit.
Pork hocks and sauerkraut, a favorite of my Opa, is a real traditional German food. This version of Eisbein is a classic in northern Germany, not to be confused with Schweinshaxe from the southern par…

Make this chicken fricassee recipe and you'll think you're back in Oma's kitchen. German comfort food. Originally just a 'leftover' meal, now it graces the best restaurant menus.

Oma's TOP 10 German foods that will have you thinking you're back in your Omas kitchen in Germany. Cooking and baking together, but best of all, making memories!
*  *  *  *  *
PIN this ...
---
Kirschenmichel - Easy Bread Pudding made just like Oma
By
Oma Gerhild Fulson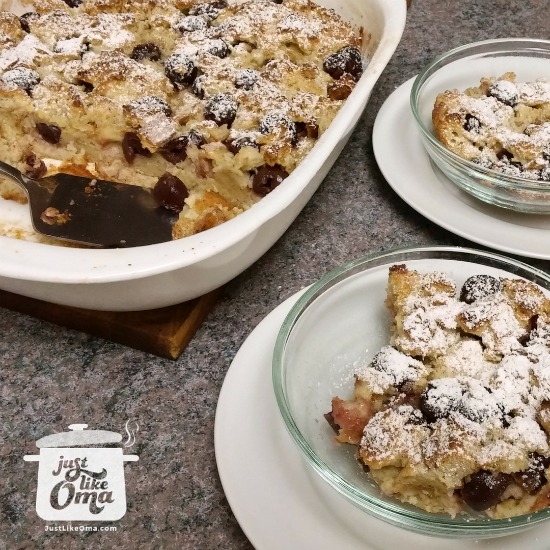 Kirschenmichel is an easy bread pudding that's very popular in southern Germany. It's a Semmelauflauf with cherries in northern Germany. So good!
Ingredients:
stale rolls,
milk,
eggs,
sugar,
jarred sour cherries,
spices,
butter,
powdered sugar,
For the full recipe, scroll up ...
Words to the Wise
"Hatred stirs up quarrels, but love makes up for all offenses."
Proverbs 10:12 (NLT)