Kirschenmichel ~ Easy Bread Pudding
with Cherries
FTC Disclosure: Making a purchase via a link on the page? I may earn a small commission on the transaction - at no added cost to you. Thanks!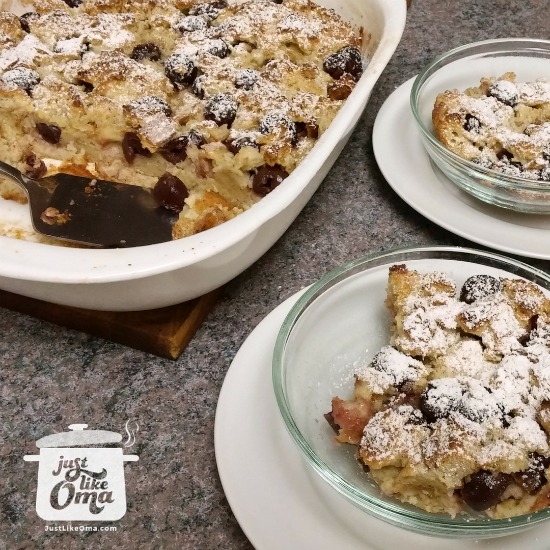 Yum
Kirschenmichel is an easy bread pudding that's very popular in southern Germany. It's a Semmelauflauf with cherries in northern Germany that I grew up with, although Mutti usually added raisins. So good!

It's perfect choice to make when dessert is needed and there is some leftover bread or rolls that need to be used up. Add some eggs and milk ... and cherries ... and it's a perfect dessert that's special enough for company.

Kirschenmichel ~ Easy Bread Pudding with Cherries
Ingredients:
4 stale rolls or 6 slices stale bread
1 cup warm milk
3 eggs, separated
4 Tbsp granulated sugar
2 tsp cinnamon (optional)
28 oz jar cherries (sour cherries, preferred), drained 
pinch salt
2 Tbsp butter
1 - 2 Tbsp powdered sugar
Instructions:
Preheat oven to 400°F. Grease a casserole dish (about 9" x 12") with butter.
Slice or cube rolls (bread). Put into bowl and pour milk over. Stir gently and let sit about 10 minutes.
In a large bowl, mix together the egg yolks, granulated sugar, and cinnamon (if using). Gently stir in milk-soaked buns (bread) and well drained cherries. 
In a separate bowl, whip egg whites and salt until stiff.
Gently fold egg whites into bread mixture.
Pour into greased casserole dish and smooth top. Dot with butter.
Bake about 40 minutes, until top is nicely browned.
Let cool.
Just before serving, put powdered sugar into a sieve, and holding it over the bread pudding, tap sieve to dust the sugar over the top.
Makes 4 - 6 servings.
Hints:
The best bread to use is an artisan type, French, or Italian loaf. Don't use a regular sliced sandwich bread. It will just go mushy.
Make sure the cherries have the pits removed. If you wish, you can use fresh cherries ... a real treat.

Kirschenmichel? Kirschenplotzer? Ofenschlupfer? Semmelauflauf?
These are all various forms of German bread puddings. The first two are with cherries, the third with apples, and the last with just bread (although my Mutti would put raisins in hers)
Kirschenmichel translates into "cherry Michael"
Kirschenplotzer translates into "fallen cherries"
Ofenschlupfer translates into "slide into the oven"
Semmelauflauf translates into "bread roll casserole"
All of the above taste best when served warm ... fresh from the oven. Serve with some vanilla sauce, whipped cream or ice cream. Comfort food. Wunderbar!
More German Desserts
*  *  *  *  *
Want nutritional information for a recipe?
Copy and paste the ingredient list and the number of servings into Calorie Count. 
It will give you an approximate calculation.

*  *  *  *  *
Need help doing conversions between cups and grams or any such thing?
Use this site to give you all the different conversions for the different types of ingredients. 
*  *  *  *  *
---
PIN this ...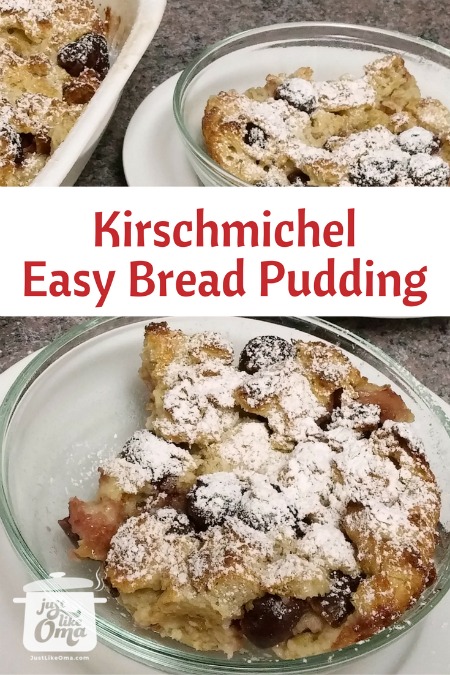 ---
Words to the Wise
"Hatred stirs up quarrels, but love makes up for all offenses."
Proverbs 10:12 (NLT)