How to Make Iced Coffee, German-style

➤ by Oma Gerhild Fulson
FTC Disclosure: Making a purchase via a link on the page? I may earn a small commission on the transaction - at no added cost to you. Thanks!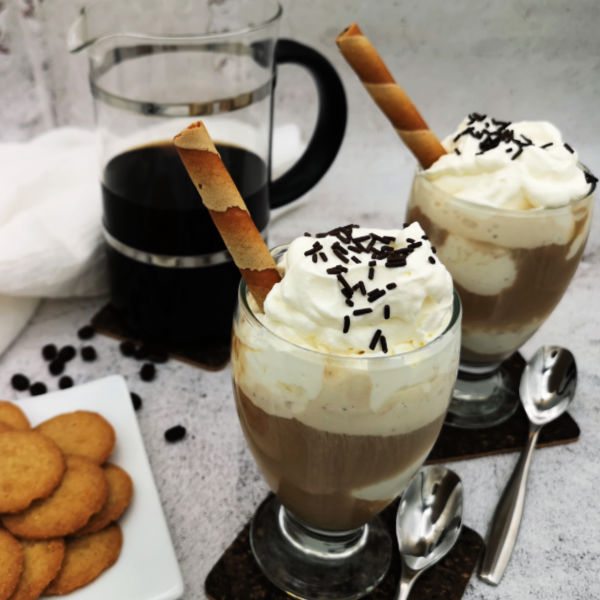 Yum
Learn how to make iced coffee aka Eiskaffee. It's one of the best quick easy dessert recipes that's very traditional in Germany. Why is this one of the best? Because it combines both coffee and ice cream. And, it's so very simple to make. Yummy!
Easy because you just brew some extra coffee in the morning. Put it in the fridge and finish it off just before you need it in the evening. This works best with a good strong coffee.

How to make Iced Coffee, German-style

Ingredients:
2 cups cold strong coffee
8 small scoops Vanilla ice cream
whipped cream for garnish
Instructions:
Put 2 small scoops of ice cream into each of 4 tall glasses.
Pour cold coffee over ice cream.
Top each glass with whipped cream and serve immediately with a long-stemmed teaspoon and a straw.
Serves 4

For something a bit different and unique. Brew up some flavored coffee. Hazelnut Cream, Amaretto, Chocolate Mint, and Double Vanilla Cinnamon would make a scrumptious dessert.
For something a bit different and unique you can change the ice cream as well. Instead of vanilla, try chocolate. Even changing from a regular vanilla to a "double vanilla" will make a difference in the final drink.

Your iced coffee can also be served "all dressed up". Instead of just finishing it with whipped cream, add something on top of the whipped cream to match the ingredients.
Put a chocolate wafer if there's chocolate in the coffee or ice cream.
If you used Hazelnut Cream coffee, add a hazelnut or a hazelnut chocolate on top.
If you used Chocolate Mint coffee, add some mint leaves on top of the whipped cream.
Be adventuresome. Get creative!
Oma says,
You can also use instant coffee to make this. 
But ... really ...  fresh-brewed is best!
German Beverages ...
*  *  *  *  *
Want nutritional information for a recipe?
Copy and paste the ingredient list and the number of servings into Calorie Count. 
It will give you an approximate calculation.

*  *  *  *  *
Need help doing conversions between cups and grams or any such thing?
Use this site to give you all the different conversions for the different types of ingredients. 
*  *  *  *  *
---
PIN this ...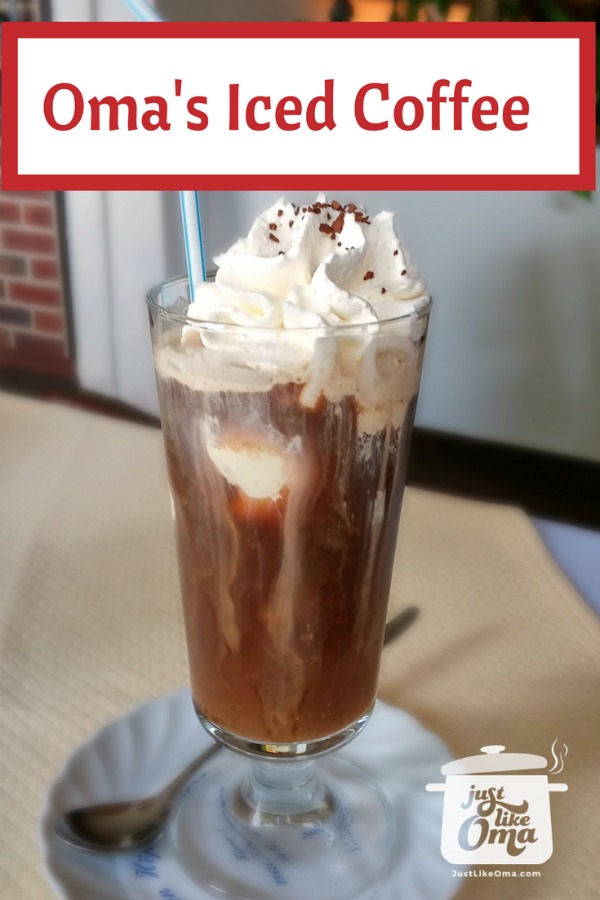 ---
Words to the Wise
"The Lord is more pleased when we do what is right and just than when we offer him sacrifices."
Proverbs 21:3 (NLT)