How to Make Iced Coffee, German-style

➤ by Oma Gerhild Fulson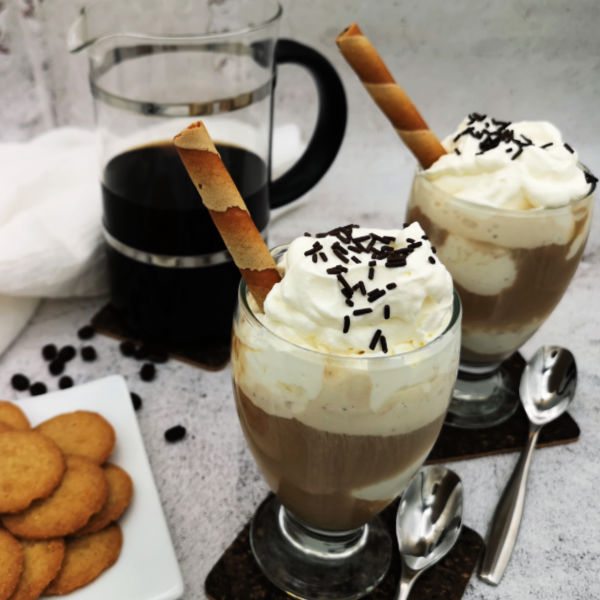 Learn how to make iced coffee, aka Eiskaffee, the kind that they serve in Germany. It's not just iced coffee, meaning coffee served over ice cubes like is served in other countries.
It's one of the best quick easy dessert recipes that's very traditional in Germany. Why is this one of the best? Because it combines both coffee and ice cream. And, it's so very simple to make. Yummy! 
Yes, this is really a dessert. It's not just a cold drink. It's coffee, the best coffee you can get, served with ice cream, the best ice cream you can get, and whipped cream, that freshly whipped kind, the best. All together. In one drink. In one scoop-able drink. The BEST!
Best too, because it's so easy to make. Easy because you just brew some extra coffee in the morning. Put it in the fridge and finish it off just before you need it in the evening.
This works best with a really good, strong coffee. If you can find a German brand of coffee, that would be ideal!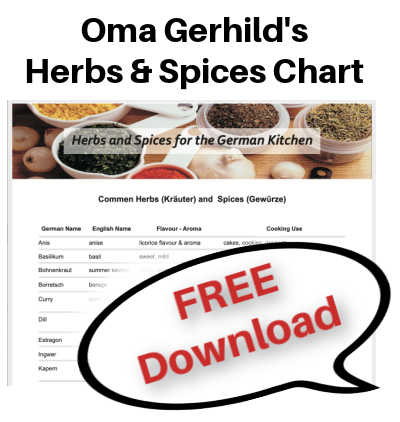 German Iced Coffee Variations
For something a bit different and unique, brew up some flavored coffee. Hazelnut Cream, Amaretto, Chocolate Mint, and Double Vanilla Cinnamon would make a scrumptious dessert.
For something a bit different and unique you can change the ice cream as well. Instead of vanilla, try chocolate.
Even changing from a regular vanilla to a "double vanilla" will make a difference in the final drink. Do use the best ice cream you can find. 

Your iced coffee can also be served "all dressed up". Instead of just finishing it with whipped cream, add something on top of the whipped cream to match the ingredients.
Put a chocolate wafer if there's chocolate in the coffee or ice cream.
If you used Hazelnut Cream coffee, add a hazelnut or a hazelnut chocolate on top.
If you used Chocolate Mint coffee, add some mint leaves on top of the whipped cream.
Be adventuresome. Get creative!
Grab your copy of Oma's favorites in her Special Occasion German Cakes & Tortes e-Cookbook.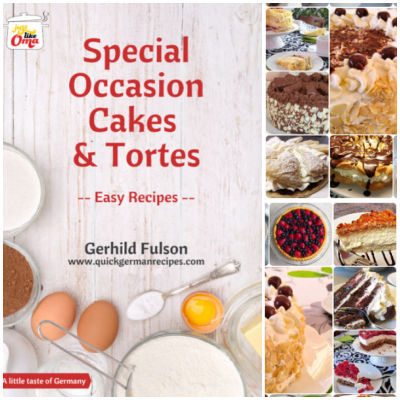 Take a peek at all Oma's eCookbooks. They make sharing your German heritage a delicious adventure!
Oma's Tip:
You can also use instant coffee to make this, if that's all you have. 
But ... really ...  fresh-brewed is best!
Ready to make some Iced Coffee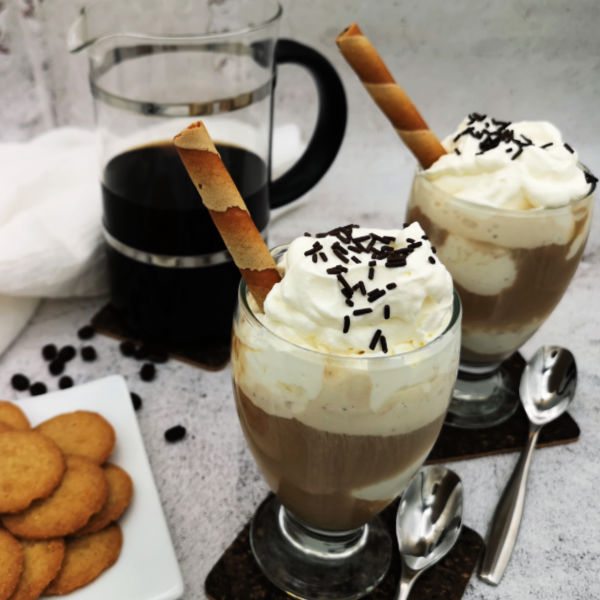 How to make Iced Coffee, German-style

Eiskaffee, the kind of iced coffeet hat they serve in Germany is not just iced coffee, meaning coffee served over ice cubes.
This is dessert because it combines both coffee, ice cream, and whipped cream. Try different flavors of coffee and ice cream.
Prep Time


5 minutes


Cook Time


none


Total Time

5 minutes

Servings:

Makes 4 servings
Ingredients:
2 cups cold strong coffee
8 small scoops Vanilla ice cream
whipped cream for garnish
Instructions:
Put 2 small scoops of ice cream into each of 4 tall glasses.
Pour cold coffee over ice cream.
Top each glass with whipped cream and serve immediately with a long-stemmed teaspoon and a straw.
*  *  *  *  *

Unless otherwise noted recipe, images and content © Just like Oma | www.quick-german-recipes.com

Leave a comment about this recipe or ask a question?

Pop right over to my private Facebook group, the Kaffeeklatschers. You'll find thousands of German foodies, all eager to help and to talk about all things German, especially these yummy foods. 
Meet with us around Oma's table, pull up a chair, grab a coffee and a piece of Apfelstrudel, and enjoy the visit.

Oma's Cream Roll recipe, Biskuitrolle, is the German version of a Swiss roll or jelly roll. Filled with whipped cream and studded with berries, this is an easy-to-make treat anytime of the year.

Make this pan roasted carrot recipe when you're wanting quick and easy carrots just like this German Oma makes them. Similar to oven roasted, just quicker. YUM!

Cooking green beans, German-style, makes a wonderful side dish for almost any meal. Cooking the grüne Bohnen till just tender with a creamy white sauce is so traditional and so lecker!
*  *  *  *  *
PIN this ...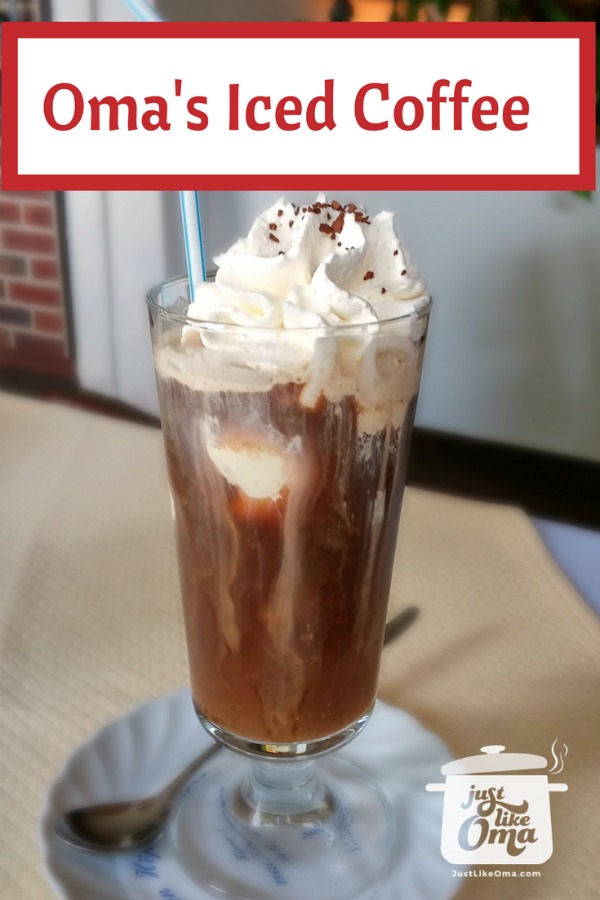 ---
How to Make Iced Coffee Just like Oma


By
Oma Gerhild Fulson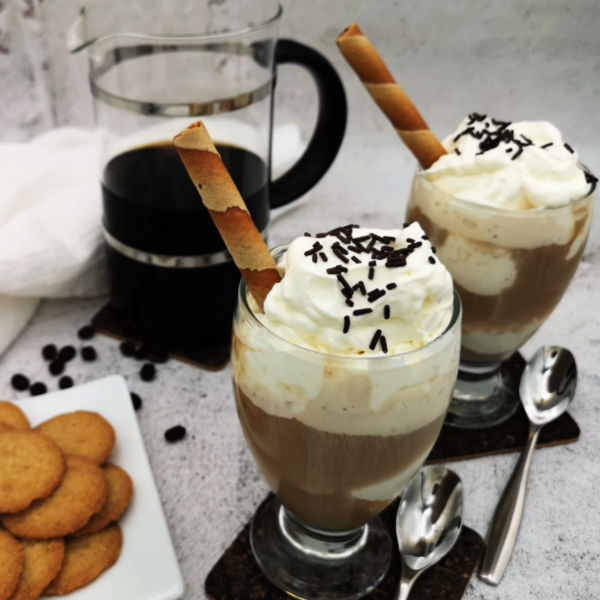 Learn how to make iced coffee, German style. It's one of the best quick easy dessert recipes that's very traditional.

Ingredients:
coffee,
ice cream,
whipped cream,
For the full recipe, scroll up ...
Words to the Wise
"The Lord is more pleased when we do what is right and just than when we offer him sacrifices."
Proverbs 21:3 (NLT)