Apfelschorle ❤️

➤ by Oma Gerhild Fulson
FTC Disclosure: Making a purchase via a link on the page? I may earn a small commission on the transaction - at no added cost to you. Thanks!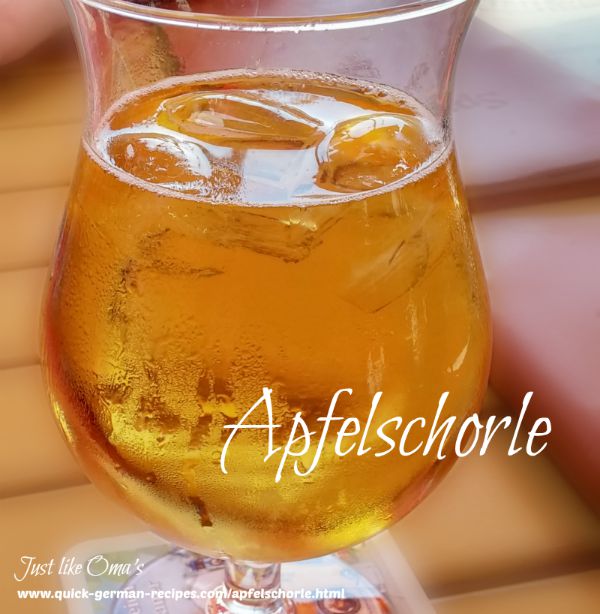 Apfelschorle, made with apple juice and carbonated water, is one of the most popular fruit juice recipes in Germany. Since the juice is diluted with carbonated (sparkling) water, it is less sweet and therefore more refreshing than pure apple juice. Not only is it more refreshing, but also lower in calories than pure apple juice.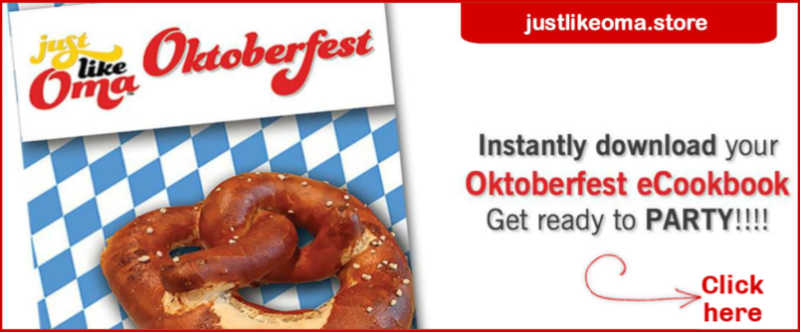 Easy to make at home, it is commercially available throughout Germany. When purchased in bottles, it often contains about 40% - 60% pure juice depending on the brand.
---
At home, you can alter the amount of carbonated water to suit your taste. Since different types of water with different amounts of carbonation are available in Germany, the resulting drink can be modified to your own personal taste.
However, when I'm back in Canada, it is difficult to find the right water. Few, if any, are labelled with the amount of "gas." In Germany, there's usually a choice of "little", "medium", or "lots" of carbonation. You'll need to try several different brands until you find the one that's right for you.
Personally, I really like apfelschorle with a "medium gas". It's so refreshing! I buy mineral water with a low sodium content or a sparkling carbonated water containing no salt. Again, this "salt" content is not an issue in Germany.
Don't like the fizzy taste? Then use "still" water (water with no "gas" or carbonation), in other words, either bottled or tap water! The result is diluted apple juice - not really exciting, but some people prefer this since it's not as sweet as full-strength juice.
Oma says,
Here, in Canada or the States, this would be known as a non-alcoholic spritzer. 
Other possibilities are mixing the carbonated water with other juices. Try different combinations and different strengthen of carbonation to create your own fruit juice recipes or "spritzer recipes".
These are especially great when having parties where there are children. Healthier than pop and sugary punches, these fruit drinks are a simple way for a "fizzy" drink.
Apfelschorle ❤️

Ingredients:
apple juice or apple cider
carbonated or sparkling water or club soda (low sodium)
Instructions:
Simple mix equal parts apple juice or cider and carbonated water in a tall glass.
Serve immediately and enjoy!
Hints:
Most people prefer the juice and carbonated water to be cold, so that the resulting drink is cold.
You can also serve this at room temperature.
Use other fruits instead of apple to make "Schorles" as other fruit juice recipes.

Leave a comment about this recipe or ask a question?
Pop right over to my private Facebook group, the Kaffeeklatschers. You'll find thousands of German foodies, all eager to help and to talk about all things German, especially these yummy foods. 
I pop in all the time as well, to chat and to answer questions. 
Meet with us around Oma's table, pull up a chair, grab a coffee and a piece of Apfelstrudel, and enjoy the visit.
*  *  *  *  *
Thinking of starting your own Handmade Business?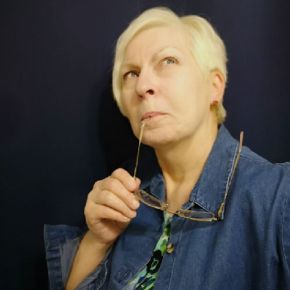 This Oma KNOWS you CAN do it.
How do I know?
Well, if I can do it, anyone can.
I've even figured out how I can help you.
I've teamed up with my own business coach, Renae Christine (yes, do google her!), to bring you this free workshop. After you watch it, ask me any questions and I'll gladly answer them.
Don't hesitate. I'm not sure how long Renae will keep this free workshop available.
PS:  Yes, Renae really is as amazing as all the reviews say.
PPS: Yes, the course is for handmade items, but I've used it successfully for my cookbooks. I know others are using her methods for services, direct sales, and even a local ice cream bar & grill that's constantly selling out. You've nothing to lose by taking a look ... and a whole bunch to gain.
*  *  *  *  *
Want nutritional information for a recipe?
Copy and paste the ingredient list and the number of servings into Calorie Count. 
It will give you an approximate calculation.

Need help doing conversions
between cups and grams or any such thing?
Use this site to give you all the different conversions for the different types of ingredients. 
---
---
These German cookie recipes in English are quick and simple recipes to delight your family and friends.

My homemade chicken rice soup recipe is one you're sure to make often. Why? 'Cause it's so easy and so good. Make a huge batch that'll feed a crowd. Or, just so you can enjoy leftovers.
---
Words to the Wise
"An inheritance obtained too early in life is not a blessing in the end."
Proverbs 20:21 (NLT)