Black Forest Dessert - Oma's Schwarzwälder Kirsch Dessert
➤ by Gerhild Fulson
This Black Forest Dessert, aka Schwarzwälder Kirsch Dessert, is one of those really, really quick dessert recipes. 
I'm almost embarrassed to say that it uses soda crackers, instant chocolate pudding, and Cool Whip! Top it off with Cherry Pie Filling. Delicious! Yep, that's it.
It's so easy to make, ANYONE can make it. Get the kids involved and have them stand proud when people start raving about the taste.
For the full list of ingredients & detailed instructions, see the recipe card at the end of this post. But before you scroll, there's important & interesting stuff to know right below.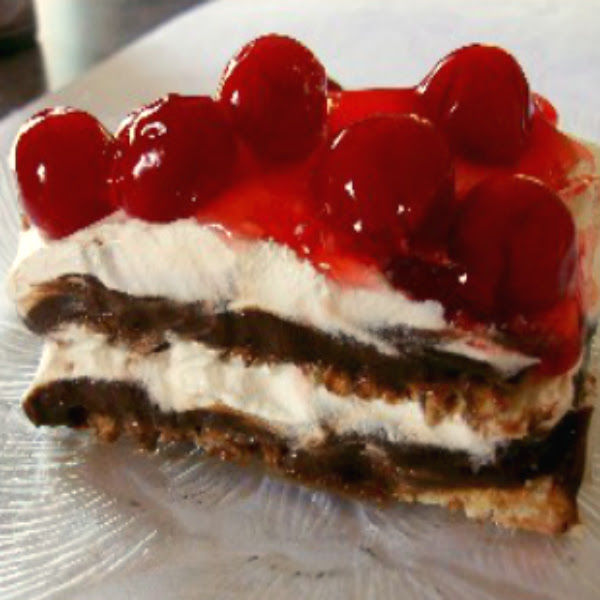 All the flavors of the traditional Black Forest Cake without all the fuss. Even your youngest kids can put this together and get rave reviews!
It's among my favorite holiday baking recipes. Why? Because it's so quick to make, doesn't need to be baked and is delicious!
What makes it extra special during the holidays is that it needs to be made at least 6 hours before serving. That means it can be made the day before. No rushing around the day of the feast. 
A bit of this and a bit of that ...
Be ready to hand out the recipe. Although it sounds so strange, and even when guests are told what is in it, they always go back for seconds. Unfortunately, there's seldom any leftovers for the next day.
Make sure you get the soda crackers with the unsalted tops! These are the secret to the flaky pastry. With the standing time, the crackers transform into "pastry".
To get the thick chocolate layer as shown in the picture, I prepared two packages of instant pudding. Normally, though, you just need one package.
For a diet version of this Black Forest dessert, use low-fat instant chocolate pudding and low-fat Cool Whip. Top with fresh, pitted cherries. Just as delicious.
Grab your copy of Oma's favorites in her Special Occasion German Cakes & Tortes e-Cookbook.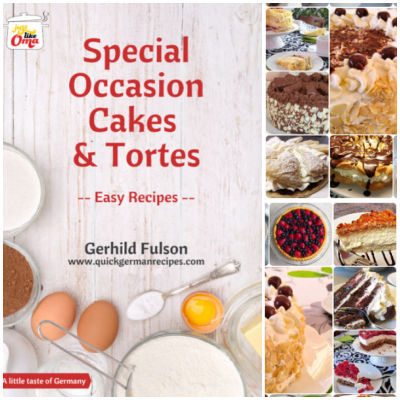 Take a peek at all Oma's eCookbooks. They make sharing your German heritage a delicious adventure!
Try this delicious variation ...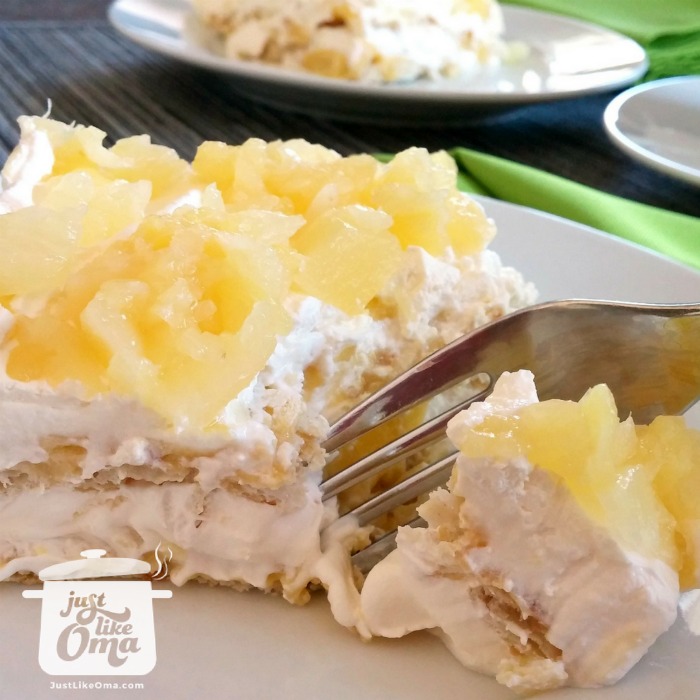 OHHHHHH. Crushed pineapple makes this vanilla version so refreshing, especially on a hot summer's day.
Actually, the black forest dessert is a variation of this easy flaky dessert shown here.
That's the original recipe I was playing around with when I figured that I'd make it really German by incorporating the Black Forest Cake flavors.
Once you make this one, you'll be ready to try your own combinations. Different pudding flavors. Different fruit toppings. Different desserts!

---
Oma says:
This Black Forest Dessert needs to stand at least 6 hours, so you need to plan this one ahead of time. That's for the crackers to turn into pastry.
This one is one of those easy recipes the kids love to make. They line out the crackers, mix the pudding and put it all together. And what's more?
They really, really enjoy eating this Black Forest Dessert!
---
Ready to make this really easy dessert?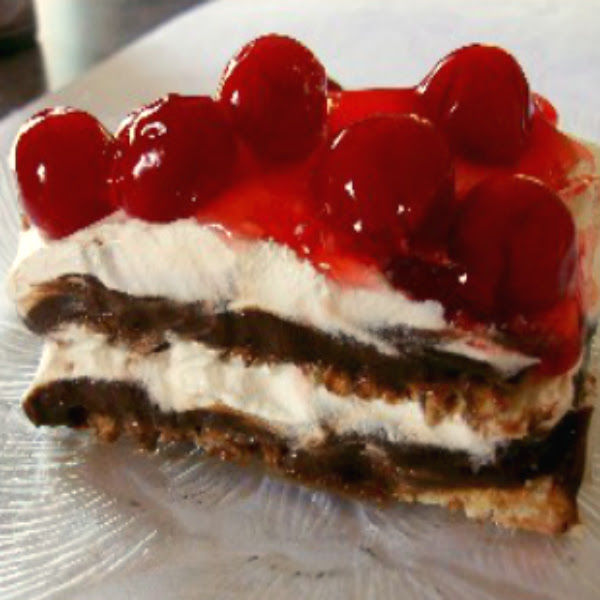 Black Forest Dessert - Oma's Schwarzwälder Kirsch Dessert

This Black Forest Dessert, aka Schwarzwälder Kirsch Dessert, is one of those really, really quick dessert recipes to make … but it NEEDS TO STAND at least 6 hours for the magic to happen.
See hints below about using an extra package of pudding!
Prep Time


10 minutes


Stand Time


6+ hours

Total Time

6+ hours

Servings:

Makes 12 servings
Ingredients:
1 package soda crackers (unsalted tops)
1 4-ounce package instant chocolate pudding mix 
2 cups milk (to make pudding)
1 12-ounce tub Cool Whip (4 cups)
1 can cherry pie filling
Instructions:
Line bottom of 9x13-inch baking dish with soda crackers.
Prepare pudding mix according to package instructions. Gently spread half of the pudding over the crackers.
Gently spread half the tub of Cool Whip over pudding.
Cover Cool Whip layer with a layer of soda crackers.
Gently spread remaining pudding over crackers. Cover with remaining Cool Whip.
Cover with plastic wrap and refrigerate at least 6 hours, preferably overnight.
Serve, topping each piece with some cherry pie filling.
Notes/Hints:

To get thick chocolate layers as shown, use 2 packages of pudding mix with 4 cups of milk.
Use low-fat Cool Whip and low-fat pudding if desired.
Yes, you can use heavy whipped cream instead of Cool Whip. Whip up 2 cups with 2 packages of Dr. Oetker's Whip It (to stabilize it), adding sugar to taste.
Add this recipe to your list of quick Christmas recipes. Since you quickly make it ahead of time, preferably the day before, there's no hassle the day of the party.
Drizzle with some chocolate sauce for added pizzazz! 
Try the original version of this with vanilla pudding and pineapple. A summer-time (or anytime) treat.
*  *  *  *  *

Unless otherwise noted recipe, images and content © Just like Oma | www.quick-german-recipes.com

03.22.2022 revision update
Leave a comment about this recipe or ask a question?

Pop right over to my private Facebook group, the Kaffeeklatschers. You'll find thousands of German foodies, all eager to help and to talk about all things German, especially these yummy foods. 
Meet with us around Oma's table, pull up a chair, grab a coffee and a piece of Apfelstrudel, and enjoy the visit.

Learn how to make German Roasted Pork Hocks (Pork Knuckles) anytime you want something traditionally German and wonderfully delicious! A hearty Oktoberfest meal for any time of the year!

This confetti salad is a great variation of German potato salad that makes a complete lunch dish. This colorful salad is such a wunderbar statement dish that will amaze everybody..with it's taste too!

What is Grow.me and why should you join it? There are several real reasons for using Grow with benefits for you, the reader. And yes, benefits for me too :)
*  *  *  *  *
PIN to SAVE this recipe to your Pinterest board!
And let's be friends on Pinterest!
---
Black Forest Dessert made Just like Oma
By
Oma Gerhild Fulson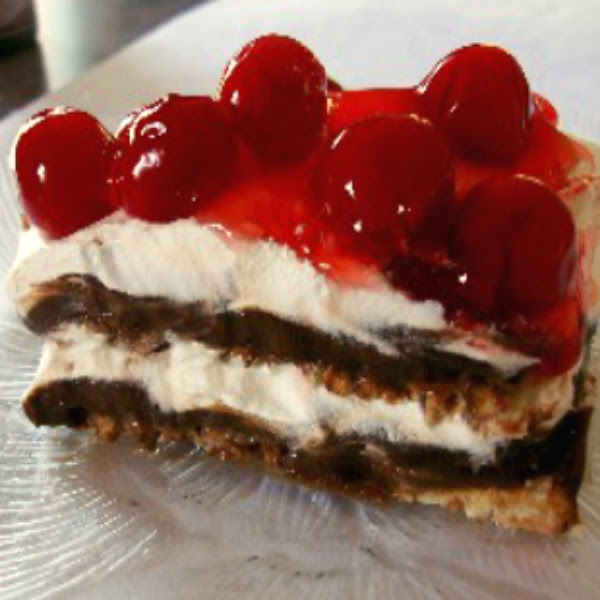 This Black Forest Dessert is among the quick easy dessert recipes. It uses soda crackers, instant chocolate pudding, and Cool Whip. Top it off with Cherry Pie Filling. Delicious!
Ingredients:
unsalted soda crackers,
chocolate pudding,
cool whip,
milk,
cherry pie filling,
For the full recipe, scroll up ...
Words to the Wise
"When the storms of life come, the wicked are whirled away, but the godly have a lasting foundation."
Proverbs 10:25 (NLT)