Oma's Traditional Black Forest Cake Recipe ❤️
➤ by Oma Gerhild Fulson
FTC Disclosure: Making a purchase via a link on the page? I may earn a small commission on the transaction - at no added cost to you. Thanks!
Yum
This traditional Black Forest Cake recipe, aka Schwarzwälder Kirschtorte, is one of the easier ones to make. This is one of those great German cake recipes that has become world famous because it is so delicious! 
Kirschwasser is drizzled over the sponge cake layers and also added to the cherries. Topped with whipped cream, chocolate shavings, and cherries, the Black Forest Cake is as beautiful to look at as it is to eat. WUNDERBAR!

❤️ Oma's Traditional Black Forest Cake Recipe
Ingredients: Cake
6 eggs, separated
¾ cup plus 2 Tbsp granulated sugar
1 package vanilla sugar
⅔ cup all-purpose flour
½ cup corn starch
½ cup cocoa
Filling and Decoration
1 jar (720 ml) pitted sour cherries or 1 can pitted cherries
4 tsp corn starch
1 package vanilla sugar
2 cups whipping cream
1 Tbsp powdered sugar
2 packages Dr. Oetker Sahnesteif (Whip It) 
2 Tbsp Kirschwasser (cherry liqueur) optional
¼ lb chocolate shavings/sprinkles
Instructions:
Preheat oven to 350° F.
Prepare 10-inch springform pan by lining bottom of pan with parchment paper.
Beat egg whites, slowly adding sugar and vanilla sugar, until stiff.
Mix egg yolks with 2 Tbsp lukewarm water. Gently fold into stiffly beaten egg white mixture.
Mix together flour, corn starch, and cocoa. Sift over egg white mixture. Fold in gently.
Pour into prepared springform pan, gently leveling top.
Bake 30 - 40 minutes until wooden pick inserted in center comes out clean.
Cool in pan for 10 minutes. Invert onto cake rack and remove pan. Remove parchment paper. When cake is cold, cover and let stand overnight (or a few hours) before filling.
Cut cake into 3 layers.
Drain cherries, saving liquid.
Mix cornstarch and vanilla sugar into cherry liquid and bring to boil. Once thickened, remove from heat and add cherries (saving a few for decoration). Let cool.
Whip cream, slowly adding Dr. Oetker Sahnesteif and powdered sugar, until cream is whipped firm (DO NOT OVER-WHIP - you'll make butter!).
Drizzle Kirschwasser over cake layers.
Place bottom cake layer onto cake platter. Place springform pan edge around cake (will help cake remain neat while filling). Place half of cherry mixture on top. Add 2nd cake layer. Pour rest of cherry mixture over cake. Spread some whipped cream over cherry mixture. Add third layer. Press down slightly until levelled. Let cake sit in fridge for about 2 hours. (Refrigerate remaining whipped cream!)
Remove springform edge. Place some whipped cream into pastry bag with a fluted tip. Cover cake with remaining whipped cream. Pipe rosettes on top of cake. Decorate with cherries and chocolate shavings. Chocolate sprinkles are nice around the edge as well.
Hints:
Want a really EASY version of this cake. Try this easy German Black Forest Cherry Cake -- this one uses a chocolate cake mix, whipped cream, and cherry pie filling.
Something a bit different? Try Black Forest Cherry Dessert -- uses soda crackers, cherry pie filling, and chocolate pudding. It's REALLY, REALLY good! (I know it sounds strange!)
A traditional Black Forest Cake has ½ cup cherry brandy (Kirschwasser) sprinkled over the cake layers after they are baked. As well, about 1 Tbsp of cherry brandy is added to the whipped cream.
You can make your own vanilla sugar.


---
Schwarzwälder Kirschtorte, literally translated as "Black Forest Cherry Cake", originated in the Black Forest region of Germany. Josef Keller of the Cafe Ahrend in Bad Godesberg in 1915 is credited with its creation.
Traditionally, a dessert of cherries, cream, and Kirschwasser (cherry liqueur) on a chocolate sponge cake base, this Black Forest Cake recipe (and very many variations) is now famous throughout the world.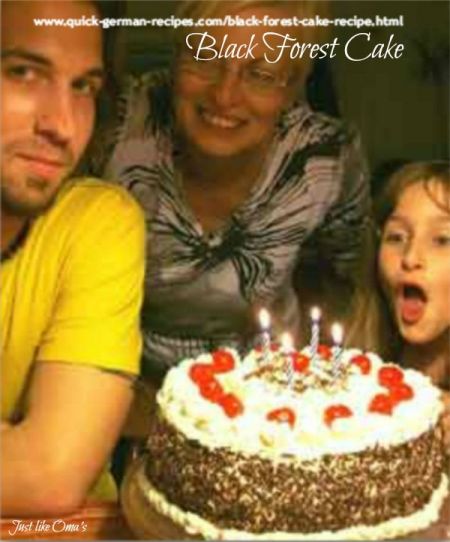 The maraschino cherries are an Americanized addition to this traditional Black Forest Cherry Cake served at my granddaughter's birthday over 10 years ago.
Additional notes on making Black Forest Cake
You may wish to use 3 cups of whipping cream with 3 packages of Dr. Oetker Sahnesteif (Whip It) to have enough whipped cream to do piping. It all depends on how thick you add the whipped cream to the layers. 
Note that the cake should be baked the day before it is filled, so take that into your "time" consideration. It should also be refrigerated about 2 hours before serving.
Even though it takes some time, this IS the cake to make that will impress your guests with your culinary skills.
Want a quick, easy Black Forest Cake?
For a quick and easy version, check out Easy German Black Forest Cake -- this one uses a chocolate cake mix, whipped cream, and cherry pie filling. It's easy and delicious and QUICK! Our family favourite - a very easy Black Forest Cake recipe.
By the way, that's me above, with our granddaughter, Alana, and her birthday cake.
The handsome young man?
Well, that's Richard, our youngest son. You can read about his culinary escapades in Rich's Meals.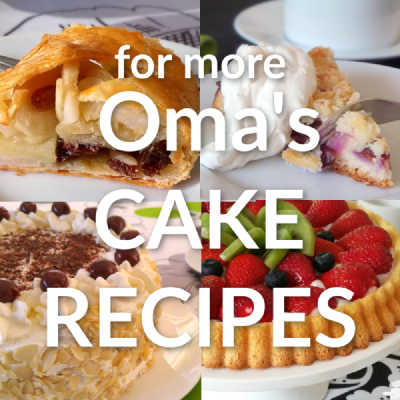 *  *  *  *  *
Thinking of starting your own Handmade Business?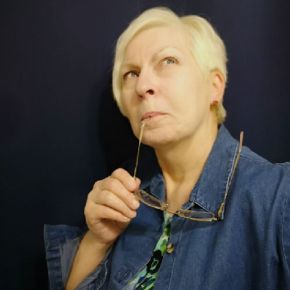 This Oma KNOWS you CAN do it.
How do I know?
Well, if I can do it, anyone can.
I've even figured out how I can help you.
I've teamed up with my own business coach, Renae Christine (yes, do google her!), to bring you this free masterclass. After you watch it, ask me any questions and I'll gladly answer them.
Don't hesitate. I'm not sure how long Renae will keep this free masterclass available.
PS:  Yes, Renae really is as amazing as all the reviews say.
PPS: Yes, the course is for handmade items, but I've used it successfully for my cookbooks. I know others are using her methods for services, direct sales, and even a local ice cream bar & grill that's constantly selling out. You've nothing to lose by taking a look ... and a whole bunch to gain.
*  *  *  *  *
Oma's Cookbooks (downloadable & print)
*  *  *  *  *
Want nutritional information for a recipe?
Copy and paste the ingredient list and the number of servings into Calorie Count. 
It will give you an approximate calculation.

Need help doing conversions
between cups and grams or any such thing?
Use this site to give you all the different conversions for the different types of ingredients. 
---
PIN this ...

---
Words to the Wise
"A hard worker has plenty of food, but a person who chases fantasies has no sense."
Proverbs 12:11 (NLT)
---
Oma's Traditional Black Forest Cake Recipe ❤️


By
Oma Gerhild Fulson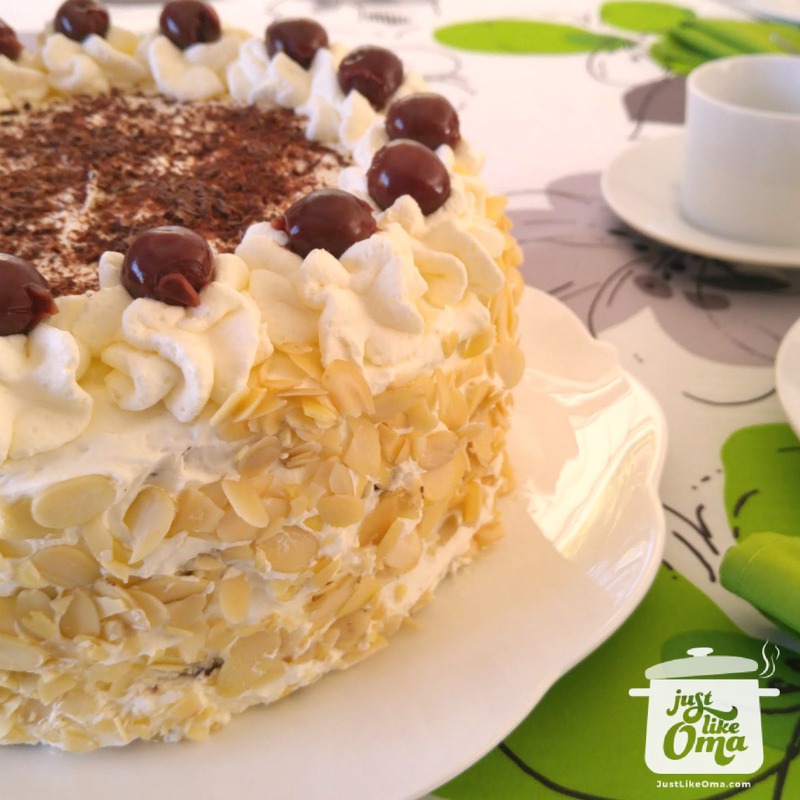 This traditional Black Forest Cake recipe is one of the easier ones to make. Make it for your birthday child. Make it for your Kaffeeklatsch. Make it just for hubby and you. WUNDERBAR!


Prep Time: 30 minutes

Cook time: 30 minutes

Yield:
8 - 10 servings

Ingredients:
6 eggs,
3/4 cup sugar,
2/3 cup flour,
1/2 cup corn starch,
1/2 cup cocoa,
1 jar sour cherries,
2 cups whipping cream,
For the full recipe, scroll up ...