Authentic Black Forest Cake Recipe – German Schwarzwälder Kirschtorte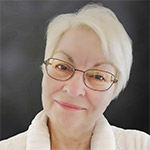 by: Gerhild Fulson  /  Cookbook Author, Blogger, German Oma!

This post may contain affiliate links, which means I'll receive a commission if you purchase through my links, at no extra cost to you. Please read full disclosure for more information.
This authentic Black Forest cake recipe is THE traditional German chocolate cake, Schwarzwälder Kirschtorte. With its layers of chocolate sponge cake, kirsch-permeated cherries and whipped cream frosting, it truly is a delightful dessert.
This version is one of the easier ones to make, so even if you're not an experienced baker, you can enjoy this world-famous treat any time you wish.
To be authentic, Kirschwasser is drizzled over the delicious chocolate cake layers and also added to the cherry filling. Topped with whipped heavy (whipping) cream, chocolate shavings, and cherries, this Black Forest cake is as beautiful to look at as it is delicious to eat. WUNDERBAR!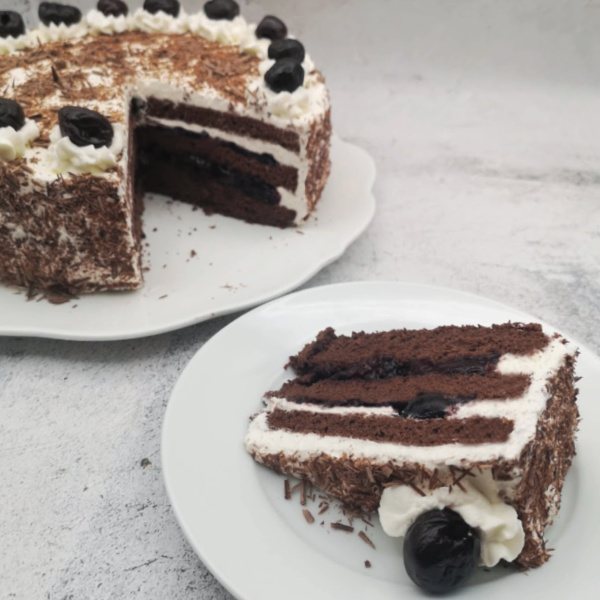 I like topping my Black Forest Cake with jarred sour cherries. Using them in the filling is perfect. With the added cherry brandy ... OH SO GOOD!
However, you can be as creative as you wish. Instead of using chocolate sprinkles, pour some chocolate ganache over the top and let it drip down the sides. Decorate with whipped cream and cherries. Voilà! Elegance is served.
Really modern is to serve it 'naked'! That means nothing on the sides (that means 'naked'). Just some whipped cream on top with cherries.
Below, I've decorated it with sliced almonds on the sides and jarred sour cherries on top, a rather non-traditional way. Or, make it totally traditional with chocolate shavings surrounding the sides and fresh cherries on top of the cake.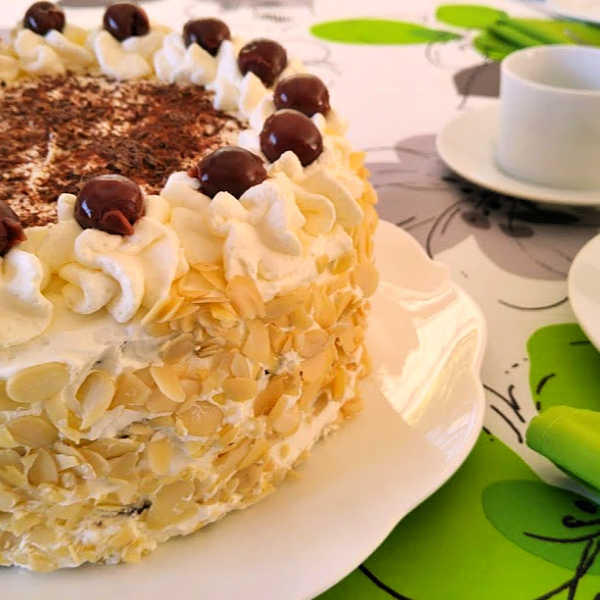 Why is it called Black Forest Cake?

The easy answer could be that it's from the Black Forest region of Germany. (That's in Baden-Württemberg in southwestern Germany). That may be true or not.
No actual record of this cake's origin exists. There are several theories, however.
One is that the Schwarzwälder Kirschtorte, literally translated as "Black Forest Cherry Torte", takes its name from the distinctive kirsch liquor (Schwarzwälder Kirsch or Kirschwasser) that is made from the Black Forest sour cherries.
Another gives the credit for this delicious cake to Josef Keller of the Cafe Ahrend in Bad Godesberg in Bonn, in 1915.
Whichever it is, this rich dessert is now world-known as one of Germany's most recognizable and best loved cake.

Oma says ...
By the way, that's me below, many, many, many years ago, with our oldest granddaughter, Alana, and the first time she had an authentic black forest cake, minus the kirsch. To amp up the cherry flavor, I used some cherry juice, a great alternative when serving this cake to children.
The handsome young man?
Well, that's Richard (aka Eran), our youngest son. You can read about his culinary escapades in Rich's Meals.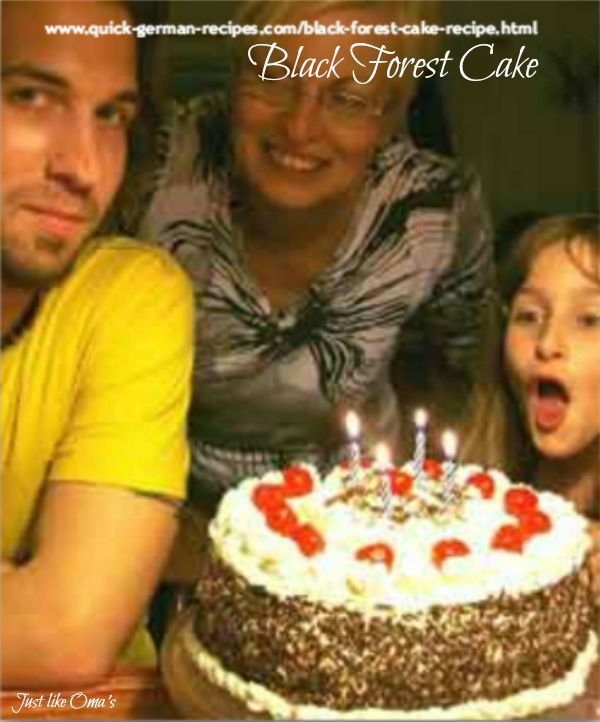 This is one of the first photos I place on this website, many, many years ago. This was actually my first attempt at a Black Forest cake. The recipe below has changed slightly as I've improved it, trying to make it as simple as possible.
Using maraschino cherries is an Americanized addition to this, my first authentic Black Forest  cake recipe was served for my granddaughter, Alana's fourth birthday ... many, many years ago.
Maraschino cherries have become the staple topping for Black Forest cakes throughout much of the world. However, that's not the case in Germany. Schattenmorellen (Morello sour cherries) are used in the filling as well as the deco on top.
---
Want an easy and quicker recipe for Black Forest Cake?
If you're looking for something that is quicker to make, and yes, easier, then take a look at this one.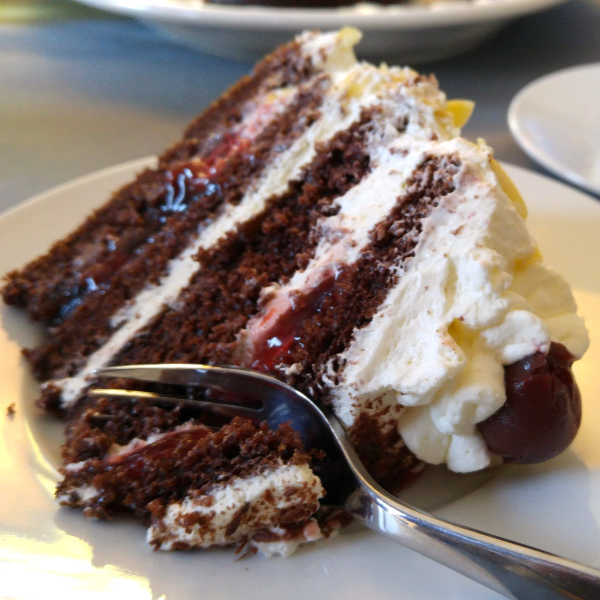 Go to recipe >
Easy, because it uses a cake mix, cherry pie filling, and whipped cream. Yummy as well, even if not identical to the one that's made from scratch. But it will satisfy those Black Forest Cake cravings when you're in a hurry.
---
Additional notes on making Black Forest Cake from scratch:
NOTE: The cake needs at about two to four hours of resting time, so take that into your "time" consideration. The cake could be baked the day before filling as well.
Even though it takes some time, this IS the cake to make that will impress your guests with your culinary skills. And, it really is quite simple to make. Just follow it step-by-step.
Grab your copy of Oma's favorites in her Special Occasion German Cakes & Tortes e-Cookbook.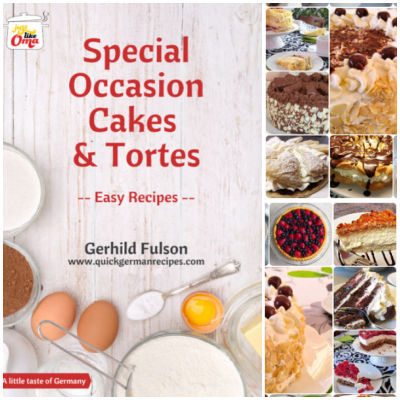 Take a peek at all Oma's eCookbooks. They make sharing your German heritage a delicious adventure!
Here's how to make Oma's Black Forest Cake 
First, as always, gather your ingredients and pre-measure each. That way you know you have what you need when you need it :)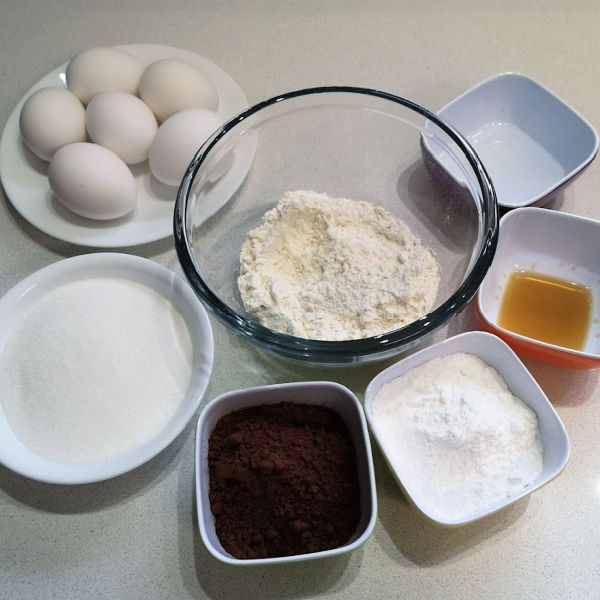 Mix the dry ingredients together. That sounds simple, yes. Actually, this whole recipe is simple :)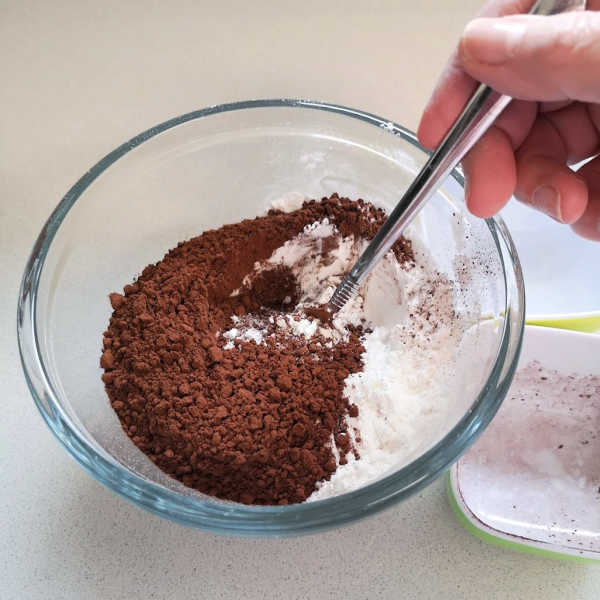 Whip the egg whites until they form stiff peaks. Make sure you use very clean beaters and bowl, since even the tiniest hint of grease will not let the egg whites whip.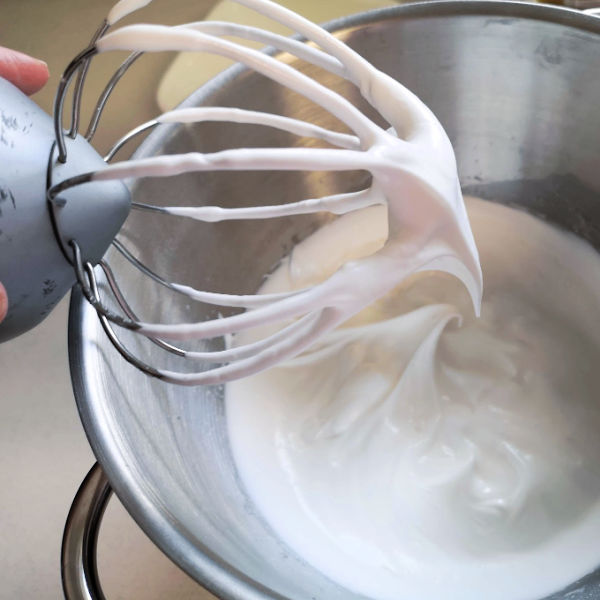 Mix the egg yolks and water together. If you are using vanilla extract instead of vanilla sugar, add it to the egg yolk mixture.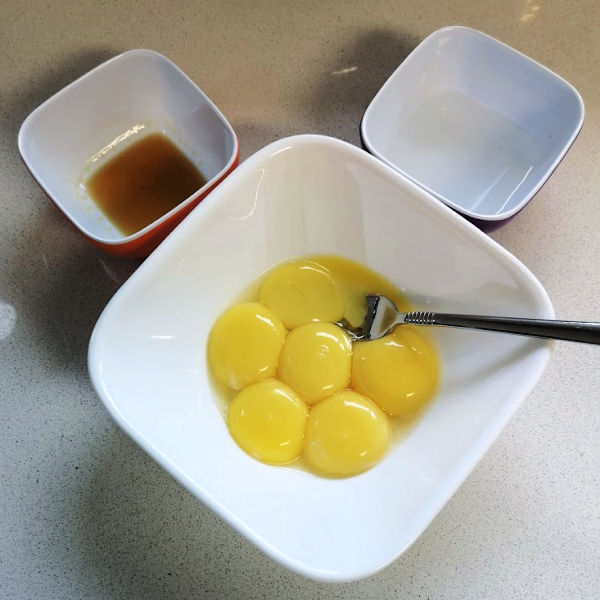 Slowly pour the egg yolk mixture into the whipped egg whites.
Do this gently and then gently fold them together. You want to deflate the egg whites as little as possible.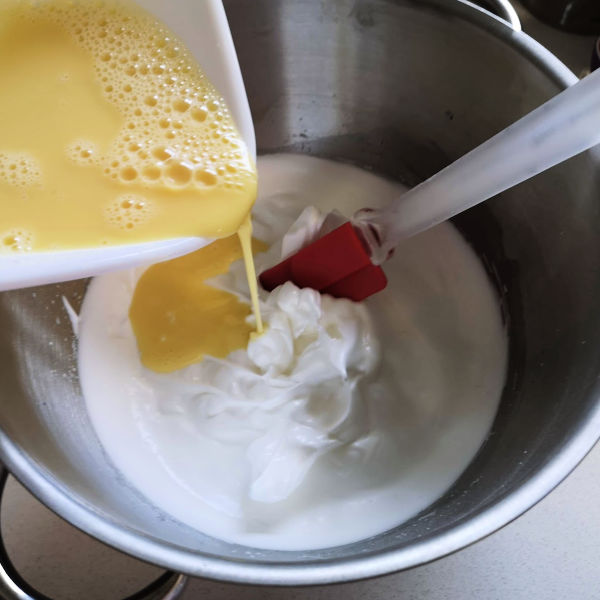 Once you've folded the eggs together, sift the dry ingredients over the top. I find using a sifter the easiest, but if you don't have one, then just use a sieve. Remember, I said this is simple.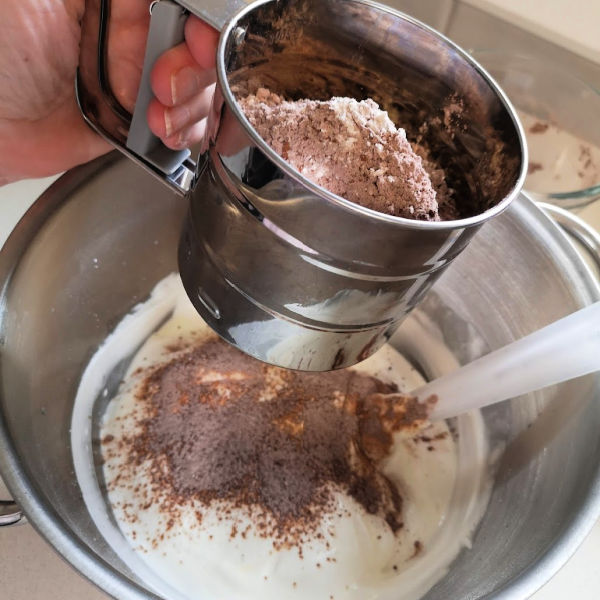 Gently fold the dry ingredients into the whipped egg mixture. Do this by using a flat spatula or a hand whisk. Run it around the edge of the bowl and reach to the bottom of the bowl, pulling ingredients over each other until mixed. Try to deflate the batter as little as possible.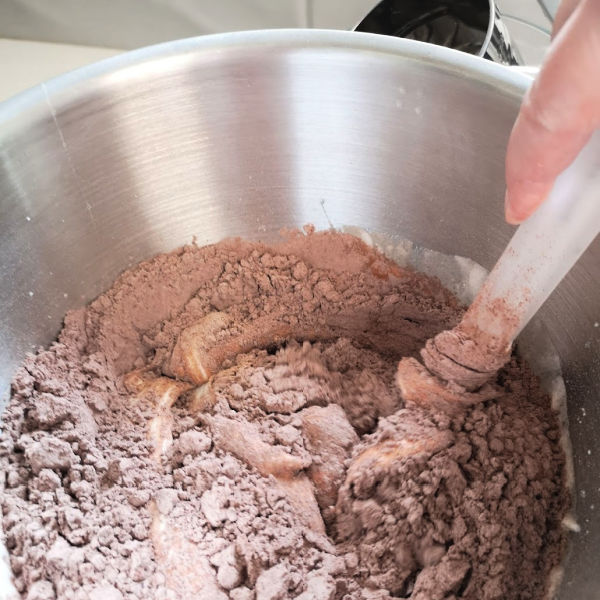 Once mixed, pour it gently into a parchment-paper lined springform pan and level the top with an offset spatula.
Now it's ready for the oven. See, that was simple!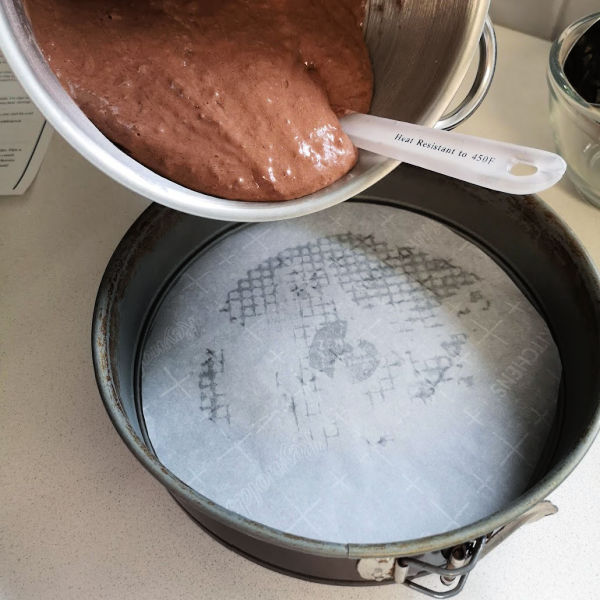 Once baked, let it cool for about 10 minutes in the pan, then remove the outer ring. Once completely cold, invert and remove the bottom of the pan and peel off the parchment paper. 
Now it's time to cut this into three layers. But first, put three wooden toothpicks into the side. This way, it's easy to align the layers once it's time to put them back together.
An easy way to cut these layers is to use a special cake cutting tool, such as a cake leveler slicer kit. I brought a kit back from Germany on one of my trips. It works great as long as the cake is not still warm and freshly baked. It works perfect if the cake is nice and cold or baked the day previous.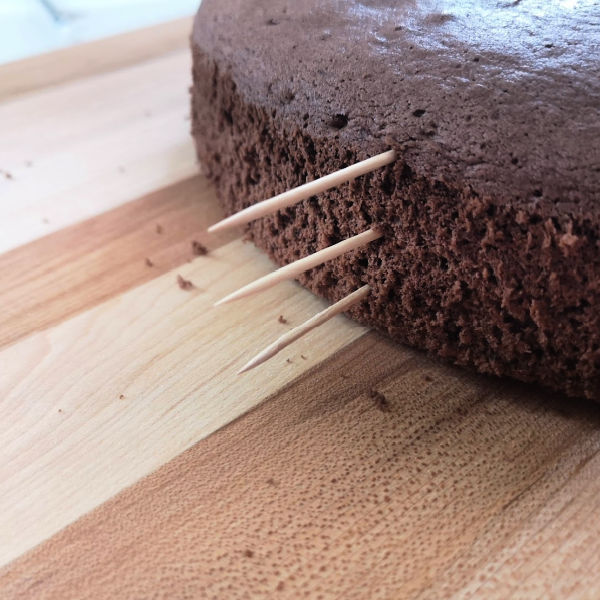 While you were waiting for that cake to cool, it's the perfect time to get that yummy Black Forest cherry filling made. This way it has time to cool down completely before you need it. Add some kirsch brandy if you'd like to amp up the flavor!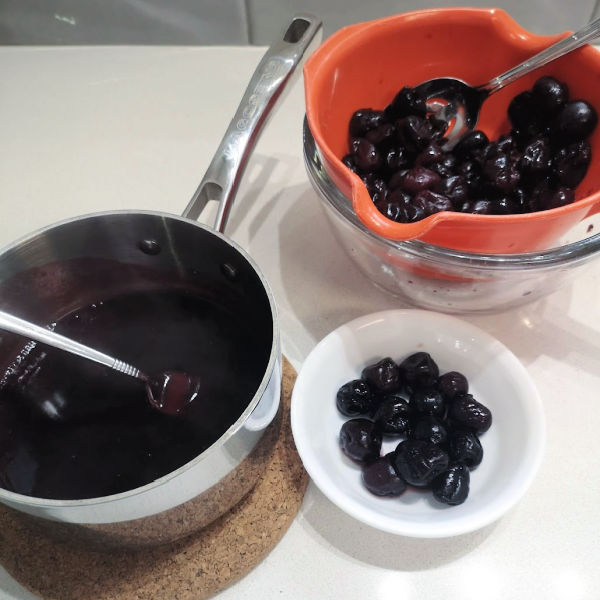 Place the bottom layer on a cake serving plate. Put strips of waxed paper or parchment paper under the edges so that the plate will stay nice and clean during your decorating process.
Now spray that bottom layer, and all the other layers, with some kirsch brandy. If you don't have a spray bottle, then you can just drizzle it over with a spoon.
Whip the heavy cream together with Dr. Oetker's Sahnesteif aka Whip It. Set it in the fridge until you are ready to use it. Oh, if you wish, you can add a tablespoon of cherry brandy just as you come to the end of whipping the cream.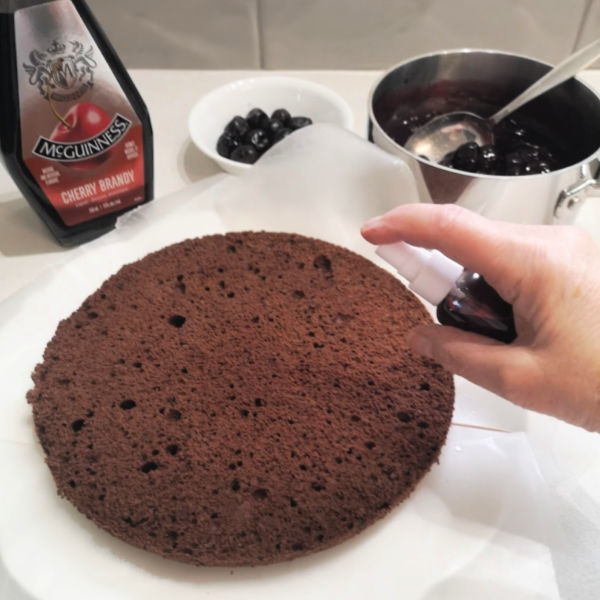 Either use the springform ring or a cake ring (as I have in the photo below) and place it around the bottom layer. Tighten it so that there is no gap between the cake and the ring.
Oh, if you used those wooden toothpicks, put a mark on the waxed paper where that bottom pick is and remove the pick in order to put that ring on. 
Pipe a row of whipped cream around the outside edge. Put half the cherry filling in the middle.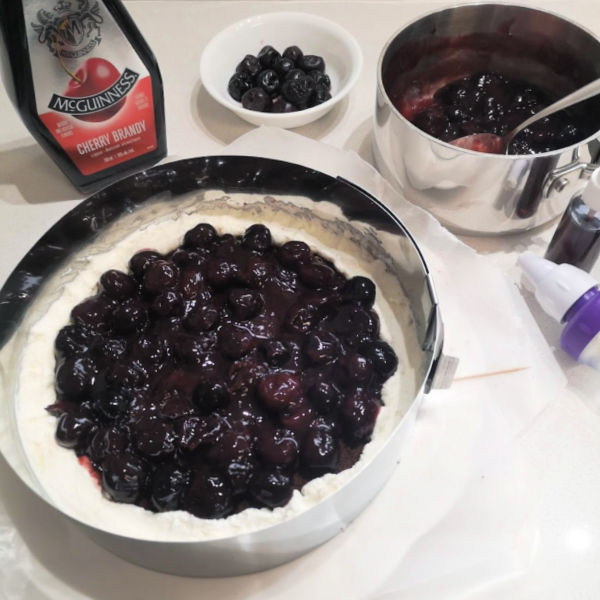 Repeat with the second layer, lining up its wooden pick with the mark on the waxed paper and removing the pick as you add that layer. Spoon any remaining whipped cream over the cherry layer.
Place the top layer on top, lining it up as well, and press down slightly. Cover with plastic wrap or a cake dome and place in the fridge to chill thoroughly.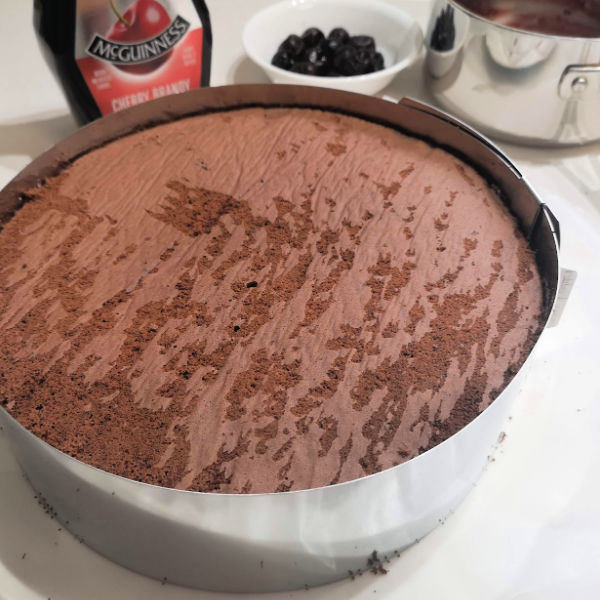 Whip the remaining heavy cream with the stabilizer and spread it thinly over the whole cake as a skim coat. If you're keeping the cake 'naked', don't spread any on the outside edge.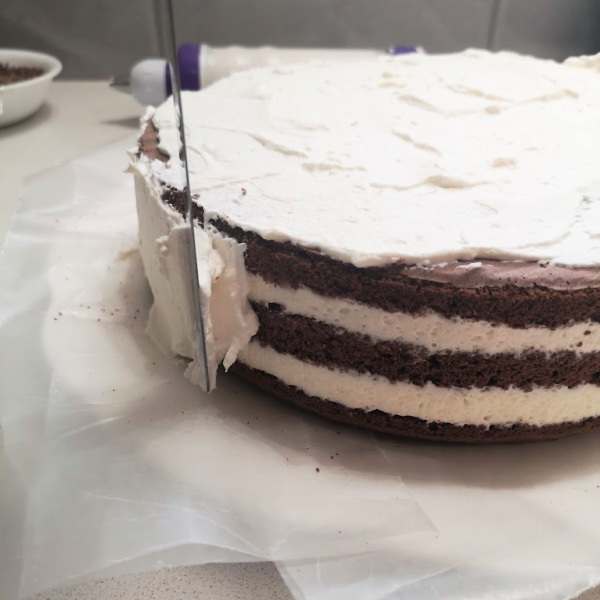 Using your hands, press the chocolate shavings over the sides of the cake. Sprinkle the remaining shavings over the top. Pipe whipped cream rosettes around the top edge and place a cherry on each. 
Your Black Forest cake is ready to serve. 
See, that wasn't that difficult, was it. 
Oh, for fun, mist each cake slice with some extra cherry brandy just before you serve them.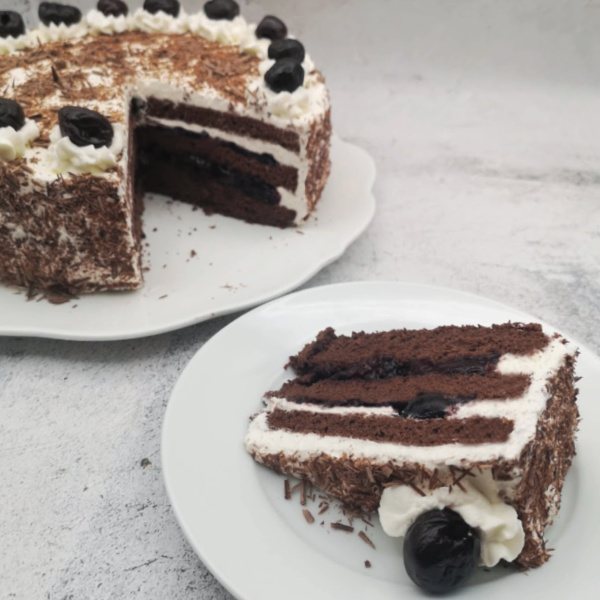 Don't forget to mist the pieces with some extra cherry brandy!
Want a quick & easy Black Forest Cake?
For a quick and easy version, check out my really Easy Black Forest Cake -- this one uses your favorite chocolate cake mix, heavy (whipping) cream, and cherry pie filling. It's easy and delicious and QUICK! A very easy Schwarzwälder Kirschtorte recipe that's simple enough for beginner bakers (or if you're in a real hurry.)
Ready to bake your authentic Black Forest cake recipe?
Is the recipe below locked? Here's why.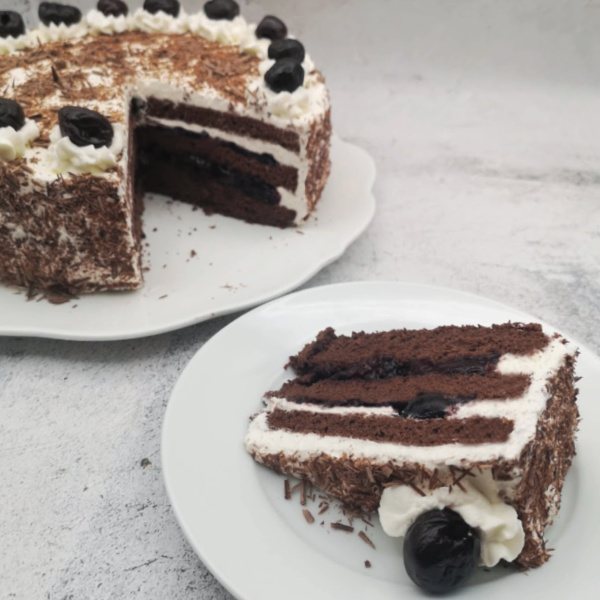 Authentic Black Forest Cake Recipe – German Schwarzwälder Kirschtorte

This authentic Black Forest cake recipe is the traditional German chocolate cake, Schwarzwälder Kirschtorte. With its layers of chocolate cake, kirsch-permeated cherries and whipped cream, it's a decadent dessert! This version is one of the easier ones to make, so you can enjoy this world-famous treat any time you wish. (Drizzle Kirschwasser over the cake layers and added to the cherries if this is for adults.)

Prep Time


1 hr


Bake Time


30 min


Total Time

5 hr 30 min

Servings:

Makes 16 slices
Ingredients:
For the cake:
6 large eggs, separated
⅞ cup (175 grams) granulated sugar
2 teaspoons (8 grams) vanilla sugar
2 tablespoons (30 milliliters) lukewarm water
⅔ cup (87 grams) all-purpose flour
½ cup (64 grams) cornstarch
½ cup (42 grams) cocoa powder
Filling and Decoration:
1½ 24-ounce (680-gram) jars pitted morello sour or tart whole cherries 
4 teaspoons (11 grams) cornstarch
2 teaspoons (8 grams) vanilla sugar 
3 cups (720 milliliters) heavy (whipping) cream, divided 
3 pouches DR. OETKER Whip It (Sahnesteif)
3 tablespoons (39 grams) granulated sugar or to taste, divided
3 tablespoons (30 milliliters) kirschwasser (cherry liqueur or cherry brandy), divided, optional
4 ounces (113 grams) dark chocolate shavings
Instructions:
For the cake:
Preheat oven to 350°F (180°C). Line the bottom of a 10-inch springform pan with parchment paper and set aside. Do NOT grease the sides of the pan.
In a large mixing bowl, beat egg whites, slowly adding sugar and vanilla sugar, until stiff peaks form. 
In a small bowl, mix egg yolks with water. Gently fold into stiffly beaten egg white mixture. 
In another bowl, mix together flour, cornstarch, and cocoa. Sift over egg mixture. Fold in gently and pour the cake batter into the prepared springform pan, leveling the top. 
Bake 30 to 40 minutes until a wooden pick inserted in the center comes out clean. Cool in pan for 10 minutes. Run a knife around the outer ring to loosen the cake. Remove outer ring and invert onto wire rack. Remove parchment paper. When the cake is cold, cover with a towel and let stand for about 2 hours before filling. 
For the filling:
Drain the cherries, saving the liquid. Measure the cherry liquid and add water or juice to make 1¼ cups and pour into a small saucepan. Add in cornstarch and vanilla sugar. Bring to boil over medium heat, stirring constantly, about 1 – 2 minutes. Once thickened, remove from heat. Add 1 tablespoon of Kirschwasser, if using.
Put 16 nice cherries into a bowl and set aside. Add remaining cherries to the saucepan, stir, and let cool. 
Whip 1 cup of cream with 1 pouch Whip It according to package instructions, adding 1 tablespoon granulated sugar once peaks start forming.
To assemble the cake:
Cut the cake into 3 layers. Drizzle kirschwasser over cake layers.
Place bottom cake layer onto a serving plate. Put a cake ring (or springform ring) around the cake. Pipe a row of whipped cream along the top edge of the layer. Spread half the cherry mixture within the cream circle. Add second cake layer and repeat piping with whipped cream and fill with the rest of the cherries. Spread the remaining whipped cream over the cherries. Add third cake layer. Press down slightly until level. 
Cover with plastic wrap or a cake dome and let cake sit in the fridge for about 2 hours. 
Whip the remaining 2 cups of cream with 2 pouches Whip It according to package instructions, adding 2 tablespoons granulated sugar once peaks start forming.
Remove cake ring. Put some whipped cream into a pastry bag with a fluted tip. Cover top and sides of the entire cake with remaining whipped cream. Pipe 16 rosettes on top. Decorate with cherries. Pat the chocolate shavings around the side of the cake.
Notes/Hints:

You can replace the vanilla sugar with 1 teaspoon vanilla extract and add that to the egg yolks.
Can't find morello cherries? Use any other jarred sour cherries or canned pitted dark cherries. I've also used thawed frozen cherries. 
You can add a bit of cherry syrup to the filling to amp up the cherry flavor.
Use a vegetable peeler to shave chocolate curls from room temperature best quality dark chocolate bar.
I love using sliced almonds to decorate. It's not traditional but it tastes so good!
Traditionally, the Schwarzwälder kirschtorte has up to half a cup of kirschwasser (cherry liqueur or cherry brandy) sprinkled over the baked cake layers. You can also add one tablespoon of kirschwasser to the whipped cream. 
Want a really EASY version of this cake. Try this easy German Black Forest Cherry Cake -- this one uses a chocolate cake mix, whipped cream, and cherry pie filling.
Something a bit different? Try Black Forest Cherry Dessert -- uses soda crackers, cherry pie filling, and chocolate pudding. It's REALLY, REALLY good! (I know it sounds strange!)
You can make your own vanilla sugar.
*  *  *  *  *

Unless otherwise noted recipe, images and content © Just like Oma | www.quick-german-recipes.com

05.05.2022 revision update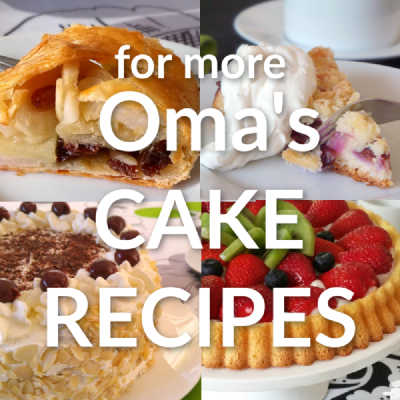 Leave a comment about this recipe or ask a question?

Pop right over to my private Facebook group, the Kaffeeklatschers. You'll find thousands of German foodies, all eager to help and to talk about all things German, especially these yummy foods. 
Meet with us around Oma's table, pull up a chair, grab a coffee and a piece of Apfelstrudel, and enjoy the visit.

Cooking just like Oma, making those German meals, is actually quite easy. Let me, Oma Gerhild, help you with my step-by-step methods to re-create those yummy meals you remember from your Oma.

If you're looking for tasty, traditional, and easy German cake recipes (in English) to try, then you've come to the right place! Check out these lecker treats!

Discover the ultimate German schnitzel recipe with Oma's quick and easy method - perfect for any occasion! Taste the authentic flavors of Germany today.
*  *  *  *  *
PIN to SAVE this recipe to your Pinterest board!
And let's be friends on Pinterest!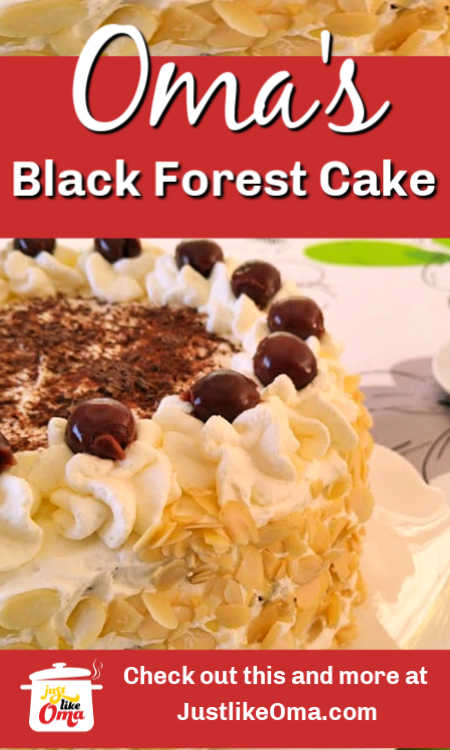 Words to the Wise
"A hard worker has plenty of food, but a person who chases fantasies has no sense."
Proverbs 12:11 (NLT)