Oma's German Blitz Torte Recipe – Lightning Cake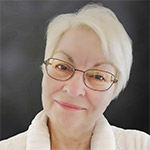 by: Gerhild Fulson  /  Cookbook Author, Blogger, German Oma!

This post may contain affiliate links, which means I'll receive a commission if you purchase through my links, at no extra cost to you. Please read full disclosure for more information.
This German Blitz Torte recipe is such a quick and easy cake to make! Even though this recipe looks long and complicated, it isn't. Blitz Torte can be whipped together quickly with ingredients you probably already have on hand and the results are yummy!
I'm including two recipes for different fillings: My Mutti's custard one and my (Oma's ... that's me!) whipped cream one. Check out both and you decide!
For something even more special, add strawberries or other berries to the filling. Decorate this German Blitz Torte with whipped cream and more berries - a real treat! Yes, this is a quick German recipe at its BEST!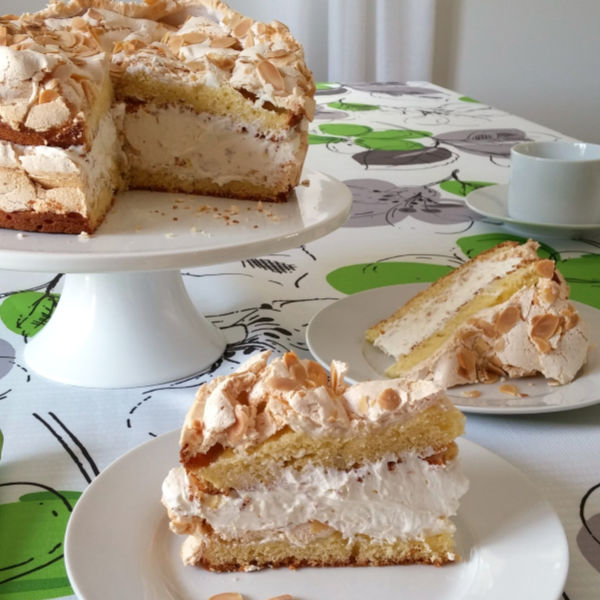 Blitz Torte aka ...
There are so many different names for this cake (or ones very similar) such as Berliner Luft Torte (Berlin Air Torte), Himmelstorte (Heaven's Torte), Tausenblättertorte (Thousand Leaves Torte), Jensen Torte, Jensen Hansen Torte, and even Schwimmbadtorte (Swimming Pool Torte)!
Personally, I like Blitz Torte, which is what I grew up with. Why? Blitz means lightning or with lightning speed, and that's what this cake is. Speedy to make! And, speedy to eat! 
Grab your copy of Oma's favorites in her Special Occasion German Cakes & Tortes e-Cookbook.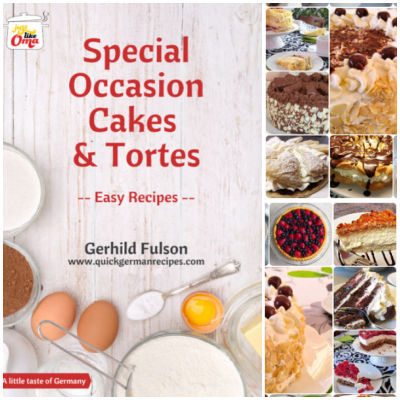 Take a peek at all Oma's eCookbooks. They make sharing your German heritage a delicious adventure!
Changing Mutti's recipe ...
Below is the first time I made Mutti's Blitz Torte and filled it with whipped cream. This is the only way I've made it since then! So easy and so good!
I use a cake ring to put around the layers when I'm 'building' the final cake. Keeps everything nice and contained. Not necessary, but nice.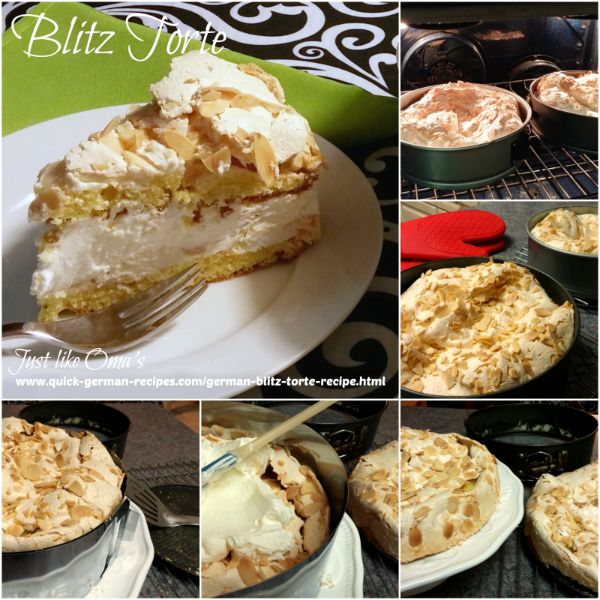 Pride comes before the fall!
This German Blitz Torte recipe is one cake that I made when I was still quite young and wanted to impress my friends. Nothing quite like showing off with a cake that looks so difficult, tastes so good, and at the same time, so easy to make.
However, I have to admit, showing off is not good. It leads to embarrassing situations. When I was eleven and staying at my Aunt's who lived on the other side of the Ontario, I figured I would show her what a great baker I was. I had this Blitz Torte recipe memorized.
So I started out. What I didn't know, though, was that there were certain rules on how to make meringue. At home I never had any problems. I always used a clean bowl and clean beaters when making this meringue recipe because my Mutti had more than one set.
At my Aunt's, I needed to reuse the beaters I had just used to make the batter. I quickly rinsed them and started to use them. My Aunt tried to tell me that I needed to really clean the beaters to make sure there was no grease of any kind on them. I told her it didn't matter. OH, how I wish I would have listened to her!
Of course, the egg whites wouldn't beat up with the contamination of the batter in them. I needed to start the meringue over with 4 new egg whites in a very clean bowl with very clean beaters. I learned my lesson on PRIDE that day!
Also, I learned to make the Meringue first and then put in the fridge. Then make the batter. No chance of contamination!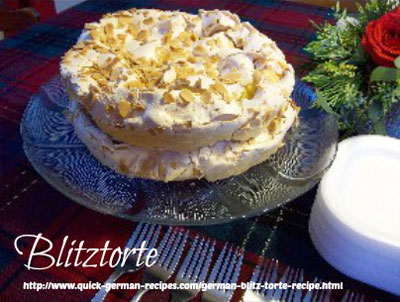 Above is my Muti's Blitz Torte recipe that has the custard filling. It's what I grew up with and is delicious. A bit more work than just using the heavy (whipping) cream filling.
You choose which you like!
---
Lydia Remembers...
I have so many wunderbar memories in the kitchen with my Oma, and have had MANY of her most popular and traditional recipes, like this German Blitz Torte! 
I'm a big fan of sweets and cakes, and Oma's blitz torte is no exception. The flavors she incorporates are just fabulous. It makes the most perfect accompaniment to a hot cup of coffee. 
The thing I love most about this cake is that it's so light! It may look thick and heavy, but it really is so light and creamy, which is always better…it just means you'll have room for more than one piece! 
Trust me, if you make this for your next family get-together, you'll be turning heads! You may hear a few "Oos and ahhs" too. ;)
Learn a little bit about me, Lydia, and my kitchen adventures with Oma!
---
Ready to make this Blitz Torte?
Is the recipe below locked? Here's why.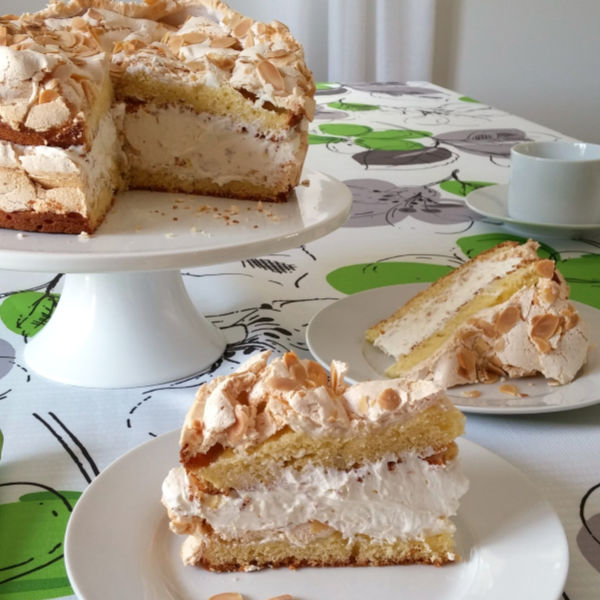 Oma's German Blitz Torte Recipe – Lightning Cake

Even though German Blitz Torte recipe looks long and complicated, it isn't. It can be whipped together quickly with ingredients you probably already have on hand and the results are yummy!
I'm including two recipes for different fillings: My whipped cream filling and my Mutti's custard filling.  Choose one! Then, make this quick cake as well to include on your dessert table.

Prep Time


40 minutes


Bake Time


35 minutes


Total Time

75 minutes + cooling time

Servings:

Makes 8 servings
Ingredients:
Meringue
4 egg whites
1 cup (200 grams) granulated sugar
⅓ tsp (1.5 grams) baking powder
½ cup (50 grams) sliced or slivered almonds
Cake
½ cup (114 grams) unsalted butter, room temperature
½ cup (100 grams) granulated sugar
4 egg yolks
¼ cup (60 ml) milk
1 cup (130 grams) all-purpose flour
¼ teaspoon (1.5 grams) salt
1 teaspoon (4 grams) baking powder
1 teaspoon (5 ml) almond extract
Whipped Cream Filling
2 cups (480 ml) heavy (whipping cream) 
2 pouches of Dr. Oetker's Sahnesteif (Whip It)

2 tablespoons (26 grams) granulated sugar or to taste
1½ - 2 cups fresh raspberries, sliced strawberries, blueberries, or blackberries (optional)
or Custard Filling

1 cup (240 milliliters) milk
2 tablespoons (26 grams) granulated sugar
1 egg yolk
1 tablespoon (8 grams) corn starch
1 tablespoon (14 grams) butter
½ teaspoon vanilla or almond extract
Instructions:
Meringue
Preheat oven to 325°F (160°C). Grease and flour 2 9-inch layer pans with removable bottoms. Set aside.
In a bowl, beat egg whites until frothy with soft peaks. Gradually beat in sugar and baking powder until glossy and stiff peaks form. Place in fridge until ready to use.
Cake
In a bowl, cream butter and sugar. Beat in egg yolks.
In another bowl, mix together flour, salt, and baking powder. Add to butter mixture along with the milk and almond extract. Mix well.
Spread batter into pans. It will be a thin layer of batter. Use a wet spoon to help spread it out.
Spread the meringue over batter in each pan. Sprinkle the meringue with almonds.
Bake the cakes until the meringue is set, about 35 to 40 minutes. Cool in pans on a wire rack. Remove cakes from pans and cool fully.
Finish Cake:
Make filling (see below).

Place one cake on a serving plate with the meringue side up. If you have a cake ring, place it around the cake.
Spread filling on layer on top of the meringue. Add a layer of berries, if using.
Place the other cake on top with its meringue side up. Carefully remove cake ring, if using.
Decorate with whipped cream, if desired. Keep refrigerated. Use a serrated bread knife or an electric knife to cut the cake.
1. Whipped Cream Filling

Whip the cream with Whip It according to package instructions, adding sugar once peaks start forming. 
2. Custard Filling Filling
Mix milk, sugar, and corn starch together. Bring to boil, stirring constantly.
Remove from heat. Pour some of the hot milk mixture into the egg yolk and mix. Pour egg mixture back into rest of hot milk and return to heat and bring just to boiling point.
Remove from heat and add butter. Cool and add almond or vanilla extract.
Notes/Hints:

*  *  *  *  *

Unless otherwise noted recipe, images and content © Just like Oma | www.quick-german-recipes.com

07.25.2022 revision update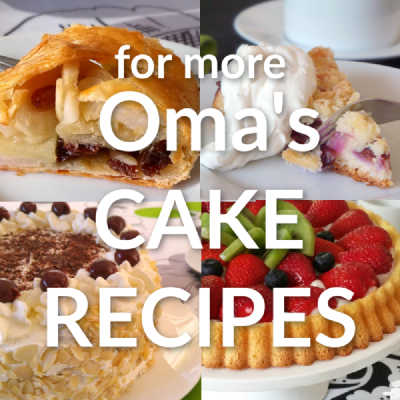 Leave a comment about this recipe or ask a question?

Pop right over to my private Facebook group, the Kaffeeklatschers. You'll find thousands of German foodies, all eager to help and to talk about all things German, especially these yummy foods. 
Meet with us around Oma's table, pull up a chair, grab a coffee and a piece of Apfelstrudel, and enjoy the visit.

Cooking just like Oma, making those German meals, is actually quite easy. Let me, Oma Gerhild, help you with my step-by-step methods to re-create those yummy meals you remember from your Oma.

If you're looking for tasty, traditional, and easy German cake recipes (in English) to try, then you've come to the right place! Check out these lecker treats!

Discover the ultimate German schnitzel recipe with Oma's quick and easy method - perfect for any occasion! Taste the authentic flavors of Germany today.
*  *  *  *  *
PIN to SAVE this recipe to your Pinterest board!
And let's be friends on Pinterest!
---
Oma's German Blitz Torte Recipe ~ Lightning Cake
By
Oma Gerhild Fulson
Oma's German Blitz Torte is so quick & easy to make. Looks amazing. Tastes amazing. It's great for holidays 'cause Blitz means lightning & this IS lightning fast to make!
Ingredients:
eggs,
sugar,
baking powder,
sliced almonds,
butter,
milk,
flour,
almond extract,
heavy (whipping) cream,
Whip It (whipped cream stabilizer),
For the full recipe, scroll up ...
Words to the Wise
"The words of the godly are like sterling silver; the heart of a fool is worthless.
The words of the godly encourage many, but fools are destroyed by their lack of common sense."
Proverbs 10:20-21 (NLT)