Recipe for Roasted Chicken
Oma's Recipe for Roasted Chicken
➤ by Gerhild Fulson
My easy recipe for roasted chicken dinner, aka Brathühnchen or Bavarian 'Brathendl', is so nice for a weekend dinner. Easy enough to throw together quickly and end up with a great meal.
It's also a great way for beginners to learn how to roast chicken. Prepare the chicken, put into the pan, and into the oven. Then get the veggies ready and add them about halfway through the roasting time.
Dinner's ready!
For the full list of ingredients & detailed instructions, see the recipe card at the end of this post. But before you scroll, there's important & interesting stuff to know right below.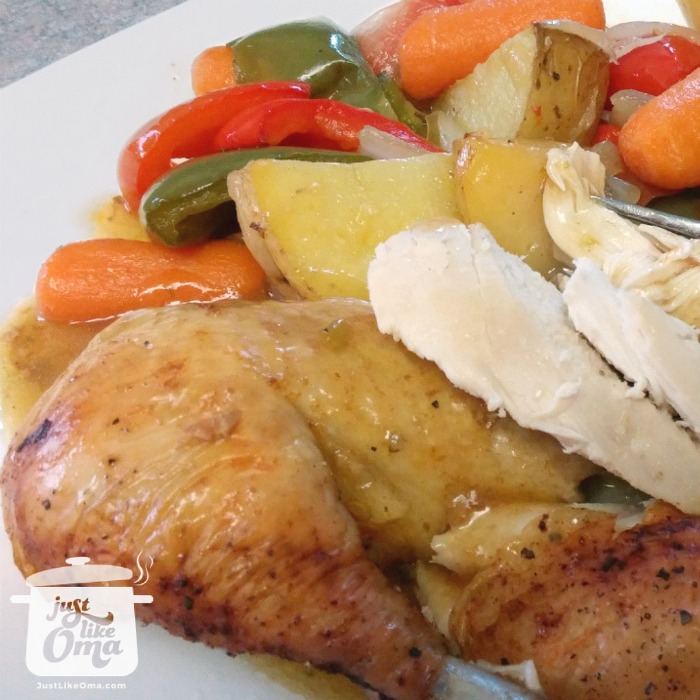 A variety of vegetables can be used. I like using carrots, red and green peppers, potatoes, and onions. Zucchini are also a nice addition. So are parsnips. Be creative. A different roast chicken dinner every time.

Below, I put two chickens into the roasting pan. That crowded the veggies and they didn't cook completely (or get browned). So, once the chickens were done, I removed them, tented them with foil, and upped the oven temp to 450°F. The veggies finished within 10 minutes.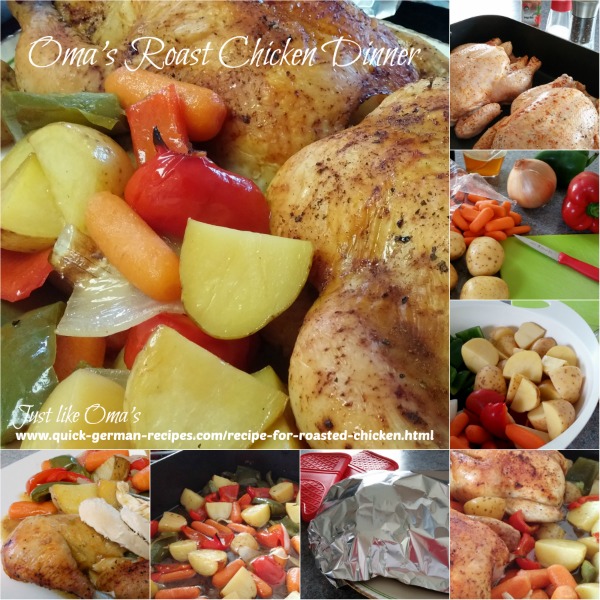 After that, I removed the veggies. I thickened the cooking liquid with a bit of cornstarch dissolved in water. Yummy gravy!
Had one for tonight, and the other one for extra meat for tomorrow. Then, both carcasses together into slow cooker for soup. Wunderbar!

There's something absolutely mouth-watering about having a German meat-and-potato dinner. Get Oma's revised collection of her favorites in German Meat Dishes.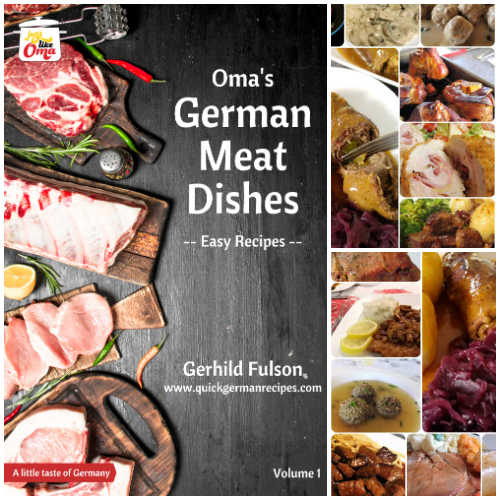 Take a peek at all Oma's eCookbooks. They make sharing your German heritage a delicious adventure!
Choosing your Chicken ...
When you buy chicken, you need to know what you will be using it for. If it's to make soup and broth, then almost any "old hen" will do.
Usually they are sold as "stewing hens" and are mature female birds, weighing about 3 - 8 lbs. The meat will be tough, but the broth - yummy.

For this roast chicken dinner, you want a young tender bird or a roasting chicken. This recipe uses a bird that's about 3 lbs.
Ready for some roasted chicken?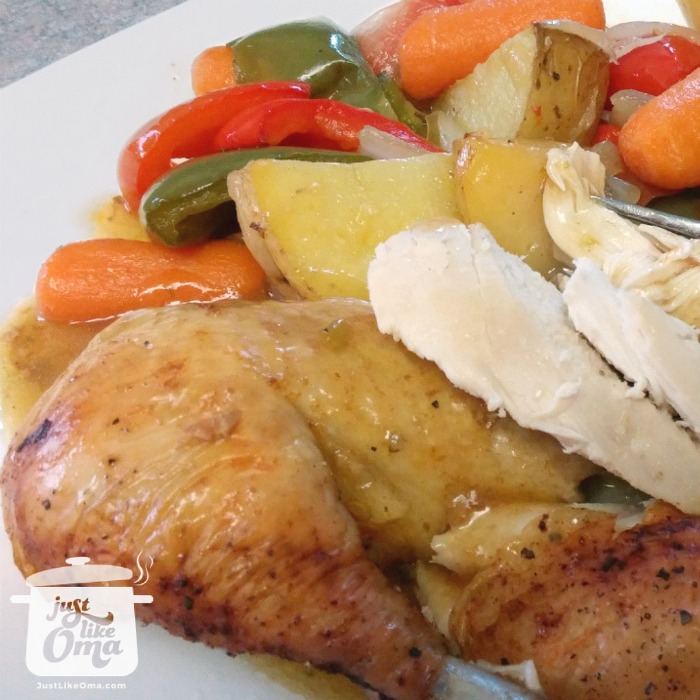 Oma's Recipe for Roasted Chicken Dinner

My easy recipe for roasted chicken dinner, aka Brathühnchen or Bavarian Brathendl, is so nice for a weekend dinner. Easy enough to throw together quickly and end up with a great meal.

Prep Time


20 minutes


Bake Time


90 minutes


Total Time

110 minutes

Servings:

Makes 4 servings
Ingredients:
1 chicken, about 3 pounds
salt, pepper, paprika
2 tablespoons butter, melted
1 bunch parsley
2 peppers, green or red
2 - 3 carrots
1 - 1½ pounds potatoes
1 large onion
1 tablespoon instant vegetable broth powder (Vegeta)
1 - 2 rosemary stems (optional)
Instructions:
Preheat oven to 400°F.
Rinse chicken and pat dry with paper towels.
Season chicken inside and out with salt, pepper, and paprika.
Brush chicken with melted butter. Place parsley into chicken cavity.
Place chicken into roasting pan and place, uncovered, in oven for about 30 minutes.
During this time, prepare vegetables.
Cut peppers into large chunks. Peel carrots and slice thickly (or use baby carrots). Peel potatoes (if desired. If not, scrub well) and cut into quarters. Peel onions and cut into wedges.
Dissolve instant vegetable broth powder in 1 cup hot water. Strip rosemary leaves from stems.
Once chicken has been roasting 30 minutes, add vegetables, broth, and rosemary.
Roast for about another 60 minutes, uncovered, or until chicken is done. Occasionally, turn vegetables during roasting.
If you wish, once the chicken is done, remove it and cover with foil to let it rest about 10 minutes. In the meantime, if the veggies aren't dark enough, just turn the oven to 450°F and continue to let them brown while the chicken rests. 
For the gravy, add about 1 - 2 tablespoons of cornstarch dissolved in a bit of cold water to the remaining liquid in the pan. Bring to boil (place the roasting pan on your stove burners) and stir until thickened. Season with salt and pepper if needed. 
*  *  *  *  *

Unless otherwise noted recipe, images and content © Just like Oma | www.quick-german-recipes.com

Leave a comment about this recipe or ask a question?

Pop right over to my private Facebook group, the Kaffeeklatschers. You'll find thousands of German foodies, all eager to help and to talk about all things German, especially these yummy foods. 
Meet with us around Oma's table, pull up a chair, grab a coffee and a piece of Apfelstrudel, and enjoy the visit.

This sour cherry cake recipe is just the one you've been searching for! It's totally German, and it's a picture perfect dessert that's certain to please. Don't wait! Try it now!

German potato dumplings, aka Kartoffelklöße and Kartoffelknödel, invoke great memories of my Mutti's Sunday dinners. Using cooked potatoes, she created these scrumptious traditional dumplings!

Oma's German schnitzel recipe (Schweineschnitzel) is great if you need something delicious that's quick to make as well. So traditionally German and so WUNDERBAR!
*  *  *  *  *
PIN to SAVE this recipe to your Pinterest board!
And let's be friends on Pinterest!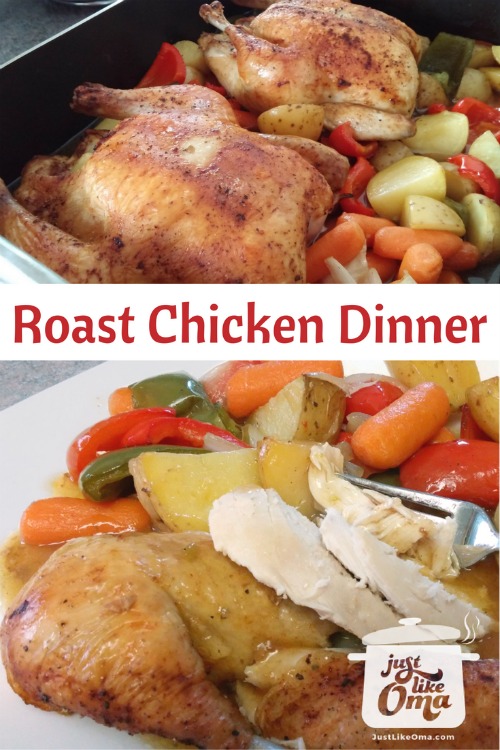 ---
Recipe for Roasted Chicken made Just like Oma


By
Oma Gerhild Fulson
This easy recipe for roasted chicken is a great way to celebrate German foods. Roasted with vegetables, it's a one-pan-meal.

Ingredients:
chicken,
seasonings,
butter,
parsley,
peppers,
potatoes,
onion,
Vegeta,
For the full recipe, scroll up ...
Words to the Wise
"Listen to the words of the wise; apply your heart to my instruction. For it is good to keep these sayigs in your heart and always ready on your lips."
Proverbs 22:17-18 (NLT)