Oma's German Meat Recipes
➤ by Oma Gerhild Fulson
FTC Disclosure: Making a purchase via a link on the page? I may earn a small commission on the transaction - at no added cost to you. Thanks!
Want German meat recipes that taste like your Oma made them? The rouladen? The schnitzel? The sauerbraten? Only, you want them easy to make? That's what you'll find here. 
I love food as much as you do. I just don't love spending too much time in the kitchen. That's why you'll find lots of traditional German meat recipes here ... made in easier and modern ways.

German Meat Recipes
Beef Recipes:
---
Pork Recipes:
Poultry Recipes:
---
Lamb Recipes:
---
Miscellaneous Meat Recipes
---
How & why I changed some of these recipes ...
German meat recipes! Nothing smelled better in Mom's kitchen than rouladen simmering on the stove. When these beef rolls were cooking, we knew company was coming!

Nothing tasted better than dunking potato dumplings in the beef gravy. BUT, the work! And the expense! Since the favorite meal for my family turned out to be roulades, I decided to do something about it.
That's how I created flatladen.  This rouladen alternative is just as delicious, but it's easy and inexpensive enough to use for weekday family meals.

Re-creating a traditional recipe into one less expensive but just as tasty was the same principle that I used for Smoked Pork Chops (Kasseler) with Sauerkraut.
The original version was almost impossible for us to have. Kasseler just wasn't readily available at our deli. But it had a special place in our memories.
So, it took an unexpected visit to my German friend's house to learn her secret. AND, she let me share it with you!

Oma says,
Not too familiar in the kitchen yet or just a beginning cook?
My instructions will teach you the basics of how to cook chicken, beef, pork, and other meats, while at the same time turning out some great meals.
Add some German side dishes, perhaps some dumplings, and red cabbage. Include a great German dessert. Hang the German flag. Put on some om-pa-pa music.  HAVE FUN!
*  *  *  *  *
Thinking of starting your own Handmade Business?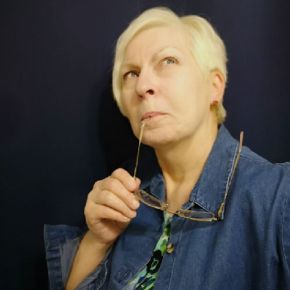 This Oma KNOWS you CAN do it.
How do I know?
Well, if I can do it, anyone can.
I've even figured out how I can help you.
I've teamed up with my own business coach, Renae Christine (yes, do google her!), to bring you this free masterclass. After you watch it, ask me any questions and I'll gladly answer them.
Don't hesitate. I'm not sure how long Renae will keep this free masterclass available.
PS:  Yes, Renae really is as amazing as all the reviews say.
PPS: Yes, the course is for handmade items, but I've used it successfully for my cookbooks. I know others are using her methods for services, direct sales, and even a local ice cream bar & grill that's constantly selling out. You've nothing to lose by taking a look ... and a whole bunch to gain.
*  *  *  *  *
Oma's Cookbooks (downloadable & print)
*  *  *  *  *
Want nutritional information for a recipe?
Copy and paste the ingredient list and the number of servings into Calorie Count. 
It will give you an approximate calculation.

Need help doing conversions
between cups and grams or any such thing?
Use this site to give you all the different conversions for the different types of ingredients. 
---
---
Make every day a SUCCESSFUL day!
"For I can do everything through Christ, who gives me strength."
Philippians 4:13 (NLT)

---