Mutti's Slow Cooker Pot Roast Recipe ❤️

➤ by Oma Gerhild Fulson
FTC Disclosure: As an Amazon Associate, I earn from qualifying purchases.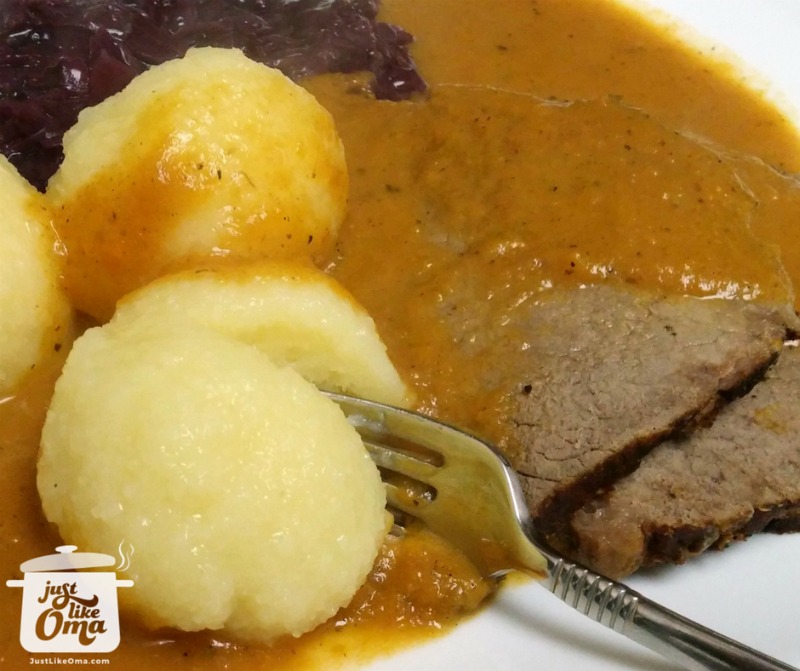 This slow cooker pot roast recipe, aka Rinderschmorbraten im Langsamkocher,  is so quick to put together in the morning. It's an easy way how to make pot roast that will have dinner ready, almost the moment you walk in the door. 
Use a beef rump roast or a chuck roast, well-trimmed of fat. A 3 to 3½ pound roast, together with the vegetables, will make about 6 - 8 servings.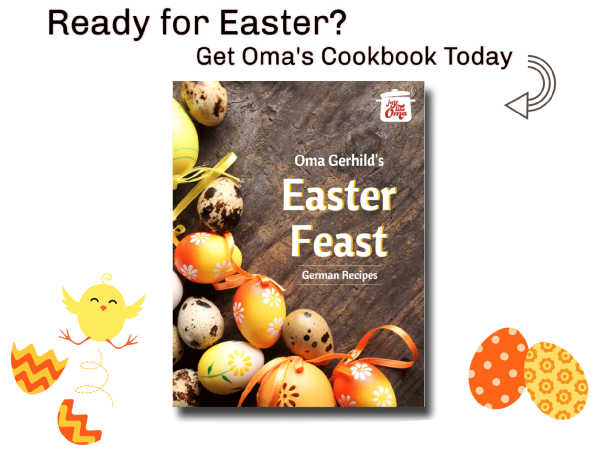 Just want to make one very important point. This may not be an original German recipe ... although it tastes like one. Why? Slow cookers are very, very uncommon in Germany!
This recipe is my Mutti's adaptations of her traditional beef roast once she got one here in Canada. 

Above, I omitted the potatoes. Then, I used my immersion blender to blend the rest of the cooked veggies into the sauce. The sauce needed a bit more thickening, so I used a bit of the corn starch slurry. So good!

I love using my new Cuisinart Slow Cooker!    (I gave away my old one!)
Not only is it a slow cooker, but it's a Multicooker!
That means it can be used to quickly brown or sauté the meat  (up to 400 °F) before setting it to slow cook (at various temps) ... and there's a 'steam' option as well!
With a 24-hour timer and an automatic Keep Warm feature, I LOVE this! You'll love using this, just like I do!

Mutti's tips on this ...
> Often, she browned the meat first when using slowcooker recipes. It does add to the flavor, but in this case, it really isn't necessary, unless you really, really want to.
> Even faster, she's put everything (except the potatoes) in the pot in the evening and keep in fridge.
> In the morning, she'd add the potatoes (pushing them to the bottom so they are covered in liquid) and then turn the slow cooker on.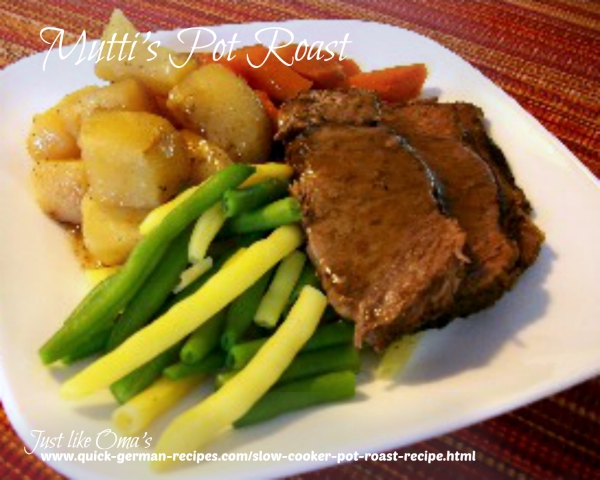 Quick crockpot recipes make it easy to have dinner ready especially on those hectic days. This pot roast is one that works great for company as well on those busy days.
Mutti's Slow Cooker Pot Roast Recipe ❤️
Ingredients:
3 to 3½ lb roast, see above

1 tsp salt or seasoning salt

¼ tsp pepper

1 onion, cut into chunks

3 - 4 carrots, peeled, cut into chunks

4 - 6 potatoes, cut into chunks

1 celery stalk, cut into chunks

1 cup beef broth

3 tbsp corn starch

Instructions:
Rub all sides of meat with salt and pepper.

Put all vegetables into bottom of slow cooker. Pour broth over vegetables.

Put seasoned meat on top of vegetables.

Cover and cook on LOW 8 - 9 hours or until meat and vegetables are tender.

Remove meat and vegetables. Pour liquid from slow cooker into saucepan and bring to simmer.

Dissolve cornstarch in ¼ cup water and slowly stir just enough into liquid until thickened.

Season gravy with salt and pepper as needed. Serve with meat and vegetables.

Hints:
Vary the quantities of vegetables according to your taste.

Use 1 bouillon cube dissolved in 1 cup water for the beef broth if needed.

Want nutritional information? Copy and paste the above ingredient list and the number of servings into Calorie Count for an approximate calculation.
Need help doing conversions between cups and grams, etc.? Use this site to give you all the different conversions for the different types of ingredients.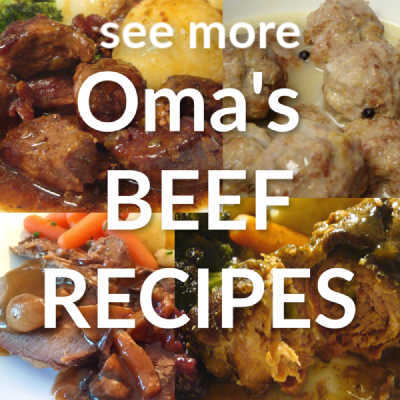 Leave a comment about this recipe or ask a question?
Pop right over to my private Facebook group, the Kaffeeklatschers. You'll find thousands of German foodies, all eager to help and to talk about all things German, especially these yummy foods. 
I pop in all the time as well, to chat and to answer questions. 
Meet with us around Oma's table, pull up a chair, grab a coffee and a piece of Apfelstrudel, and enjoy the visit.
*  *  *  *  *
Want nutritional information for a recipe?
Copy and paste the ingredient list and the number of servings into Calorie Count. 
It will give you an approximate calculation.

Need help doing conversions
between cups and grams or any such thing?
Use this site to give you all the different conversions for the different types of ingredients. 
---
PIN this ...

---
Dyeing Easter eggs naturally using common foods such as coffee, cabbage, onions, and tea will transform the eggs into a rainbow of colors. Either hang or hide them

Cheese Spätzle is a traditional German noodle dish. A sort of Germanized version of 'Mac & Cheese', only better!
---
Words to the Wise
"Fools make fun of guilt, but the godly acknowledge it and seek reconciliation."
Proverbs 14:9 (NLT)