Oma's Traditional Sauerbraten: Slow-Cooked Marinated Beef with Gravy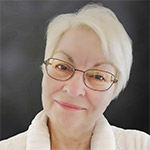 by: Gerhild Fulson  /  Cookbook Author, Blogger, German Oma!

This post may contain affiliate links, which means I'll receive a commission if you purchase through my links, at no extra cost to you. Please read full disclosure for more information.
Here's the sauerbraten recipe, a traditional German pot roast, that comes from my Mutti's own handwritten cookbook. Her recipes are special to me, full of wonderful memories, especially sitting around the dinner table enjoying these delicious feasts.
This amazing tender beef dinner is one of those. The slow cooking makes this marinated beef ever more tender. It's a traditional German meat, a favorite at home and restaurants alike. It's German food at its best!

Best of all, it's so easy to make and not a lot of work. It's one of those easy slow cooker recipes that one loves. But, you can do it on the stove top or in the oven if you wish.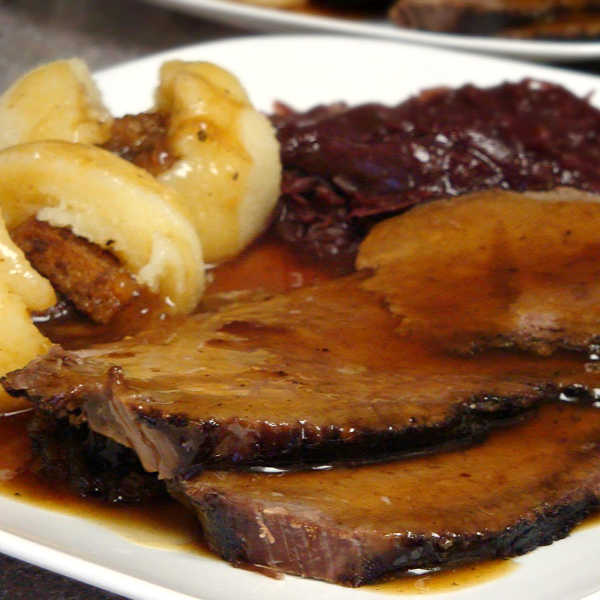 A traditional sauerbraten is easy to make, but it's NOT quick ... it takes a fairly long time to marinate and to cook. It just means that you need to do some planning to allow several days for the marinating to take place. 
But, it's SO good and SO worth the time.
What cut of meat is used for Sauerbraten?

Usually beef, such as a boneless beef chuck roast, a rump roast, or a top round roast is used for sauerbraten. Originally, horse meat was used, but that isn't common now-a days. However, a pork roast, venison, or lamb are sometimes used for this marinated german-style pot roast.
How long should you marinate the beef roast?

For most cooking, marinating normally takes from two hours to two days. For German Sauerbraten, that's not long enough!
The traditional marinating time is anywhere from three to five days. During this time, all you need to do is daily turn the meat once or twice in the marinade. The results are worth the time. 
Why do some recipes add gingersnaps?

In southern Germany, Sauerbraten is accompanied with a gingersnap gravy. Well actually, in Germany Lebkuchen cookies are used. Yes, it's the same kind of cookie that's enjoyed at Christmas.
In fact, one can buy Lebkuchen especially made for this purpose. Over in America, the easy substitute for this are gingersnap cookies. They both thicken and flavor the gravy. Some American recipes actually add brown sugar as well (???).
However, in northern Germany, Lebkuchen is seldom used. Just seasonings and cornstarch or all-purpose flour. Nothing sweet at all. It's actually the way my Mutti used to make it and is so good. It's my favorite way as well.
Are there different ways to cook Sauerbraten?
In Germany, my Mutti used to cook it on the stove top. Once she came to Canada, she converted her authentic German sauerbraten recipe to a slow cooker Sauerbraten just like she did with many of her pot roast recipes. She really LOVED her slow cooker!
Other methods to cook it are in a pressure cooker or the oven. Both are very common methods in Germany.
There's something absolutely mouth-watering about having a German meat-and-potato dinner. Get Oma's revised collection of her favorites in German Meat Dishes.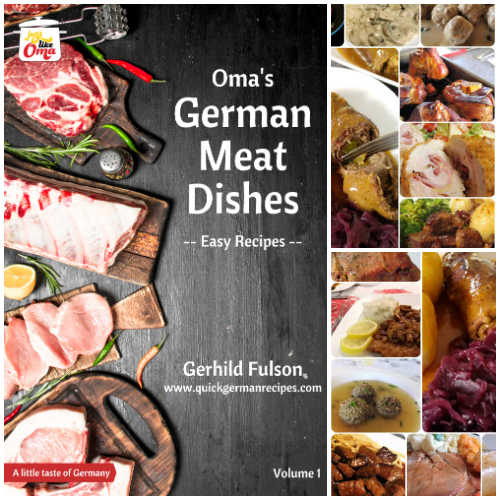 Take a peek at all Oma's eCookbooks. They make sharing your German heritage a delicious adventure!
Oma Says:

Personally, I like using my crockpot since it's something I can leave on the counter and go shopping.

One still needs to brown the meat first in order to build the flavor. Then place meat, vegetables, and broth in the crockpot. Set it and forget it until it's time to make the gravy,
But what if you've got a craving for Sauerbraten. It's already 4 o'clock and you don't have any marinated meat? Follow my recipe for making this in an Instant Pot pressure cooker and you'll have a complete meal on the table by supper.
Here, I'm just about to seal the Instant Pot pressure cooker and have dinner ready in only one hour. Wunderbar!
It won't be identical to a marinated roast, but if you've got a sauerbraten craving and want it for dinner tonight, it'll be the pressure cooker method. WUNDERBAR!

---
How to make Sauerbraten the traditional way 

The first step is to marinate the beef in a vinegar mixture. To do this, I use a Ziploc bag which makes turning the meat daily an easy task. I place that into a bowl or, as shown here, in a super large measuring cup. Why? Just in case the bag breaks!
If you wish, you can use a ceramic or glass bowl.
Put the seasoned meat into the bag. Add the vinegar, wine, bay leaves, peppercorns, cloves and onion slices. Add extra water to cover, if needed.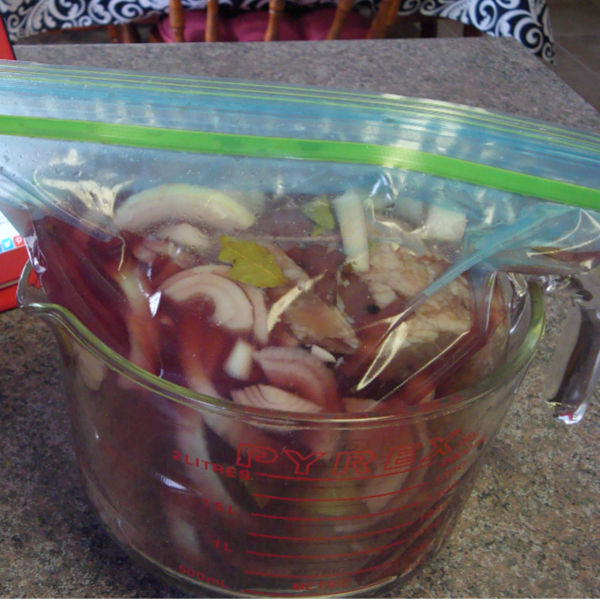 Now put the whole thing into the fridge and turn the meat, once or twice daily. Plan on doing this for 3 to 5 days for the best flavor.
Then, it's time to get a nice sear on the meat. This seals in the juices and builds flavor, not only for the meat, but for the gravy, as well.
Drain the meat, keeping the marinade. In a large saucepan, brown the meat in fat (bacon fat really is the best) on all sides.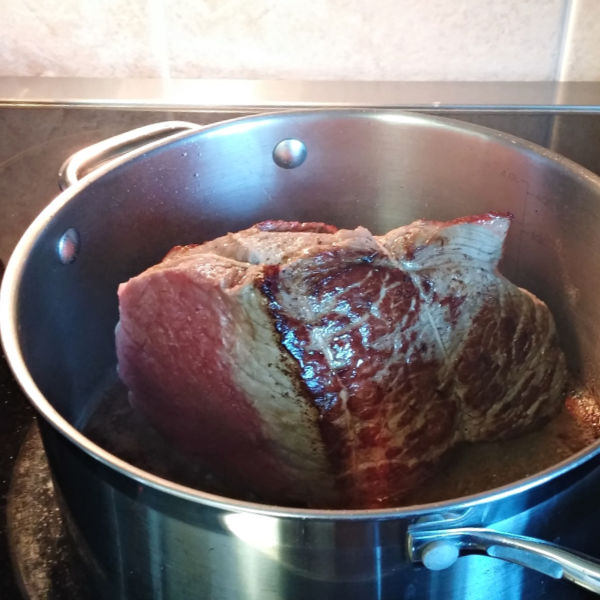 Add the carrots, onions, and celery. Brown these a bit as well.
Now, you get to choose how you want to actually cook the meat. Either, add the liquid (some marinade and some beef stock or broth) to the saucepan, cover, and simmer for about 3 hours on the stove top or into the oven at 350° for 2 to 3 hours.
Or put the meat and the rest of the contents of the saucepan, including those wonderful brown bits from the bottom into the slow cooker. Add the liquid. Cover and set for 7 to 8 hours on low. This is my favorite way and the one I learned from my Mutti.
Then it's time to make the gravy (with or without gingersnaps) and slice roast, ready to serve.
What to serve with Sauerbraten?

Potato dumplings, perfect for sopping up the wonderful gravy
Spätzle, those little homemade noodles popular in southern Germany
Egg noodles
Boiled potatoes, perfect for mashing into that gravy!
Red cabbage mades a great side, along with some applesauce
Potato pancakes make a delicious, slightly different side dish
Green salad is a refreshing addition
Ready to make Sauerbraten?
Is the recipe below locked? Here's why.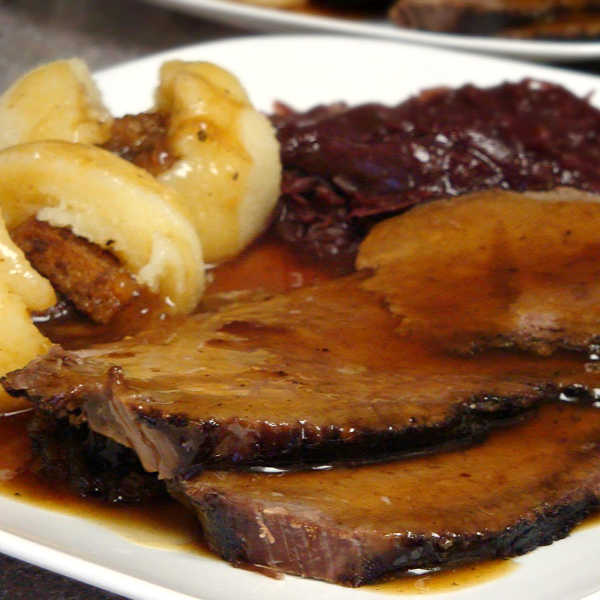 Oma's Traditional Sauerbraten: Slow-Cooked Marinated Beef with Gravy

Here's the sauerbraten recipe that comes from my Mutti's own handwritten cookbook. Her recipes are special to me, full of wonderful memories, especially sitting around the dinner table enjoying these delicious feasts.
This amazing tender beef dinner is one of those and is often served with red cabbage and potato dumplings. Choose according to your taste buds to make the southern version with gingersnaps or my favorite, the northern one without.
Prep Time


15 minutes


Cook Time


3.5 hours


Total Time

3.75 hours + 3-5 days

Servings:

Makes 8 - 10 servings
Ingredients:
4 pounds beef roast (chuck, rump, or round)
1 teaspoon salt
1 cup red wine vinegar
1 cup red wine
4 bay leaves
2 large onion, sliced
12 peppercorns
4 whole cloves
2 to 3 tablespoons bacon fat, butter, or oil for browning
2 carrots, sliced
1 rib celery, sliced
1 - 2 cups beef broth (see hints below)
For north German-style: 2 tablespoons cornstarch or for south German-style: 10 crushed gingersnap cookies
1 cup sour cream (optional)
salt and freshly ground black pepper
Instructions:
Trim any excess fat from the roast and sprinkle with salt and pepper.
Place roast in a large nonmetallic bowl, such as ceramic or glass or into a sealable plastic bag that's been placed into a bowl in case it should leak. Add vinegar, wine, bay leaves, peppercorns, cloves and one sliced onion. Add water to cover.
Tightly cover bowl (or seal bag) and refrigerate for 3 to 5 days, turning once or twice every day.
Drain meat, reserving marinade, see hints below. Wipe meat with paper towels to dry.
In a deep saucepan or a Dutch oven, put about 2 to 3 tablespoons bacon fat, butter, or oil to brown meat over medium-high heat.
Brown roast on all sides. Remove roast to slow cooker, if using, or place on a plate.
Add carrots, onions, and celery to saucepan. Brown slightly. Add 1 cup broth and 1 cup strained reserved marinade (see hints below) and stir to loosen the browned bits at the bottom.
Either pour contents of saucepan over the meat in the slow cooker, if using, or place the meat back into the saucepan, spooning some of the liquid over the meat.
For the slow cooker, cook covered on low for about 7 to 8 hours. On the stove top, simmer covered on low heat, taking about 2 to 3 hours. Or place covered in 350°F oven for 2 to 3 hours,
Remove meat and strain the cooking liquid into a small saucepan. For the north German-style, make a cornstarch slurry by mixing with a bit of cold water in a small bowl. Slowly add just enough to simmering cooking liquid until thickened for gravy. Remove from heat and stir in sour cream (if using). For the south German-style, stir in crushed gingersnaps and stirring, simmer until slightly thickened, adding a bit of cornstarch slurry if needed. Season with additional salt and pepper if needed.
Slice meat and serve with gravy and potato dumplings and red cabbage!
Notes/Hints:

You can add 1 teaspoon of juniper berries to the marinade if you wish.
Apple cider vinegar can be substituted for the red wine vinegar.
I'll often use a mix of butter and light olive oil for browning the meat.
If you don't like your Sauerbraten too sour, add 2 cups of broth instead of using any reserved marinade for the cooking stage. Then next time you make it, try adding the reserved marinade and see how you like it.
For a 'spicier' taste, remove meat from marinade the night before cooking and cover all sides thickly with mustard. Cover and continue the following day with above instructions.
You can use your pressure cooker to make a sauerbraten from beginning to end in 2 hours. 
*  *  *  *  *

Unless otherwise noted recipe, images and content © Just like Oma | www.quick-german-recipes.com

11.05.2021 revision update
---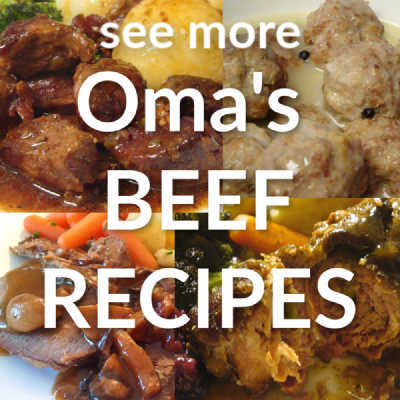 Leave a comment about this recipe or ask a question?

Pop right over to my private Facebook group, the Kaffeeklatschers. You'll find thousands of German foodies, all eager to help and to talk about all things German, especially these yummy foods. 
Meet with us around Oma's table, pull up a chair, grab a coffee and a piece of Apfelstrudel, and enjoy the visit.

Cooking just like Oma, making those German meals, is actually quite easy. Let me, Oma Gerhild, help you with my step-by-step methods to re-create those yummy meals you remember from your Oma.

If you're looking for tasty, traditional, and easy German cake recipes (in English) to try, then you've come to the right place! Check out these lecker treats!

Discover the ultimate German schnitzel recipe with Oma's quick and easy method - perfect for any occasion! Taste the authentic flavors of Germany today.
*  *  *  *  *
PIN to SAVE this recipe to your Pinterest board!
And let's be friends on Pinterest!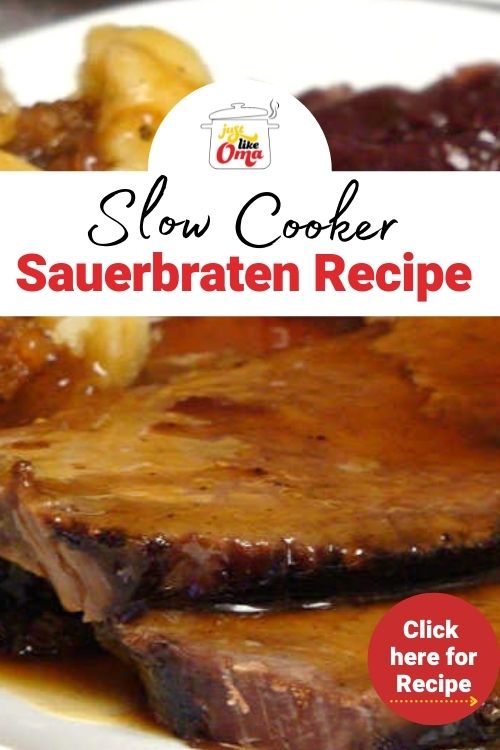 ---
Oma's Classic German Sauerbraten Recipe (Slow Cooker)


By
Oma Gerhild Fulson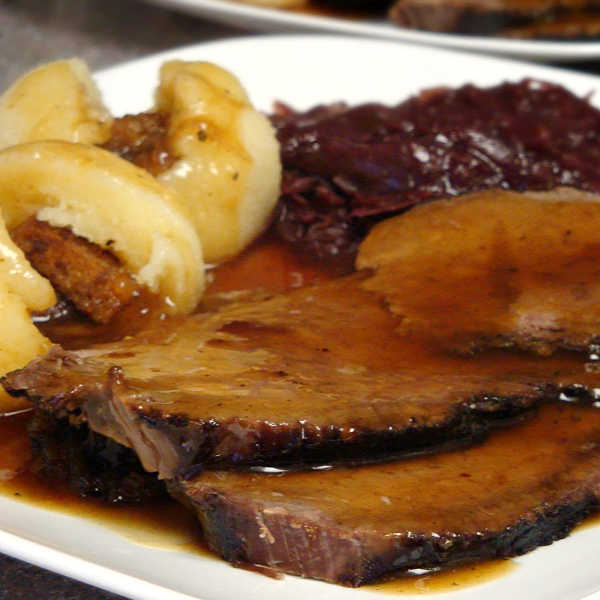 This traditional German sauerbraten recipe made in a slow cooker (or stove top) has an amazing gravy, either with or without gingersnaps. Tender flavorful meat, just like Oma makes.

Ingredients:
beef roast,
seasonings,
red wine vinegar,
red wine,
onions,
butter/oil,
carrots,
celery,
cornstarch,
sour cream,
gingersnaps (optional),
For the full recipe, scroll up ...
Words to the Wise
"Wisdom is enshrined in an understanding heart; wisdom is not found among fools."
Proverbs 14:33 (NLT)