Oma's Quick German Sauerbraten❤️
➤ by Oma Gerhild Fulson
FTC Disclosure: Making a purchase via a link on the page? I may earn a small commission on the transaction - at no added cost to you. Thanks!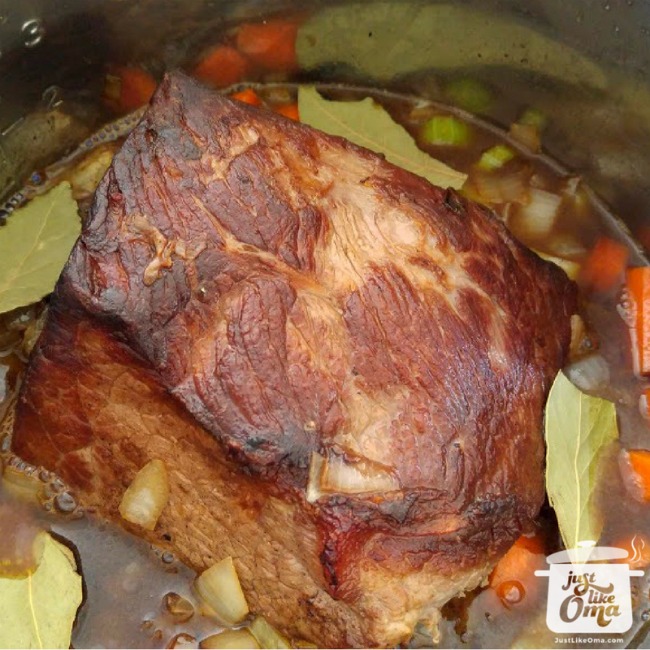 Make Oma's German sauerbraten in a pressure cooker in order to have this traditional German dinner on your table in 2 hours rather than 5 days!
And, it's WUNDERBAR!
In the photo above, I'm just about to seal the Instant Pot pressure cooker. The meat has been browned and is ready to become fork-tender in just about one hour (the pressure and release time).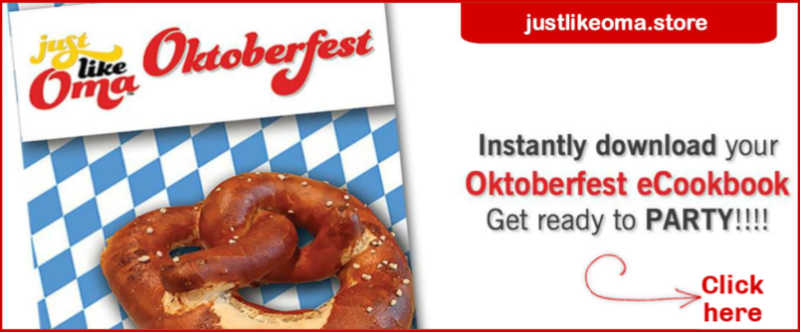 Sauerbraten can be so easy and quick to make, especially using a pressure cooker. No marinating for days.
Now, the results won't be the same in a side-by-side comparison, but if it's already 4 pm and you want dinner on the table at 6 pm, this is the one you make.
It's tender. It's got that sauerbraten flavor. What's not to love?

---
The last time I had a pressure cooker was about 35 years ago. You know, the type that makes a mess on the ceiling!
My Facebook fans let me know that the modern ones are very, very safe and so much easier to use than the old ones.

This is the one that they recommended the most: the Instant Pot Duo. It has over 18,000 reviews at 4.7/5 stars!
How could I buy anything else? Now, it's my new toy, I mean, tool. I'm having so much fun with converting German recipes.
This Instant Pot Duo combines 7 appliances in 1: Pressure Cooker, Slow Cooker, Rice Cooker, Steamer, Sauté, Yogurt Marker and Warmer. I can't believe I lived most of my life without it!
---
---
Here, I'm serving this pressure cooked sauerbraten with creamed Brussels sprouts and boiled potatoes. Traditional German dinner. Wunderbar!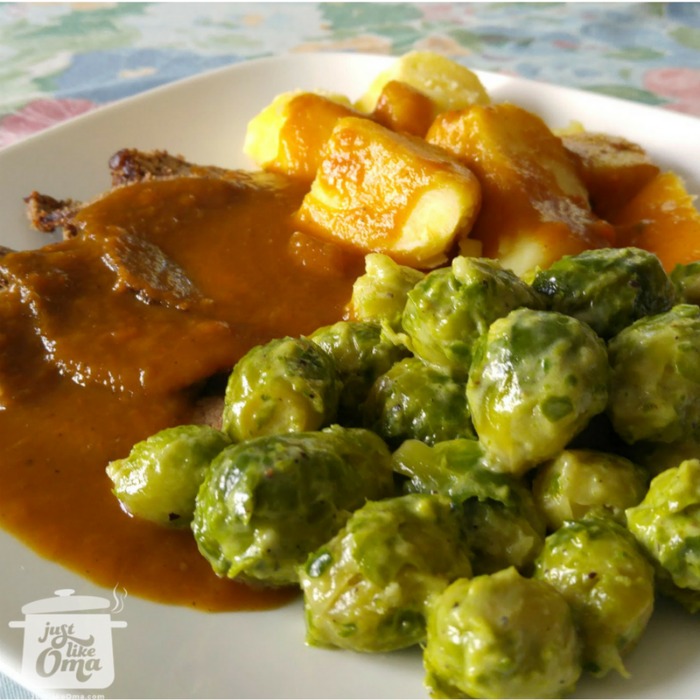 Why use a pressure cooker?
A traditional German Sauerbraten is so easy to make, but it's NOT quick ... it takes time to marinate and to cook.
One needs to plan several days for the marinating to take place. So, if you're wanting a sauerbraten dinner, but you didn't plan it in advance, using the pressure cooker will make it happen. 
That's what I did above. While the meat was cooking I cooked the Brussels sprouts and the potatoes. I even had time to catch up on my Facebook posts. I started at 4 and we ate at 6. :)
Want a traditional marinated Sauerbraten?

Here's the traditionally marinated German Sauerbraten recipe from my Mutti. She even used the slow cooker to make it easier.

Mutti loved to use her slow cooker, so she converted the traditional recipe she grew up with (the kind that marinates for days) for the slow cooker. You can check it out here. No slow cooker? I've included the instructions for stove top as well.
But, you're wanting fast, right now? Here's the Pressure cooker recipe that I'm sure will become a favorite. I've only used the Instant Pot pressure cooker, but I'm sure it will work in any other type as well.
Oma's German Sauerbraten Recipe❤️
Ingredients:
2 tbsp oil, bacon fat, or butter

approx 2 lb bottom round beef roast
2 onions, diced
2 carrots, diced
1 rib celery, diced
½ cup red wine vinegar

½ cup red wine

½ cup beef broth

4 bay leaves
salt and lots of freshly ground pepper

1 tsp granulate sugar (optional)
Instructions:
Put Instant Pot onto Sauté. Add oil, bacon fat, or butter and brown meat on all sides.
Remove meat and add diced onions, carrots, and celery and sauté for a few minutes until slightly softened.
Return meat. Add liquids and bay leaved. Sprinkle with about ½  tsp salt and lots of freshly ground pepper.
Seal Instant Pot lid and set to manual, Hi pressure, 40 minutes. 
Do a 10 minutes natural pressure release and then a quick release.
Remove meat and let rest, covered, while you make the gravy.
Use an immersion blender to blend the veggies into the cooking liquid. Season with additional salt, freshly ground pepper, and sugar (if using.) If desired, you can thicken further with a cornstarch slurry (1 tbsp cornstarch mixed with 1 tbsp cold water)
Makes 4 - 6 servings.
Hints:
If you wish you can brown the meat and veggies in a separate saucepan, deglaze with the liquids, and then put it all into the pressure cooker. Whichever is easier for you.
Omit red wine vinegar and use ½ cup red wine and 1 cup beef broth for a less sour flavor.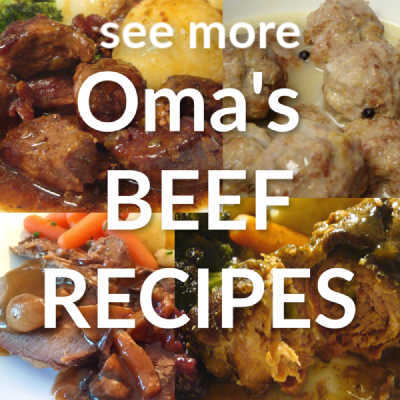 Leave a comment about this recipe or ask a question?
Pop right over to my private Facebook group, the Kaffeeklatschers. You'll find thousands of German foodies, all eager to help and to talk about all things German, especially these yummy foods. 
I pop in all the time as well, to chat and to answer questions. 
Meet with us around Oma's table, pull up a chair, grab a coffee and a piece of Apfelstrudel, and enjoy the visit.
*  *  *  *  *
Thinking of starting your own Handmade Business?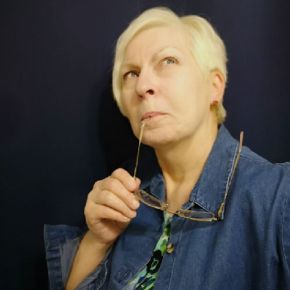 This Oma KNOWS you CAN do it.
How do I know?
Well, if I can do it, anyone can.
I've even figured out how I can help you.
I've teamed up with my own business coach, Renae Christine (yes, do google her!), to bring you this free workshop. After you watch it, ask me any questions and I'll gladly answer them.
Don't hesitate. I'm not sure how long Renae will keep this free workshop available.
PS:  Yes, Renae really is as amazing as all the reviews say.
PPS: Yes, the course is for handmade items, but I've used it successfully for my cookbooks. I know others are using her methods for services, direct sales, and even a local ice cream bar & grill that's constantly selling out. You've nothing to lose by taking a look ... and a whole bunch to gain.
*  *  *  *  *
Want nutritional information for a recipe?
Copy and paste the ingredient list and the number of servings into Calorie Count. 
It will give you an approximate calculation.

Need help doing conversions
between cups and grams or any such thing?
Use this site to give you all the different conversions for the different types of ingredients. 
---
PIN the following post so you'll be ready when you pull out your pressure cooker (I use my Instant Pot pressure cooker) to make this German sauerbraten ... 

---
These German cookie recipes in English are quick and simple recipes to delight your family and friends.

My homemade chicken rice soup recipe is one you're sure to make often. Why? 'Cause it's so easy and so good. Make a huge batch that'll feed a crowd. Or, just so you can enjoy leftovers.
---
Words to the Wise
"Wisdom is enshrined in an understanding heart; wisdom is not found among fools."
Proverbs 14:33 (NLT)
---
Oma's German Sauerbraten Recipe❤️


By
Oma Gerhild Fulson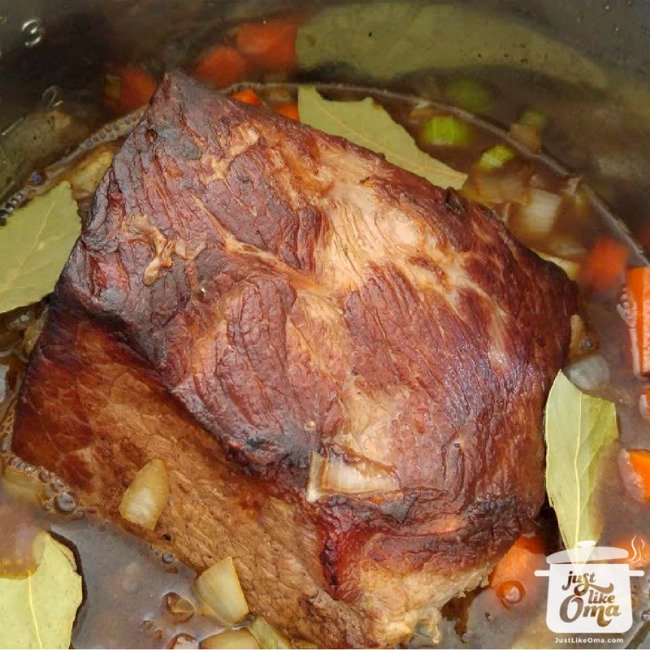 This German potato and cabbage soup, or eintopf, is so delicious on a cool autumn evening. It's traditional for the Oktoberfest celebrations.

Yield:
4 - 6 servings

Ingredients:
2 tbsp oil,
2 lb roast,
2 onions,
2 carrots,
½ cup red wine vinegar,
½ cup red wine,
½ cup beef broth,
For the full recipe, scroll up ...