German Pressure Cooker Recipes – Oma's Rezepte für Schnellkochtöpfe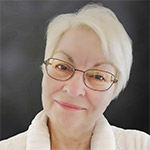 by: Gerhild Fulson  /  Cookbook Author, Blogger, German Oma!
You'll see that I don't have too many pressure cooker recipes posted yet. And there's a good reason. Using a pressure cooker to make meals is something relatively new for me. 
Below, you'll see the recipes I've enjoyed making the most. And, there's a reason for that. Many Instant Pot users use their pressure cookers for absolutely everything. From baking cake and bread, to making yogurt, to making BBQ ribs, to bone soup. And everything in between. 
Shown here, a really quick version of German Sauerbraten made in a pressure cooker takes only a couple of hours rather than days and days!
For me, though, I'll use it to make things that can't be made better any other way. And, to top that, especially in the hot summers. This pressure cooker gives off almost no heat! That means no more oven cooking when the pressure cooker will work.

Have a look at the recipes below. I'll be adding more as I convert more. Sometimes, they are recipes that are popular all over the web, yet tracing who put the original post on is an impossibility. The egg salad recipe is an example of using a technique that's so utterly simple, it's become a staple in our house.
You'll notice I preface the following heading with "Instant Pot" ... that's because it's the only brand I've used. Other brands will probably be similar in times and temps, but I can't say for certain. You'll need to experiment if you have a different brand.
Grab Oma's TOP 10 favorite German recipes using an Instant Pot (or other brand) in Pressure Cooker Recipes: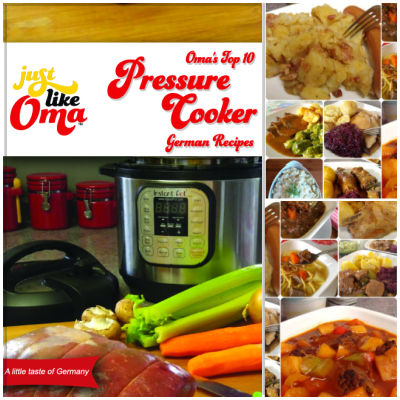 Take a peek at all Oma's eCookbooks. They make sharing your German heritage a delicious adventure!
Oma's Instant Pot Pressure Cooker Tips:
In order for the pot to come to pressure, liquid is needed. Many times, you'll put the food, either into another cooking pot (called PIP = pot in pot), put that pot or the food itself onto a trivet in the Instant Pot and add 1 cup of water into the Instant Pot. 
Make sure you follow the manufacturer's instructions carefully. Very carefully. The Instant Pot is a very safe appliance to use ... not like the ones I grew up with ... with ceiling messes :)
Don't be fooled by recipes that state: Make roast beef in 20 minutes and think that you'll have dinner ready in 20 minutes. Those 20 minutes are how long the roast beef is under pressure. However, the pot still needs to come to pressure. That may take 5 minutes. It could take 25 minutes. It all depends on the size and temperature of the beef (or whatever you are making). And, there's also the pressure release time to take into consideration. If it's a quick release, that will take just a few minutes. If it's a slow release, that could take 45 minutes.
Here's a stovetop & electric pressure cooker cooking time chart I came across that provides a good reference for most foods. Take a look here.
One of the great advantages of using a Pressure Cooker is that many recipes are just "set it and forget it" type recipes. Yes, that roast may end up taking an hour and a half, but it's time you're away from the kitchen, doing other stuff. Easy. 
Instant Pot Pressure Cooker Recipes
Leave a comment about this recipe or ask a question?

Pop right over to my private Facebook group, the Kaffeeklatschers. You'll find thousands of German foodies, all eager to help and to talk about all things German, especially these yummy foods. 
Meet with us around Oma's table, pull up a chair, grab a coffee and a piece of Apfelstrudel, and enjoy the visit.

This easy German Apple Strudel recipe is one of those German desserts that brings the traditional strudel taste to your table without all the work. Wunderbar!!

Make the perfect German Spaetzle with Oma's easy recipe! This traditional German egg noodle pairs perfectly with caramelized onions for a delicious meal.

Choose from Oma's cookbooks that are immediately downloadable & start cooking easy classic German foods tonight. Or get her newest paperback cookbook. LECKER!
*  *  *  *  *
PIN this ...

Make every day a WISE day!
Only fools say in their hearts, "There is no God."
Psalm 53:1 (NLT)