Pressure Cooker Pork Roast Recipe
Pressure Cooker Pork Roast Recipe – Schnellkochtopf Schweinebraten

➤ by Catalina
As an Amazon Associate, I earn from qualifying purchases.
Pressure Cooker Pork Roast, Schnellkochtopf Schweinebraten, is packed with flavors of garlic, soy sauce, and onions as well as bay leaves and chicken stock. 

This easy recipe does not take a long time and is really easy. In fact, you can have this on the table in a fraction of the time of a traditional pot roast. 
Pressure cooker pork roast

If this is your first time making a pork roast in the pressure cooker, you may be surprised at how fast it cooks and how tender and delicious the meat is. 

Yummy Instant Pot pork roast with potatoes and carrots and a delicious gravy, served with green beans as a side. So wunderbar!
Instead of cooking for several hours, this delicious recipe is done in less than an hour. 
The recipe is packed with flavors, tender meat is coated in a delicious gravy! A great dinner that can be made any day of the week.
If you like easy and budget friendly dinners, check this easy air fryer pork dinner, made with pork chops and cooked to crispy perfection.
Ingredients needed:

Here are the simple ingredients for this instant pot pork roast recipe. Scroll down to the recipe card for step-by-step directions and exact measurements.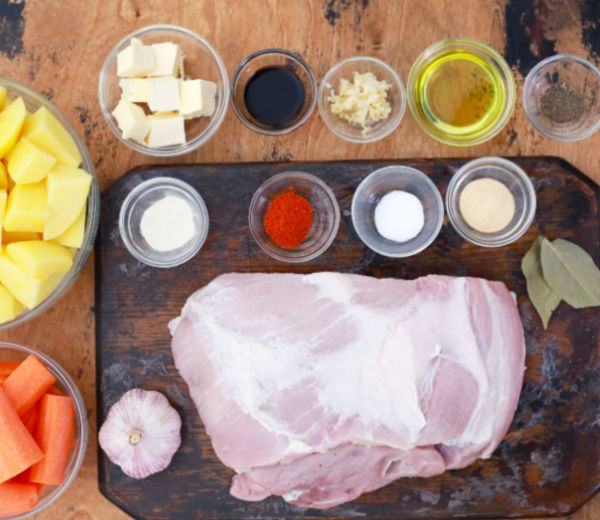 Pork shoulder 
Potatoes: Large russet potatoes, cut into large chunks.
Onion: White onion, sliced thin.
Carrots: Medium carrots, cut into chunks.
Unsalted butter
Regular soy sauce
Olive oil
Garlic: Minced cloves of garlic.
Bay leaves
Balsamic vinegar
Unsalted chicken stock
Kosher salt 
Ground black pepper 
Dry rub:
Smoked paprika
Garlic powder
Onion powder
Salt
Black pepper
Thickener:
How to make pressure cooker pork roast from scratch?

Brown pork meat: To begin, heat up your electric pressure cooker or instant pot by pressing the sauté button and adjust it to the "sauté more" function, and wait for it to read "hot."
Mix the dry rub: While waiting, mix all the ingredients for the dry rub together in a small bowl. Season the meat generously all over. 
Add oil: After, add oil to the bottom of the pot and then place the meat inside. Let it brown for five minutes on each side, only flipping once. Remove and set aside to rest for five minutes on a cutting board or cooking pan.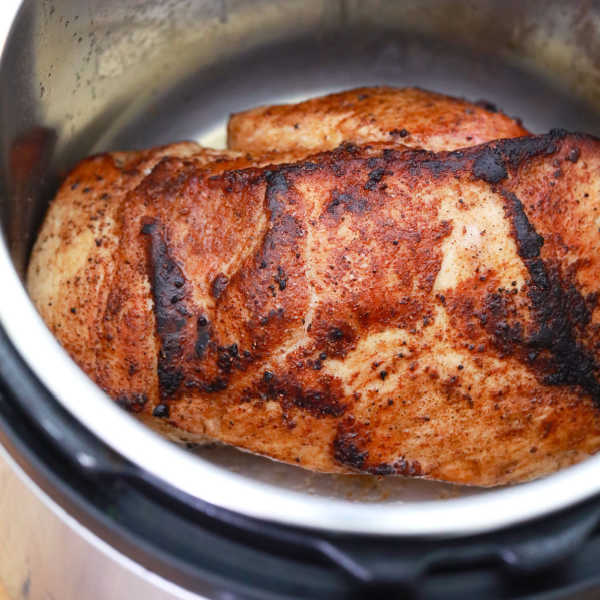 Sauté onion: Next, put two tablespoons of butter in the bottom of the instant pot and add the chopped onions, seasoning with salt and pepper. Stir with a wooden spoon and cook until they are soft. This step takes about 10 minutes but is worth the time as it enhances the flavor of the gravy.
Cut the meat: Then, slice the meat into ½ inch thick pieces.
Sauté more: Now, add the garlic and cook for 20 seconds until fragrant. Add the bay leaves and carrots. Sauté for two minutes.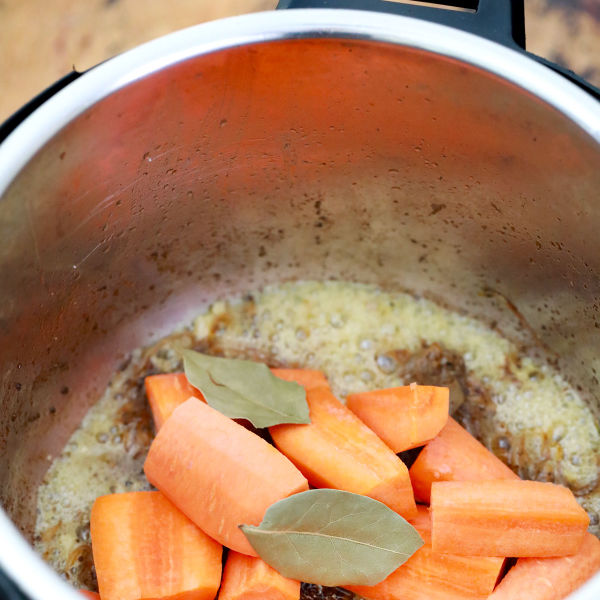 Deglaze the pot: Immediately, pour in a splash of vinegar and use the wooden spoon to deglaze. Make sure you get all the browned bits off the bottom. 
Add juices: Right away, add the soy sauce and chicken stock. Then, add the meat with potatoes on top. 
Cook: Make sure the venting knob is in the vent position before closing the lid. Then, turn the knob to seal. Cook on high pressure for 5 minutes before doing a 10-minute natural release. Make sure all the remaining pressure is out by doing a quick release before opening.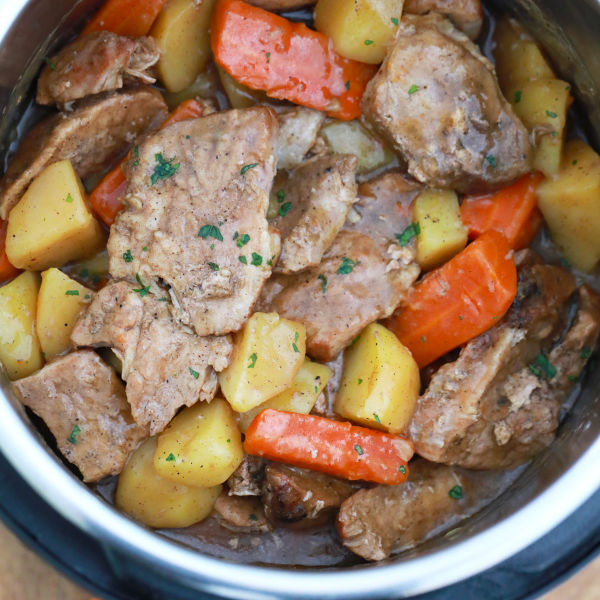 Make the gravy: After, remove the meat and vegetables to a large serving dish to let the pork rest while you make the gravy. Add the corn starch to cold water and stir it into the juice until it is thickened. 
Serve: Put the meat and veggies back in and stir gently to coat everything before moving it to a serving platter with the potatoes and carrots on the side.
Grab Oma's TOP 10 favorite German recipes using an Instant Pot (or other brand) in Pressure Cooker Recipes: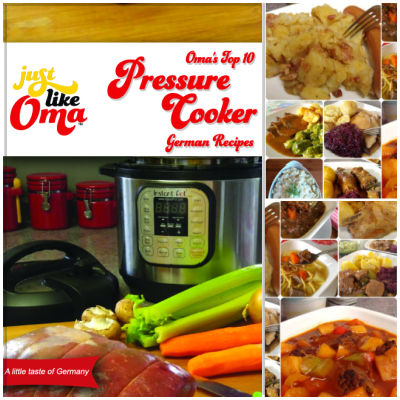 Take a peek at all Oma's eCookbooks. They make sharing your German heritage a delicious adventure!
Recipe variations:

Broth: Low sodium chicken broth also works for this recipe.
Sweeten it up: To make your pork recipe sweeter, add ¼ cup of brown sugar to the dry rub.
Spice it up: Alternatively, add chili powder or red pepper flakes to spice up your meat.
Cut of pork: Feel free to use any cut of pork you have, including pork chops or pork tenderloin.
Boost the flavor: You could also use Italian seasoning, dry ranch dressing, or extra onion or garlic powder for a flavor boost. 
How to serve:

This dish is perfect on its own for a full meal or you can add other side dishes if you like. You can also try one of these serving suggestions:
Instead of a roast, use two forks to shred the meat and have pulled pork sandwiches on French bread.
The best thing about this meal is that you can change it up when you want. You can use the best cut or leanest cut of meat or a nice juicy pork butt for drastically different flavors. 
Chop meat into chunks and add them to a salad to make a cool summer meal.
If you are a huge fan of spiciness, add jalapenos or red pepper flakes to the gravy before cooking. 
Frequently asked questions

Can I use a different cut of pork meat?

Yes, you can use whatever type of pork meat you have. Pork tenderloin works great. It does not have much fat so the moisture from pressure cooking keeps it nice and juicy. You can also use pork loin roast or a pork shoulder roast. However, the cooking time will vary depending on the size and thickness of the pork.

Can I make this in a slow cooker?
Yes, to make pork roast in a slow cooker, just follow these directions and you will have a delicious and tender pork roast bursting with flavor. First, grease the pot with olive oil or non-stick cooking spray. Then, brown the meat in a frying pan, five minutes on each side. 
Rub the pot roast with the seasoning and put it on top of the vegetables and onion in the crockpot. Pour the broth around the sides of the meat and then cover. Cook on high for four hours or low for eight hours. Cook time will vary depending on the size of your roast.
How long should you cook pork in an Instant Pot?

The FDA recommends that you cook your meat for 15 minutes per pound to make pork you can slice or 20 minutes per pound for shredded pork. Different cuts of pork may take longer. 

How to store leftovers:

Store: Allow everything to cool to room temperature before refrigerating in an airtight container where it will be good for several days.  
Freeze: If you do not finish it all within four days, pop it into a freezer bag and freeze for up to three months. 
Defrost: Thaw overnight in the refrigerator. 
Reheat: Reheat in the microwave for two or three minutes, depending on how much you are reheating. 
Oma says,

I know this isn't a German recipe, but I really wanted to share Catalina's recipe, just because it is so good. If you replace the soy sauce with Maggi, that almost makes it German. However, Maggi is quite a bit stronger, so only use about a teaspoon.
BTW, did you know that mixing equal parts Maggi and Worcestershire sauce can be used as good substitute for soy sauce?
Ready to make this pressure cooker pork roast recipe?

Is the recipe below locked? Here's why. 
As an Amazon Associate, I earn from qualifying purchases.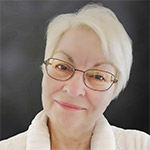 For more German-inspired items that make life easier and yummier, especially in the kitchen and for entertaining, follow my Amazon Storefront.
Pressure Cooker Pork Roast Recipe – Schnellkochtopf Schweinebraten

Pressure Cooker Pork Roast, Schnellkochtopf Schweinebraten, is packed with flavors of garlic, soy sauce, and onions as well as bay leaves and chicken stock. Tender and delicious in less than an hour. Here I've served it with green beans.
Prep Time


30 minutes


Cook Time


5 minutes + 10 min NPR


Total Time

45 minutes

Servings:

Makes 4 servings
Ingredients:
RUB
1 tablespoon smoked paprika
1 tablespoon garlic powder
1 tablespoon onion powder
1 teaspoon salt
½ teaspoon pepper
Other ingredients:
2 pounds pork shoulder (pork butt meat)
1½ lb large russet potatoes, cut into large chunks
1 white onion, thinly sliced
2 medium carrots, cut into large chunks
2 tablespoons unsalted butter
2 tablespoons soy sauce
2 tablespoons olive oil
4 cloves garlic, minced
2 bay leaves
1 tablespoon balsamic vinegar
1½ cups unsalted chicken stock
Kosher salt & ground black pepper to taste
Thickener
2 tablespoons cornstarch
3 tablespoons cold water
Instructions:
Press Sauté button, then using the Sauté More function adjust to More and wait until it displays "HOT".
Mix the rub ingredients in a small bowl and generously season the pork shoulder on all the sides.
Add oil to the Hot Instant Pot, coating well the bottom. Brown the pork for 5 minutes on each side. Remove and set aside to rest.
Add 2 tbsp of unsalted butter to the Instant Pot. Add the chopped onions, some salt, and pepper and stir to cook until very softened. This will take 8-10 minutes.
Add the minced garlic, then sauté until fragrant. Add in carrots and bay leaves, then sauté for 2 more minutes.
Add the Balsamic vinegar and deglaze the pot with a wooden spoon.
Add chicken stock and soy sauce. Continue to scrape the sides and bottom of the inner pot with a wooden spoon.
Cut the pork shoulder into 0.5" thick pieces and add it to the pot.
Layer the potato chunks on the top. 
Close the lid and place the Venting Knob in the Sealing Position. Pressure Cook at High Pressure for 5 minutes, followed by a 10 minutes Natural Release. After that, release the remaining pressure and carefully open the lid.
Make Gravy:
Transfer the meat, carrots, and potatoes onto a large serving plate. 
Taste the sauce and season it if needed. 
Click on Saute.
In a small bowl, mix cornstarch with cold water until fully dissolved, then stir the mixture into the gravy. 
Stir and cook for a few minutes, until the gravy thickens.
Add back the pork slices, carrots, and potatoes into the gravy, then mix gently to coat.
Serve with favorite side dishes. (Above, served with green beans.)
Notes/Hints:

Use a meat thermometer to check for doneness. The internal temperature for pork should be 145 degrees F when done.
Try not to pour the chicken stock on top of the meat or it will wash away the spice mixture.
Cut the carrots and potatoes in large chunks so they do not get mushy. 
If you are not using veggies, set the roast on top of the trivet in your pot to cook.
Make sure you get all the brown bits from the bottom of the pot. That is where the intense flavor is. 
*  *  *  *  *

Unless otherwise noted recipe, images and content © Just like Oma | www.quick-german-recipes.com

Leave a comment about this recipe or ask a question?

Pop right over to my private Facebook group, the Kaffeeklatschers. You'll find thousands of German foodies, all eager to help and to talk about all things German, especially these yummy foods. 
Meet with us around Oma's table, pull up a chair, grab a coffee and a piece of Apfelstrudel, and enjoy the visit.

Make these Fächerkartoffeln aka Hasselback Potatoes with either regular or sweet potatoes. Make them extra crispy with cheese and breadcrumbs and you have a treat that's amazing!

Discover Oma's secret recipe for making crispy-skinned Bavarian Schweinshaxe (roasted pork knuckles). Authentic taste of Germany's traditional dish. Perfectly wunderbar.

German potato dumplings, aka Kartoffelklöße and Kartoffelknödel, invoke great memories of my Mutti's Sunday dinners. Using cooked potatoes, she created these scrumptious traditional dumplings!
*  *  *  *  *
PIN to SAVE this recipe to your Pinterest board!
Words to the Wise
"A gentle answer deflects anger, but harsh words make tempers flare."
Proverbs 15:1 (NLT)