Beef Rouladen Recipe (Instant Pot Pressure Cooker)

❤️



➤ by Oma Gerhild Fulson
FTC Disclosure: As an Amazon Associate, I earn from qualifying purchases.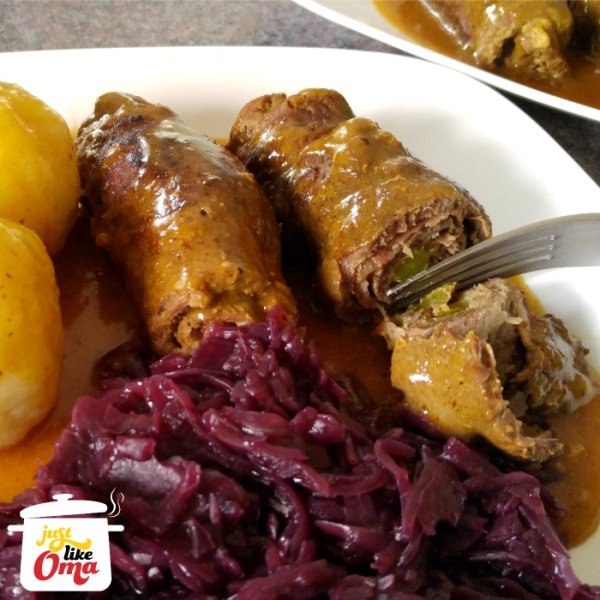 This Rouladen recipe, aka Rinderrouladen, is similar to the traditional Rouladen (beef rollups) made throughout Germany, however it uses a pressure cooker. In my case, it's an Instant Pot.  Pressure cookers are very commonly used in Germany, however, I haven't had one for years!
---
The last time I had a pressure cooker was about 35 years ago. You know, the type that makes a mess on the ceiling!
My Facebook fans let me know that the modern ones are very, very safe and so much easier to use than the old ones.

This is the one that they recommended the most: the Instant Pot Duo. It has over 18,000 reviews at 4.7/5 stars!
How could I buy anything else? Now, it's my new toy, I mean, tool. I'm having so much fun with converting German recipes.
This Instant Pot Duo combines 7 appliances in 1: Pressure Cooker, Slow Cooker, Rice Cooker, Steamer, Sauté, Yogurt Marker and Warmer. I can't believe I lived most of my life without it!
---
These German beef roulades are great dinner idea for special occasions. They do take a bit of time to prepare.
HOWEVER, if you want to have these same flavors in a less expensive and a much quicker recipe, then check out the Flatladen recipe I created. It has all the flavor of Rouladen, especially the wonderful gravy ... but it's perfect for a week night meal! My family LOVES this!
What is served along side either Flatladen or Rouladen?
For us, it's usually potato dumplings and red cabbage. Sometimes, I'll make boiled potatoes and baby carrots or mixed veggies, when it needs to go fast.
Ready? Let's make some Rouladen ...
---
Rouladen Recipe (Instant Pot Pressure Cooker) ❤️
Ingredients:
4 slices top round, about 1 lb (see hints below)
1 tsp paprika
1 tbsp Dijon mustard or German mustard
2 slices bacon, cut into strips
2 onions
2 pickles
salt and pepper
oil or butter for frying
3 carrots
1 celery rib, cubed
1 tbsp tomato paste
1 cup beef broth or water (see hints below)
Instructions:
Season beef slices with salt, paprika, and freshly ground pepper. Thinly spread mustard on top of each slice.

Chop one onion. Cut one carrot into strips. Cut pickle in half lengthwise. Divide chopped onion, carrot strips, pickles, and bacon strips on one end of each roulade.

Roll up slices (think 'burrito'), tucking the ends in and securing with skewers, wooden cocktail picks, or thread.

Set Instant Pot (IP) to sauté. Once hot, add butter (or oil), about 4 tbsp. Brown rouladen well on all sides. 

Once the rouladen are browned, remove to a plate. Remove most of the fat from IP.
Slice remaining onion. Add to the IP. Add carrots and celery. Lightly brown vegetables. Add tomato paste.
Add beef broth or water (and wine, see below), stir to scrape up brown bits from bottom of IP.
Return rouladen to IP. Seal pressure cooker and set to Manual for 20 minutes and use Natural Release. 
Remove rouladen and keep warm. Set IP to sauté. Make gravy by either blending the cooking liquid with hand blender and thickening with about 1 - 2 tbsp cornstarch dissolved in a bit of water. Alternatively, sieve out vegetables and thicken. Or just thicken as is. 
Season gravy to taste with salt and freshly ground pepper. If you wish, add sour cream to gravy.

Remove skewers, picks, or thread to serve rouladen with their gravy.
Hints:
Have butcher cut beef top round into thin slices, about ⅜ inch thick. Each roulade should measure at least 6 inches by 4 inches. Gently pound meat until it is about ⅛ to ¼ inch thick. Be careful not to put holes in meat. The larger the roulade, the easier it is to roll up.
Replace ½ cup of the water or broth with red wine.
For my traditional rouladen recipe, check out German Beef Rouladen.

Want nutritional information? Copy and paste the above ingredient list and the number of servings into Calorie Count for an approximate calculation.
Need help doing conversions between cups and grams, etc.? Use this site to give you all the different conversions for the different types of ingredients.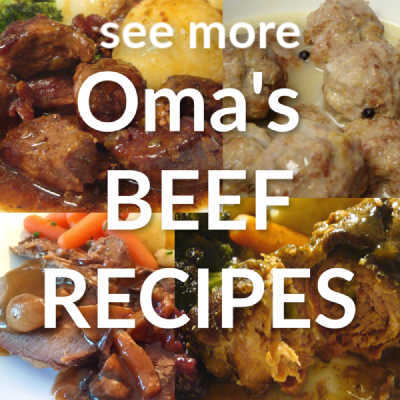 Leave a comment about this recipe or ask a question?
Pop right over to my private Facebook group, the Kaffeeklatschers. You'll find thousands of German foodies, all eager to help and to talk about all things German, especially these yummy foods. 
I pop in all the time as well, to chat and to answer questions. 
Meet with us around Oma's table, pull up a chair, grab a coffee and a piece of Apfelstrudel, and enjoy the visit.
*  *  *  *  *
Want nutritional information for a recipe?
Copy and paste the ingredient list and the number of servings into Calorie Count. 
It will give you an approximate calculation.

Need help doing conversions
between cups and grams or any such thing?
Use this site to give you all the different conversions for the different types of ingredients. 
---
PIN this ... for quick access to recipe while you pull out your instant pot pressure cooker


---
Oma's Christmas Stollen is the BEST. Why? Because it's always moist, has a wonderful flavor, and is super quick to make. And, I put Marzipan in it!!!

These German gingerbread cookies, or Lebkuchen, are such a traditional cookie to have for Christmas. They're very easy to make, there's no reason to buy them.
---
Words to the Wise
"It is safer to meet a bear robbed of her cubs than to confront a fool caught in foolishness."
Proverbs 17:12 (NLT)
---
❤️Rouladen Recipe made Just like Oma in an Instant Pot


By
Oma Gerhild Fulson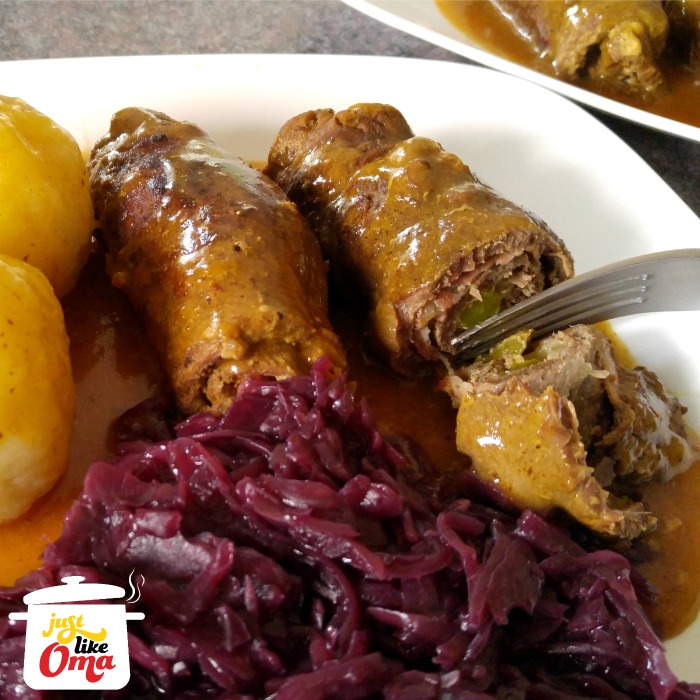 This Rouladen recipe is what I make when I'm in a hurry by using my pressure cooker (Instant Pot). The meat is so tender!!!

Ingredients:
bacon,
pickles,
mustard,
beef,
onion,
For the full recipe, scroll up ...