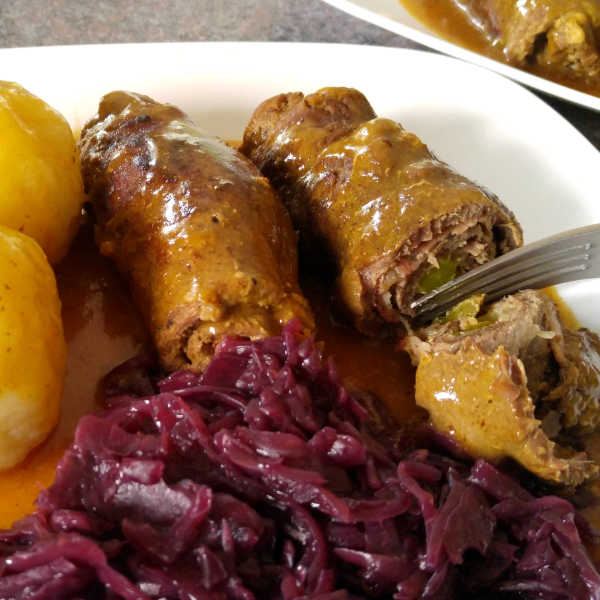 Oma's Instant Pot Rouladen Recipe ~ Rouladen im Schnellkochtopf

This Rouladen recipe, aka Rinderrouladen, is similar to the traditional Rouladen (beef rollups) made throughout Germany, however it uses a pressure cooker. In my case, it's an Instant Pot. 
Pressure cookers are very commonly used in Germany, however, I haven't had one for years! But this recipe sure made it worth getting.
Prep Time


15 minutes


Cook Time


20 minutes


Total Time

60 minutes

Servings:

Makes 4 servings
Ingredients:
4 slices top round, about 1 lb (see hints below)
1 tsp paprika
1 tbsp Dijon mustard or German mustard
2 slices bacon, cut into strips
2 onions
2 pickles
salt and pepper
oil or butter for frying
3 carrots
1 celery rib, cubed
1 tbsp tomato paste
1 cup beef broth or water (see hints below)
Instructions:
Season beef slices with salt, paprika, and freshly ground pepper. Thinly spread mustard on top of each slice.
Chop one onion. Cut one carrot into strips. Cut pickle in half lengthwise. Divide chopped onion, carrot strips, pickles, and bacon strips on one end of each roulade.
Roll up slices (think 'burrito'), tucking the ends in and securing with skewers, wooden cocktail picks, or thread.
Set Instant Pot (IP) to sauté. Once hot, add butter (or oil), about 4 tbsp. Brown rouladen well on all sides. 
Once the rouladen are browned, remove to a plate. Remove most of the fat from IP.
Slice remaining onion. Add to the IP. Add carrots and celery. Lightly brown vegetables. Add tomato paste.
Add beef broth or water (and wine, see below), stir to scrape up brown bits from bottom of IP.
Return rouladen to IP. Seal pressure cooker and set to Manual for 20 minutes and use Natural Release. 
Remove rouladen and keep warm. Set IP to sauté. Make gravy by either blending the cooking liquid with hand blender and thickening with about 1 - 2 tbsp cornstarch dissolved in a bit of water. Alternatively, sieve out vegetables and thicken. Or just thicken as is. 
Season gravy to taste with salt and freshly ground pepper. If you wish, add sour cream to gravy.
Remove skewers, picks, or thread to serve rouladen with their gravy.
Notes/Hints:

Have butcher cut beef top round into thin slices, about ⅜ inch thick. Each roulade should measure at least 6 inches by 4 inches. Gently pound meat until it is about ⅛ to ¼ inch thick. Be careful not to put holes in meat. The larger the roulade, the easier it is to roll up.
Replace ½ cup of the water or broth with red wine.
For my traditional rouladen recipe, check out German Beef Rouladen.
Or, make this slow cooker roast beef that tastes just like rouladen. Use the slow cooker feature on your Instant Pot for this.
*  *  *  *  *

Unless otherwise noted recipe, images and content © Just like Oma | www.quick-german-recipes.com