What to Serve with Schnitzel
What To Serve With Schnitzel – Top 10 German Side Dishes for Schnitzel
➤ by Lydia Fulson
Here we have our Top 10 sides to serve with the famous German schnitzel. Not knowing what to serve can be overwhelming, but it won't be once you try these easily made delicious sides!
A great meat recipe calls for a great side to go with it. As you scroll through these mouth-watering side dishes, you're guaranteed to find one that's to your liking.
But definitely don't forget to try lemon with your schnitzel! It doesn't matter which recipe you use, lemon wedges go well with any pork schnitzel and are a MUST. Squeeze the lemon juice over top for the perfect tangy touch.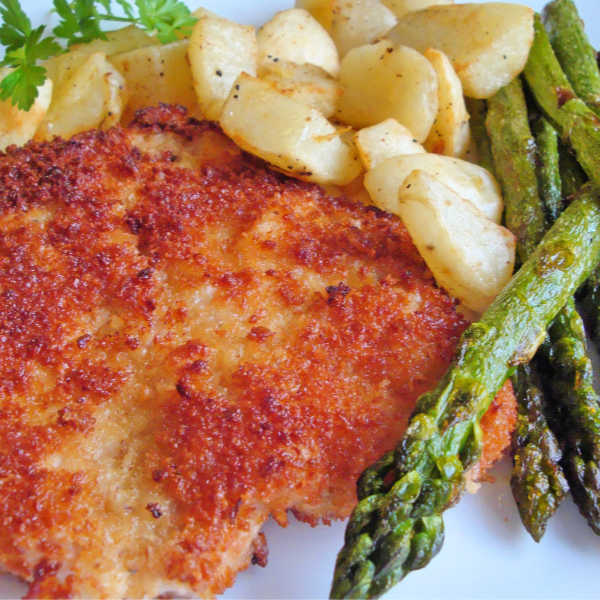 There are several ways to make this famous dish. In the picture above, you can see Oma's traditional Schnitzel recipe. It's one of my favorites, and the links to those delicious sides you see paired with it are down below in our top 10! So keep scrolling for those tasty sides.
If you've hopped on the air fryer trend, or have one and are looking for a way to make German schnitzel, I've got a treat for you! My air fryer pork schnitzel is made in the Instant Vortex Plus Air Fryer Oven. This is such a simple recipe, and it can be done in as little as 20 minutes!
It can be made using pork cutlets, pork sirloin chops, or boneless pork chops. Make sure you find thin cutlets or pound them thin after you bring them home from the grocery store for the best results. You can see in my picture of the air fried schnitzel that I have those lemon slices on top ;)
Let's kick off our Top 10 German Traditional Side Dishes to serve with schnitzel by starting with...
---
Salad Sides
Everyone loves a classic German salad, and while salads aren't commonly served alongside schnitzel, they're still a healthy and yummy option. These salads are the perfect summertime sides.
First up,
1. Lettuce Salad 
This lettuce salad with sour cream dressing is just one of the many easy salad dressings and vinaigrettes that you can top a classic green salad with. Click that link to find several dressings to choose from as starters and then alter them to make them just the way you love.
One of these dressings is used to make our beloved Northern cucumber salad. It tastes amazing drizzled over a simple lettuce salad. It may be simple, but that's certainly not a bad thing in the kitchen!
Next up, a warm salad!
2. Southern Potato Salad

This is an interesting one that I had never heard of until Oma introduced it. The warm potato salad, aka Kartoffelsalat ohne Mayo, is a popular one in Southern Germany! 
Trust me, warm salad isn't a bad thing, you'll figure that out when you try this wunderbar recipe. It totally different than the northern creamy potato salad, which is always served cold! I love the comforting feeling both salads give. 
The schnitzel itself is such a well-known comfort food, so why not pair it with either comforting side. It's a perfect match. You'll love it!
Up next, a personal favorite of mine!
3. Tomato Salad
Oma's tomato salad recipe, aka Tomatensalat, is such a refreshing treat. It's one of those salads that pair greatly with just about anything, and let's not forget to talk about that amazing color. It looks like summer in a bowl!
I love eating this salad as a salsa by scooping it onto tortilla chips. It's such a versatile recipe. The kick of flavor from the balsamic vinegar and the fresh juiciness from the tomatoes is unbeatable. 
Next, let's check out some carb/potato sides! Potato sides are HUGE in German cuisine. Almost every dish comes with potato that is cooked, mashed, rolled, or baked in some way to make tasty sides.
So let's check out some of the best!
---
Carb / Potato Sides
There are several carb/ potato sides for schnitzel, partially dependent upon which area of Germany you're from, but all are such traditional dishes.
Let's start with a Southern German favorite ...

4. Oma's German Spätzle
German Spätzle is a fun one and one to mention for sure! This recipe is very popular in southern parts of Germany like Baden-Württemberg and Bavaria, just like bread dumplings. 
A popular contraption called a spätzle press is often used to make these noodles. My Oma picked one up on one of her trips to Germany and we've used it every time we make this recipe. 
I remember how tough it was the first time making it. Let's just say I had never seen a spätzle press before, and I definitely underestimated the muscle it takes to push the dough through the tiny holes! It may be tricky at first, but you'll get the hang of it as I did.
I can say, it is definitely worth the effort to have these funky and tasty little noodles accompany your German schnitzel at the dinner table!
Before we get to the next sides, do you have your schnitzel recipe yet?
How to make Schnitzel
Pop over here for Oma's easiest recipe for making the basic German pork Schnitzel.
And when you're heading there, do you actually know what a schnitzel is? If not, then check out this History of Schnitzel. You'll find there are Roman, Italian, Austrian, AND Germans involved.
Let's get into those potatoes now! YUM.
5. 

Hasselback Potatoes

These hasselback potatoes, aka Fächerkartoffeln, are classy yet comforting. Hasselbacks are a great way to WOW your guests at family get-togethers. Don't they look beautiful?

This healthy side is easy to make, easy to dress, and can go with pretty much anything! Chopping the potatoes to look this way may seem like a hassle ... (Get it?) ;) But it's actually super simple and takes no time at all. Click the link above to see how Oma does it.

Try making these potatoes paired with that lecker schnitzel and maybe one of our vegetable sides down below. Keep scrolling for more ideas! 

Next up, a family favorite.
6. German Fried Potatoes
If you're looking for something quick, German fried potatoes, aka Bratkartoffeln, are the way to go. My Oma's Mutti, my Uroma, used to make these all the time as a speedy and simple lunch to throw together. Schnitzel is just as easy to throw together. An easy main and an easy side? Perfect!
I've used this recipe several times and its versatility makes it better and better every time. I love making these in an aluminum pan on the BBQ or over the fire! Fried potatoes have been my family's go-to camping dish for years, served with green onion, salt, pepper, and sour cream... mmm! I could eat these all day!
If you want to turn these Bratkartoffeln into a light dinner, you can pour 4 slightly beaten raw eggs over the potatoes, gently toss and allow to cook a few minutes until eggs are set. Now you have something similar to Hoppel Poppel! My Dad does this often, especially with shredded cheese melted over top.
---
These next two are some honorable carb mentions. These recipes aren't on the website, but they're still great candidates for the perfect schnitzel side dish.
7. Mashed Potatoes
Plain mashed potatoes are another great potato side. Just boiled potatoes mashed with milk, butter, and salt and pepper. Simple, classic, and delicious!
My sister and I used to make what we called 'volcanoes'. Whenever Oma would serve mashed potatoes as a side with her famous gravy, we would mold our potatoes with a fork into the shape of a volcano. Then, scoop a hole in the center and pour the gravy in until it overflowed. I still love doing this :)
Mashed potatoes are always a good side to serve and they go with anything! Add some roasted garlic for an extra kick.
8. French Fries
What a classic! French fries, aka Pommes Frites, and schnitzel sounds like the perfect cozy dinner. These can be made quickly as well, which in my books, makes them a front runner for a schnitzel side dish.
If you have an air fryer, try making your french fries in the fryer. I'd do this by using the rotisserie basket if yours has one. Making them in the air fryer can speed up the dinner cooking process. While your schnitzel is frying, throw some fries in the basket and they'll be ready in no time! 
Check out my easy air fryer recipes to learn how to use the air fryer and its different functions to make delicious sides, mains, and desserts!
Now that we've made it through those tasty carb sides, let's move onto our last category!
---
Want to know which recipes are Oma's favorites? Grab your copy of her very favorite recipes in Favorite German Recipes eCookbook.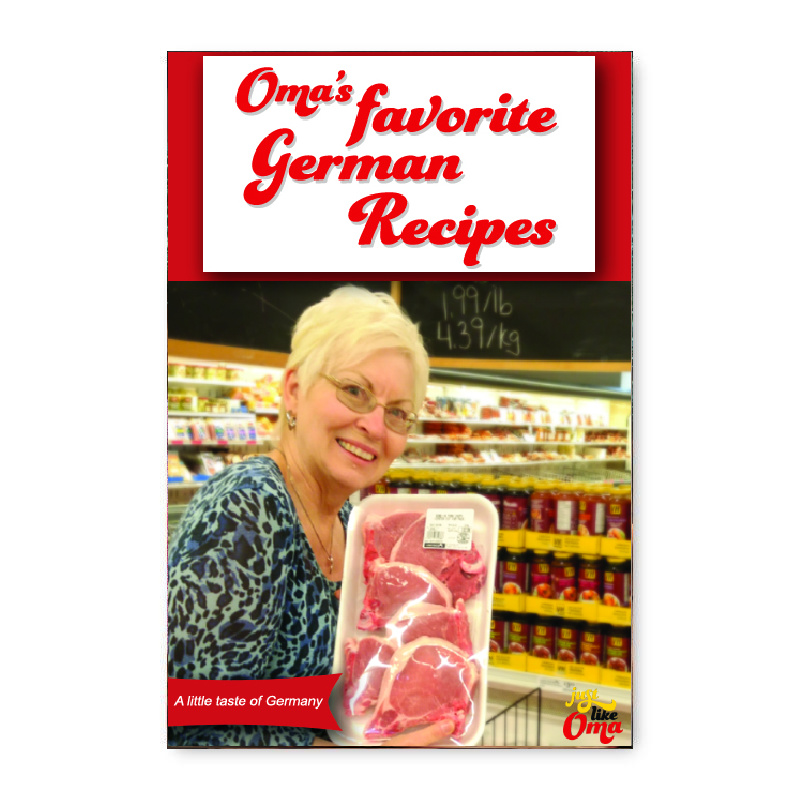 Take a peek at all Oma's eCookbooks. They make sharing your German heritage a delicious adventure!

Vegetable Sides 
Now, let's add vegetables into the mix.
Vegetable sides, serve one or more if you wish. For a dinner party, Oma always chooses two, with one being red cabbage, of course. So, let's start off with the best!
9. Oma's German Red Cabbage

This traditional German red cabbage recipe aka Rotkohl, tastes even better the next day! Red cabbage recipes are really a staple for German cooking. It's German food at its best! :)
This one has apples in it. Red cabbage is a MUST .., it's a very popular choice amongst our family. I love making this recipe as a quick side dish or even as a late-night snack. I take the easy route and buy jarred cabbage with apples. Be sure to check out my Oma's recipe for jarred red cabbage as well.
Nothing beats going to Oma's for dinner and seeing her homemade red cabbage on the table. It will always be my go-to and favorite German food! It's just so tasty and adds a lovely pop of color. Can you already see it on a plate with your schnitzel? 
Even people who say they don't like red cabbage find this dish almost like eating candy! They take second helpings because it's so good.
 Last but certainly not least...
10. Roasted Asparagus

This Roasted Asparagus Recipe, aka Spargel, is such an easy recipe to make. Asparagus has been one of my favorite vegetables for years because it can pair with anything, and like the red cabbage, it adds a beautiful pop of color to the plate.
This recipe is made with seasoned breadcrumbs, like schnitzel. Put these two on a plate together with red cabbage as well and you've got the perfectly balanced meal! One breaded main dish, a breaded, healthy veggie side, and a healthy VERY German veggie side.

If you have an air fryer, this is another great one to make. Check out my Air Fryer Asparagus Recipe and you'll be in awe about how little prep time this takes and just how much cook time you can save!
Don't those all look so incredibly lecker? Now that we've made it to the end of our top 10 sides to serve with schnitzel, it's time to get cooking, boiling, mixing, and creating!
Just follow the links, get your favorite apron out and enjoy some kitchen time.

---
Leave a comment about this recipe or ask a question?

Pop right over to my private Facebook group, the Kaffeeklatschers. You'll find thousands of German foodies, all eager to help and to talk about all things German, especially these yummy foods. 
Meet with us around Oma's table, pull up a chair, grab a coffee and a piece of Apfelstrudel, and enjoy the visit.

Cooking just like Oma, making those German meals, is actually quite easy. Let me, Oma Gerhild, help you with my step-by-step methods to re-create those yummy meals you remember from your Oma.

If you're looking for tasty, traditional, and easy German cake recipes (in English) to try, then you've come to the right place! Check out these lecker treats!

Discover the ultimate German schnitzel recipe with Oma's quick and easy method - perfect for any occasion! Taste the authentic flavors of Germany today.
PIN to SAVE this recipe to your Pinterest board!
And let's be friends on Pinterest!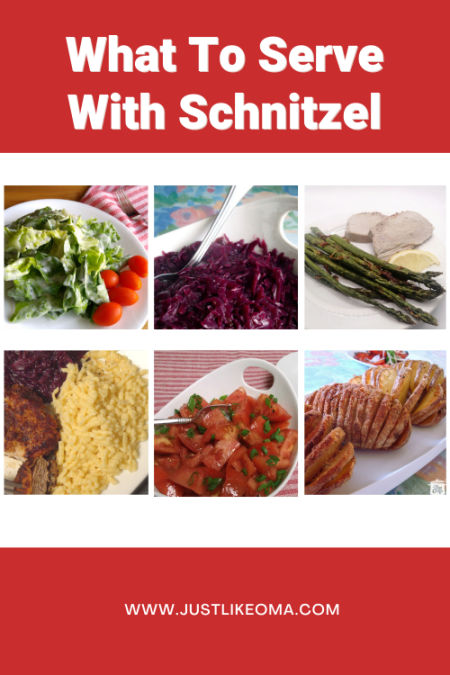 *  *  *  *  *
Words to the Wise
"The generous will prosper; those who refresh others will themselves be refreshed."
Proverbs 11:25 (NLT)