Air Fryer French Fries vs Deep Fried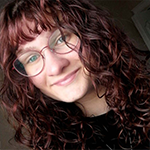 by: Lydia Fulson  /  Writer, Artist, Traveler, Granddaughter & Ever-Learning German Cook
As an Amazon Associate, I earn from qualifying purchases.
Making air fryer French fries is so simple, and who doesn't LOVE the classic and delicious taste of them. You can never go wrong with French fries.
By using the rotating air fryer basket to make these, I was able to achieve a lovely golden color and crispy texture that can be hard to get with a regular oven. 
I added my favorite bunch of spices and of course, sour cream and ketchup.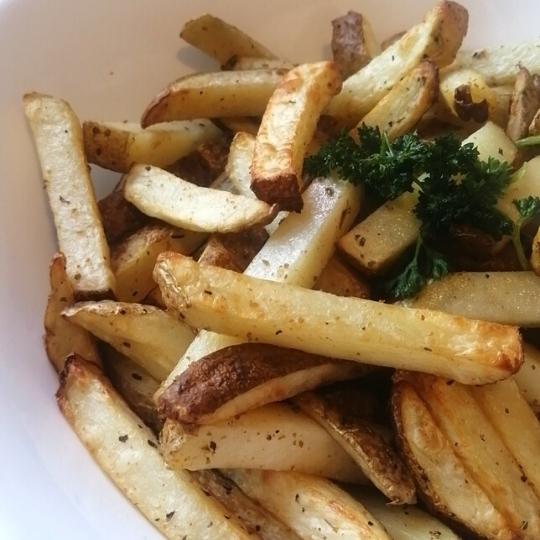 mmm, lecker homemade fries! It doesn't get much better than that.
They may not be the most German of potato recipes like the famous potato dumplings and twice-baked potatoes, but these can go with pretty much anything you choose to make. Not to mention you can spruce them up with whichever spices and sauces you'd like.
Just imagine these alongside Oma's beef rouladen recipe and covering these crispy french fries in the rich rouladen gravy.
Speaking of twice-baked potatoes, check these out! My very own twice-baked potatoes made in the air fryer too! These were so fun and almost twice as quick to make in the air fryer rather than using the convection oven. Air fryers sure are amazing, aren't they? Mine has become one of my all-time favorite kitchen appliances.
Since we're on the topic of handy dandy machines, and just how many different ones can make some spectacular French fries. Let's talk about deep frying vs air frying.
Air Fryer vs The Deep Fryer
It's something that folks have been asking for years.
'Which fryer makes the best fries?' 
Well, the answer is both, in their own special ways.
The air fryer is my personal favorite simply because the french fries rotate in a rotisserie basket WITHOUT the use of oil. You can spray the basket with a little bit of olive oil spray to keep the fries from sticking if you wish, but they are not cooked in oil.
If using a deep fryer on the other hand, the fries will be submerged and cooked in oil the whole duration of the time needed to fully cook them. So, the key differences between the two, would be greasiness. If that's a fry factor that you may not want, I'd suggest using an air fryer as a healthier option using less oil.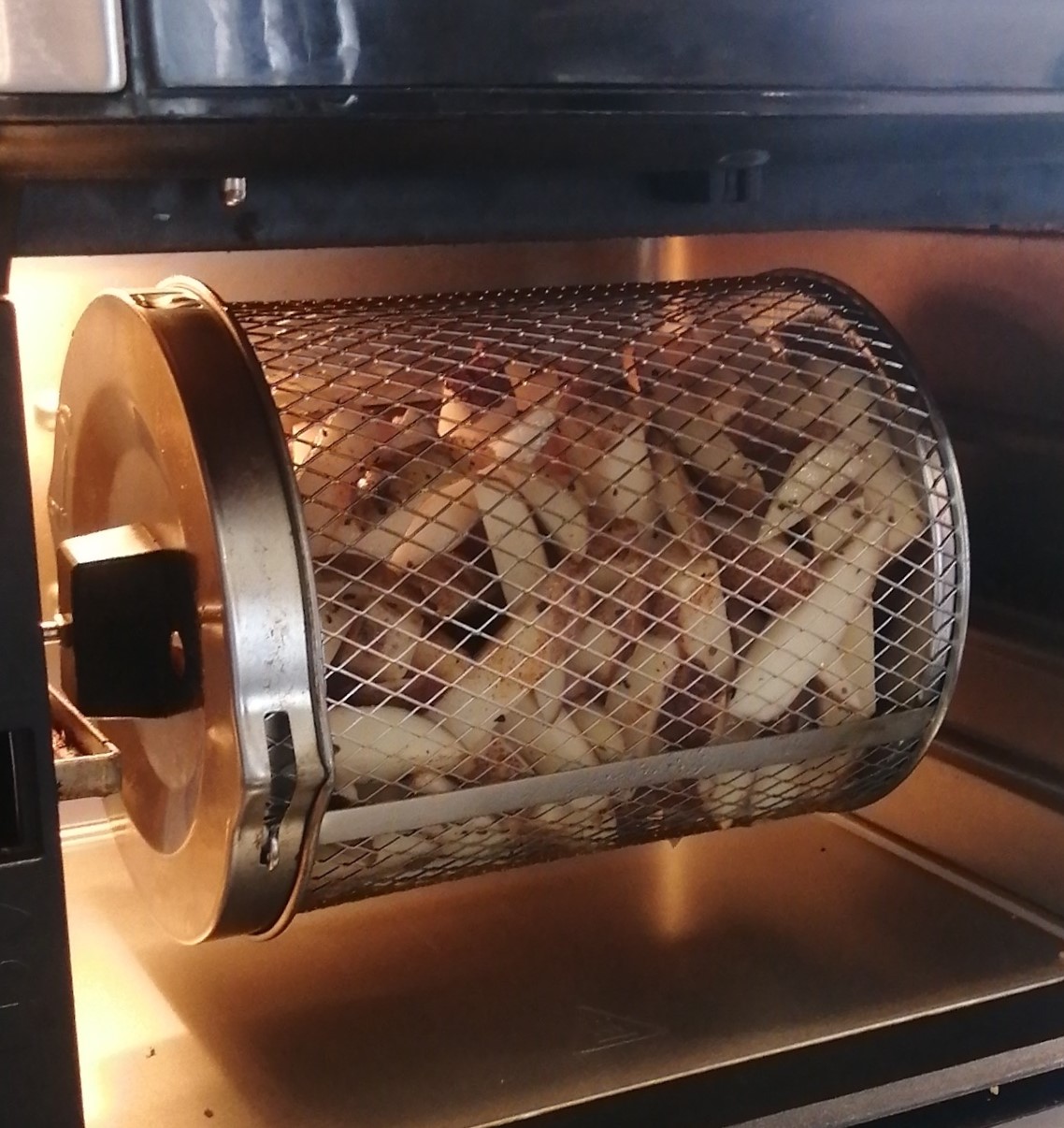 Making french fries has never been so easy. Use the rotisserie basket to rotate the fries and get a nice even crisp!
However, there is another factor to keep in mind when deciding which fryer you'd like to use.
Size: When using an air fryer like mine (Instant Vortex Plus Air Fryer Oven), keep in mind that when you use the basket, it can hold enough fries for about five people. This is dependent on the size of the fryer as well. Some are bigger, but you will typically get more out of a deep fryer.
Deep fryer baskets are almost always larger than air fryers, allowing more room for food. Deep fryers and air fryers both can range anywhere from 3-16 quarts for home kitchen size.
If you have the same air fryer that I used to make these fries and you're trying to feed a group of 10, it may be easier to use the deep fryer. If using the Instant Vortex basket, you will need to make two batches.
Looking for a great way to use your rotisserie air fryer basket more often? Here's my whole chicken made in the rotisserie basket! This is a great use for the basket and it makes the most flavorful chicken that can feed a small family.
Deep-Fried Food
Deep fried french fries are a must try as well. My family makes them in our large deep fryer outside in the summertime. We take it to the back by our firepit and cook bratwurst on the fire and get a big batch of fries going in the deep fryer. The deep fryer gives them a great crispiness and the oil adds a nice flavor as well. 
These fryers are always fun to use ... just be safe! Fryers like this reach extremely high temperatures with very hot oil, so it can be a dangerous cooking method if not careful. But that's why we do research and learn all about our new handy toys before we try them out, right? 
There are so many great deep fried treats that make spectacular barbecue finger snacks. Try things like, mozzarella sticks, onion rings, chicken nuggets, maybe some chicken wings and sweet potato fries. But of course, my personal favorite, homemade french fries.
Grab your copy of Oma's favorites in her Special Occasion German Cakes & Tortes e-Cookbook.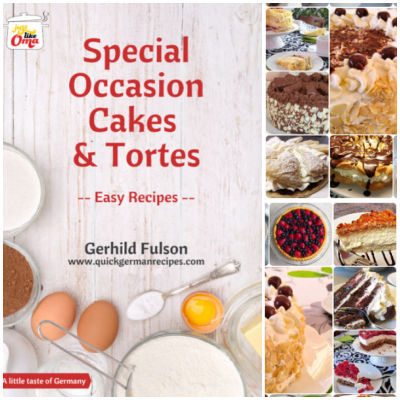 Take a peek at all Oma's eCookbooks. They make sharing your German heritage a delicious adventure!
These fries are one of the best air fryer recipes I've come across. Air frying has so many benefits, from it's rapid air technology, to it being such a small appliance that can fit in your kitchen so easily, you'll be in awe of how well the food cooks in these little contraptions.
Speaking of funky contraptions, check out this one that I used to quickly chop my potatoes!
Once you've washed your potatoes, use this handy potato cutter to efficiently chop them into the perfect french fry shape without the worry of cutting yourself!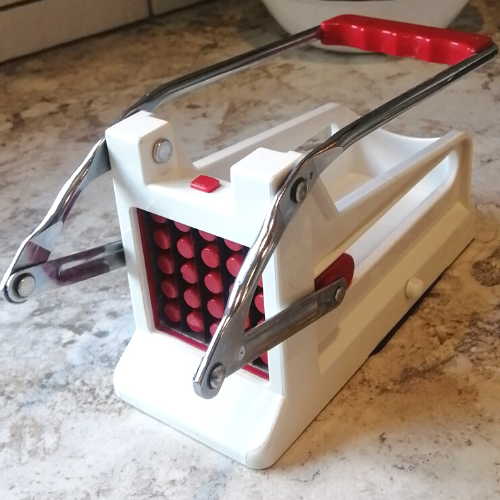 Add this one to your shopping list! Potato cutters are such a time saver.
This French fry cutter is a lifesaver when it comes to saving time and getting meal prep done quickly. It's become my go-to easy way of chopping potatoes. We use this all the time!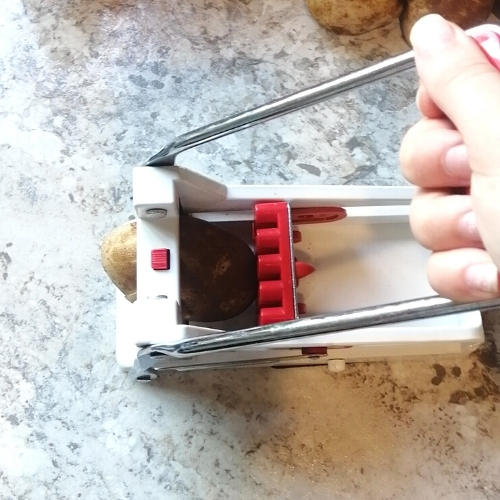 Watch how quick and easy this is to use
It's simple! Get the perfect cuts by setting potato in the cutter and pushing down on the handle to push potato through the blades.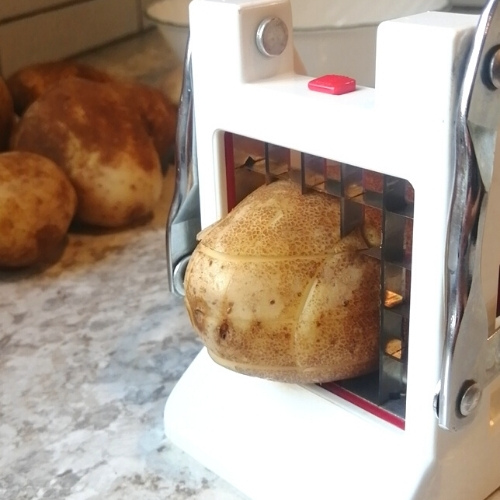 and just like that.. perfect french fries!
Easy! Now you have the perfect slices. Add a little oil to the cut potatoes. This will give them a great crispy exterior skin. Who doesn't love crispy results on their fries?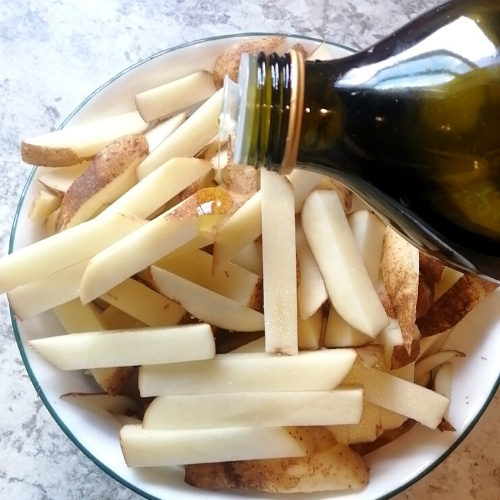 This will help get those fries nice and crispy
Then don't forget to add your favorite seasonings!
Time to get the hands dirty. Mix in those spices!
Toss gently until seasoning has coated all fries. I find that using the hands to mix the seasonings in is the best way to get them all covered evenly. See the recipe down below for the rest of the steps and some tips and tricks!
Ready to get frying these French Fries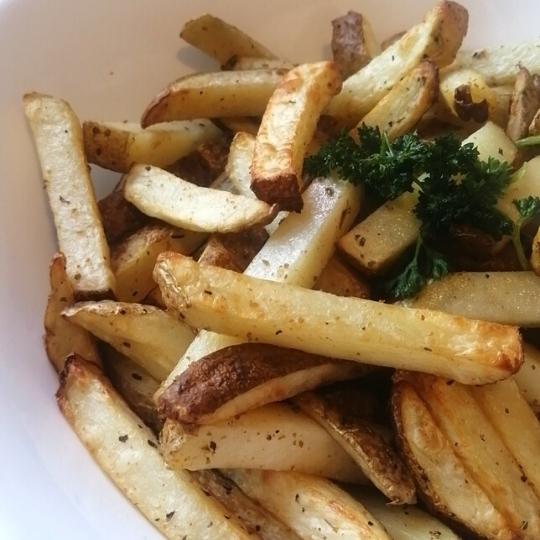 Air Fryer French Fries
Making air fryer french fries is so simple, and who doesn't LOVE the classic and delicious taste of them. You can never go wrong with french fries.
By using the rotating air fryer basket to make these, I was able to achieve a lovely golden color and crispy texture that can be hard to get with a regular oven. 
I added my favorite bunch of spices and of course, sour cream and ketchup.
Prep Time


10 minutes


Cook Time


25 minutes


Total Time

35 minutes

Servings:

Makes 4 servings
Ingredients:
10 small white potatoes
2 tablespoons olive oil
2 teaspoons paprika
Sprinkle salt and pepper
Instructions:
Start by washing potatoes well and preheating air fryer to 400°F on the air fryer setting.
While fryer is preheating, use french fry cutter to cut potatoes. If you don't have one, use a sharp knife to cut the potatoes into french fry-shaped slices. Set cut potatoes aside in a large bowl. 
Drizzle olive oil over french fries and use hands or spoon to stir and mix oil. Be sure all fries are coated with a light layer.
Sprinkle paprika, salt, and pepper, or preferred spices and seasonings over potatoes, and mix until all fries are evenly coated.
Prep air fryer basket by spraying the inside and outside with a spray olive or vegetable oil.
Add fries to basket and place in air fryer.
Set to rotate, and air fry for 25 minutes or until golden brown and crispy.
Remove from basket and enjoy them while they're hot with your favorite dipping sauce!
Notes/Hints:

I used regular white potatoes for my french fries. Though, if you cannot find white, a great substitute are russet potatoes. Both work great for air frying and deep-frying. The key difference is that white has a creamier and dense texture when cooked, while russets tend to be a fluffy texture, while giving an earthy taste when cooked.
Leave fries rotating for an additional 5 minutes to crisp up even more if you wish. In my photo above, you can see they are golden and a little crispy. However, next time I will add an additional 5 minutes to crisp them up a tad more.
*  *  *  *  *

Unless otherwise noted recipe, images and content © Just like Oma | www.quick-german-recipes.com

Leave a comment about this recipe or ask a question?

Pop right over to my private Facebook group, the Kaffeeklatschers. You'll find thousands of German foodies, all eager to help and to talk about all things German, especially these yummy foods. 
Meet with us around Oma's table, pull up a chair, grab a coffee and a piece of Apfelstrudel, and enjoy the visit.

Make the perfect German Spaetzle with Oma's easy recipe! This traditional German egg noodle pairs perfectly with caramelized onions for a delicious meal.

Discover the ultimate German schnitzel recipe with Oma's quick, easy, and delicious pork version - perfect for any occasion! Taste the authentic flavors of Germany today.

This easy German Apple Strudel recipe is one of those German desserts that brings the traditional strudel taste to your table without all the work. Wunderbar!!
*  *  *  *  *
PIN to SAVE this recipe to your Pinterest board!
Words to the Wise
"Listen, listen to me, and eat what is good, and you will delight in the richest of fare."
Isaiah 55:2(NLT)